Today I am sharing a new straightforward soup recipe that uses Jerusalem artichoke. Have you ever tried this root vegetable before? It's quite nutritious!
What is Jerusalem artichoke?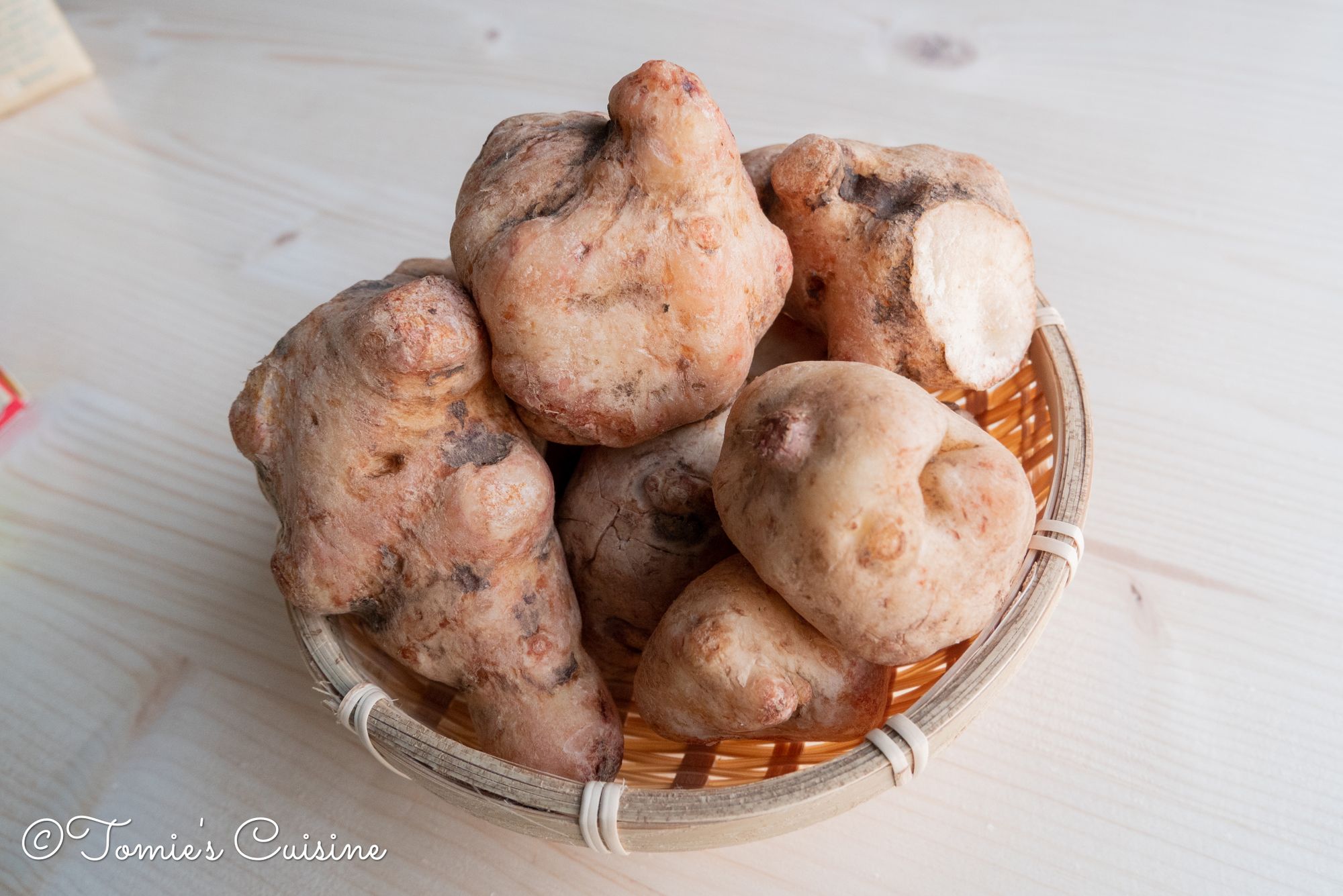 Jerusalem artichoke is a root vegetable from a variety of sunflowers. It's also known as sunchoke, sunroot and topinambur. Today's recipe requires you to cook the Jerusalem artichoke, but it also can be eaten raw.
Season
The best season is between November to March. That's why I saw them in local farmers' markets and markets in France when we went there for Christmas.
Nutrition
It's a great source of fibre and potassium. Potassium suppresses sodium absorption, which avoids increasing blood pressure after eating.
Jerusalem artichokes contain a fibre called inulin. Inulin suppresses carbohydrate absorption in the small intestine, avoiding a spike in blood sugar levels after eating.
They contain more water and less starch, so it has lower calories than other potato kinds.

Inulin
Sunroot may not be ideal for people with digestive problems as it contains inulin. This fibre is not digested or absorbed in the stomach, so it stays in the bowel and helps bacteria grow, which is good, but it can lead to bloating in some cases. See WebMD for more details.

Recipe
Ingredients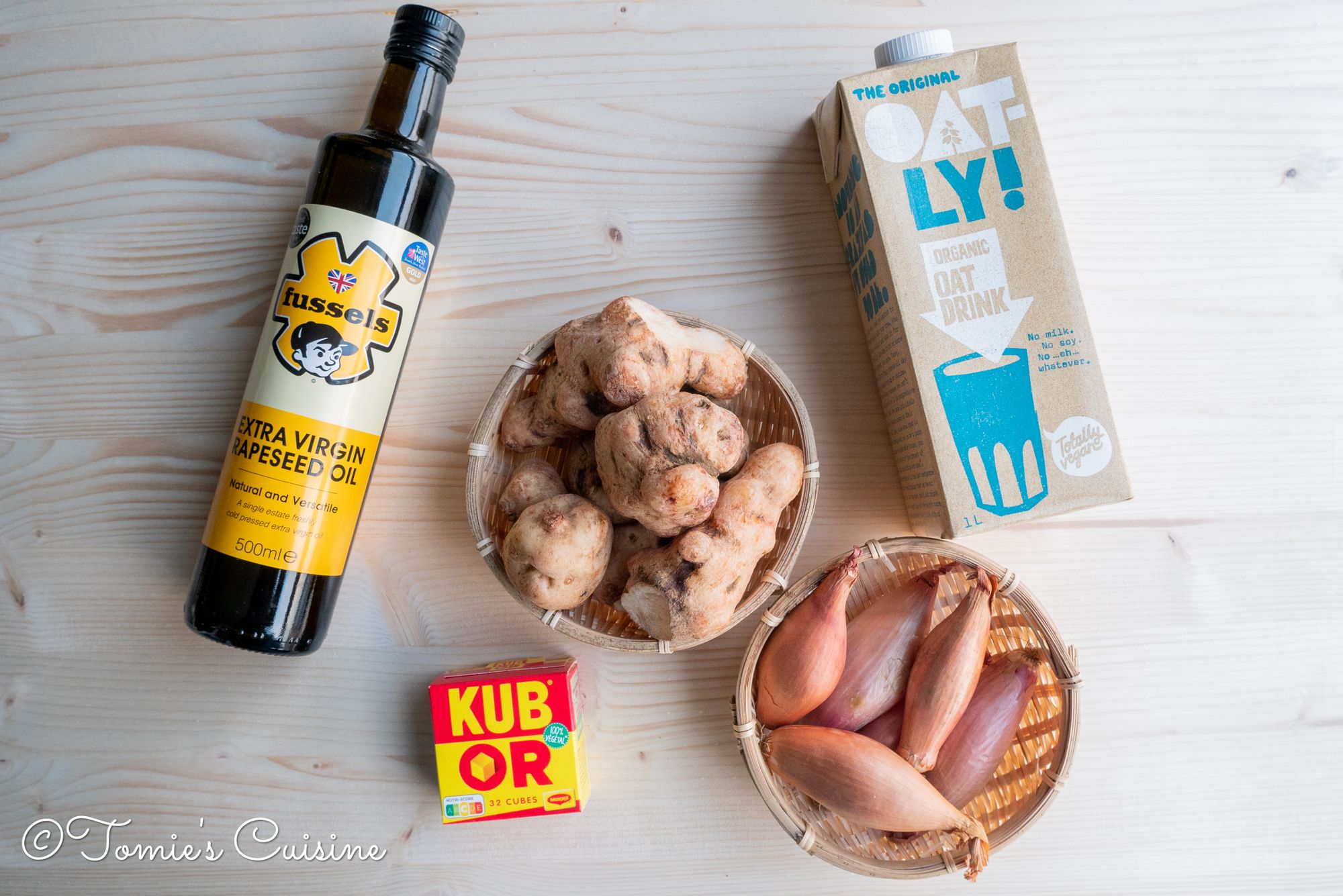 500g Jerusalem artichoke
500ml Oats milk
200g Shallots
1 Vegetable stock cube
I used a stock cube from France called "KUB OR", which is about 4g for each cube, and I used two cubes. The cubes made the soup salty enough, so I didn't add any salt.

Tools
Instructions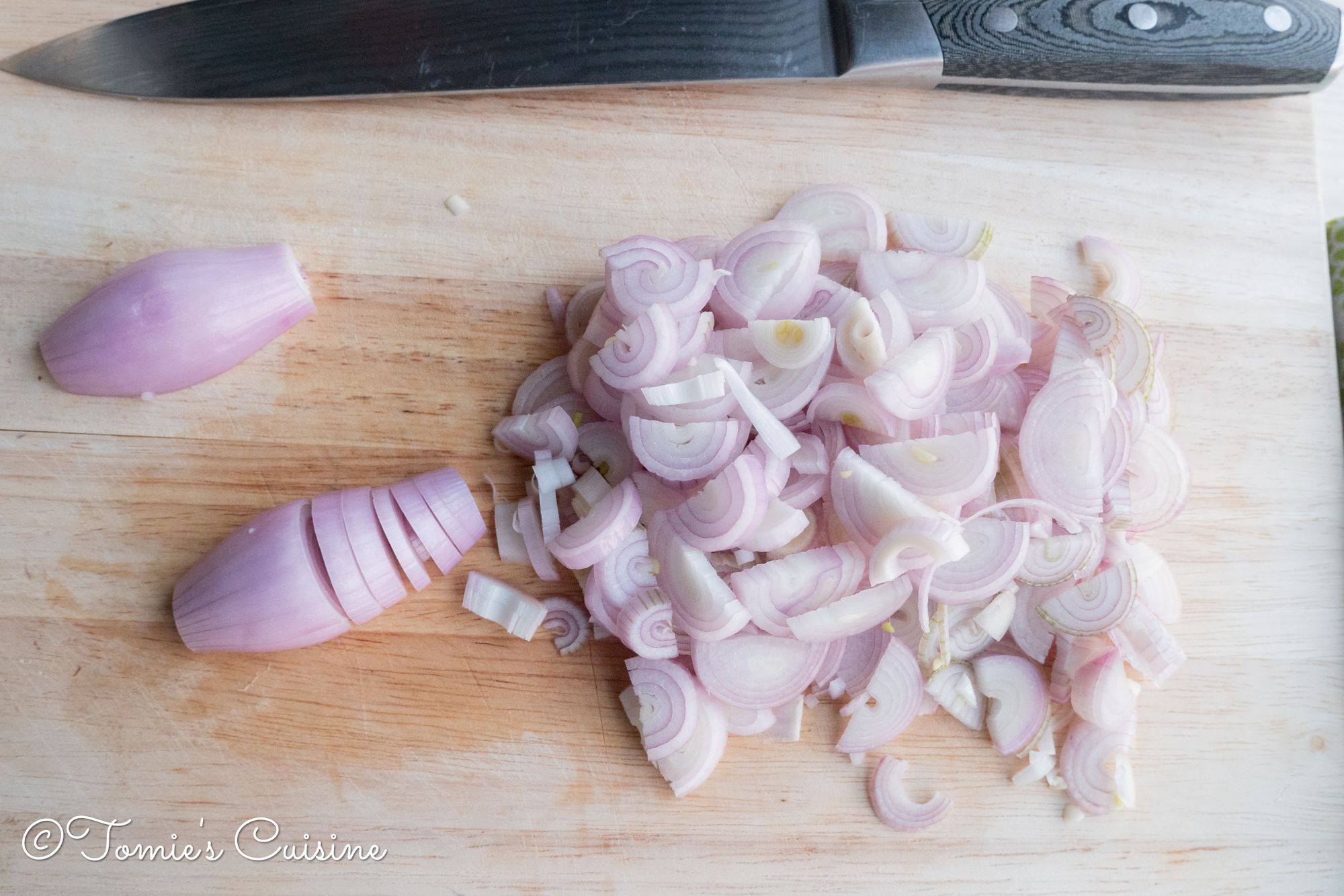 Slice shallots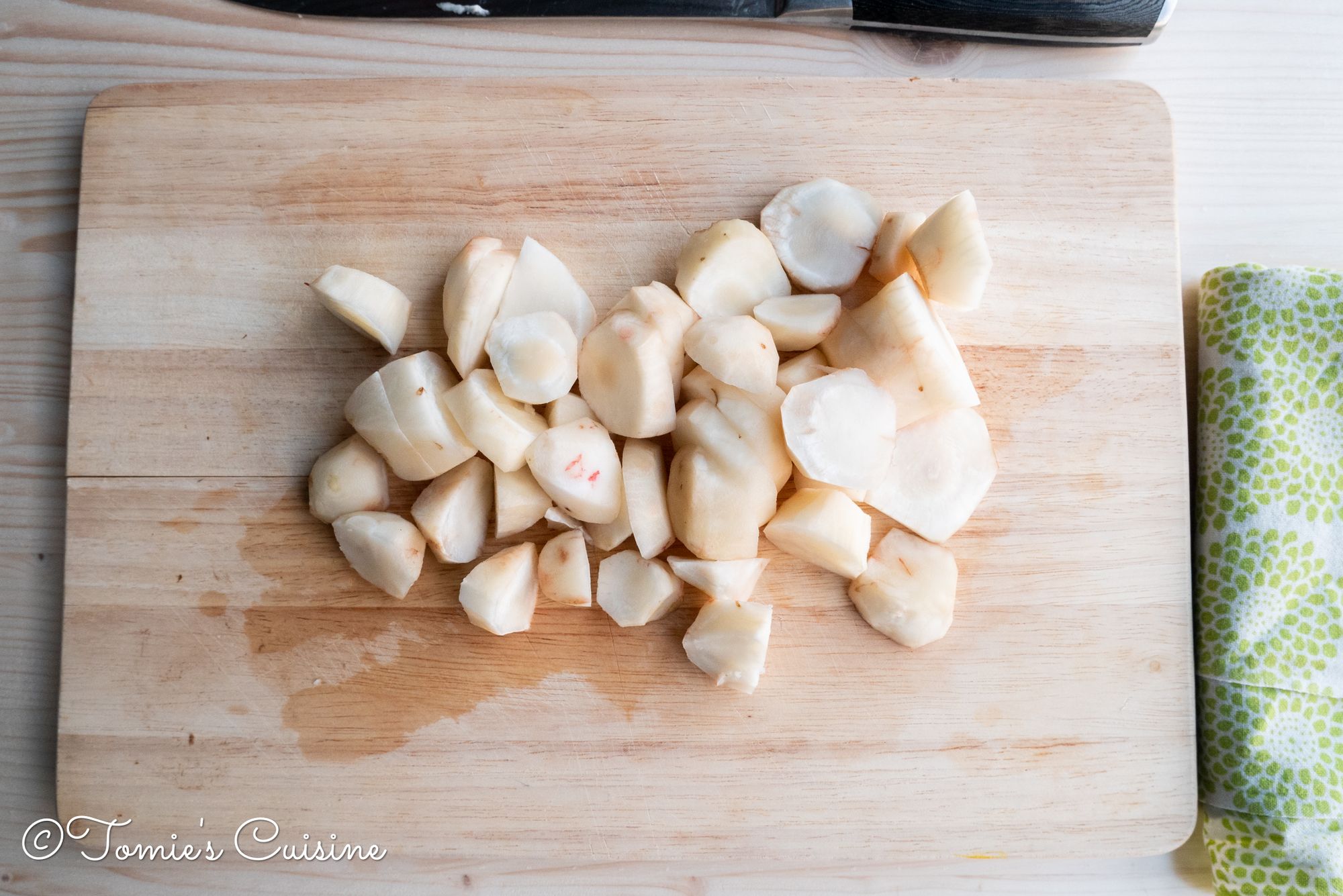 Peel Jerusalem artichoke and slice.
Heat the pot with medium heat and pour two tablespoons of rapeseed oil.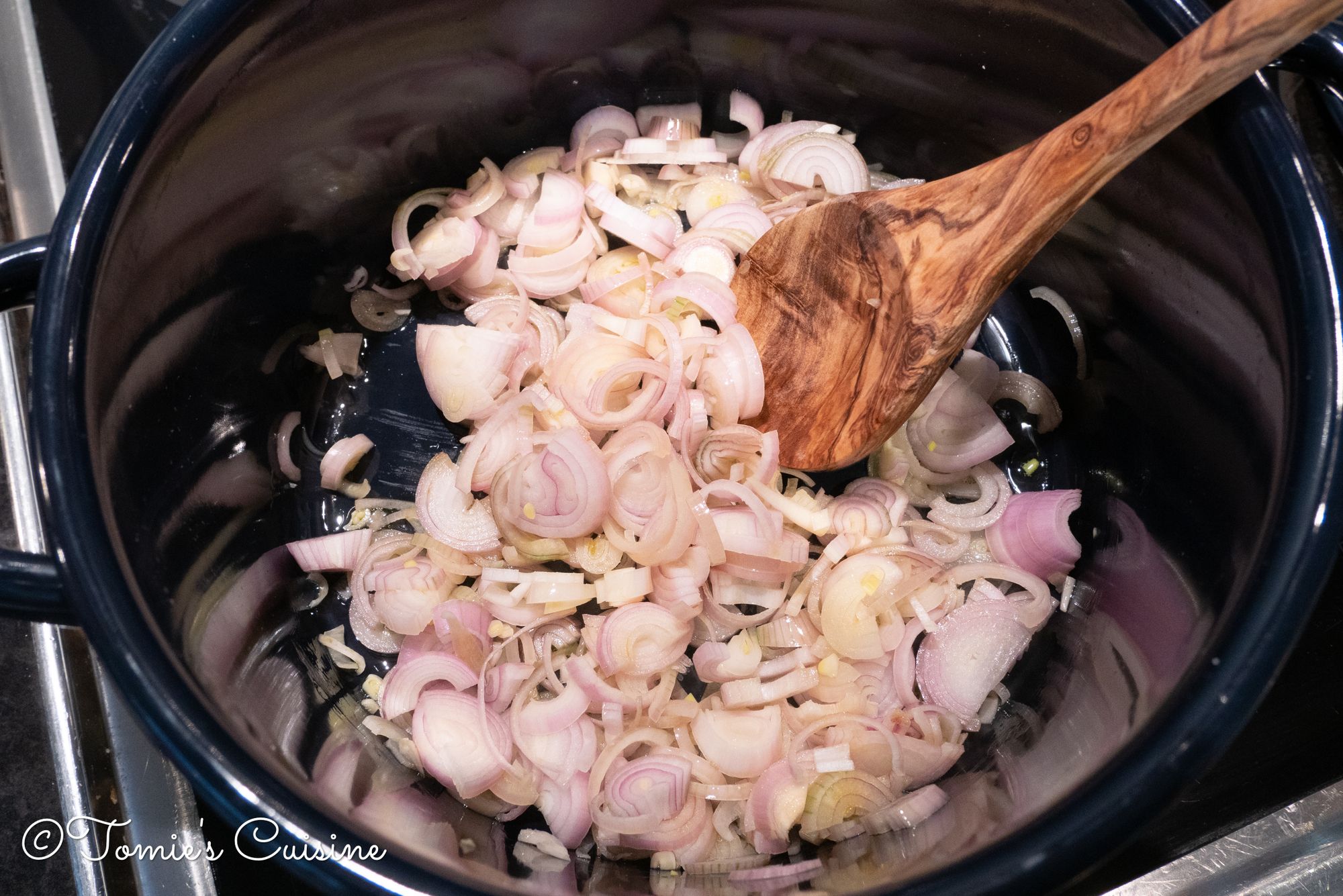 Add shallots to the pot and cook until it gets soft.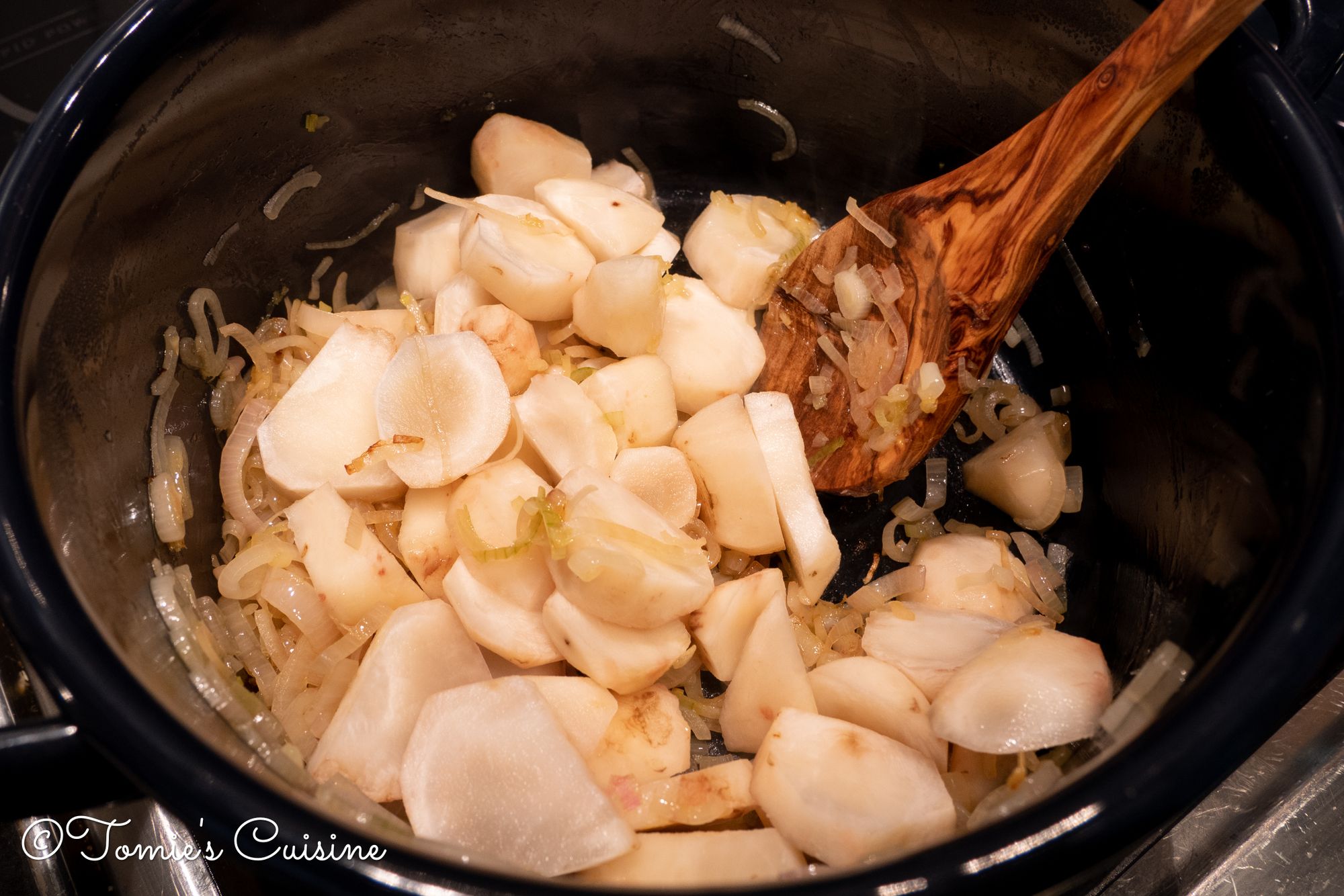 Add Jerusalem artichoke and stir.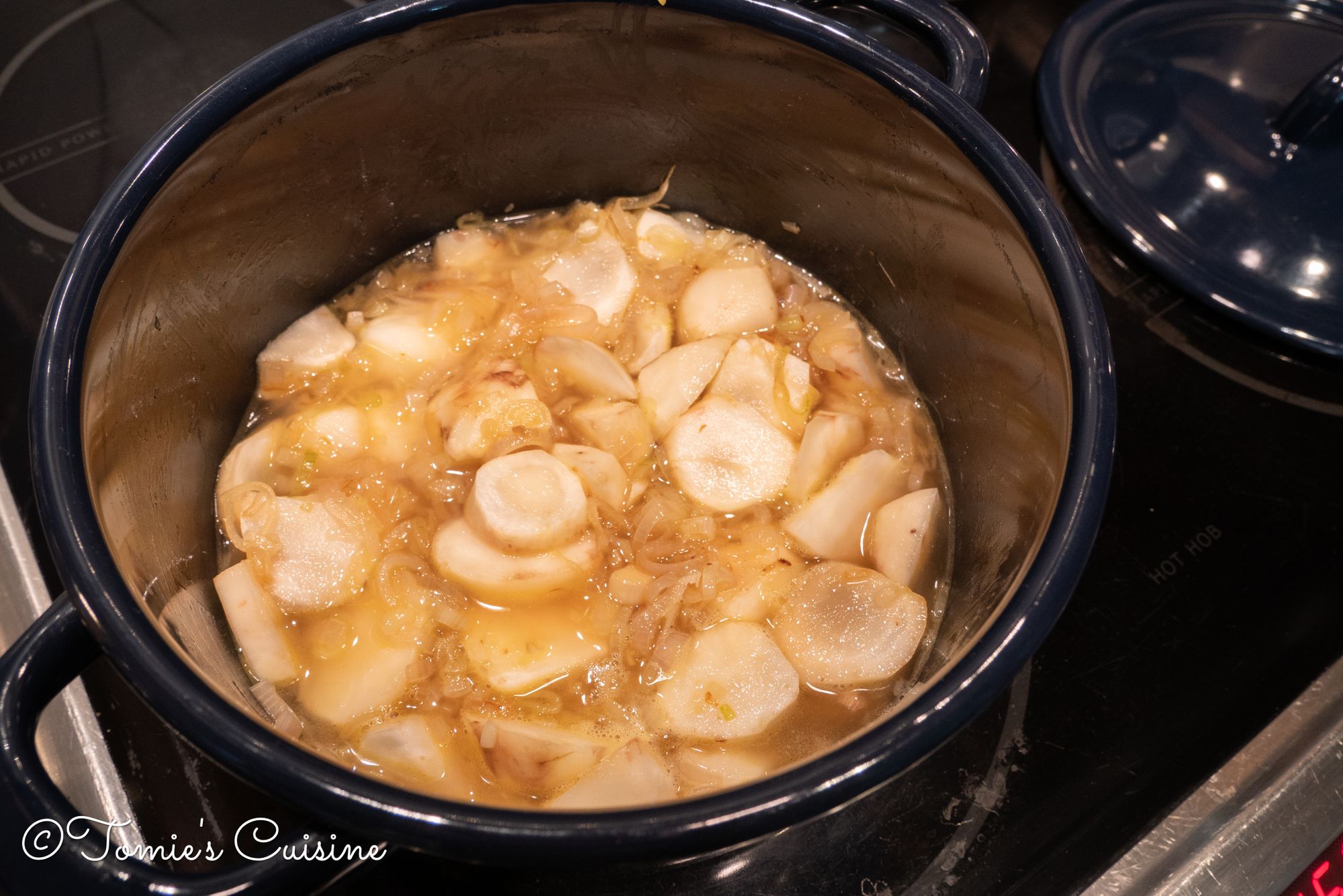 Pour water to about the same level as the vegetable and add the stock cube in. Cover the pot with the lid and cook with medium to low heat until the Jerusalem artichoke gets soft. Stir occasionally.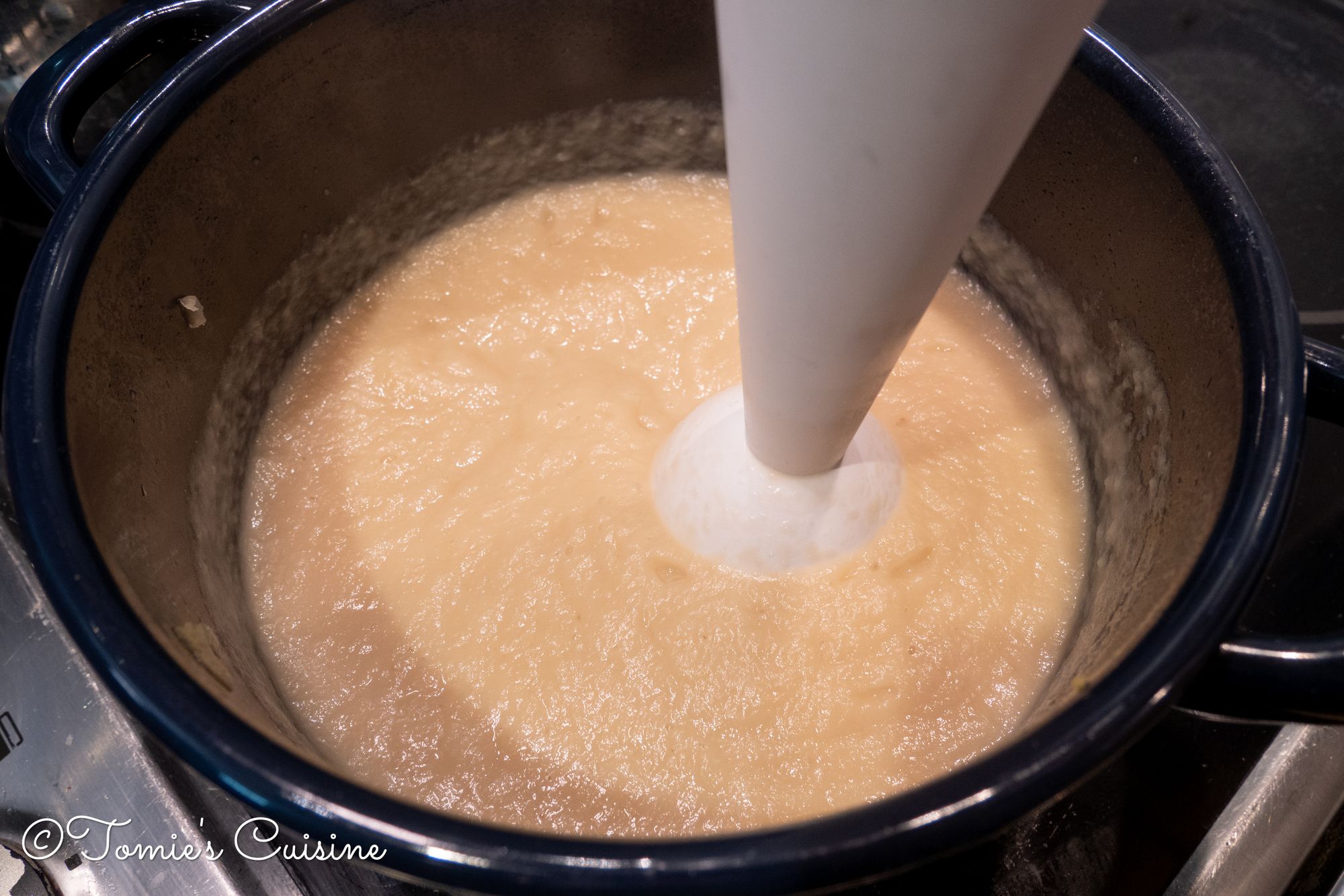 Blitz with a hand blender until smooth.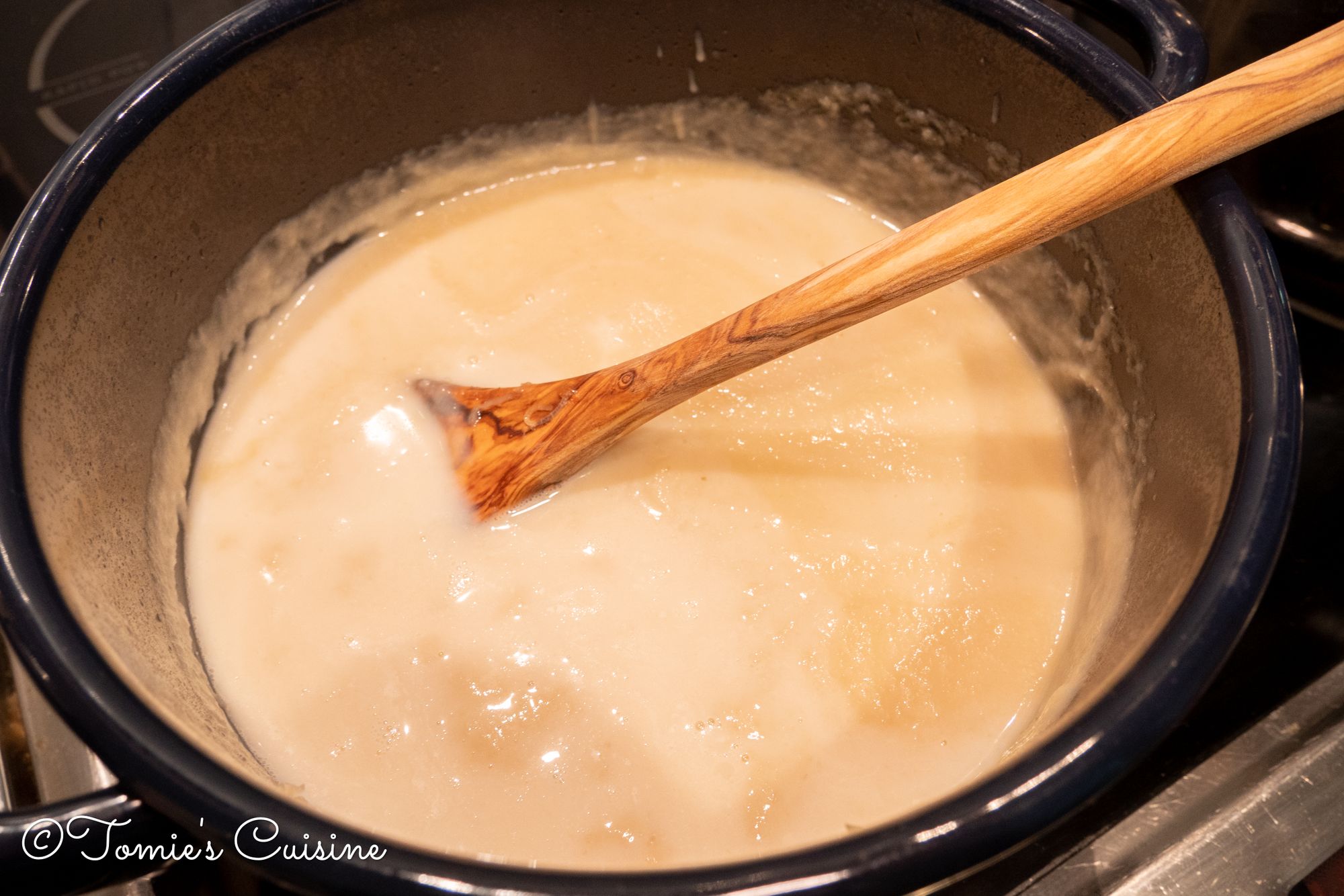 Pour oat milk and heat it with low to medium heat. Do not boil the oat milk, or it may separate.
Serve it with some cold-pressed rapeseed oil and some parsley. (optional)
Tips
I cut the shallots against the fibre for this recipe. That makes the texture softer, and you will get more flavour out of it.
If you like dairy products, simply replace the rapeseed oil with butter and plant-based milk with dairy milk.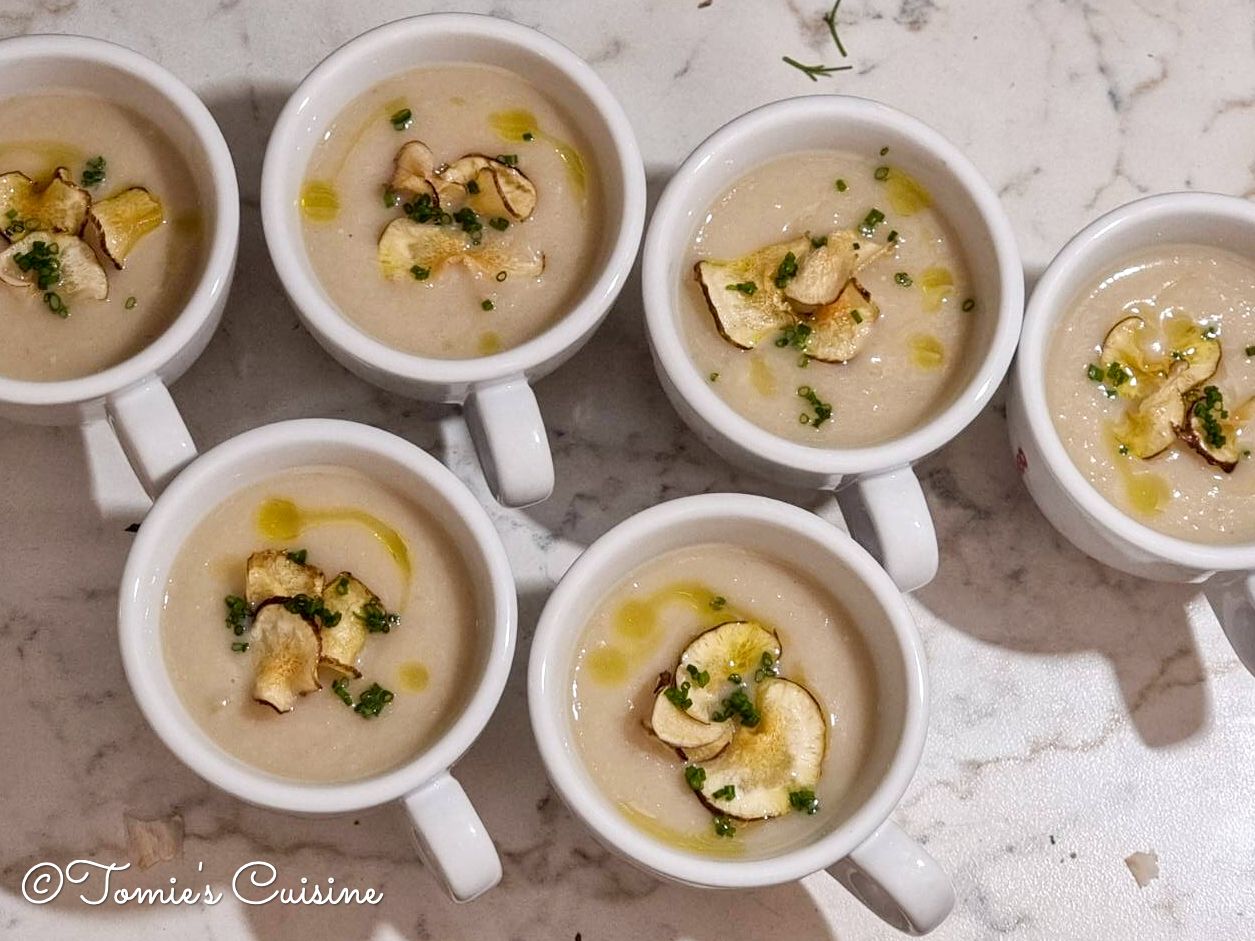 Slice a few Jerusalem artichokes with a slicer and fry them to make crisps. Putting them on the top of the soup before serving gives a nice crunchy texture.
Closing words
Have you tried making this soup or added a different twist to it? Please let us know on our Instagram, Pinterest, and Facebook if you do! We'd love to see it!
I plan to post more simple seasonal recipes, so don't forget to subscribe to our email list so that you don't miss any of our future updates.