Why the silicone food storage bag?
I used to use regular plastic zipper bags or clingfilms from shops, mainly to store fresh products in a freezer during the first lockdown in France. But every time I throw the bags and clingfilms after I used them only once or twice, I felt guilty. At that time, I was getting to know that we should (we "have to") reduce plastic usage and how harmful plastics are for us and the planet. So I was trying to use reusable containers as much as possible.
When I was in Japan during this covid, it was challenging to go out, especially after the third pandemic wave. When I watched some series on Netflix, I found a documentary film called "A plastic ocean". The film is about how much of the plastic that we use ends up in the ocean. It is never recycled and floats away as it breaks down into microplastic. These are almost impossible to retrieve as they are invisible to the naked eye and too small for a filter to pick only microplastic. Those microplastics are harmful to sea creatures and sea birds because they swallow them when searching for food in the ocean. It blew my mind how much plastic a single animal can ingest over its lifetime.
Since then, I searched about plastic-free and eco-friendly lifestyles. My goal was to find out how I could improve my habits bit by bit.
That is when I started thinking about bags. The problem is that companies manufacture too many single-use products. We need a lot of energy to create any product. Even if the plastic products are "biodegradable", they are still not the best choice compared to compostable plastics because of their difficulty of disappearing without leaving some harmful residue of microplastics. An article on the BBC website talked about biodegradable plastics and how they would not solve the plastic problems. They introduced the University of Plymouth experiment, which was very interesting and obvious to see the differences between compostable plastic, biodegradable plastic, and regular plastic.
Are silicone bags "actually" eco-friendly?
They are more eco-friendly than using food storage bags made of plastic.
Silicone is still a tricky material to recycle. I mean, you can't put it in the general recycling waste bin or home compost. Some products are not 100% made out of silicone and add some plastics and additives, so I was careful when choosing them. My primary goal was to store food in a way that was not harmful to our health or the planet. Those silicone storage bags are both made from 100% food-grade silicone. Therefore we can use it in a fridge, freezer, oven and microwave.
How convenient are they?
They are suitable for sous-vide cooking, unlike plastic which produces side effects.
When trying to freeze something for over a month, you need to remove as much air as possible. Something like a vacuum machine to avoid the food getting oxidised would work, but it uses plenty of plastic too. Silicon bags are not as convenient to use as a vacuum machine, but we can put them underwater and let out the air to get similar results.
The silicone food storage bags that I bought are 100% food-grade silicone and can be reused over and over. I don't know yet how long, but that certainly reduces single-use waste.
What made me buy those? Stasher food bags
One day I was browsing Instagram, and Instagram showed the "Stasher" account as a suggestion. I was like, "Ah! This is it!" and looked at their official website in the US, the Japanese website, and amazon in the UK and also in France as well to compare the prices. Ok. I know I can use silicone bags again and again and again. Even the FAQ on Stasher website says, "Stasher bags are endlessly reusable. Seriously." Buuuut, it's a little bit expensive for me to just jump into it. So I looked for something similar but more affordable.
Buy Stasher reusable silicon food bags on Amazon
Using 100% food-grade silicone
Dishwasher safe
Microwavable (not necessary but just in case)
Freezer safe
Able to use for sous vide cooking
Then I found two companies selling comparable products on Amazon.co.uk!
One of them is called "Moonmoon", and the other one "PEBLO".
Let's compare Moonmoon and PEBLO.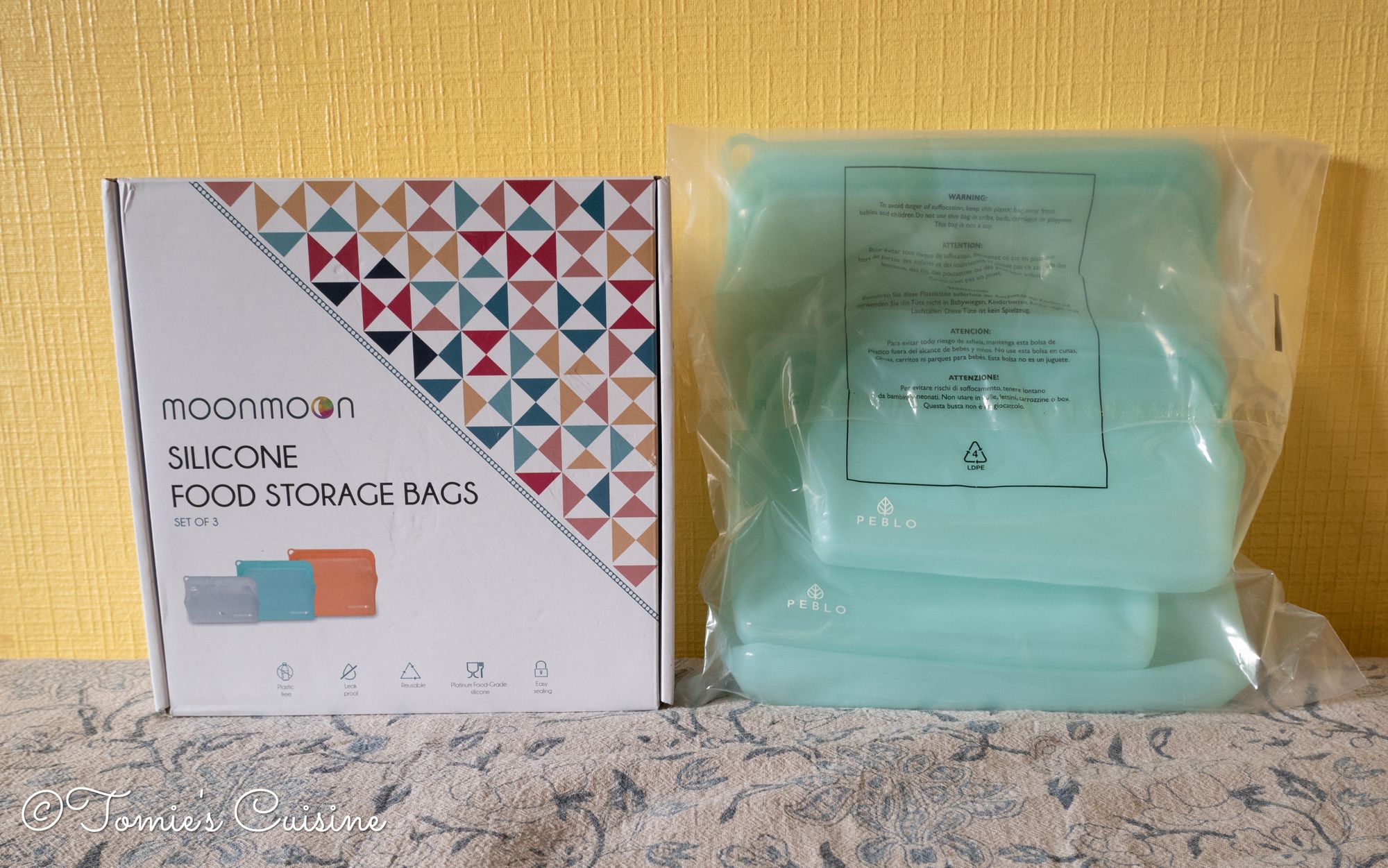 After careful consideration, I bought a set of silicone food storage bags from these two companies on Amazon. Today I am just unpacking them and doing a quick test.
Buy Moonmoon reusable silicone food bags on Amazon
Buy Peblo reusable silicone food bags on Amazon
Moonmoon
They came with this pretty recyclable cardboard package.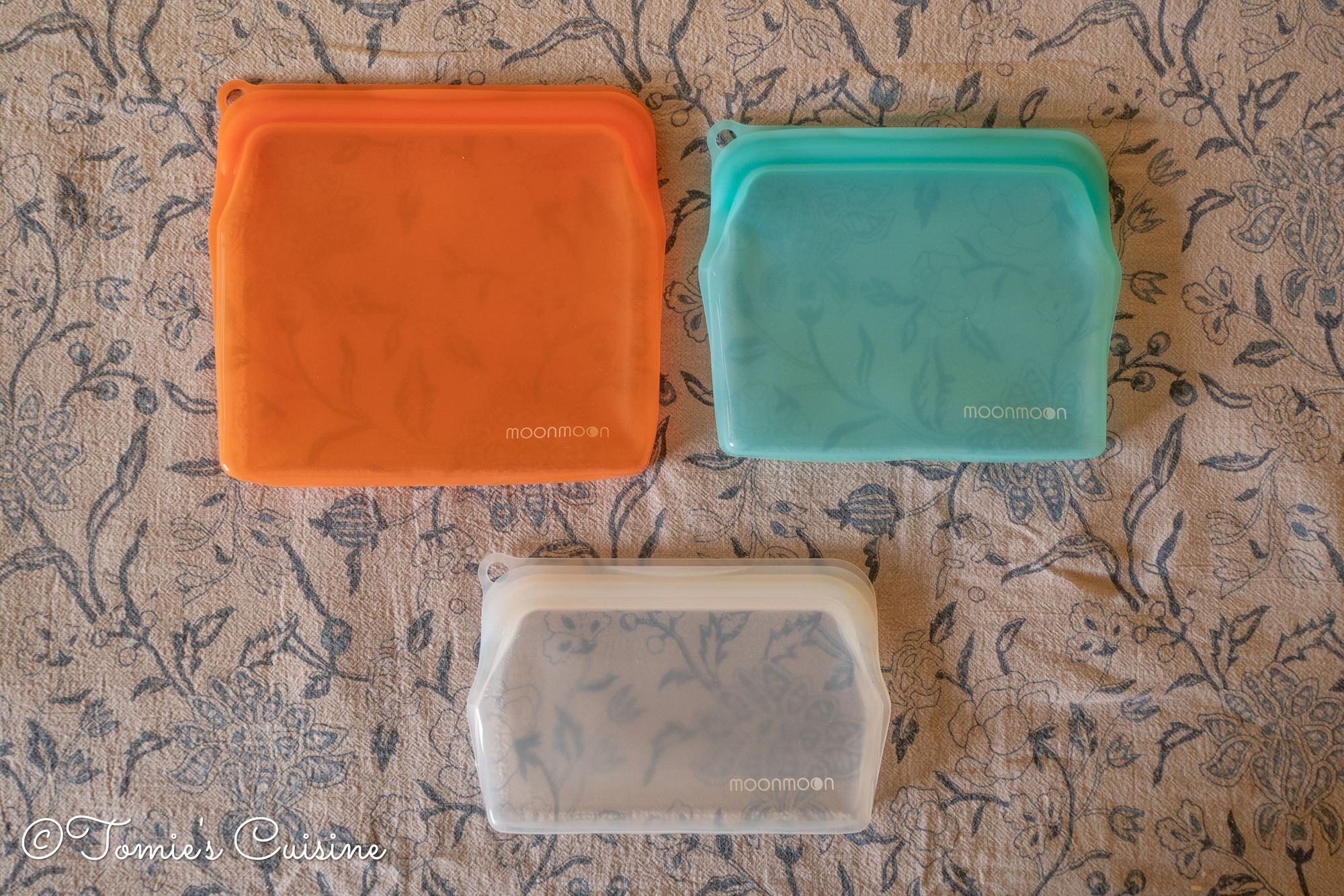 Bags are in three different colours, orange, blue and white.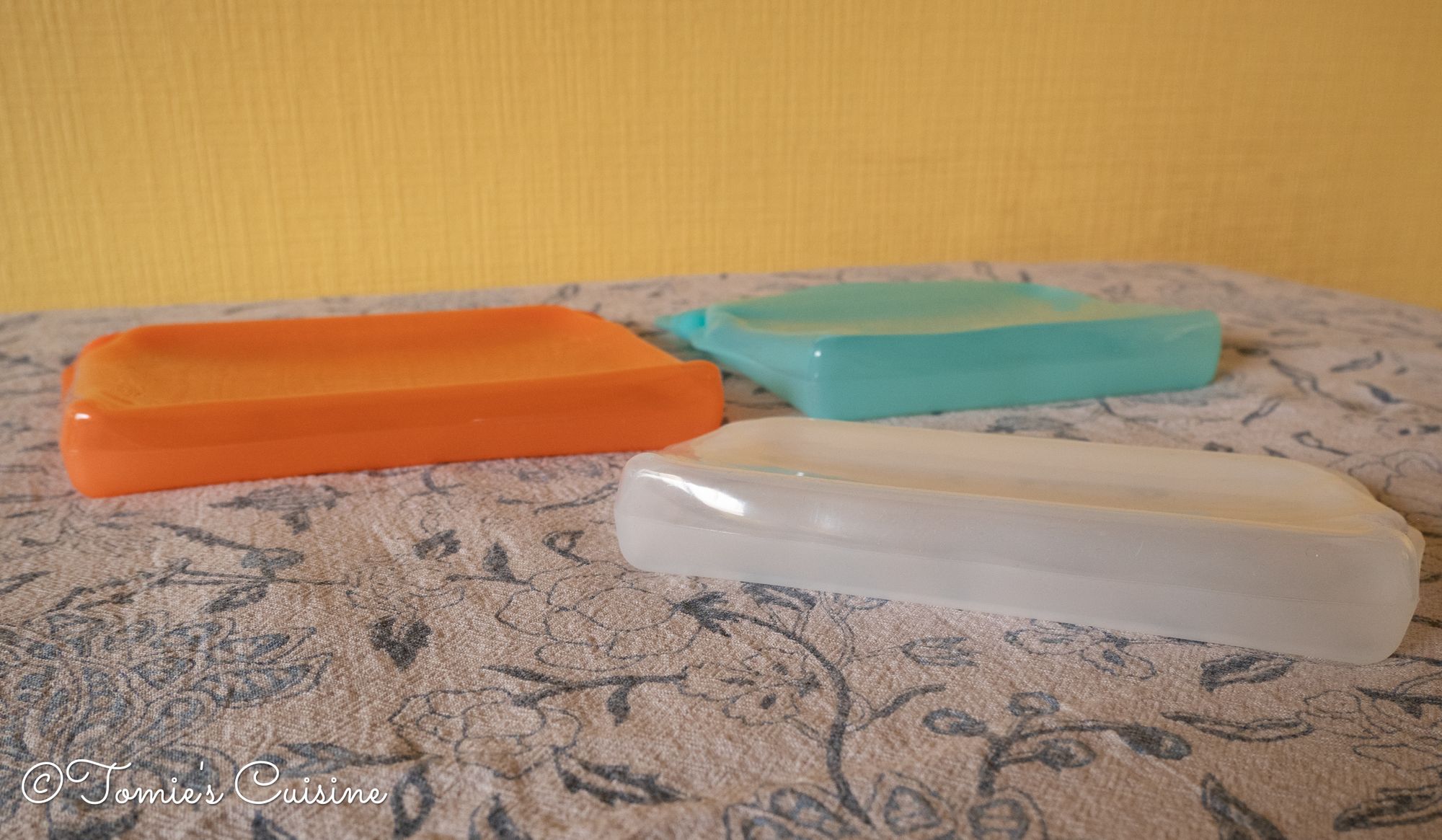 The capacity of the bags is as follow 900ml (orange), 470ml (blue) and 330ml (white).
They have a shiny surface at the front and a mat surface at the back of the bag.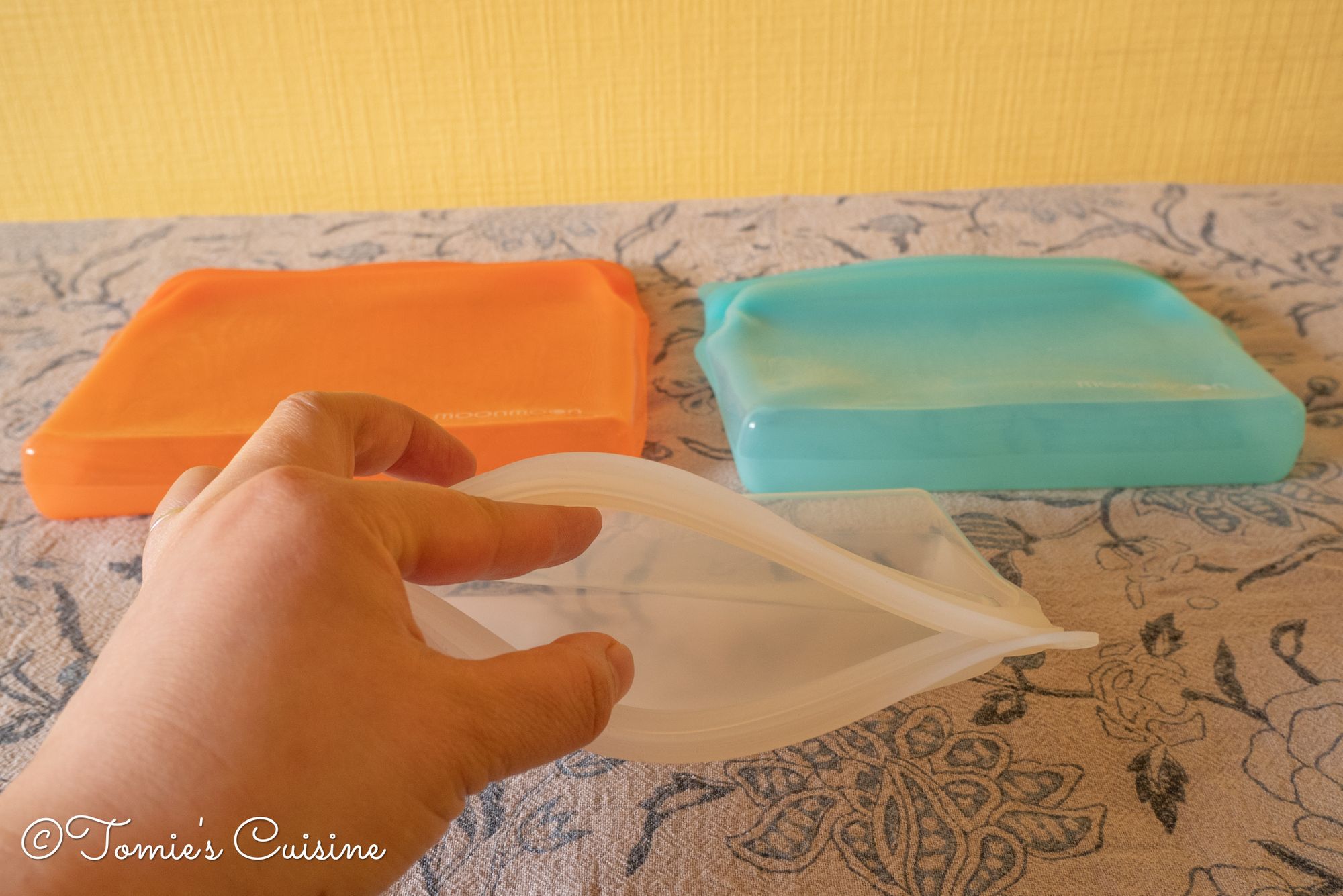 The bags are easy to open and stable. However, you need to keep them open with your fingers when you put food inside.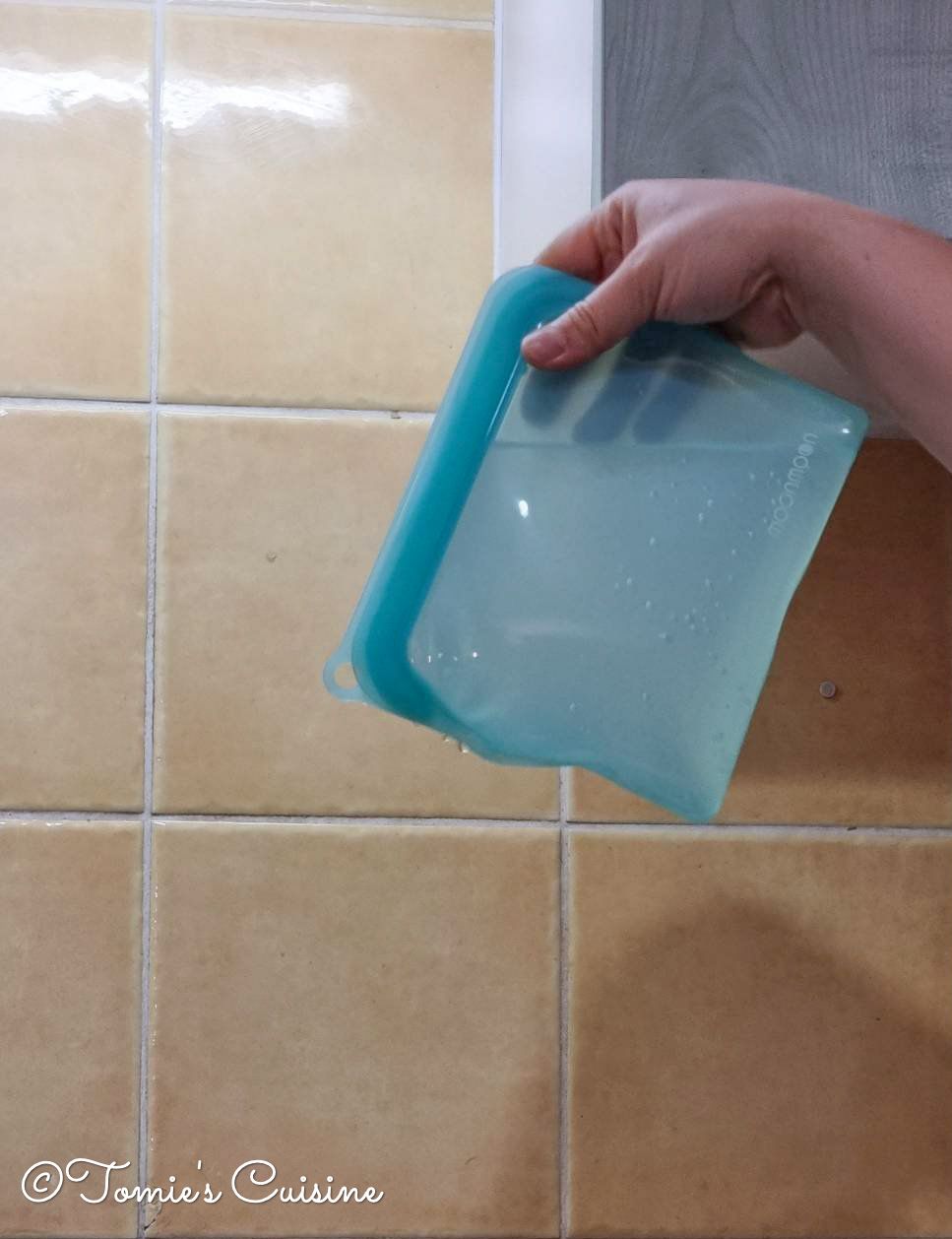 They are introducing their products as leakproof, but unfortunately, the blue one had a small hole on the bag's side, and some water leaked.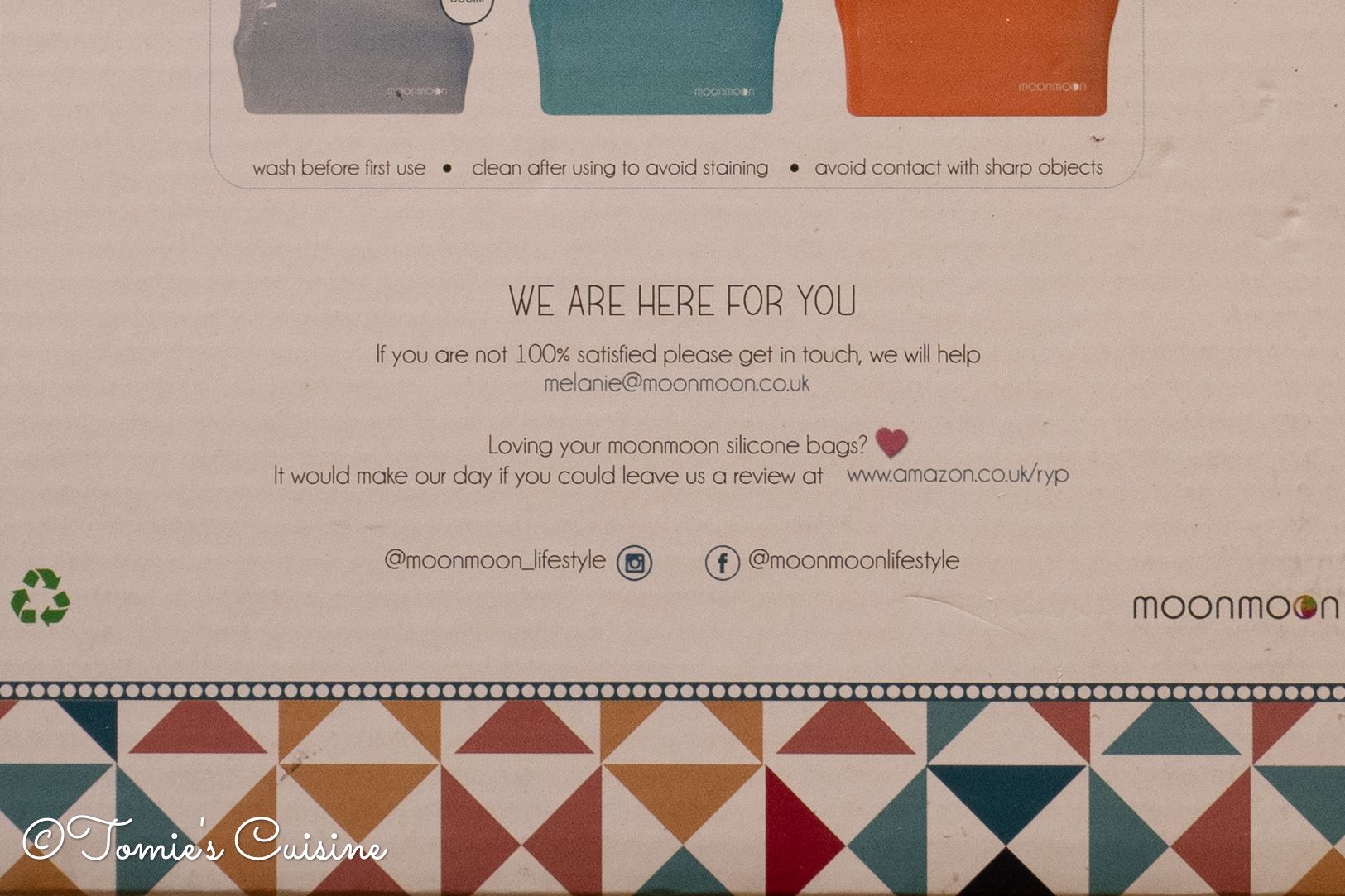 I contacted their customer service to put their "We are here for you" to the test. Their response was swift, and they quickly solved the problem. It seems like it was the first time it happened based on what they told me and the reviews on Amazon.
Since the hole is not too bad, I'm still going to use the blue bag to store dry food.
PEBLO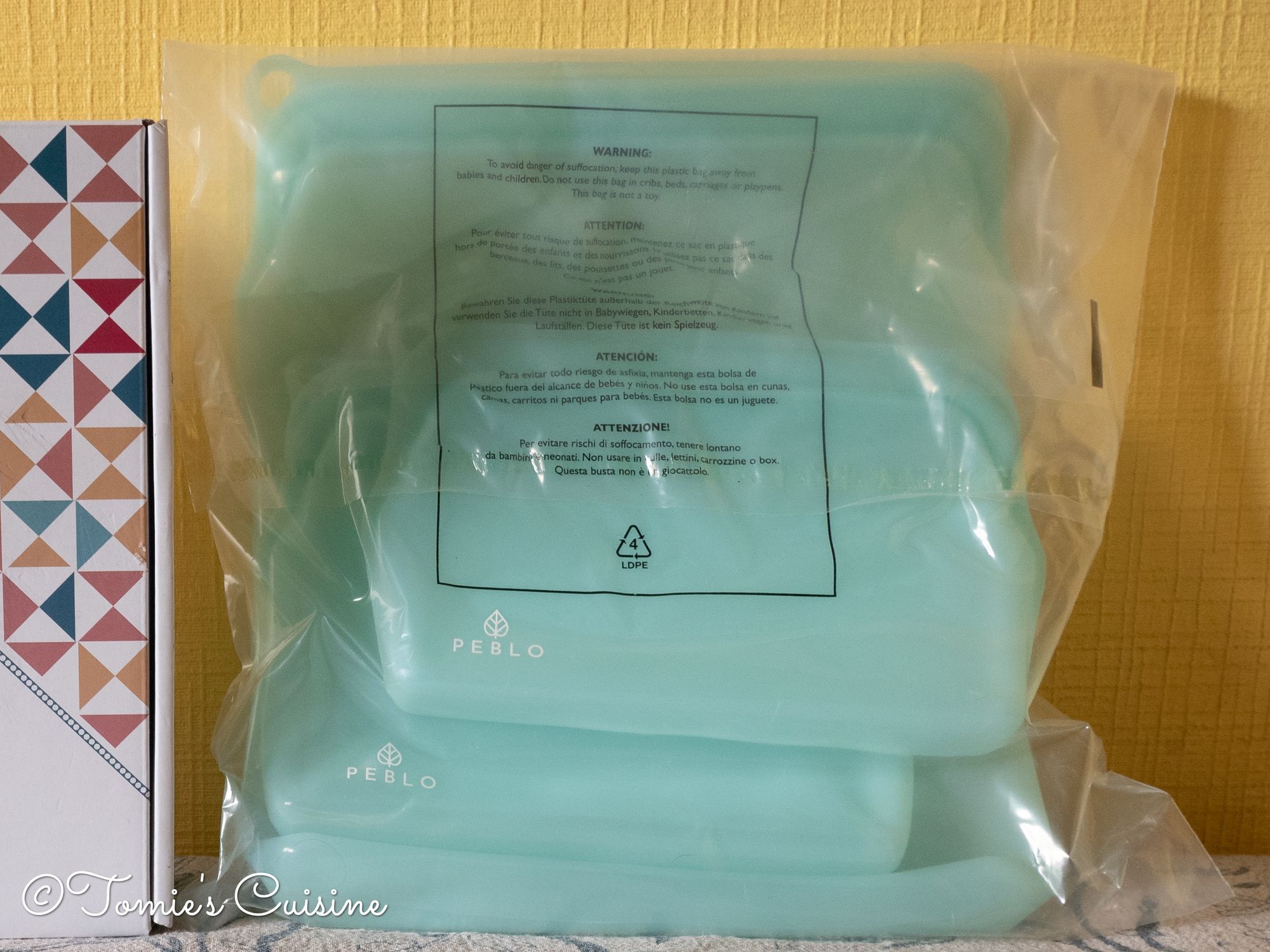 I was quite surprised that they sent me their product in a plastic bag, which was in stark contrast with the product's reviews showing cardboard packaging. It is most notable since this bag is made from number 4 plastic, a low-density Polyethylene that is generally not recyclable. There is no logo or a "how to use" direction card with the plastic bag, so I hope it was just a mistake or Amazon sent me a returned item.
All that being said, the product itself is clean and looks new.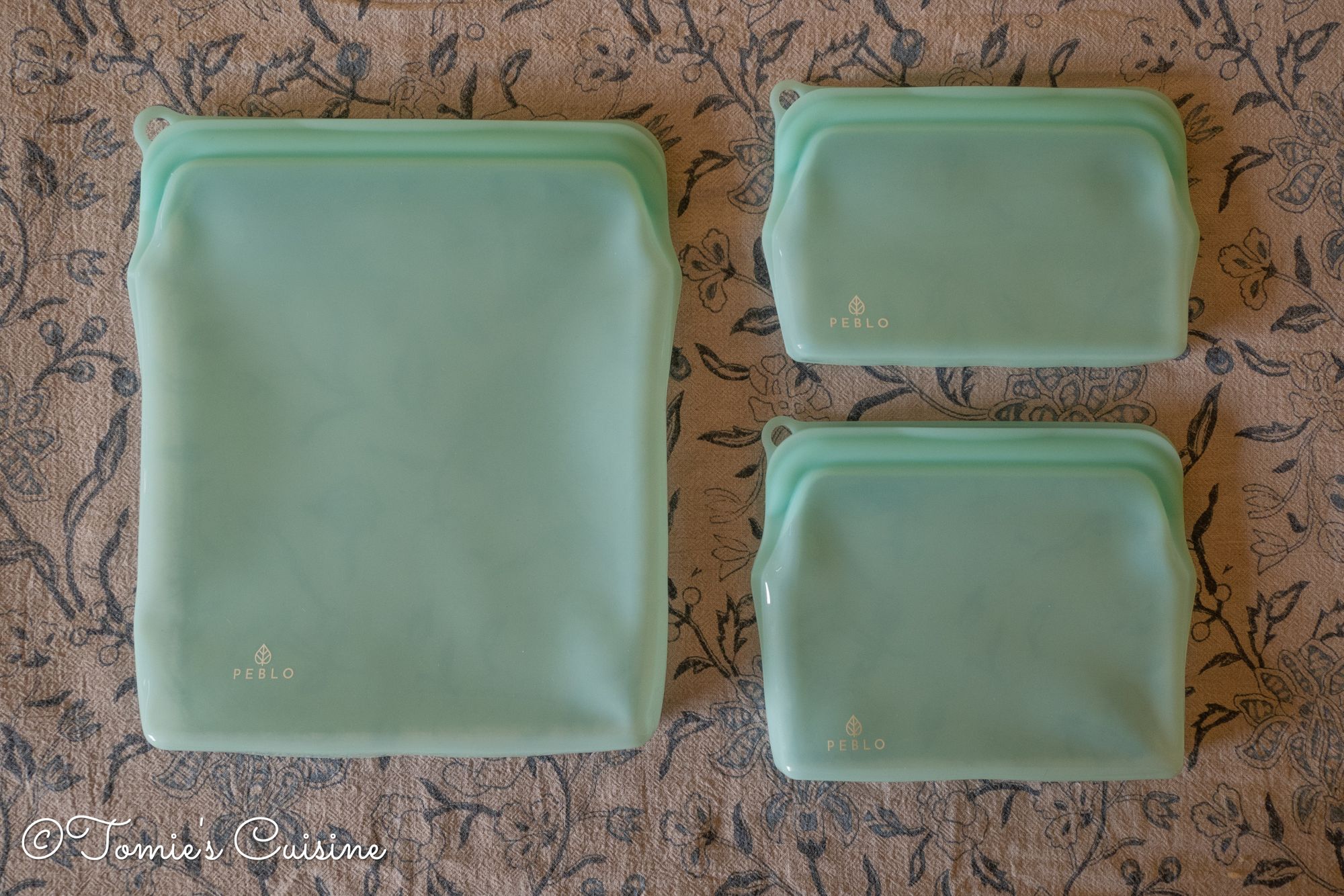 They are coming in only one colour, and capacities are 1960ml, 470ml and 330ml.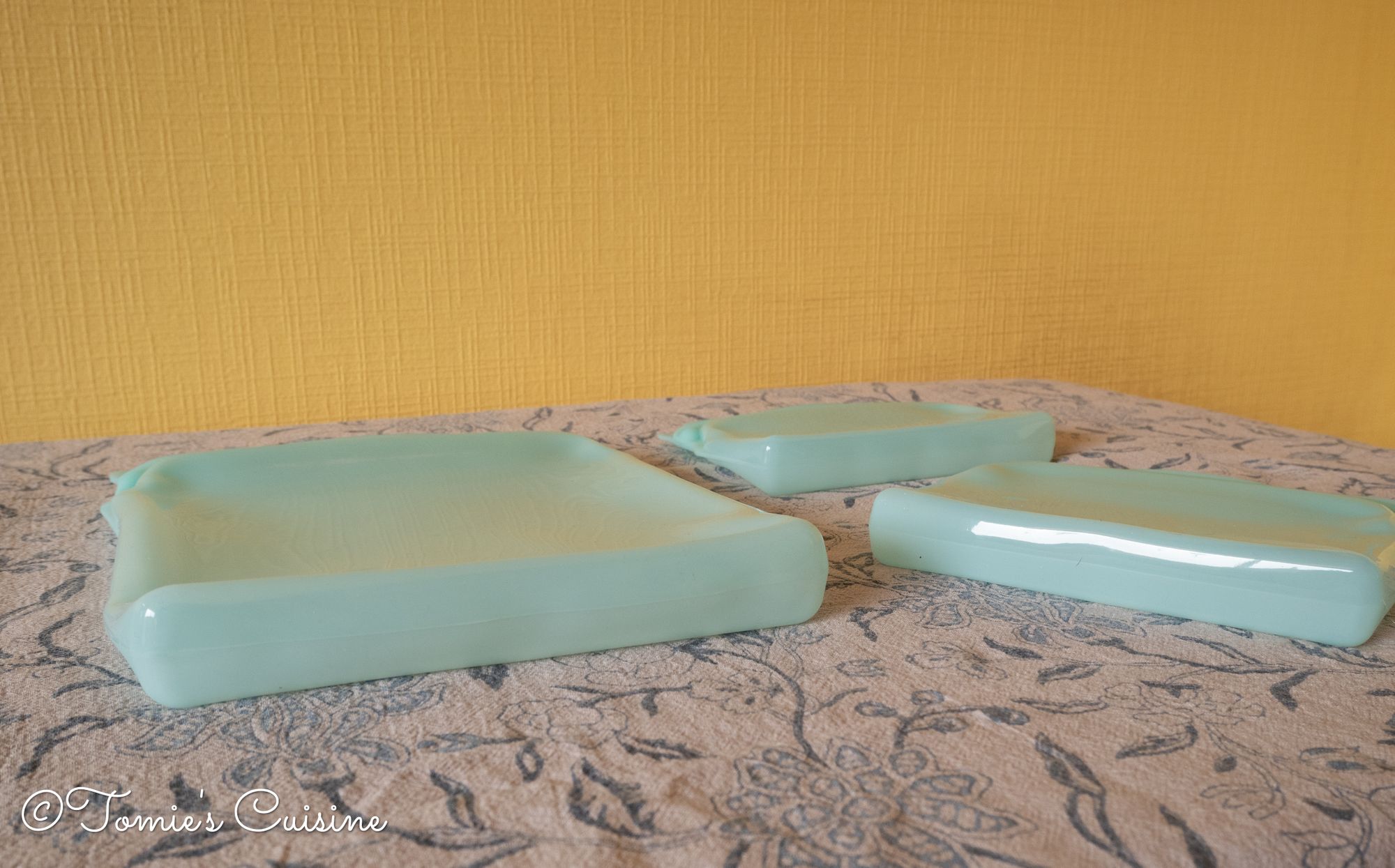 Like moonmoon's bags, they have a shiny surface at the front and a mat surface at the back.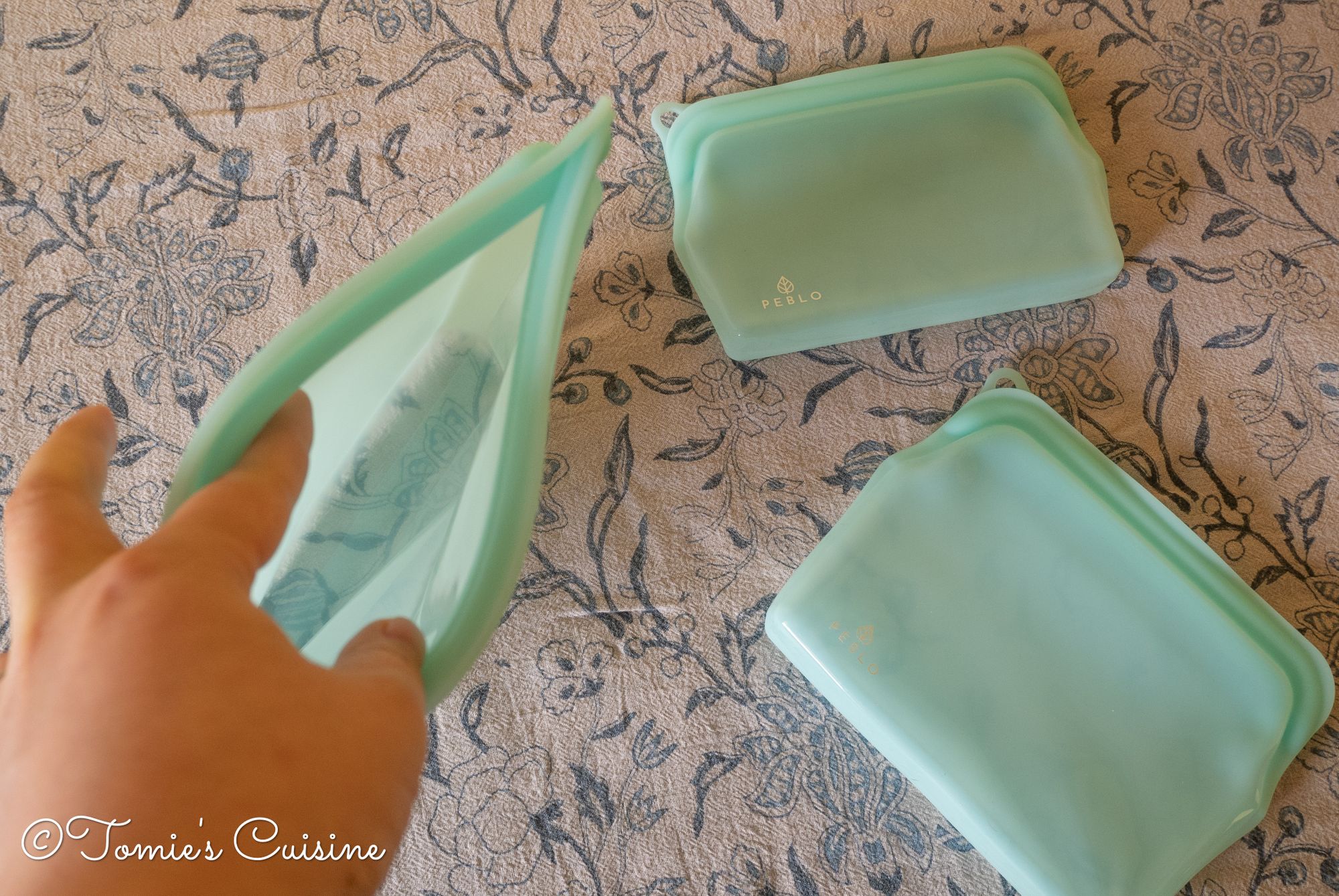 The opening is also the same as moonmoon, easy to open and very stable. And as you could guess, you also need to hold the bag to put the food inside.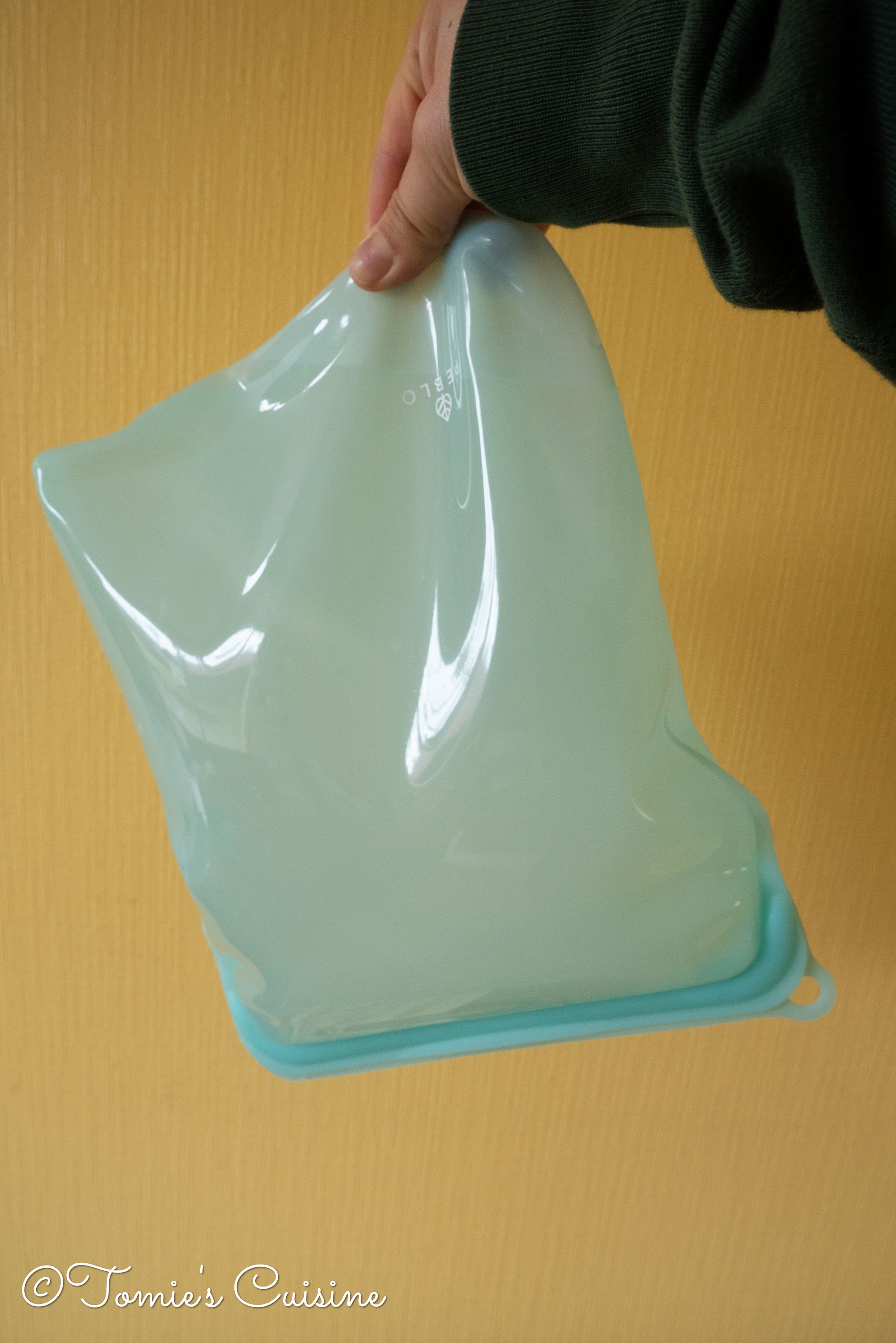 They also claim to be leakproof, and I didn't have any problem with leaking for these bags. Very satisfied with the product.
Closing words
Both bags are very similar, which is not bad as they are both of good quality. I will post back after using them some more to see if they hold well in time. Be sure to join our email list below and follow us on Instagram and Pinterest to be kept up to date when we do.
Buy Moonmoon reusable silicone food bags on Amazon
Buy Peblo reusable silicone food bags on Amazon