The first city we went to in Shiga prefecture was Omihachiman. This place was the first one on our list visit on this trip.
Why Omihachiman?
I am Japanese, but I had never been to Shiga before. My school trip was Kyoto and Nara in Primary School, Tokyo in Secondary School and Okinawa in Year 10. Going to another prefecture for me was mostly to go to Ishikawa prefecture to see my grandparents.
One day, my husband was watching a video on YouTube from the channel Only in Japan (embedded above). It is an American who lives in Japan and visits every corner of the country. In one of his live streams, John visited Omihachiman, and we were impressed by how beautiful the place is! Since then, we decided to go there whenever we could go back to Japan. After our quarantine in Japan, we went there for a weekend. We could stay in Omihachiman for a day and a half, so obviously it was not enough!

How to get to Omihachiman?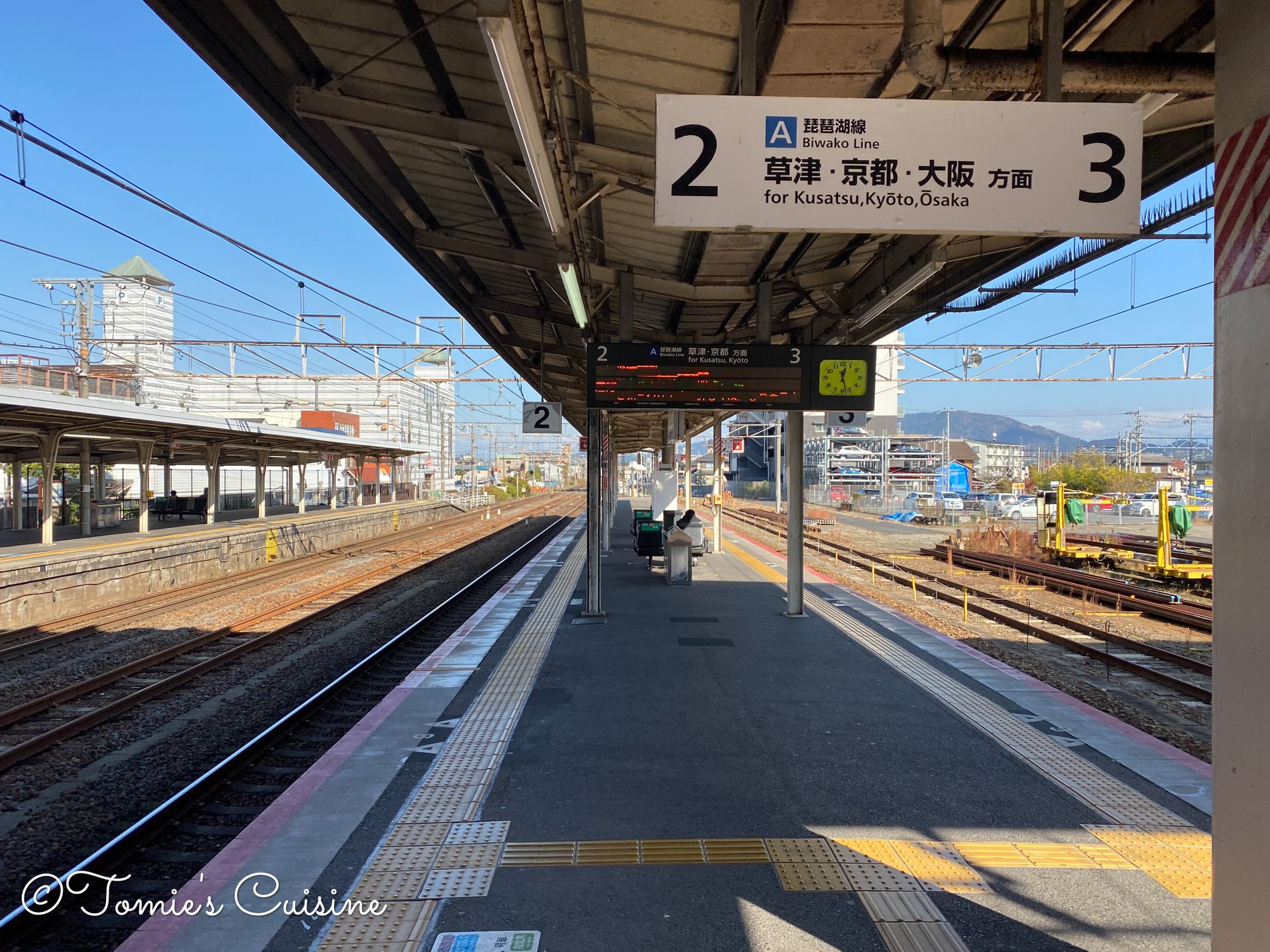 We took the Shinkansen to Maibara Station, and from there, we changed trains to go to Omihachiman station. So, whether you arrive from Kyoto or Tokyo, it will be relatively straightforward to get to.
When we arrived at the station, the "Guesthouse En" owners waited to bring us to their place by car.

Where to stay in Omihachiman?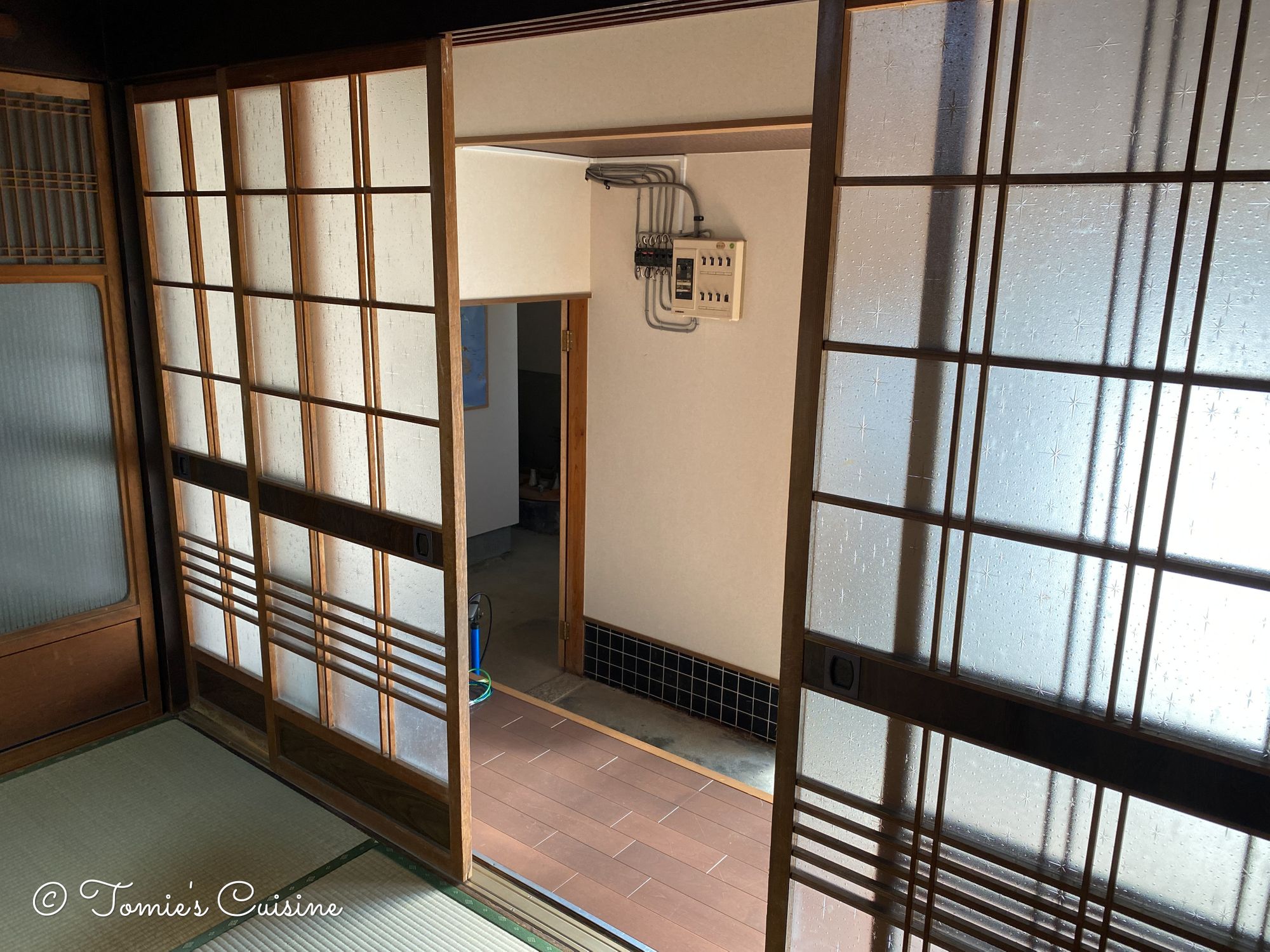 We stayed in an old house called "Kominka". The owners bought the house and renovated it but left the old Japanese house's beautiful ambience.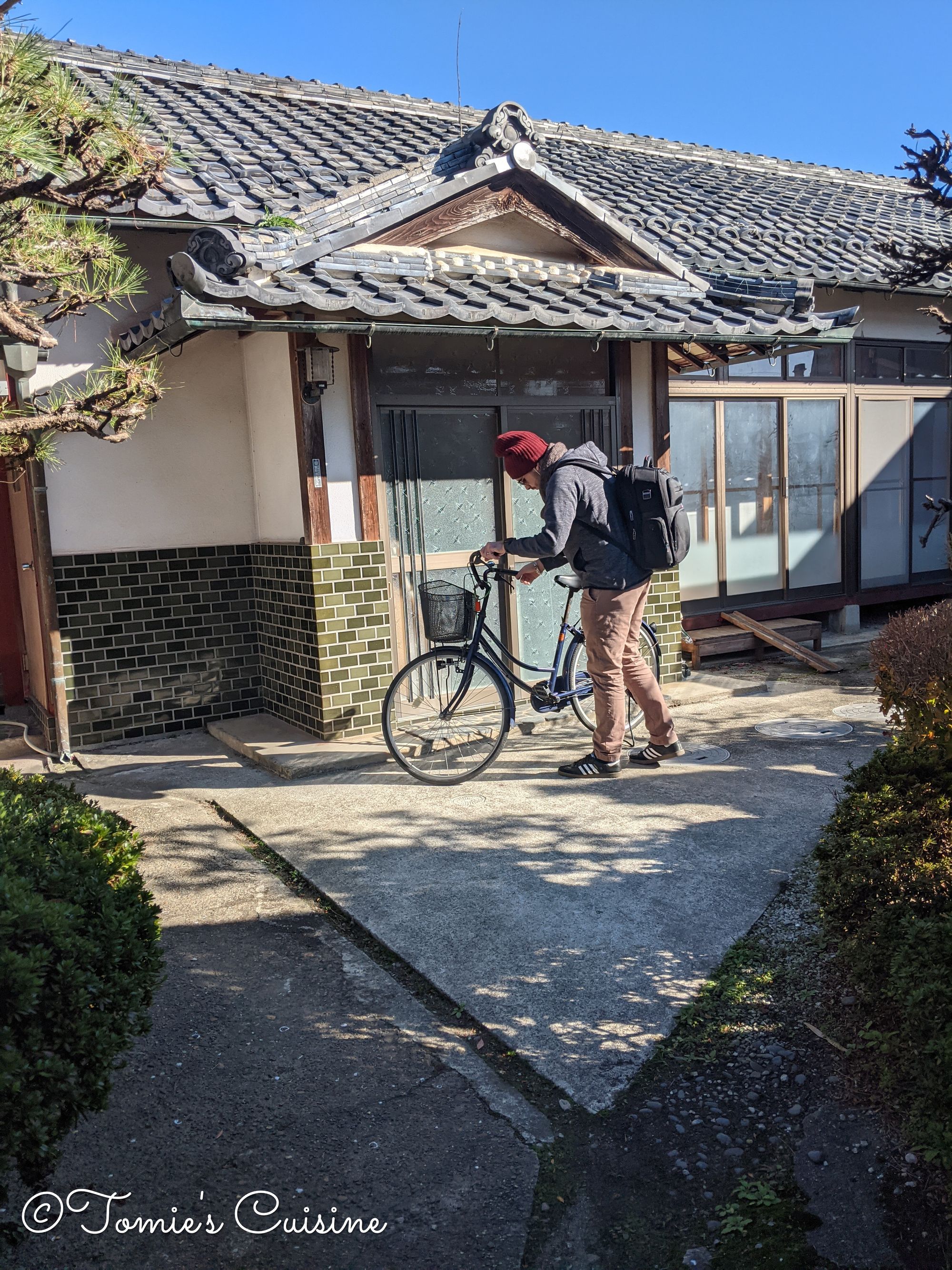 Once we dropped our luggage in the house, we left for central Omihachiman city. Thankfully the hosts let us borrow their bicycles as the house is somewhat far from the centre. We arrived in the city centre around lunchtime, so we went to a restaurant to eat Omi beef.
Omi beef lunch!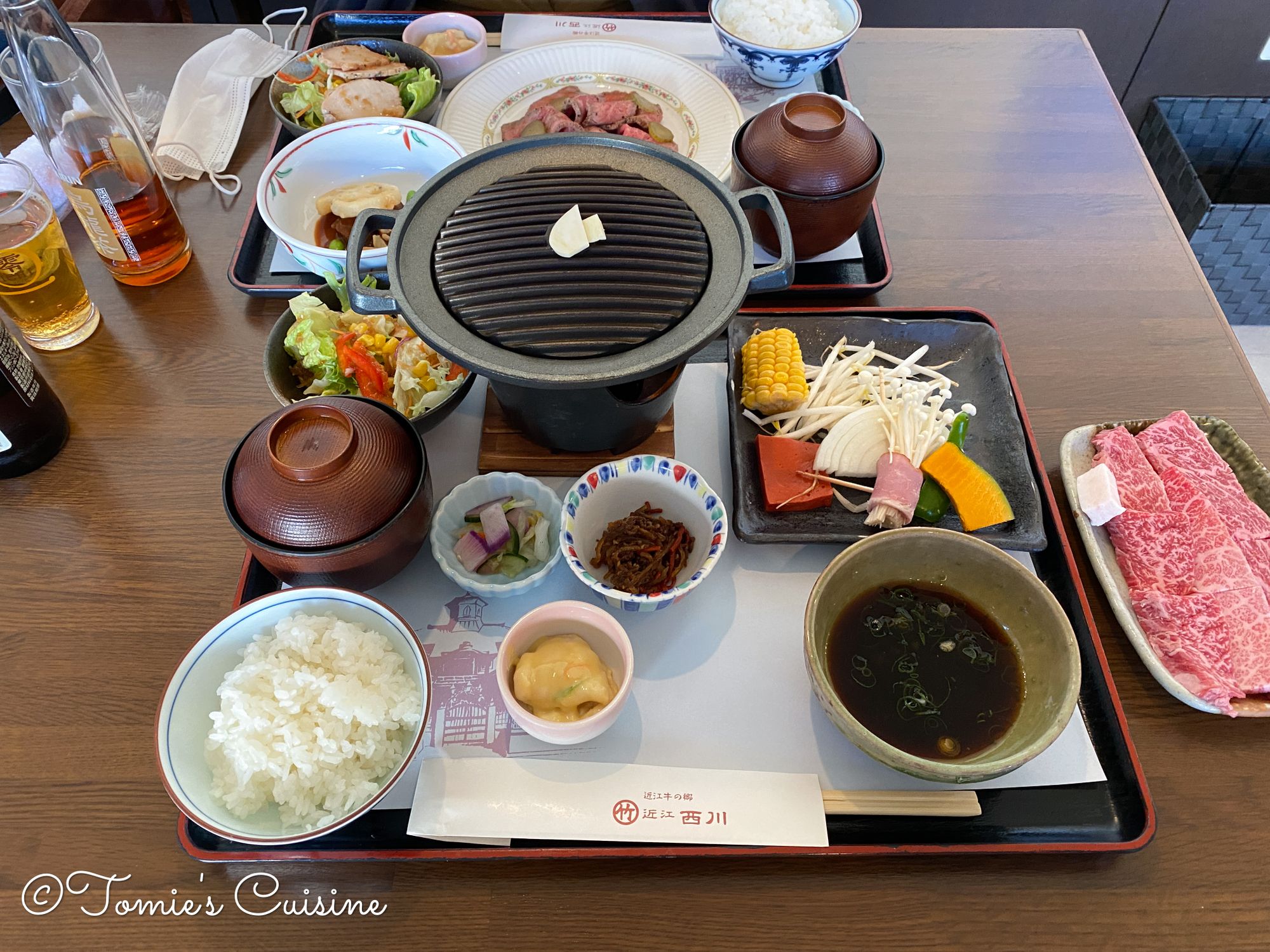 The restaurant we went to is called 'Marutake Nishikawa". Takejiro Nishikawa opened the Marutake butcher shop in 1947. Within the same building, there is a butcher/ deli with beautiful Omi beef and delicious food.
My husband ordered the "Omi beef teppanyaki lunch set", and I ordered the "Omi roast beef lunch set". Both were delicious! He gave me some teppanyaki Omi beef to try, but oh my goodness. It melts! We had a fantastic lunch and left there to walk around the town.

The Hachimanbori canal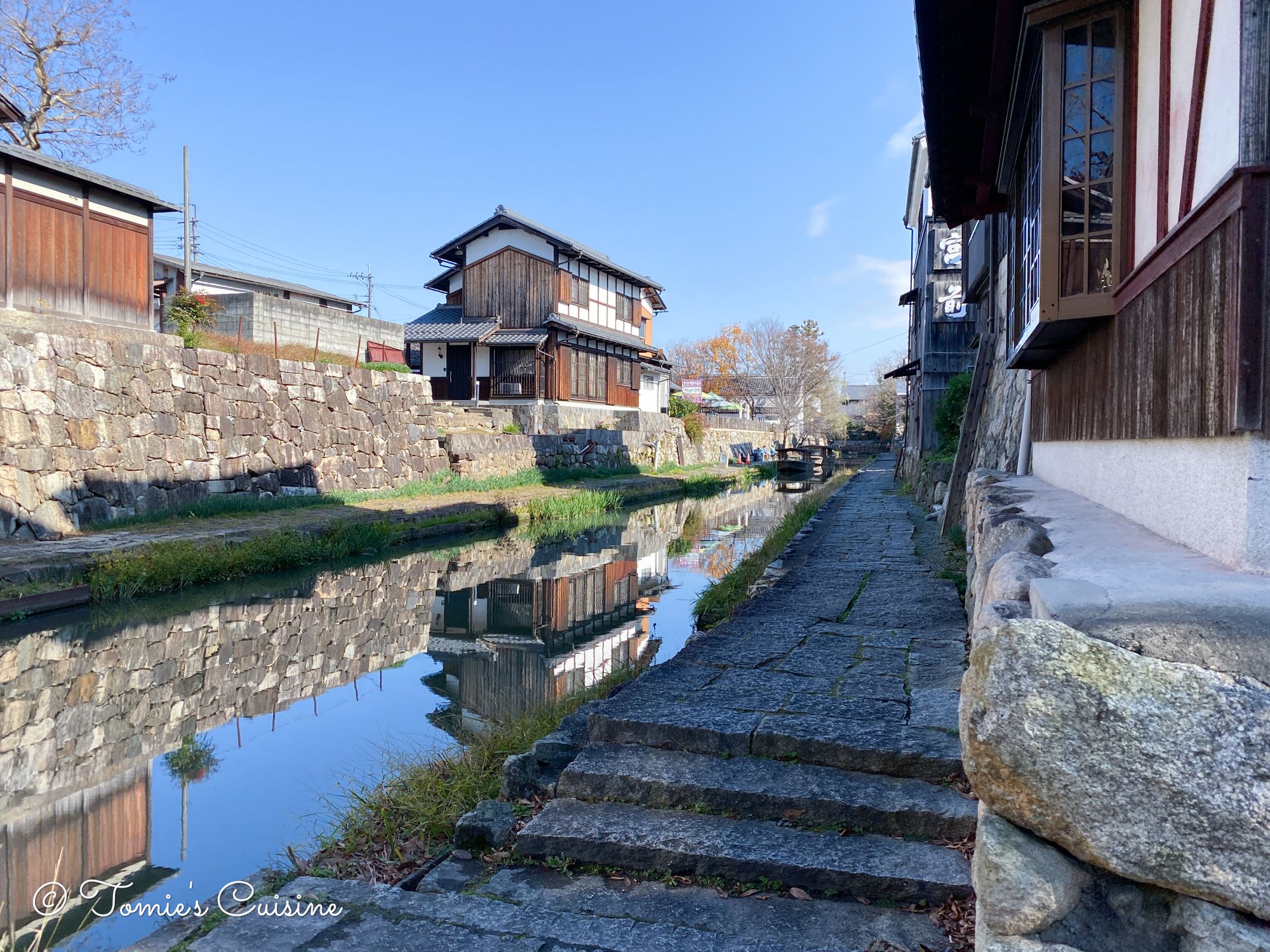 The area has a lot of well maintained old houses. Especially along the canal, there is an old storage house called "Kura". They used to use it as a storehouse to store the goods they received via the river throughout Japan.
You can walk along the waterway on the well-crafted stone pavement, and there were a few places to have some coffee and tea alongside it.
The canal was the primary transportation method around the castle since the Azuchi-Momoyama era (1568-1600). The waterways allowed the town to turn into a commercial hub. These were used up until the end of world war two.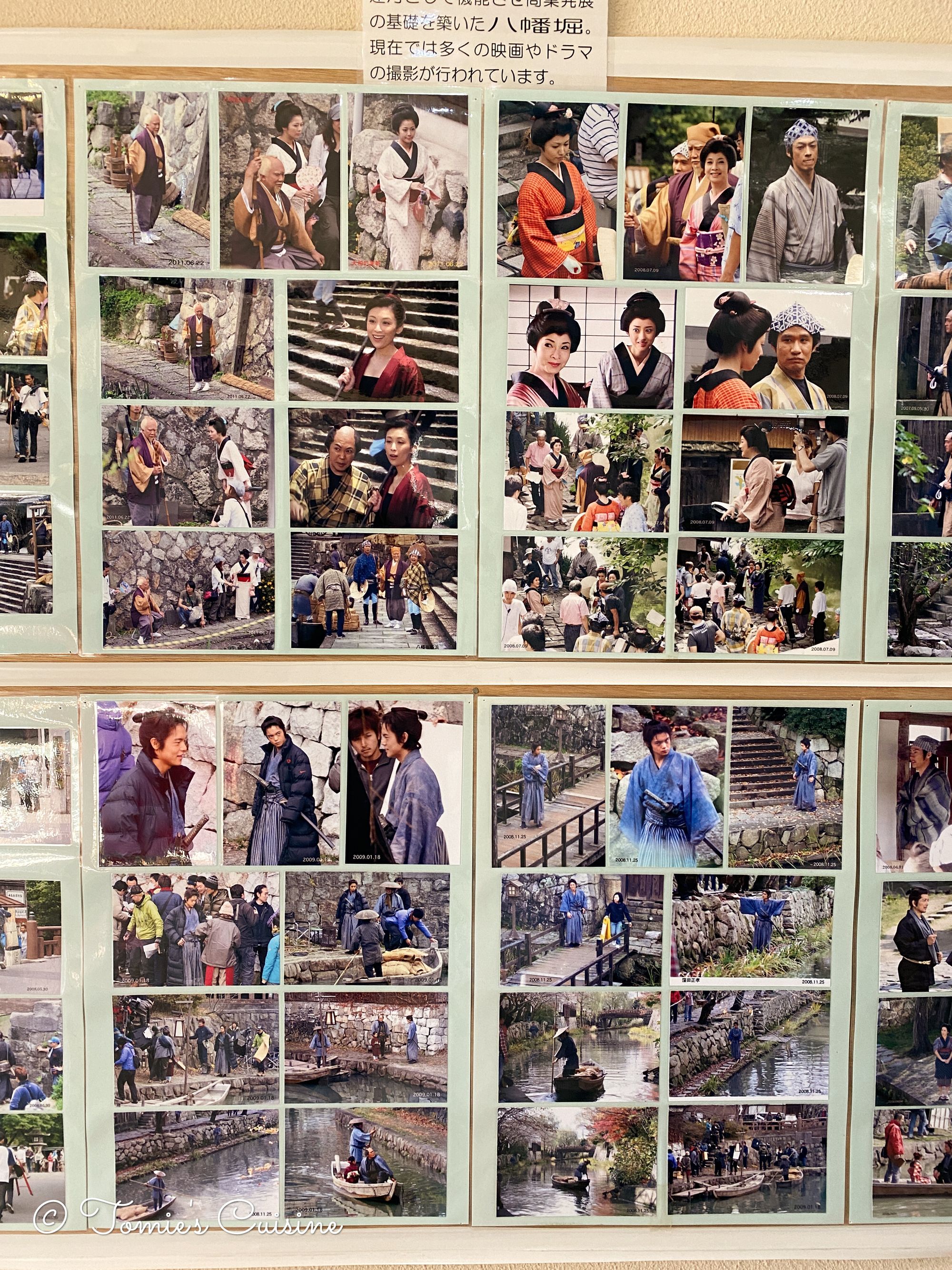 Because of its ambience, the canal often used as a shooting location for historical movies and series.
Omihachiman amenities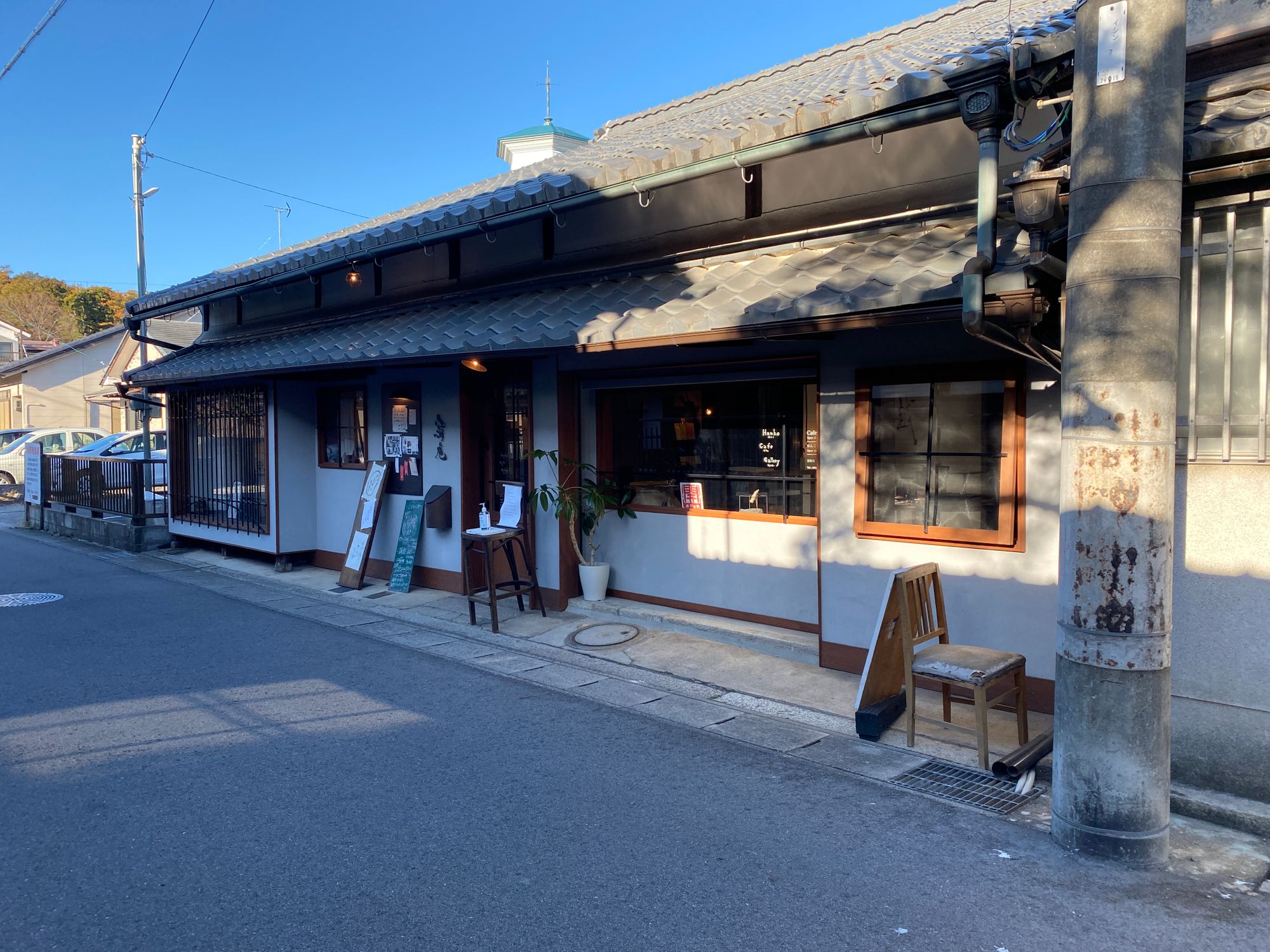 As I mentioned earlier, there are a lot of lovely old houses in Omihachiman. Now the homes are sold or rent to entrepreneurs to be used as a new modern shop.
Even though we can only speak about one guesthouse and a couple of shops, Omihachiman has quite a few hotels and guesthouses that are well-rated.
Accommodation
Guesthouses listed in this article
https://www.booking.com/hotel/jp/guesthouse-en.en-gb.html
https://www.booking.com/hotel/jp/guesthouse-mio.en-gb.html

Other listings: https://www.booking.com/city/jp/omihachiman.en-gb.html
Places to eat at
Marutake: https://goo.gl/maps/PgtzZjkEcZKdXLt38
Taneya (main one): https://goo.gl/maps/G8DA2AvrVhizR8kw6
Taneya (centre): https://goo.gl/maps/AsUmAzssc6C6KXh39
Places to visit
Hachimanbori: https://goo.gl/maps/wqTom9H68XATEdFJA
Hachiman Castle: https://goo.gl/maps/Pt6DBeBoUnU1nsMHA
If you want to read our overview of the Shiga prefecture, it's this way!
We have much more to say on this topic, so don't forget to subscribe to our email list to stay up to date and to follow us on Instagram and Pinterest!