Where is Morlaix?
Morlaix is a city in the westernmost region in France. It is in the Finistère department in Bretagne (Brittany). Does anyone know the animation series called "Astérix and Obélix (Asterix et Obelix)"? In the opening of the animation, they point at where they are living. Morlaix is not far from there.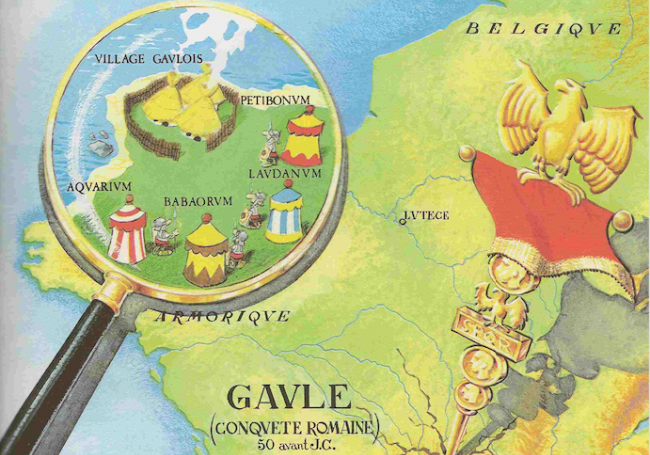 Brittany is where galette and crepes come from, and they are famous for their delicious dairy products and cidre. The world's best butter, the Bordier butter (Le beurre Bordier), is from Brittany (St. Malo).
Brittany is a popular location to spend a summer holiday. They have a beautiful sea surrounding the peninsula and islands to spend a holiday.
In the city centre of Morlaix, they have some creperie serving delicious galette and crepe with cidre in small cidre cup. The combination of crepe and dry cidre is incredible! I cannot wait to go to a restaurant after the restrictions are lifted.
I think the most iconic building in Morlaix is the "Viaduc de Morlaix". It's a 62 metres tall railway bridge that is now a national historical monument.
How to get to Morlaix?
From the UK, there are ferries to leave from Portsmouth to arrive in St.Malo or going from Plymouth to come to Roscoff. Roscoff is only half an hour away from Morlaix and a prevalent location for a holiday, and they are also famous for "Roscoff pink onions".
If you want to get to Morlaix by train, the train station is directly linked to Paris by TGV. As a bonus, it goes over the Viaduct, so you can get a quick look at the city before arriving.

Saturday is the day to go out to market in Morlaix!
Every Saturday from 8 am to 1:30 pm there is a market in the city centre of Morlaix. Going to the market is my weekly special event when we are around there.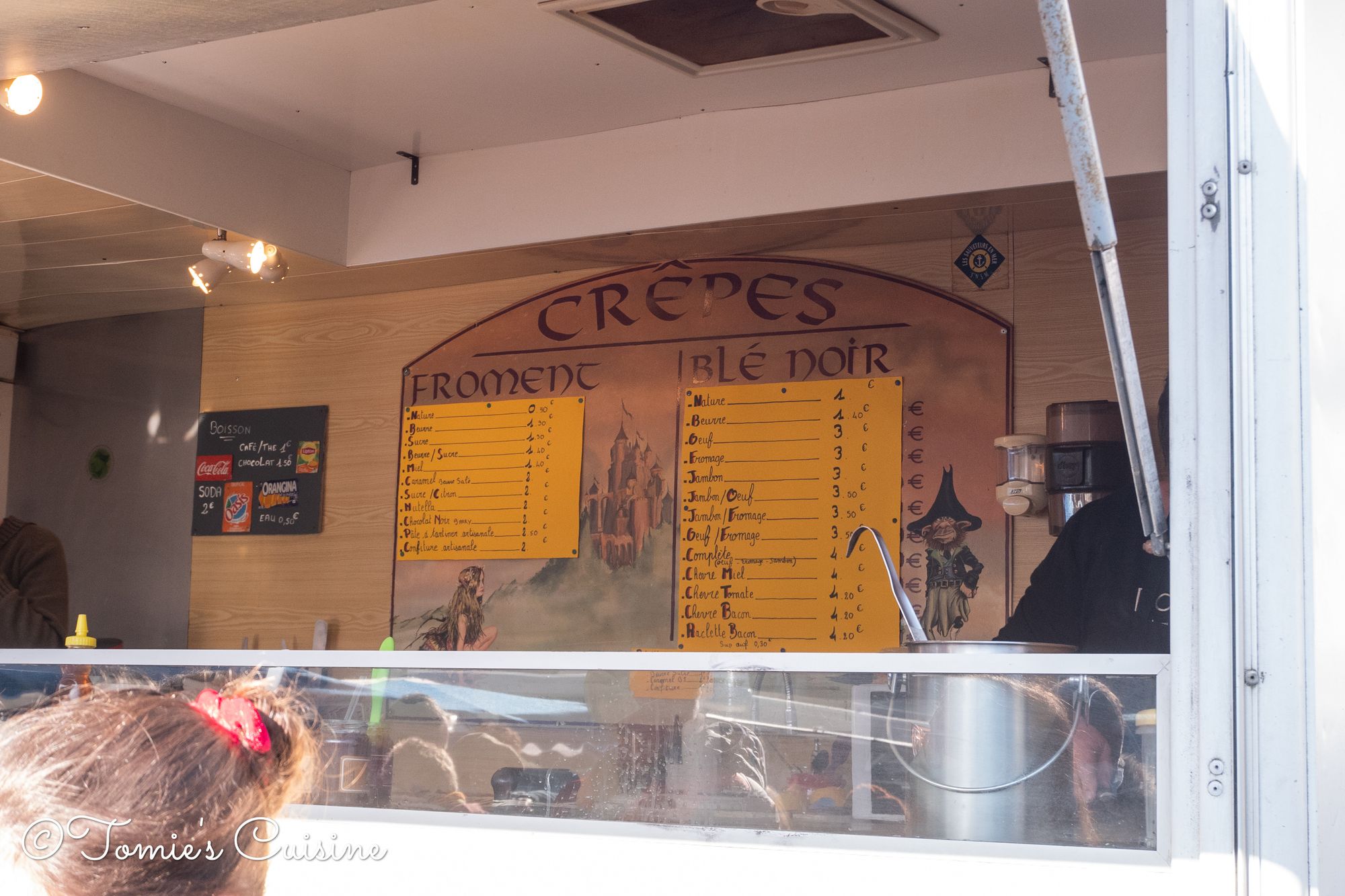 The market is split into two sections, food and souvenirs. In the market, we can find the following stores:

Organic vegetables
Butcher
Fishmonger
Fromagerie
Spices
Honey
Pastry
Bakery
Food tracks(crepes, couscous, paella, etc.)
Handcrafted goods (leather, soap, etc.)
Clothes
Souvenirs
Books
Toys
Mattresses and other beddings (yep)
Arts (paintings, photography)

Why did we go to the market?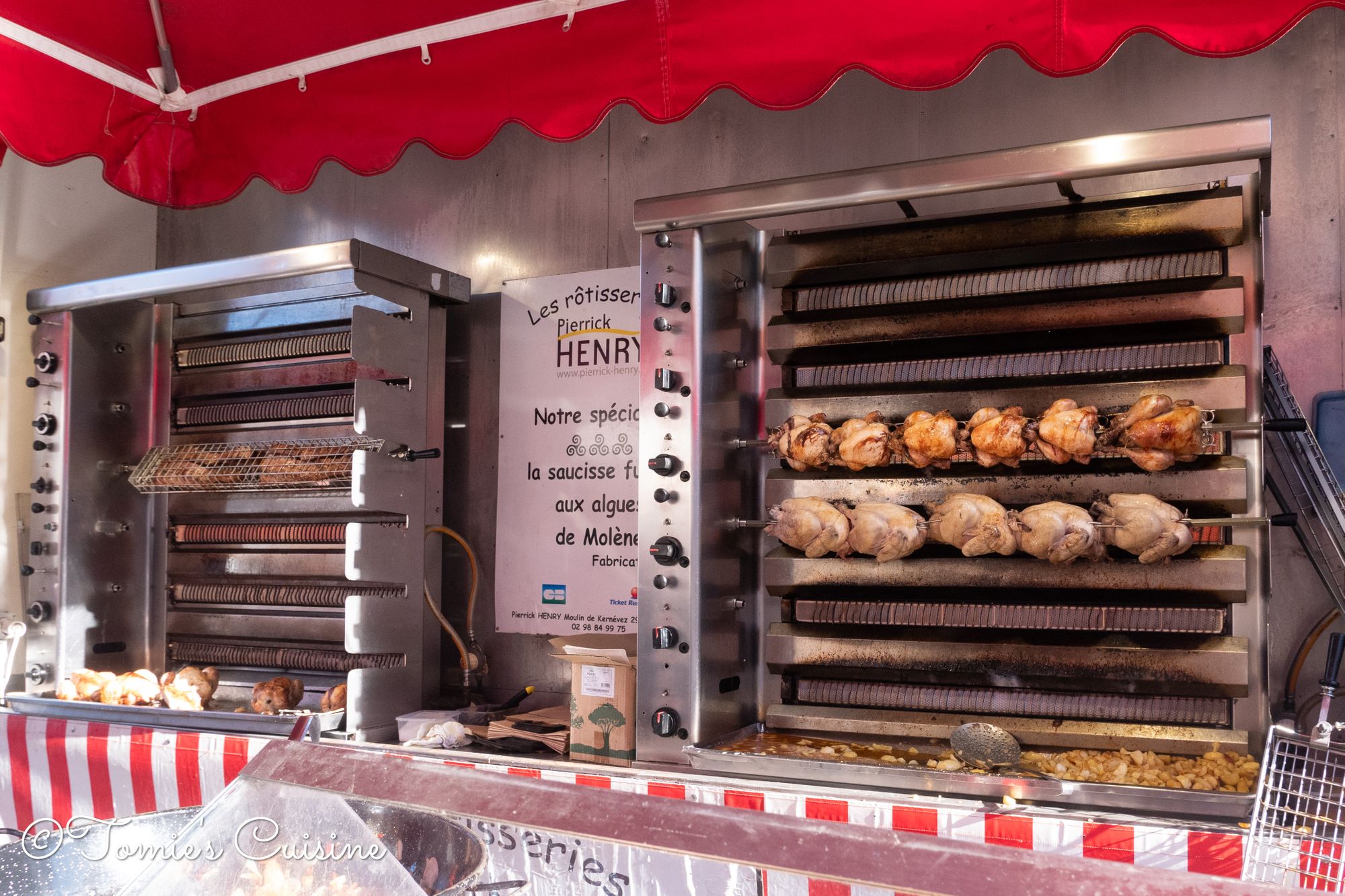 We arrived at the market before 11 am and went straight to the rotisserie to buy lard (roasted pork belly) and roasted potatoes (seasoned with spices and the fat dripping from grilled chicken). Brittany is also famous for pork, and of course, it goes well with cidre.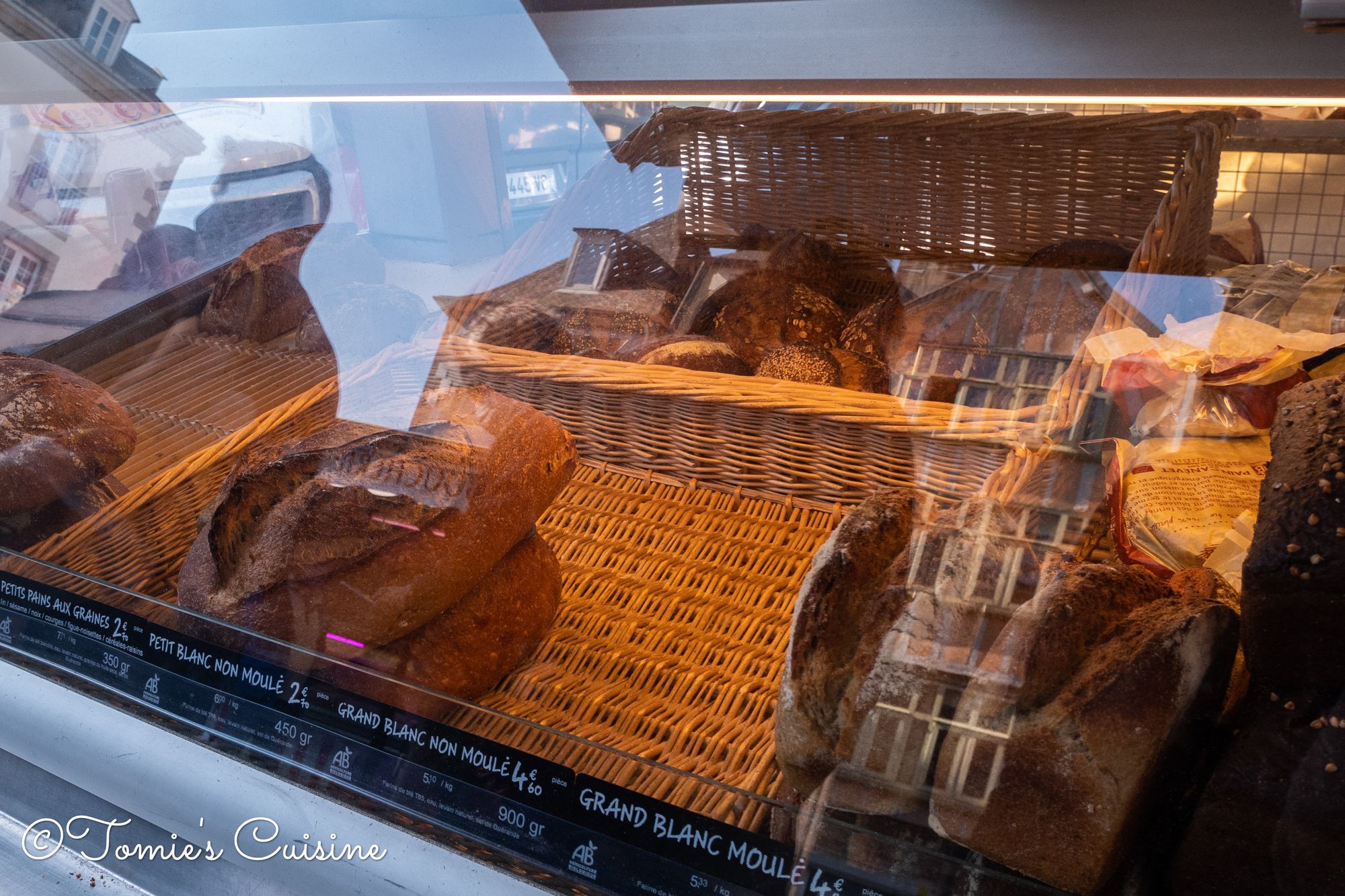 Then we went to the bakery stand right in front of the rotisserie to get artisan bread. We bought half of the big walnut brown bread. Oh, and I bought a croissant just for myself "to try". Hehe.
After completing our primary mission, we walked around the market.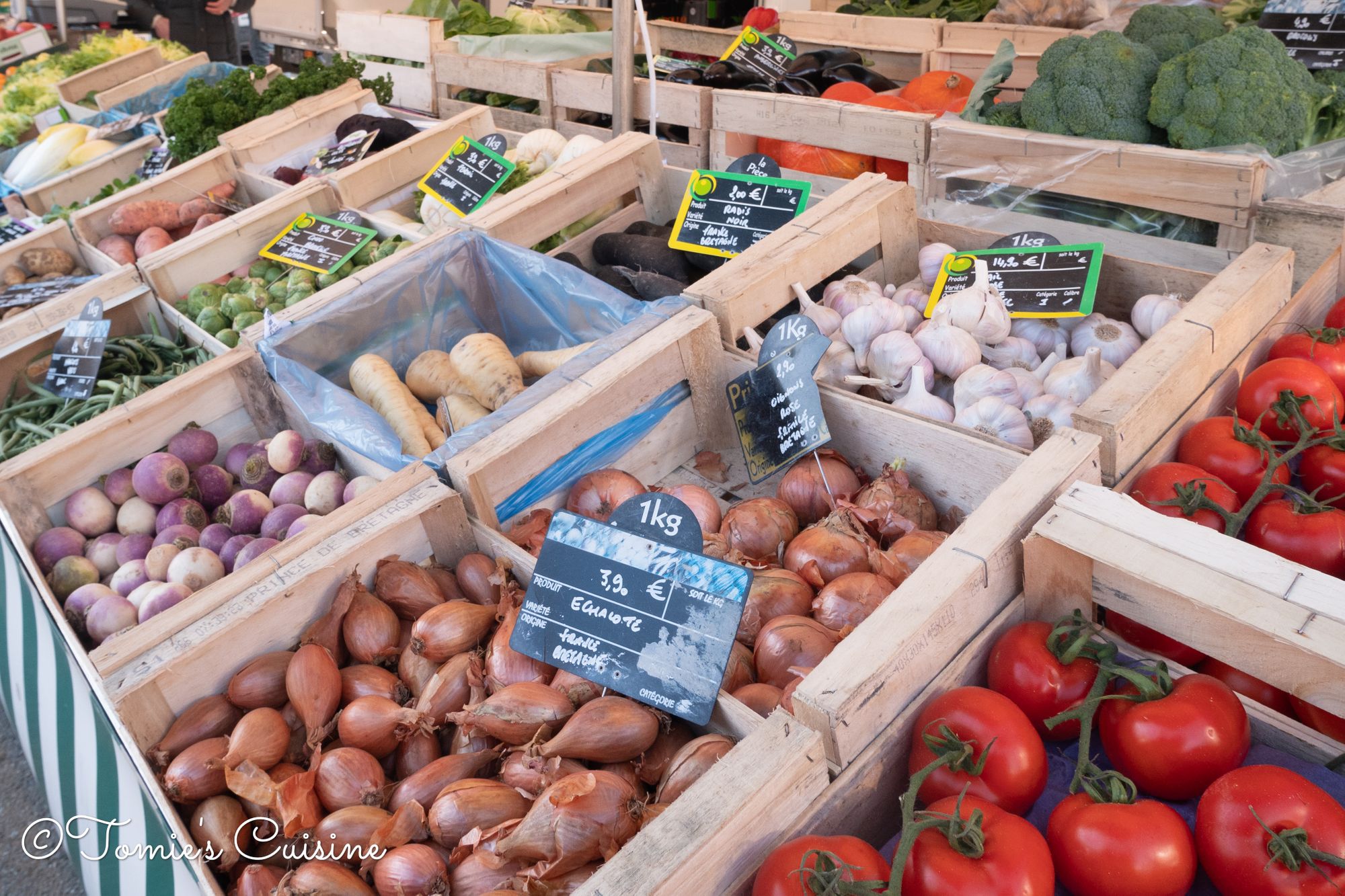 We bought some organic vegetables from local farmers: leeks, a pumpkin, black radish and some Jerusalem artichoke. We roasted the Jerusalem artichoke with some olive oil, rosemary and garlic, and it was delicious!

Shopping without plastic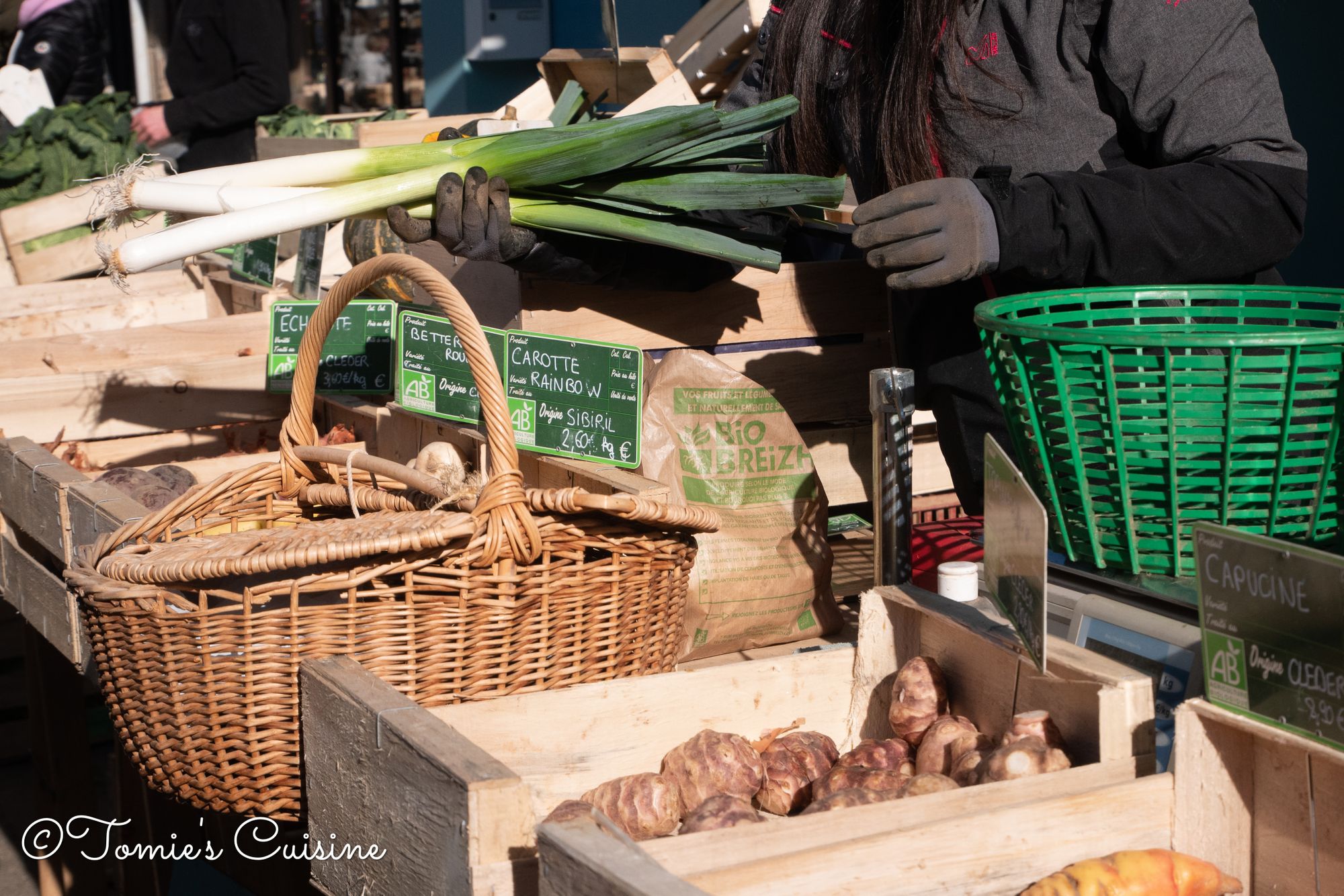 Market
It's still hard to do shopping without plastic in supermarkets, even in France, but it wasn't hard at all in the market. I loved it!
We only brought a shopping bag and a backpack to the market. The market stalls we went to were all using paper bags. Even the rotisserie was putting the food in a waxed paper bag, and their shopper bag was paper too. But next time, I am going to bring my bags and containers! That is my next mission.
Zero-waste shop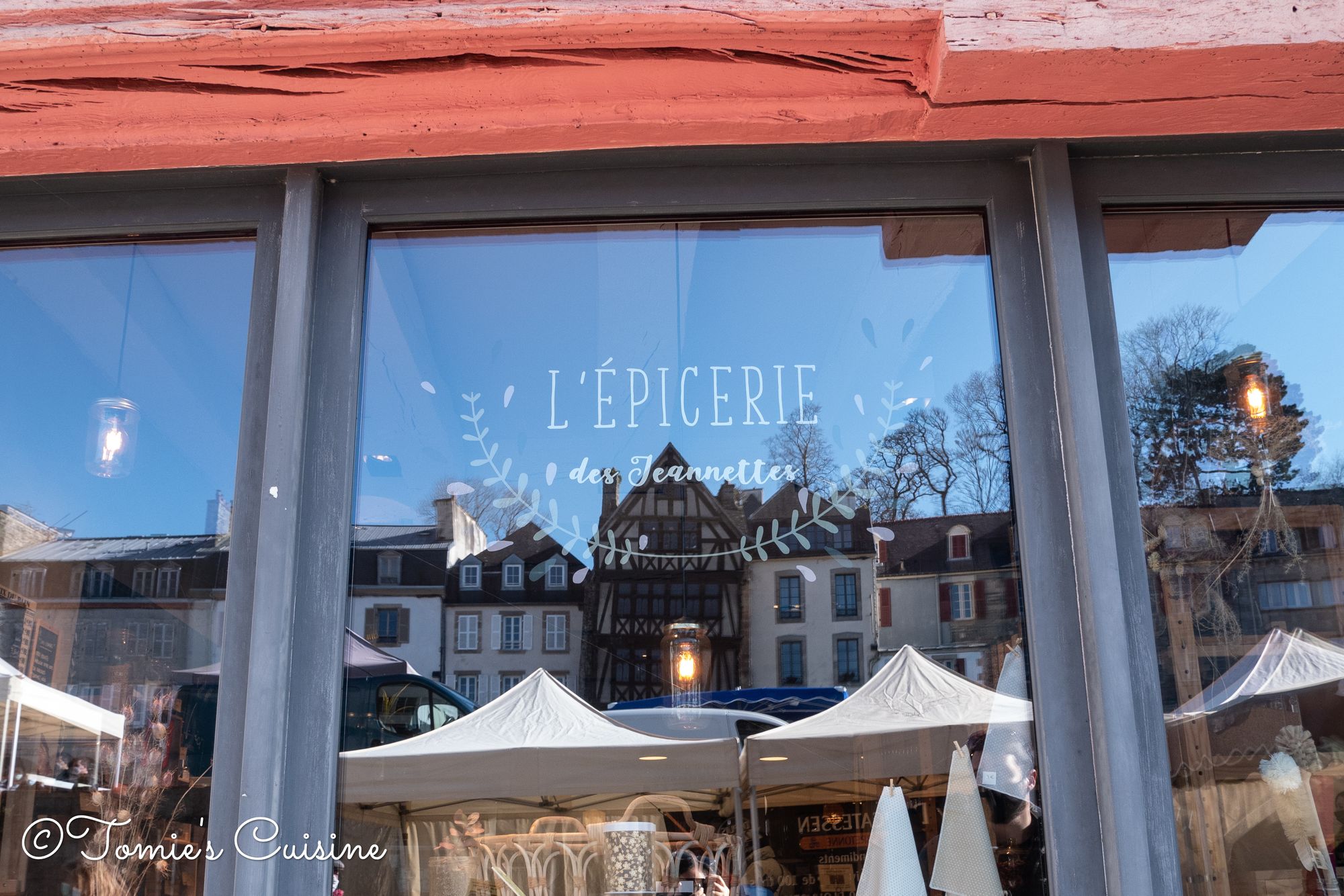 After the veggies, we went to the zero-waste shop we wanted to go! L'Epicerie des Jeannettes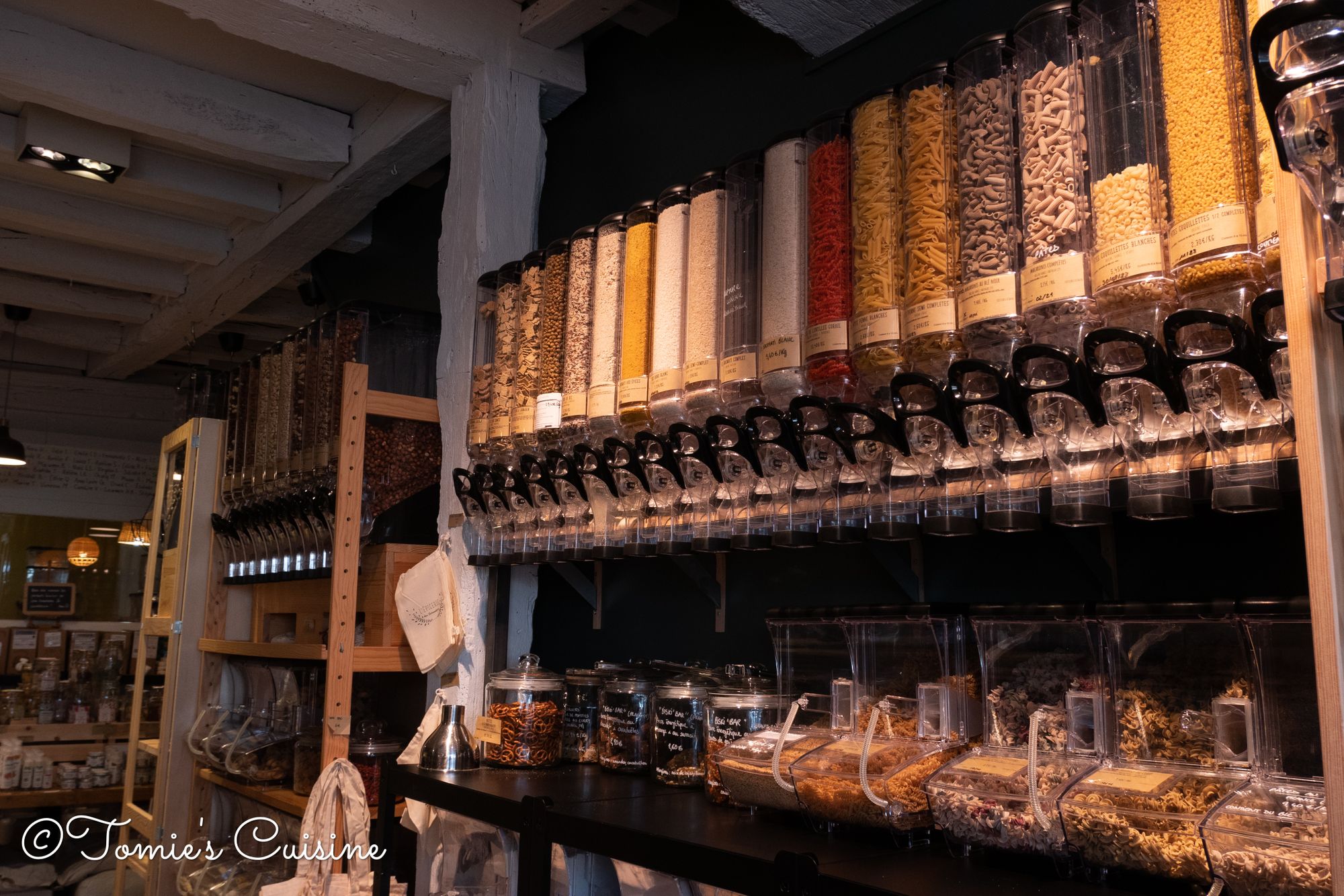 They are right in the middle of the market and sell unpackaged foods and other products. If you don't bring your own containers, they are selling their reusable cotton bags. Given the current situation, they also provide paper bags for free, although this is temporary.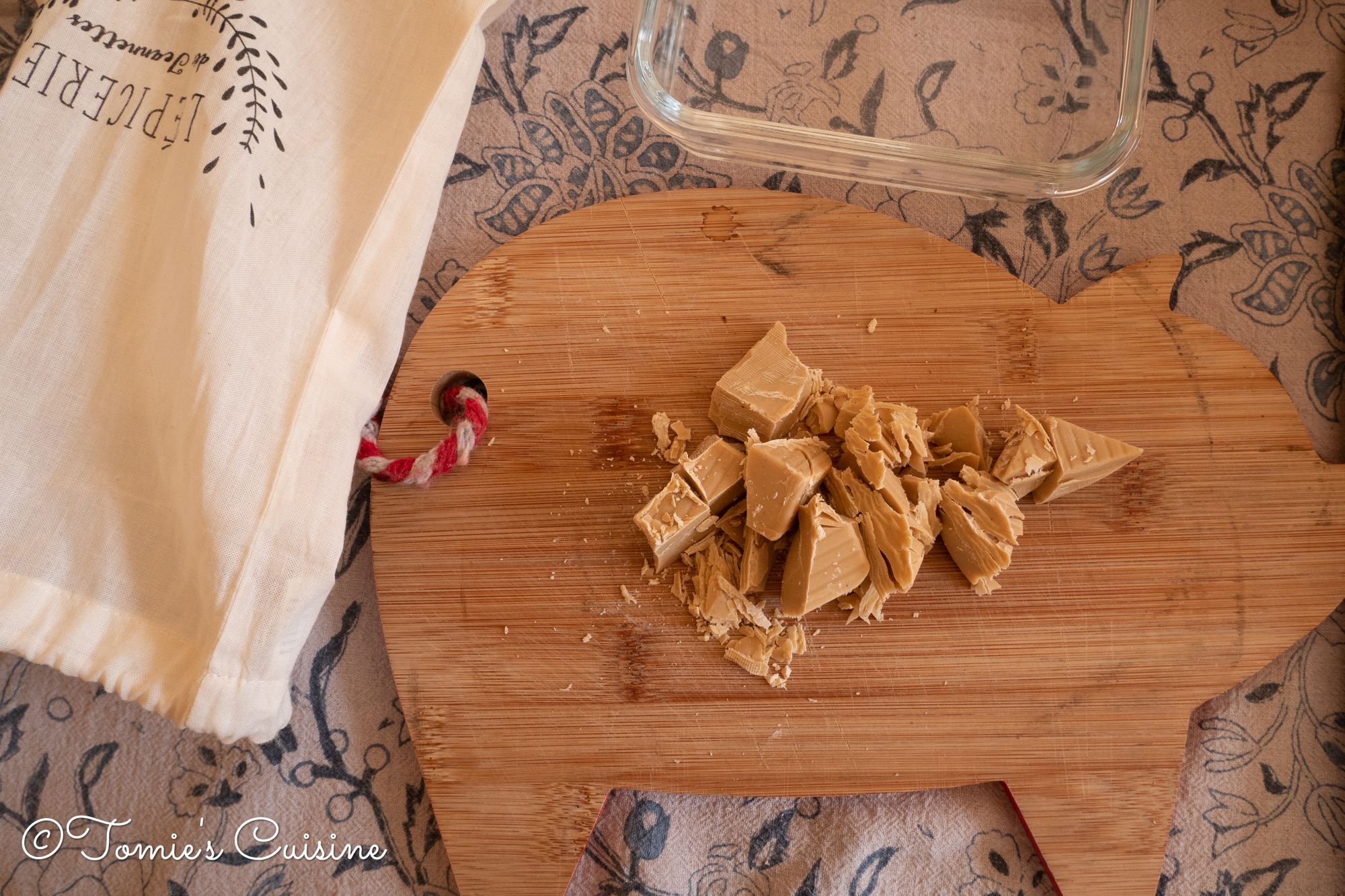 We bought about a half kilo of oats for our granola and white chocolate. I haven't used the oats yet, but the white chocolate was delicious. It was sold in big broken pieces, so I cut some to serve to my family to enjoy while having coffee. And it disappeared in a minute!
I will definitely go back again while we are around, as there are more things I wanted to try.
Local farmers shop

Since I was having so much fun, I had to ask my husband to stop at the local shop near his parent's house because I forgot to buy some salad to go with lard and roasted potatoes. Yes, after we went through many vegetable producers market stalls, he wasn't happy.
The shop offers paper bags for vegetables and fruits and some cardboard or wooden punnet to put purchased items.
They are not plastic-free or a zero waste shop specifically, but all of the fruits and vegetables in season are package-free. I was trying to do shopping without plastic, so it helped me.

A very special dinner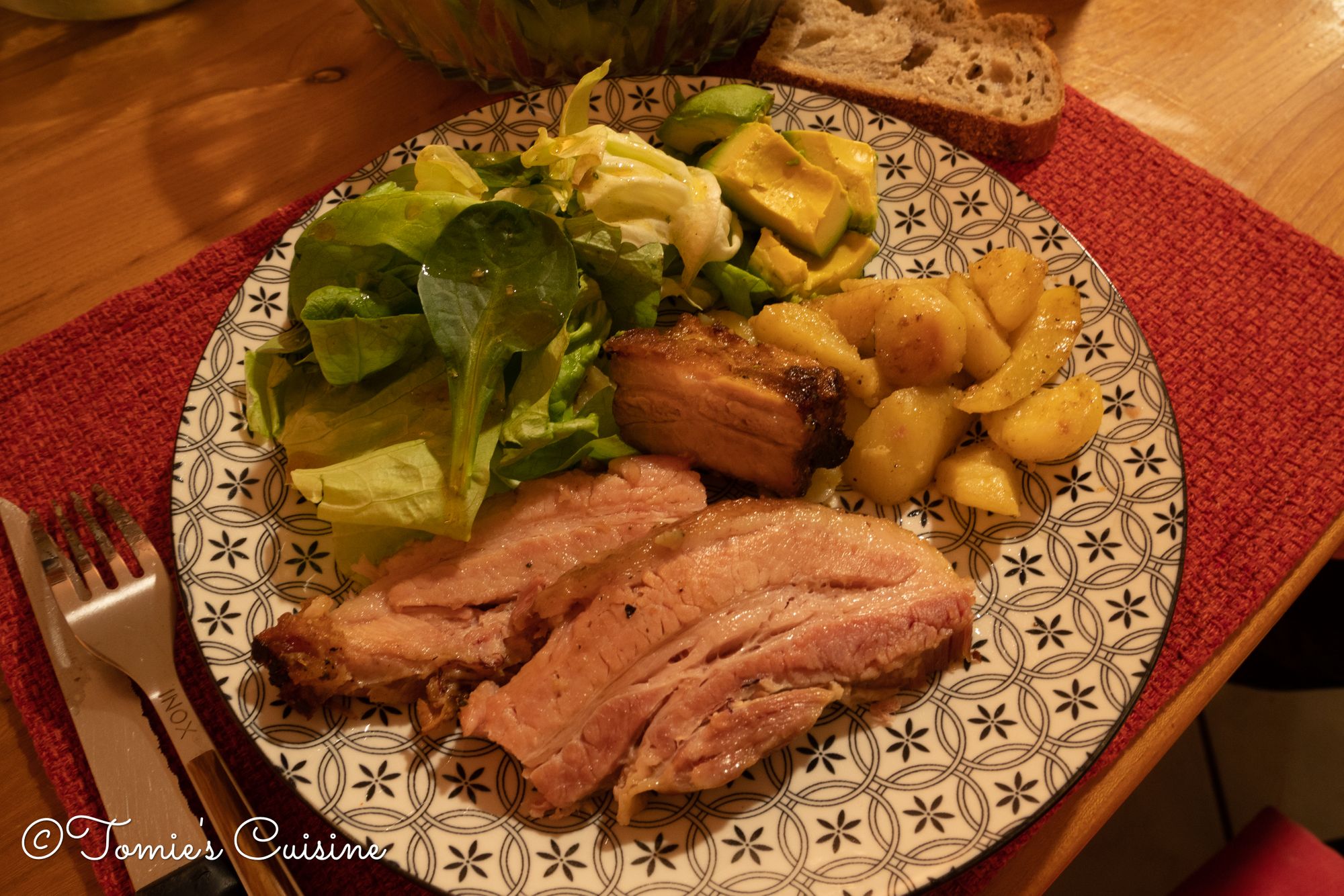 We had the mouth-watering lard, roasted potatoes, salad with homemade dressing and fresh bread for dinner! We just have to put the lard and potatoes in the oven to reheat it. It is an easy but unique dinner.

Closing words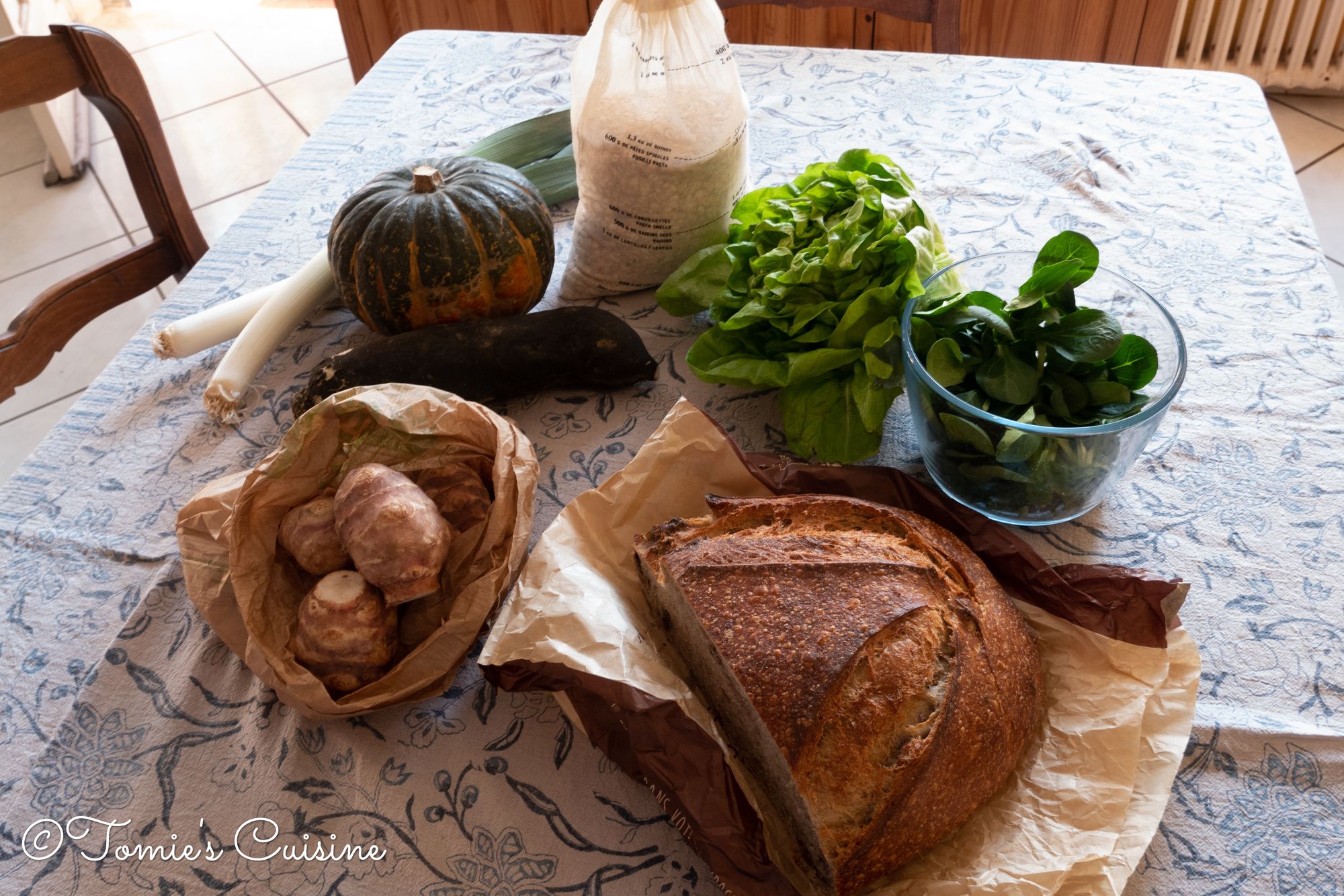 If you have any questions or would like us to show you some specific market stalls, please let us know on our Instagram, Pinterest, or email here! We'll answer them in our articles!
Don't forget to subscribe to our email list so that you don't miss any of our future updates!