All the home compostable Nespresso coffee pods we've tried before had a light and unusual taste that we had never experienced with the aluminium pods. Most home compostable coffee pods are made from cornstarch, so maybe that is the source of this flavour.
Since returning from France, we tried three various home compostable Nespresso pods that we can buy from Amazon.
Today I am comparing the taste of those coffee pods. All the coffees are brewed by pressing one time on the "lungo" and one time the "espresso" buttons with a Nespresso machine.

We explained the word "home compostable" in our previous coffee pods review post ;-)
As a taster: my coffee preference
We both drink coffee daily, so naturally, one of my favourite times during the day is brewing my filtered coffee. I am not a professional, but I enjoy the smell and ambience. When I am busy, Nespresso is a big help in preparing coffee.
Before buying home compostable coffee, I generally purchased "House blend" Nespresso pods from Starbucks and "Lungo Profondo" from L'or. Both intensities are 8.
I don't have cow's milk at home anymore. Instead, we store oat milk and enjoy it with coffee as much as we used to enjoy cow's milk.

Coffees tested
Part one
San Marco (BIO No.8: Organic No.8)
Origeens (The Ethical Selection)

Part two
Grind
Sons of Amazon
Source climate change coffee

Rwanda
Uganda
Tanzania
Mexico
Grind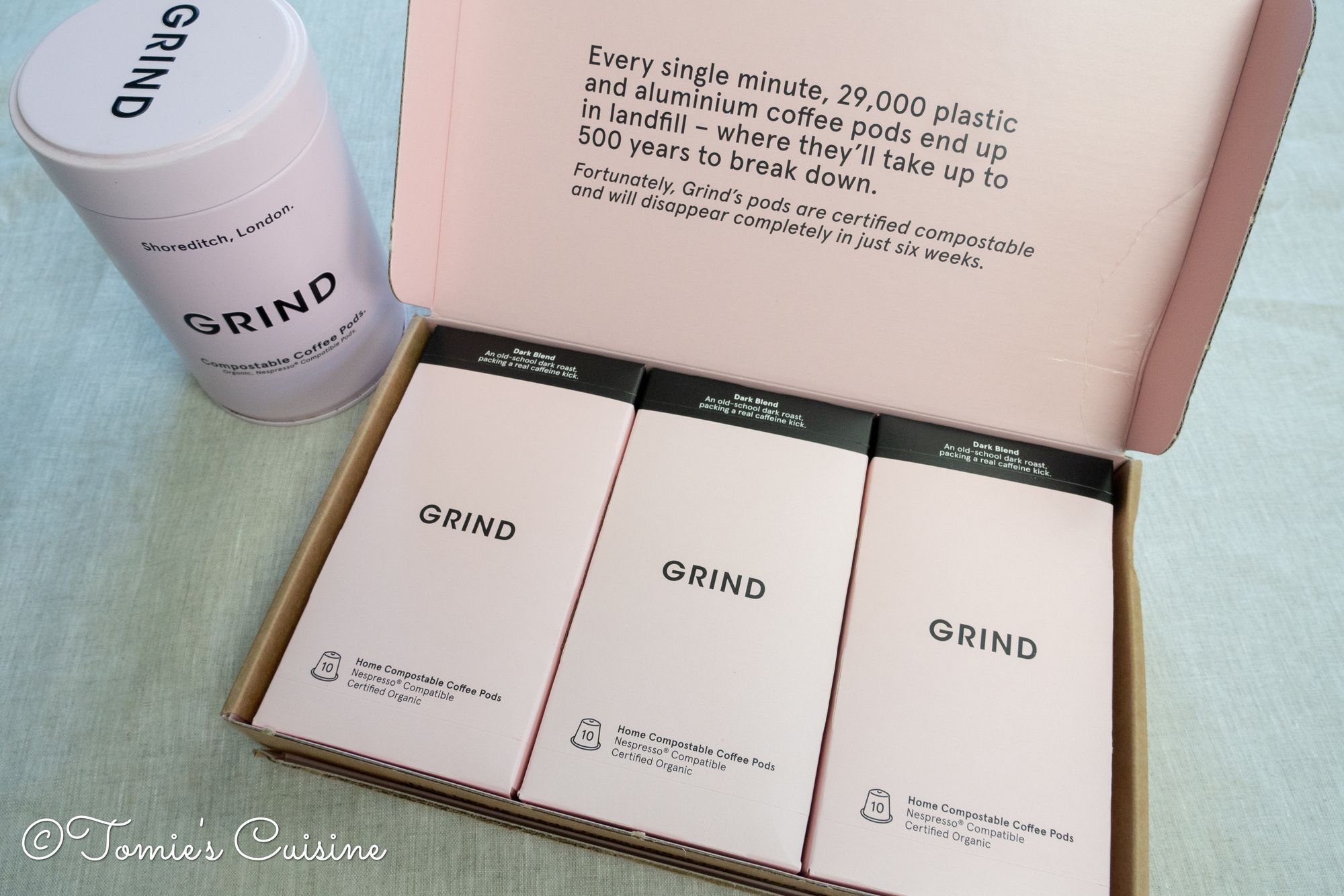 Grind Organic Dark Blend Coffee Pods, Nespresso Compatible, Strong, Better Than Fairtrade & 100% Compostable

Grind is a company based in Shoreditch, London. It is the first compostable coffee we bought after returning from France.
I saw their advertisement on Instagram; at that time, they offered coffee pods with their pretty pink tin to store them. Great design, organic coffee and home-compostable pods, why not? Right?
I tried their house blend first, then changed to dark roast. I found the house blend to taste too light. So I ordered a dark roast this time.
I buy them from their website as a subscription, but they are also available on Amazon.

Home compostable claim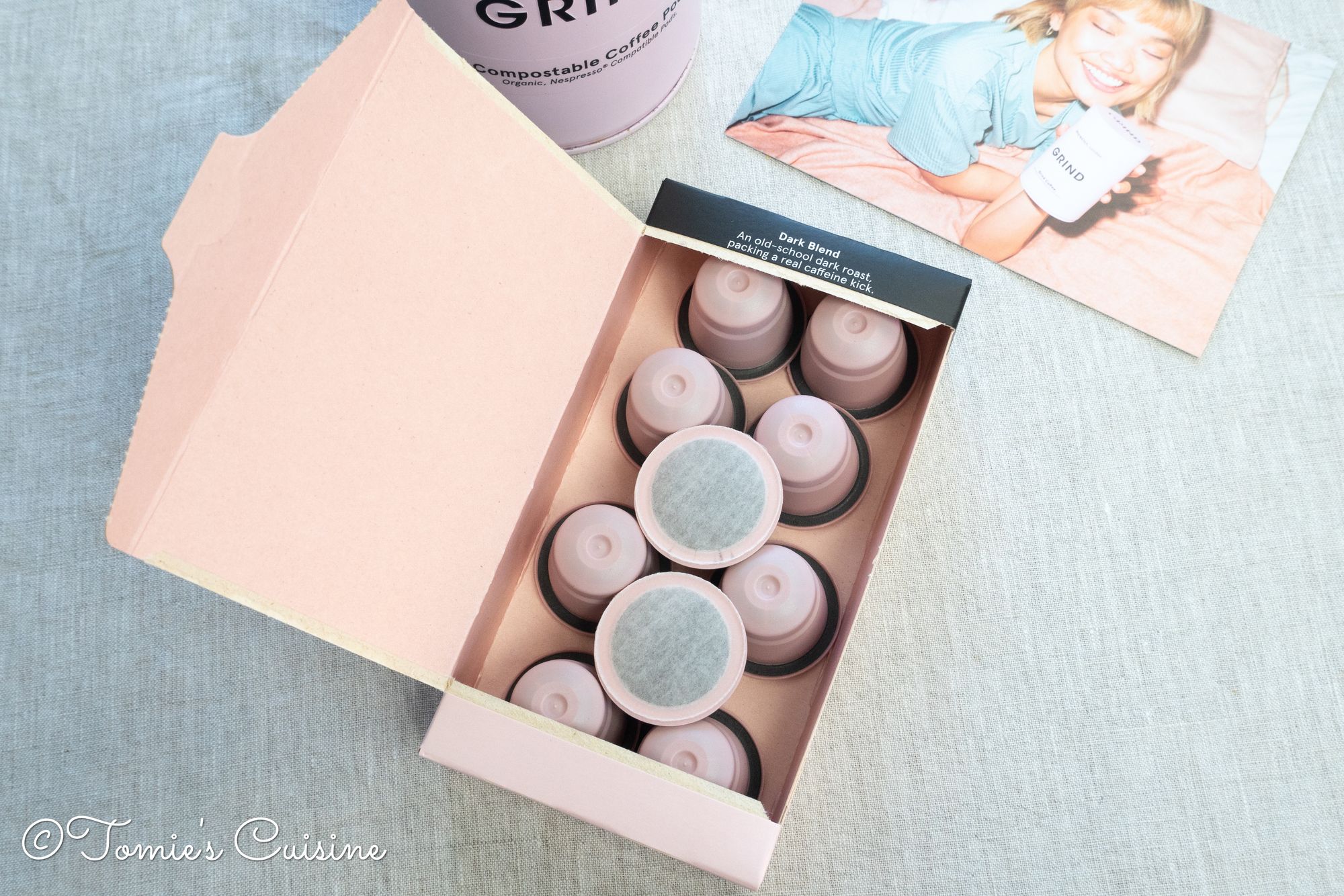 Our pods are TUV-Austria OK Compost Home certified and will decompose within 26 weeks (in the right conditions*) - which is even quicker than garden grass cuttings.

Taste
"An old-school dark roast, packing loads of bittersweetness. Intensity 10." (Grind)

For me, this coffee doesn't have much character. It also means it's excellent as an everyday coffee. It goes well with oat milk too.
Sons of Amazon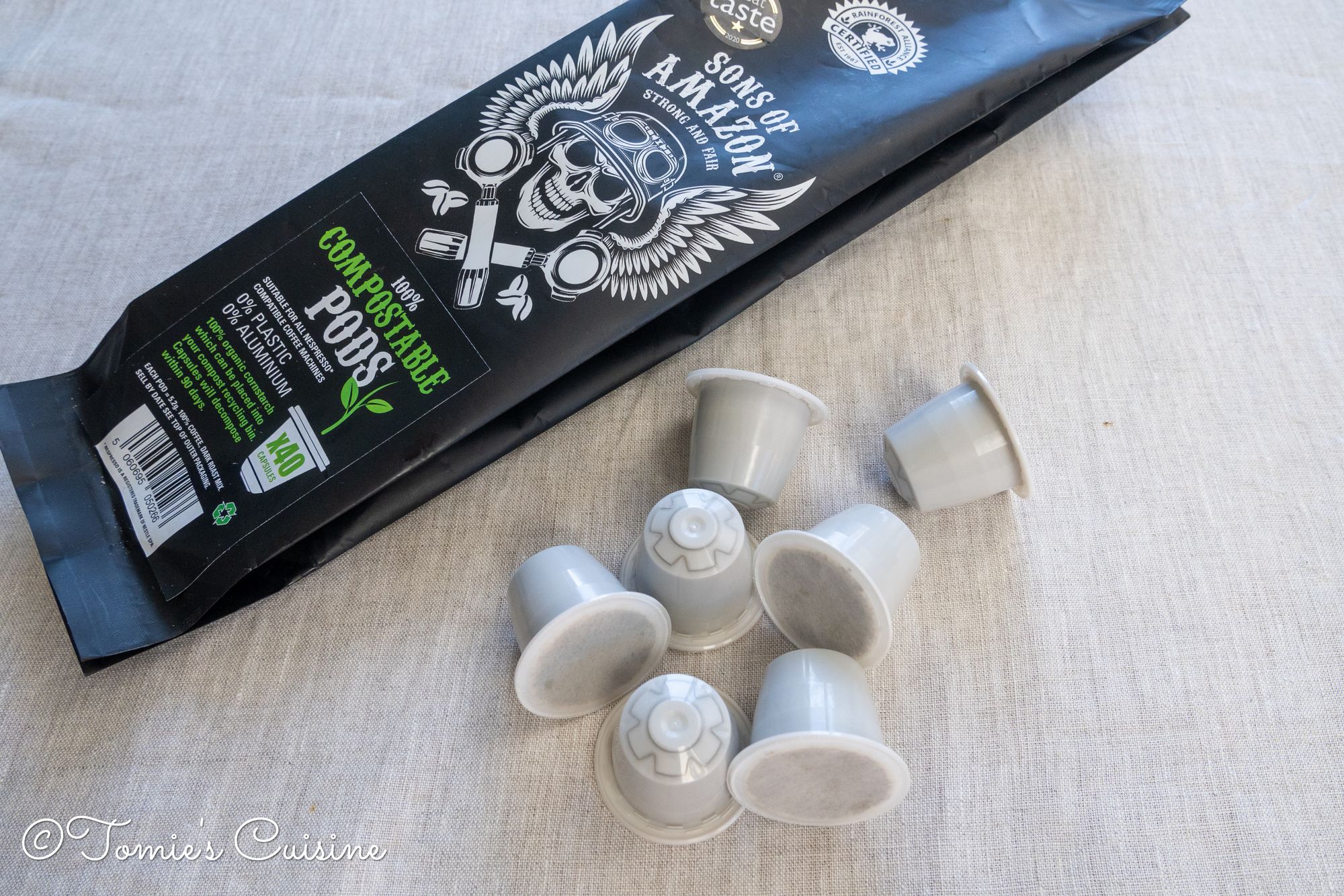 Sons of Amazon COMPOSTABLE COFFEE PODS for Nespresso* Machines - 40 Capsules of Strong Fairtrade Coffee - Recyclable Biodegradable

We bought this coffee after trying Grind. I was searching for another home-compostable coffee on Amazon. The package design is somewhat scary, but the reviews were good, so I tried it.
Home compostable pods with recyclable packaging. Rainforest Alliance certified.
Home compostable claim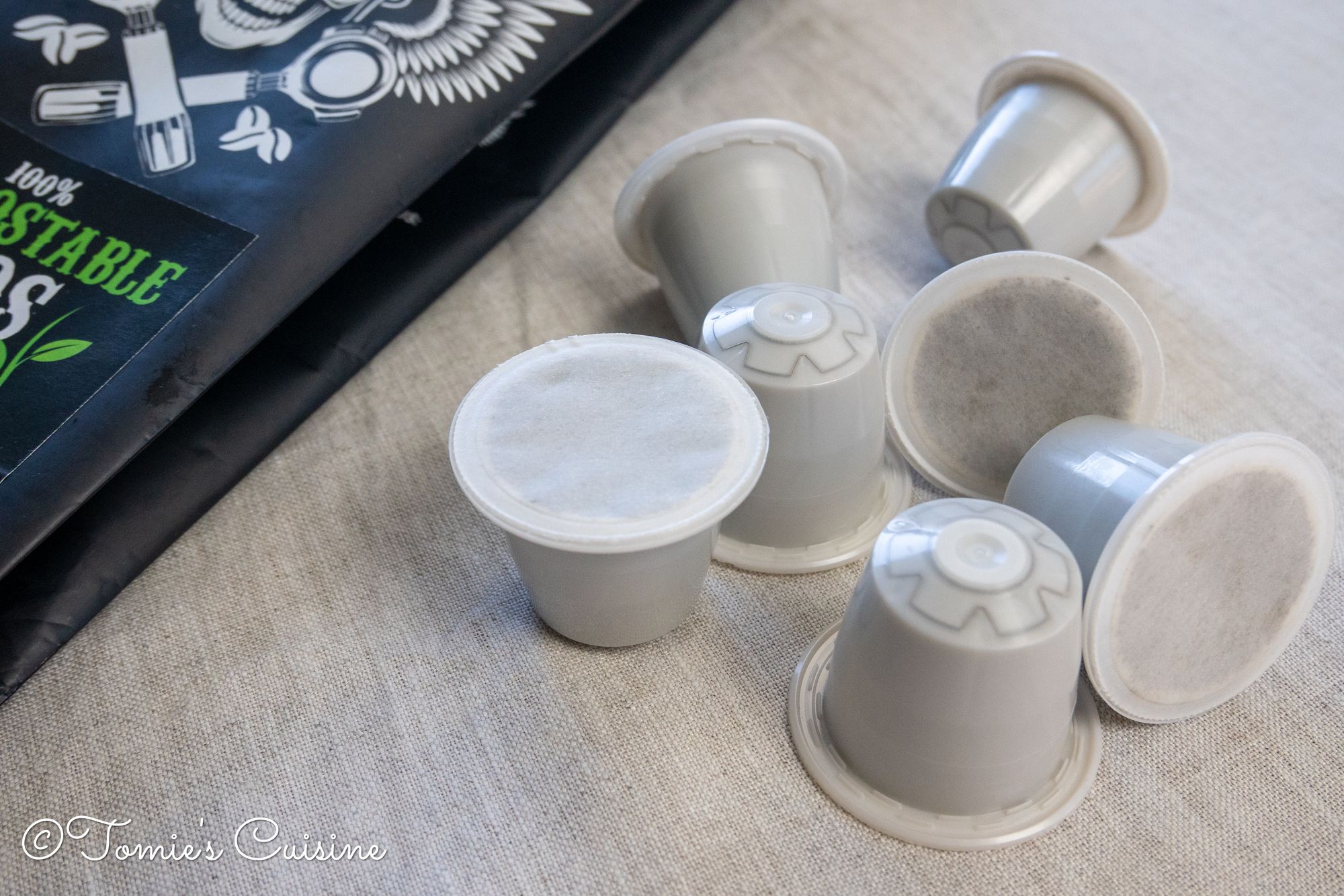 The pods compost in around 90 days returning valuable nutrients back to the soil.

Taste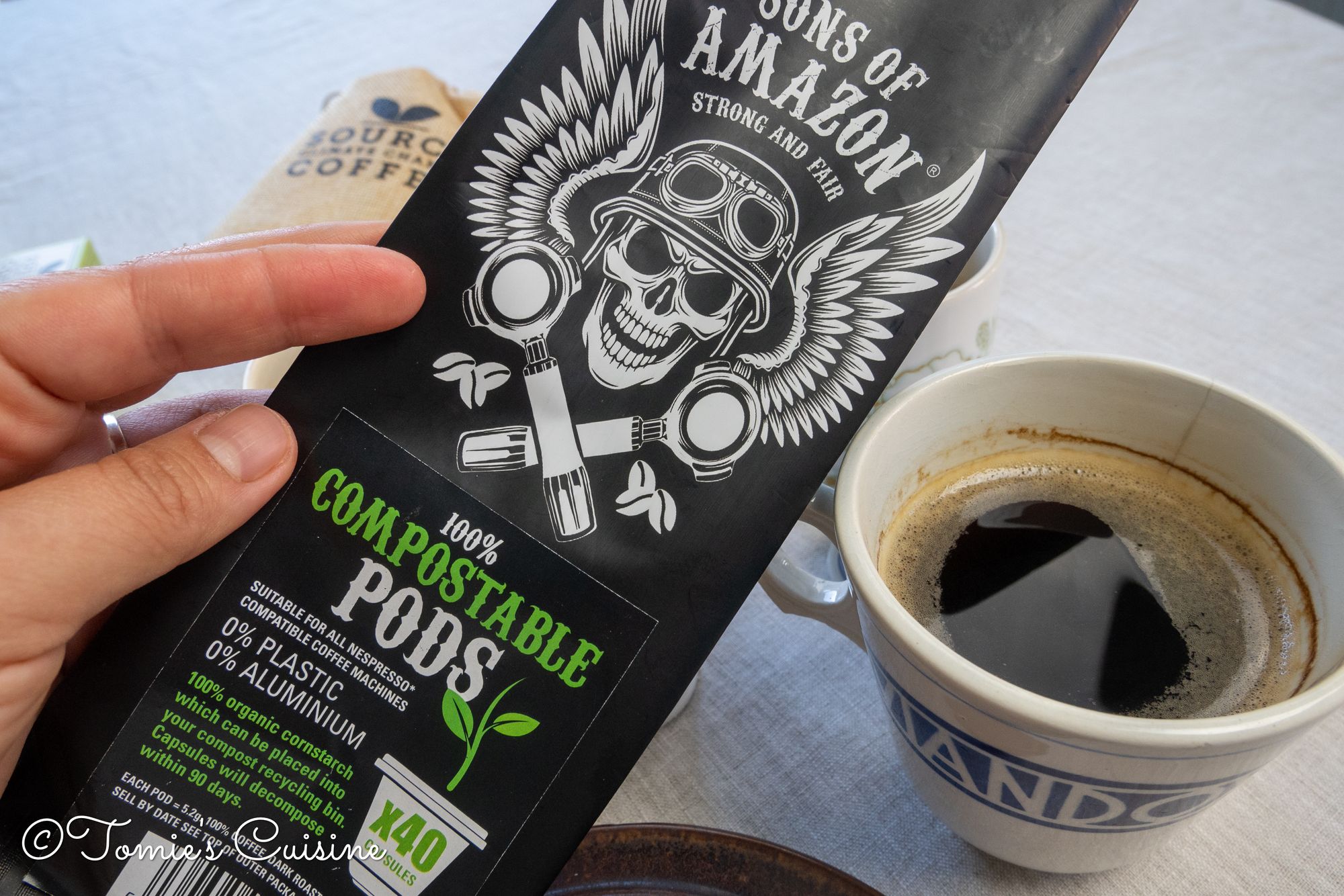 I found it a little bit lighter than the other coffees on this list. Brewing as "espresso" and mixing with oat milk is excellent; as a "lungo", it's too light to mix with oat milk.

Source climate change coffee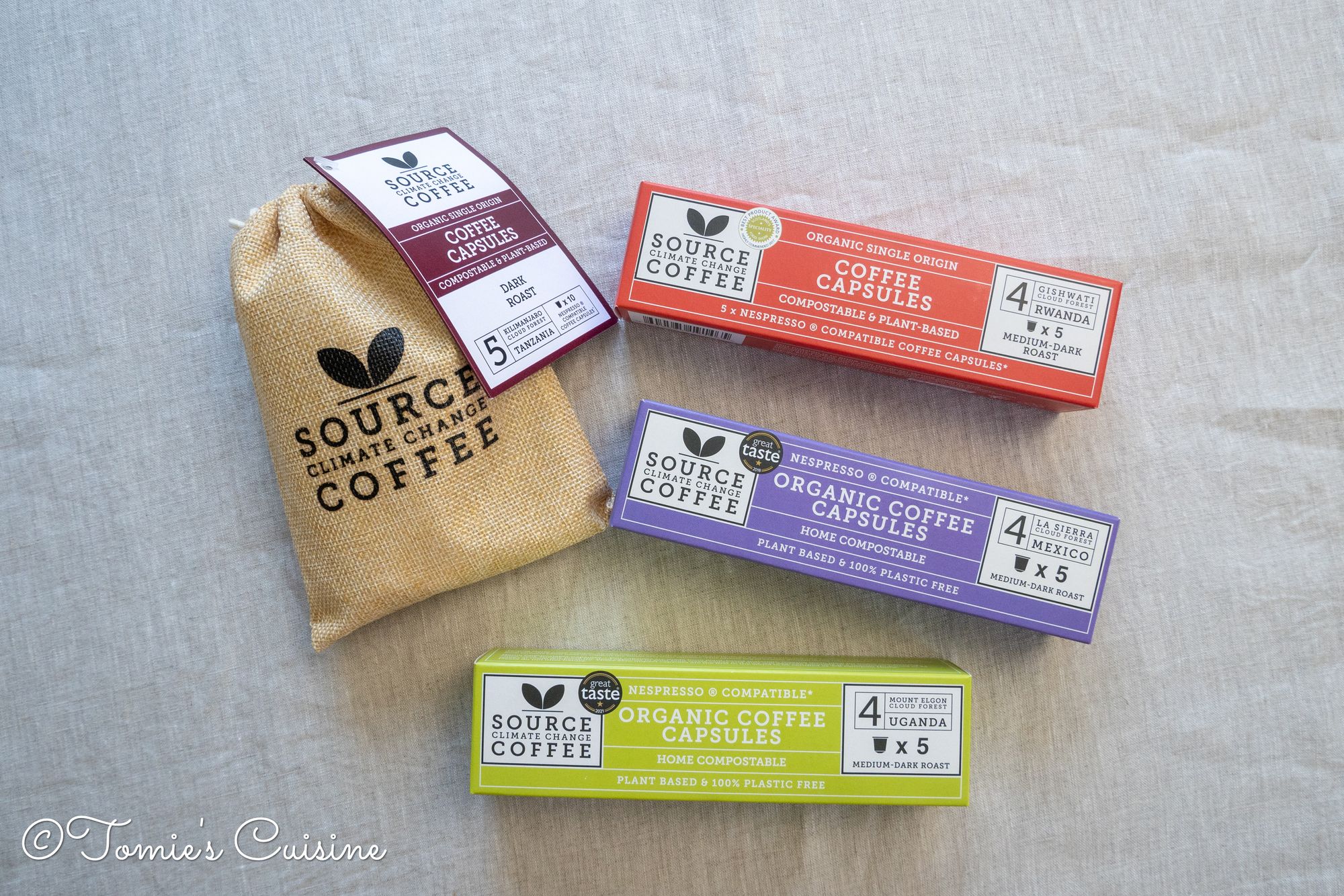 Organic Coffee Pods - Home Compostable Nespresso Machine Compatible Coffee Capsules by Source Climate Change

They have five different coffees available, I bought a tasting set that shows five boxes on the listing, but I only received four. So I'll only be reviewing the ones I received. To be fair to them, it says "four-pack" and 40 capsules, which is what I received.

All the coffees are organic and single-origin.
Home compostable claim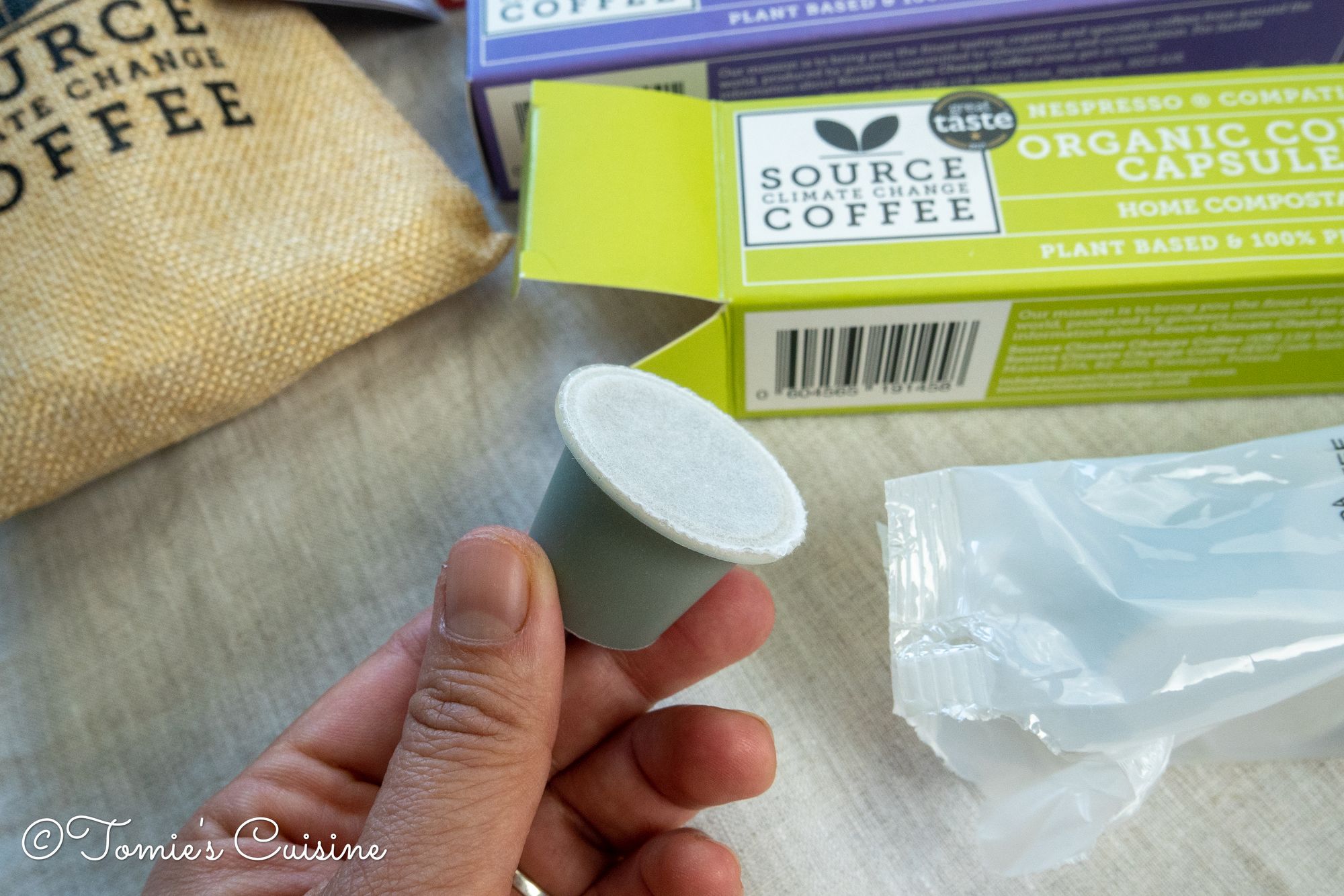 Simply place the used capsules in your food waste caddy, and they will decompose naturally within 24 weeks.

Taste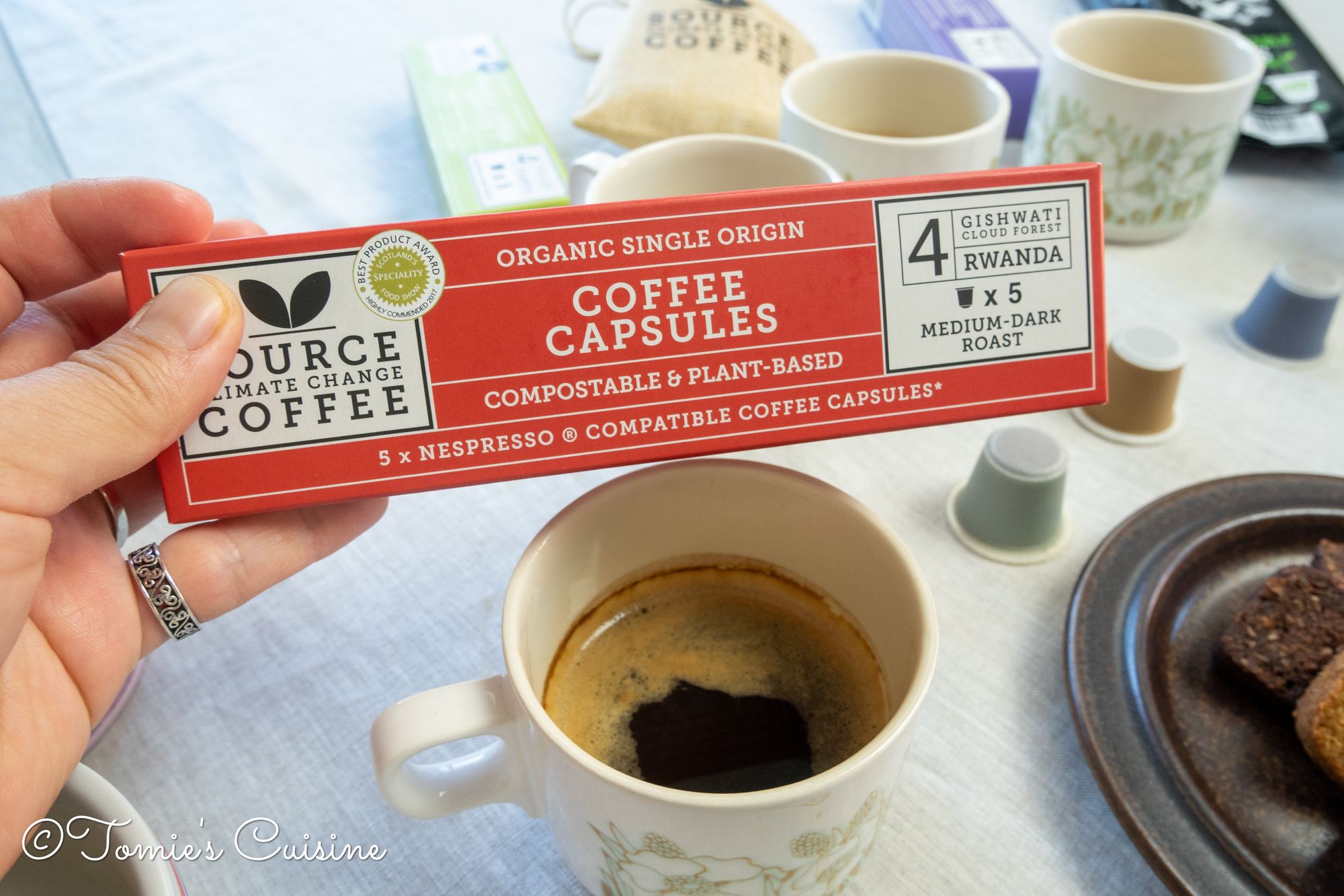 Sourest between all the coffees we have tried this time. I'm not too fond of sour coffee, so I would not repurchase it.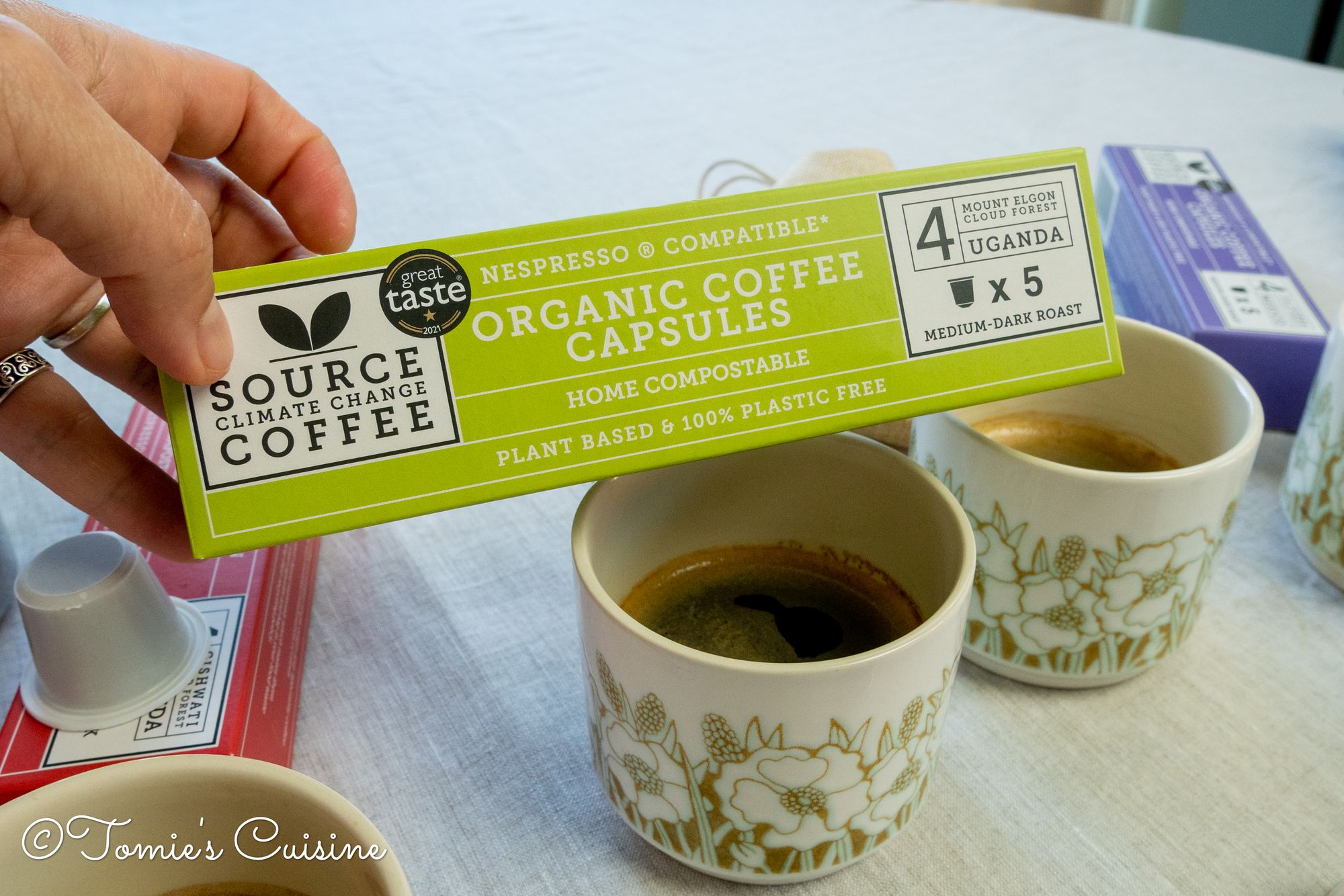 The fruity smell came first. Sweet and mild chocolatey flavour. One of my favourite.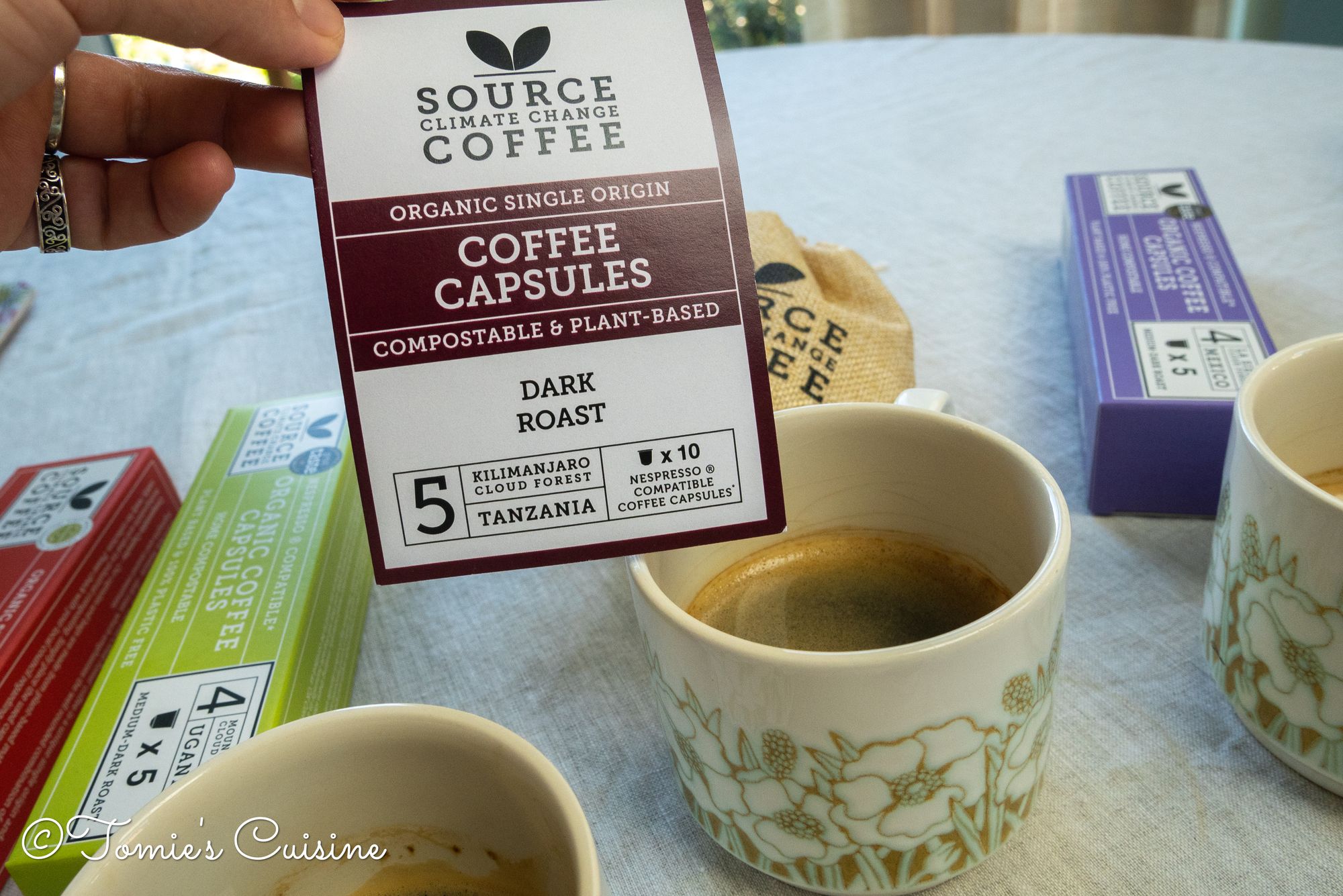 Mild flavour, easy to drink, dried fruit-like taste (dates or raisins), went well with homemade banana bread.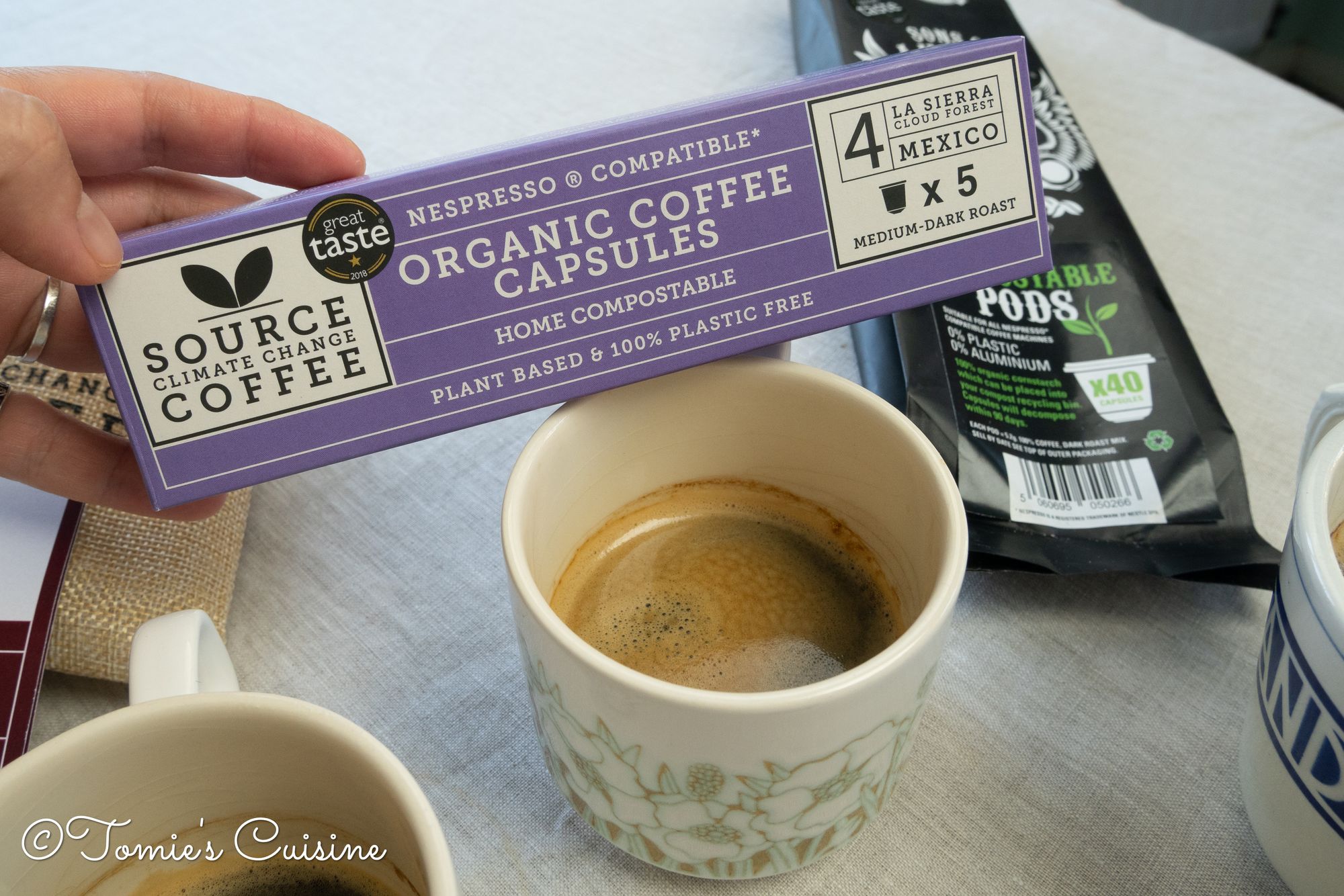 My first impression was, "woo, I like this one". It's like a coffee I can get from a lovely cafe—nuttiness with mild sourness.

Testing with oat milk
After trying all the coffees, I added some oat milk to see which blend tasted better with it.
Sour or light coffees don't go well with oat milk, so the Rwanda and Sons of Amazon are out.
Grind's dark roast coffee's bitterness enriched the oat milk flavour, so that's a plus in my book.
Tanzania from Source climate change coffee was good. It has some dried fruit-like sweetness that complements the oat milk.
Closing words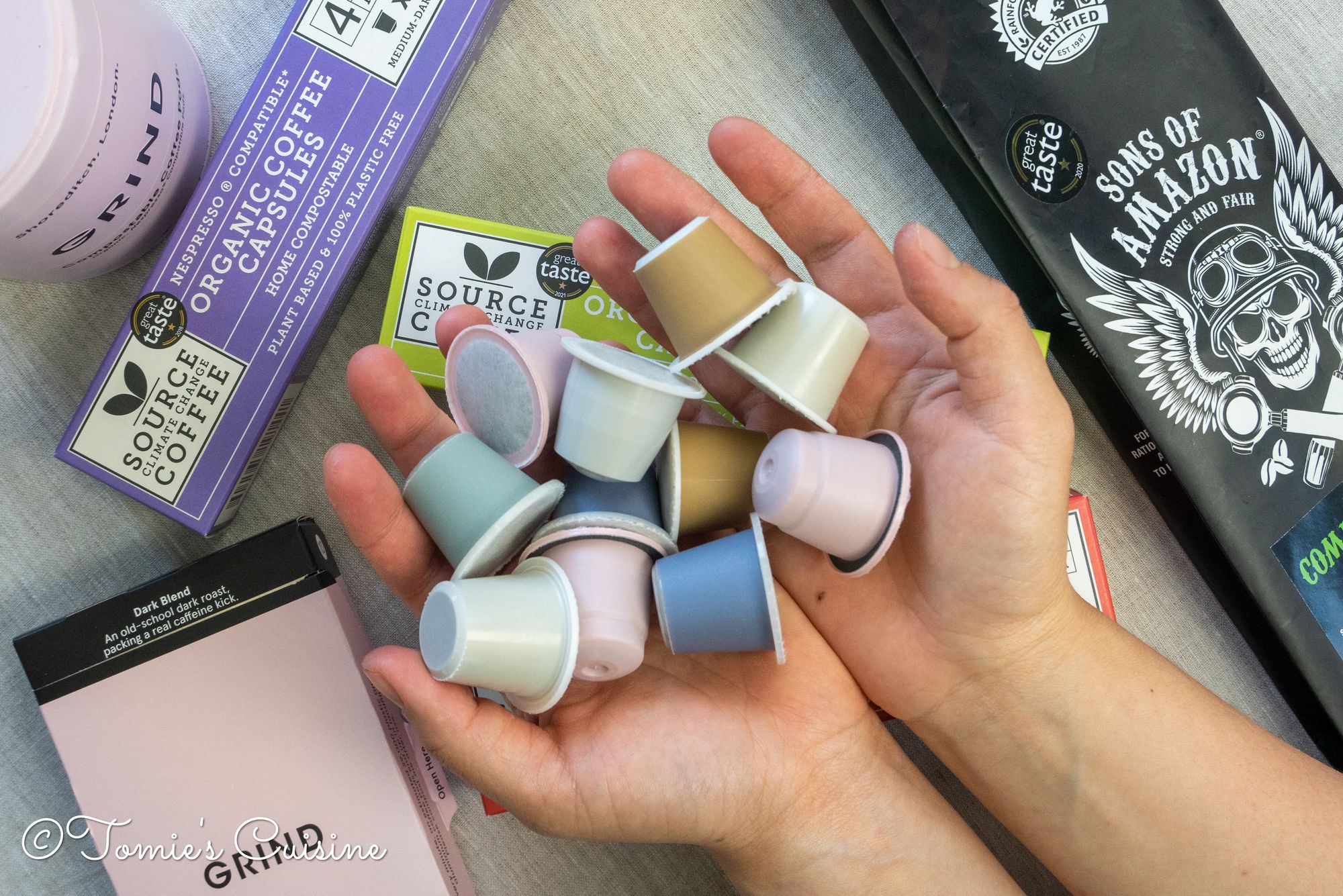 Here's my honest (non-professional) opinion of these coffees. While writing this blog post, I found another home compostable coffee pod in Waitrose. I will keep trying various coffees and hopefully be able to share my favourite eco-friendly coffee pods! Maybe next time, we'll venture into testing eco-friendly coffee brewing equipment.
Please share your thoughts on Instagram, Pinterest, and Facebook. If you're not already,  subscribe to our email list, so you don't miss our updates.