France's many kinds of bread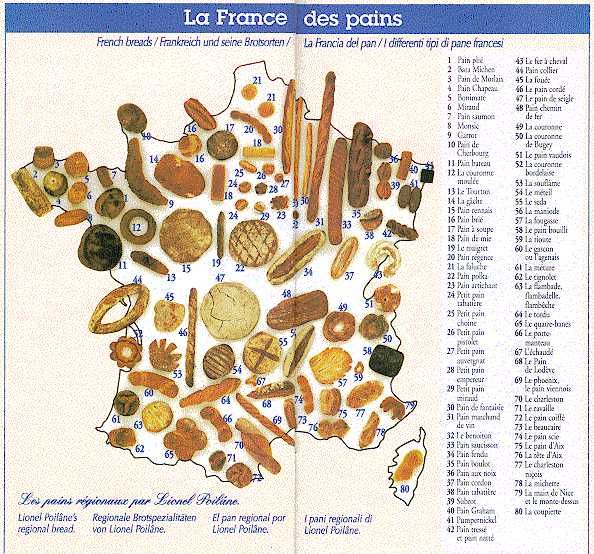 This map was made by Lionel Poilane, a renowned French baker.
The main bread I use for my sandwiches are:
Baguette
Campagne (sourdough)
Brioche. Interesting fact, French law requires that the "tradition française" bread contains no additives and be made in the bakery. So I generally try to get that kind of bread when I can.
My favourite artisan bakery in London
When we are in London, we don't often go to the bakery. We eat mainly rice since my husband prefers it as well, and we don't have any great bakery right around our place.
But whenever we go out to the market on the weekend, we can't stop ourselves from buying some beautiful artisan bread! Here are two of my favourite bakeries. They are well-known bakeries and might be easy for people who live in London because both of them are in Borough Market!
Bread ahead
The reason I love Bread ahead is because of their doughnuts. Oh my goodness, they are exceptional! I tried most of the flavours, but No.1 for me is vanilla.
Of course, they are selling beautiful artisan bread and also do baking school too! I would love to try it after the pandemic ends!
Olivier's bakery
They are making their bread with local organic ingredients and using traditional method every morning.
I found this bakery in Borough market and primrose hill market. I've tried a few loaves of bread from them, and it was delicious. Because of its beautiful shape, colour and smell, their stall always catches my eyes. We are going to bring back some butter and pate from Brittany and have it with their bread!
Why are artisans bread better?
Artisan bread is generally handmade and using traditional techniques during the process. Ingredients are without additives and using only flour, water, salt and yeast.
When the bread is mass-produced, they use machines and additives to make it prove faster and produce a big batch.
It's not the usual white bread; it's the baguette.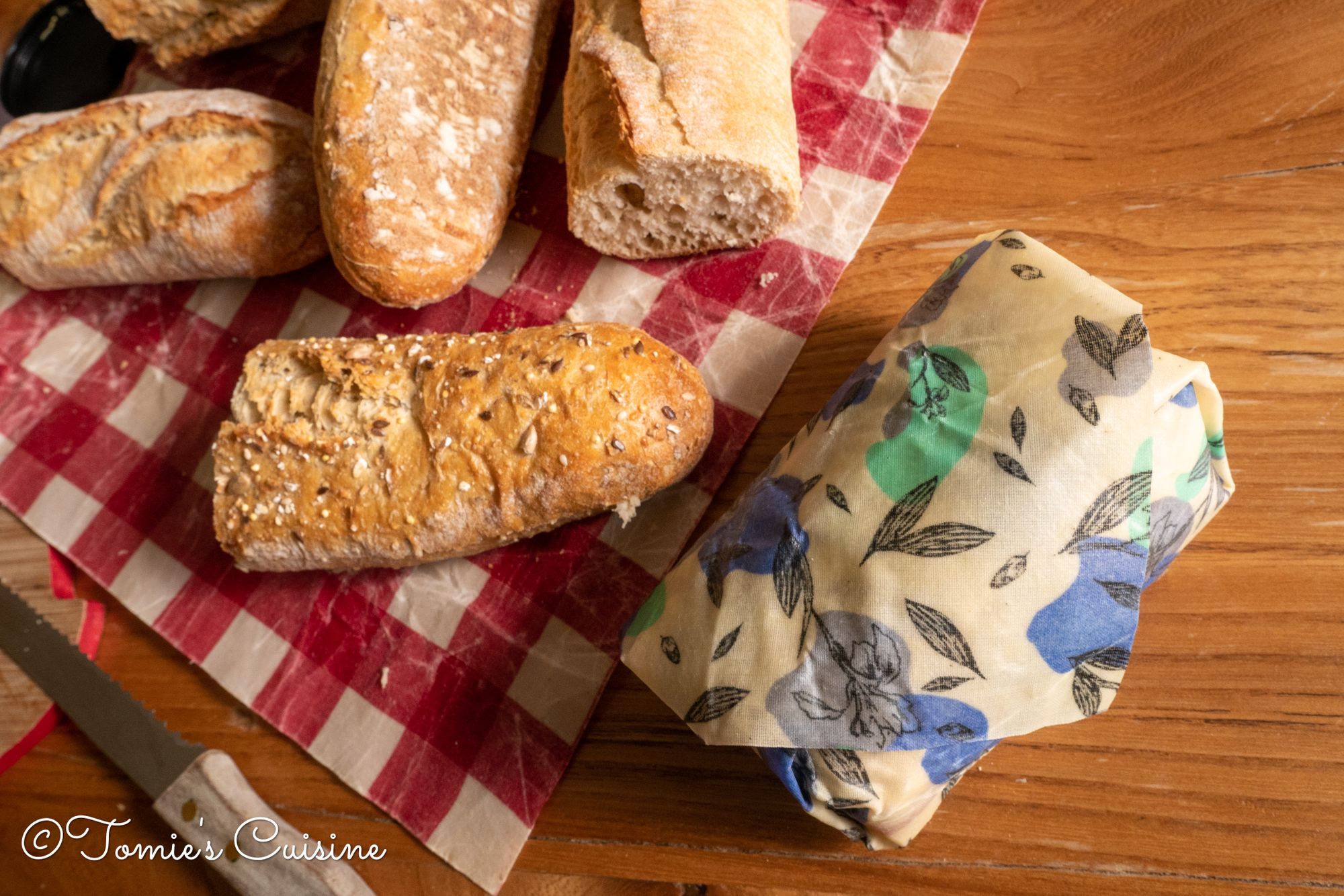 Buy Verebio Beeswax on Amazon.fr.
Buy Bee's Wrap set on Amazon.co.uk
When we talk about the sandwiches in the UK, most people think about the sandwich with two white or brown bread slices -- at least that's the impression I get. The ingredients are generally ham, cucumber, egg and mayo, bacon, lettuce and tomato. Except around Christmas, where it's most often going to be turkey and cranberry sauce, etc.

What are French sandwiches?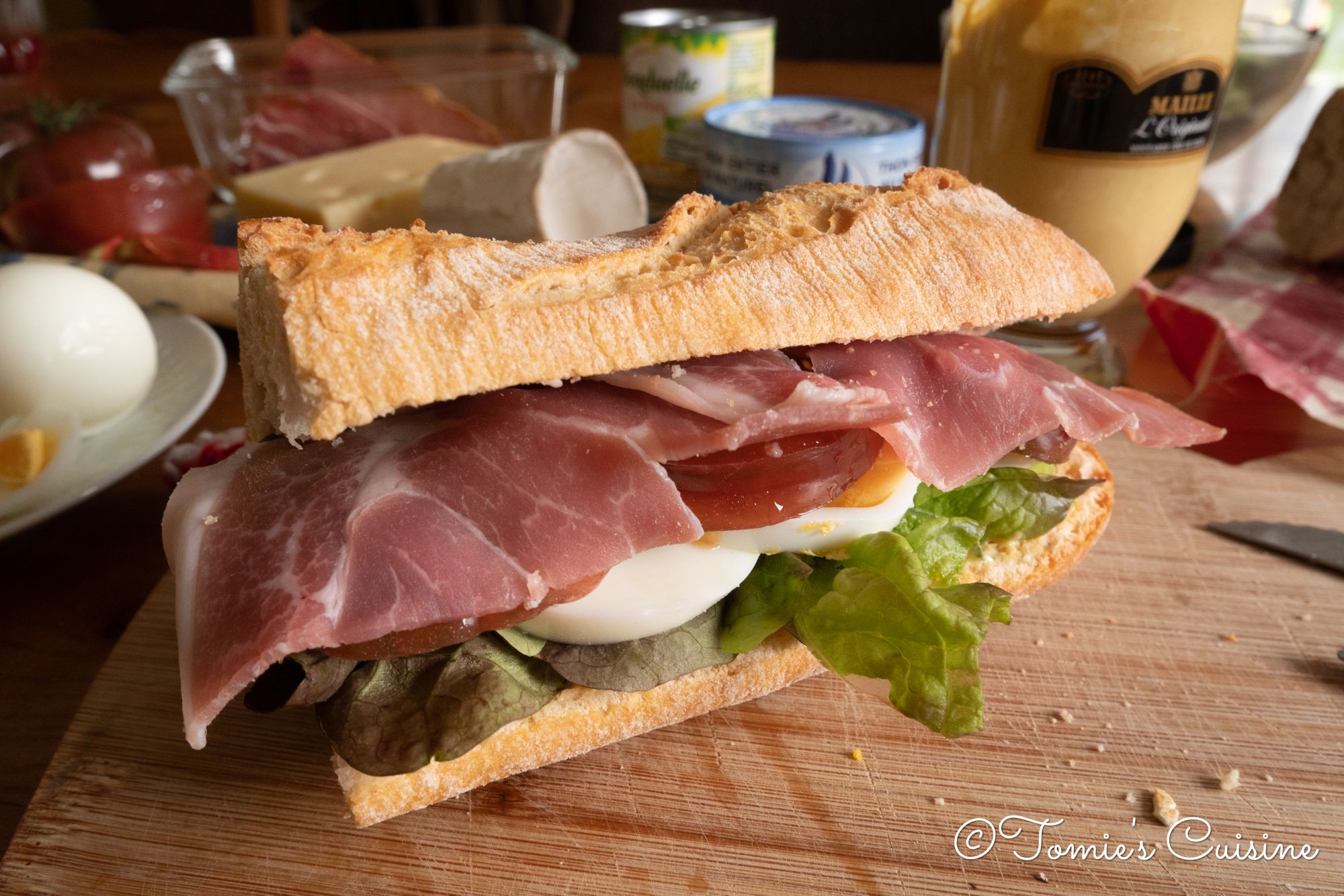 When my family say, "let's get some sandwich from the bakery", it's not the one made with two slices of bread. It depends on what you choose, but the one I usually order is the one called "Complet", meaning "complete". The sandwich's bread is half a baguette, opened horizontally, filled with mayonnaise, tomato, salad, boiled eggs, ham and Emmental cheese. I think that kind of sandwich is common in France (though it varies depending on the area, in the North you'll find it with chips inside). We see this kind of sandwiches in the french bakery in London too. I see them very often in train stations. My first sandwich with baguette was at Paddington station when I visited London with my mum for the first time.

Why don't you bring out your french style sandwich with you?
So with this introduction out of the way, we finally got to this post's central part! I am going to introduce you to my favourite sandwich combination! Very simple and easy. You can wrap them up with beeswax wrap and ready to go!
My ingredients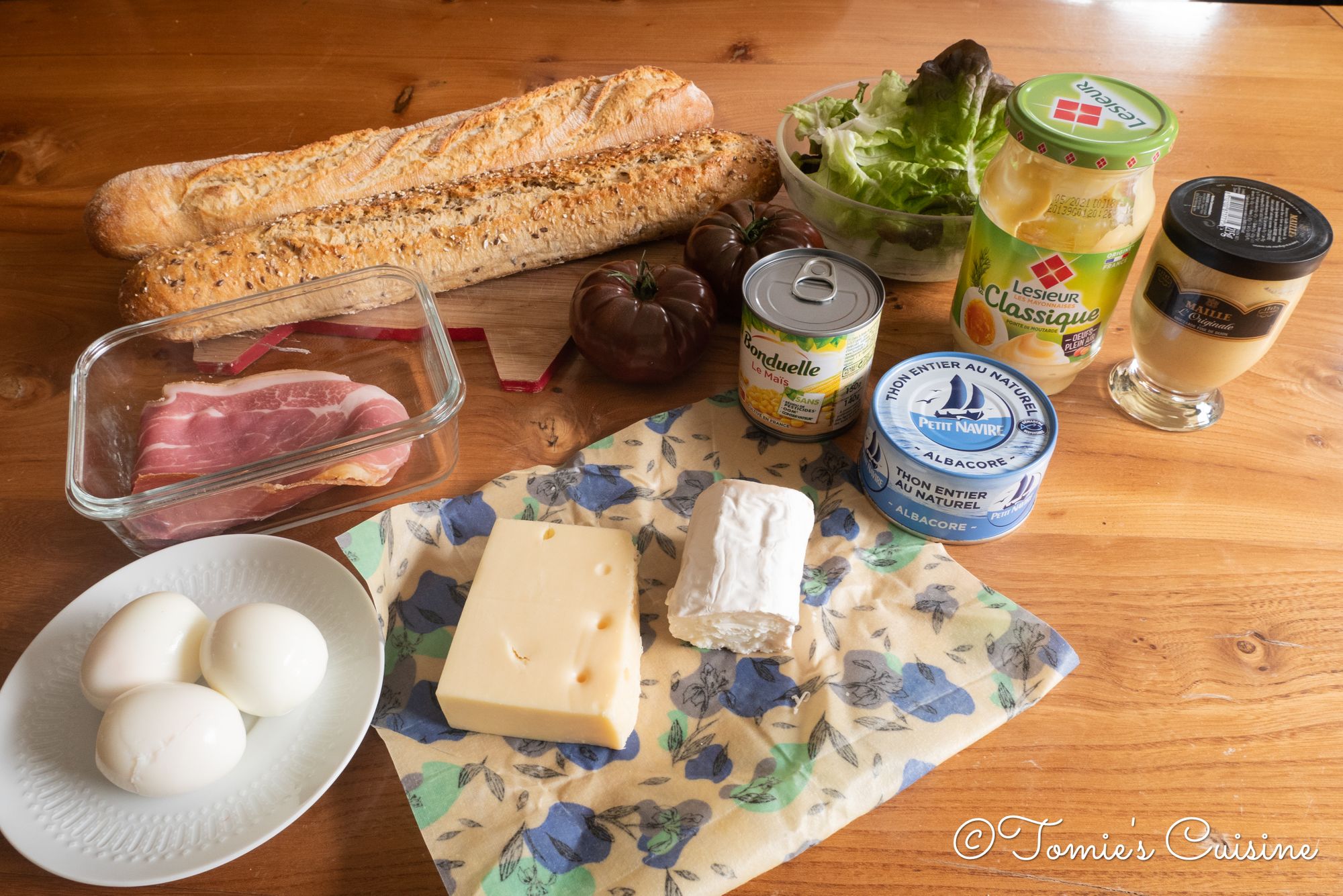 Baguette (I like seeded bread)
Ham
Boiled eggs
Emmental
Goat cheese
Tomatoes
Lettuce
Sweet corn
Tuna
Mayonnaise
Dijon mustard.

How I prepare my french sandwich
I cut the baguette into three parts. This time I wanted it smaller, but half is perfect for bringing as a meal!
Open the bread, but leave the last part attached.
Put some mayonnaise and mustard. (or your favourite sauce. Ketchup or butter is quite common too)
Put some lettuce (salad) and sliced tomatoes.
Add the ham
Add some Emmental
Wrap it with beeswax or beeless wax wrap, and you're ready to go! Don't forget to bring something to drink in your reusable bottle too!
Buy Verebio Beeswax on Amazon.fr.
Buy Bee's Wrap set on Amazon.co.uk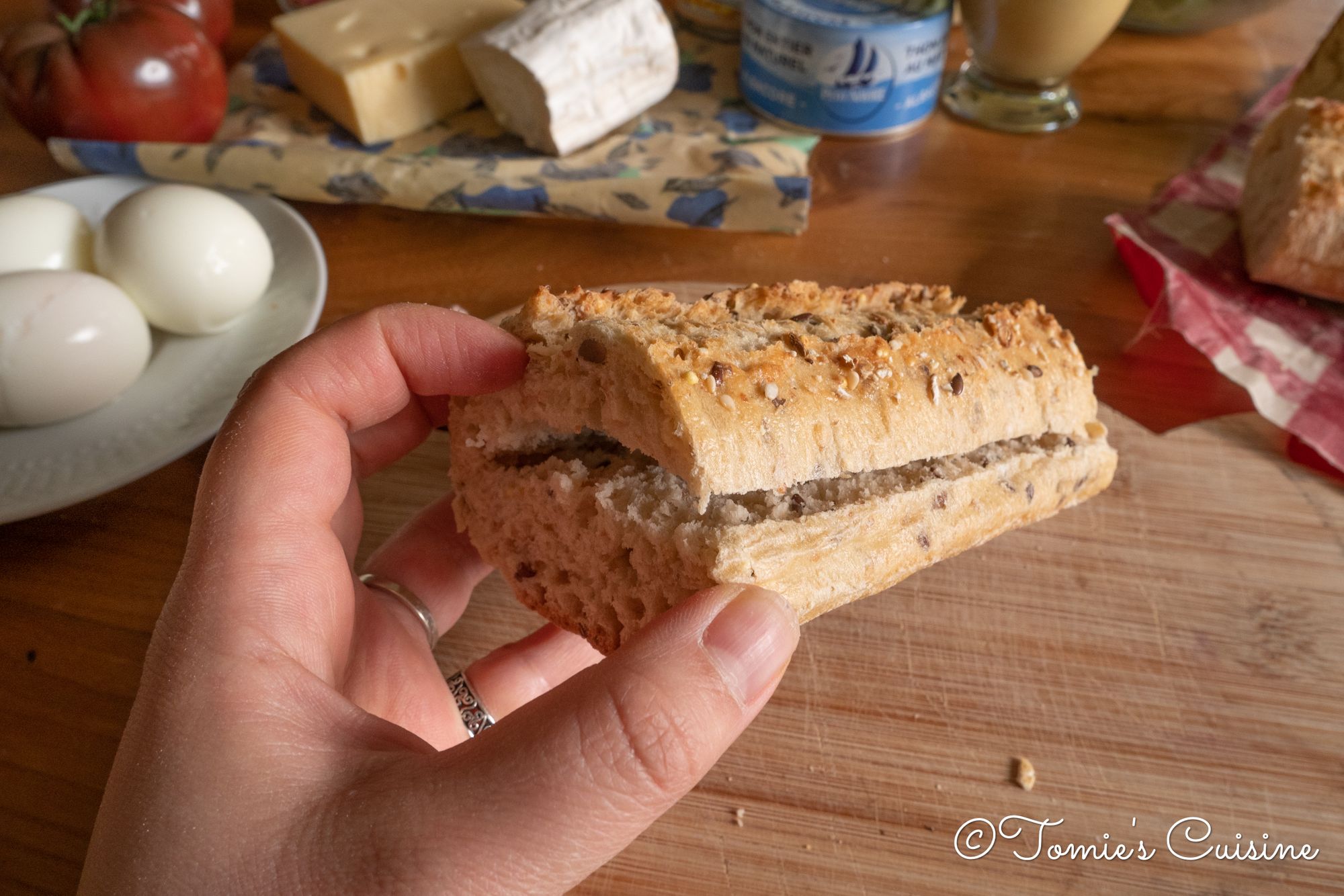 Other French sandwiches choices
Montagne
Montagne means mountain in french, and the sandwich contains ham and cheese. The cheese can vary from Comté, Tomme de Montagne, to goat cheese, depending on the area.
Tuna and sweet corn
Mix drained tinned tuna and mayo, season with salt and pepper and add some drained tinned sweet corn.
Egg mayo
Make hard-boiled eggs (add eggs carefully into boiling water and cook for 10 minutes), then crush them with a musher or a fork. Add some mayonnaise, salt and pepper and mix well.
Smoked salmon with cream cheese
Spread some cream cheese of your choice, add some sliced smoked salmon, finish with dill and white pepper. You can add some crushed walnuts to give some crunchiness.

Let's go for lunch outside!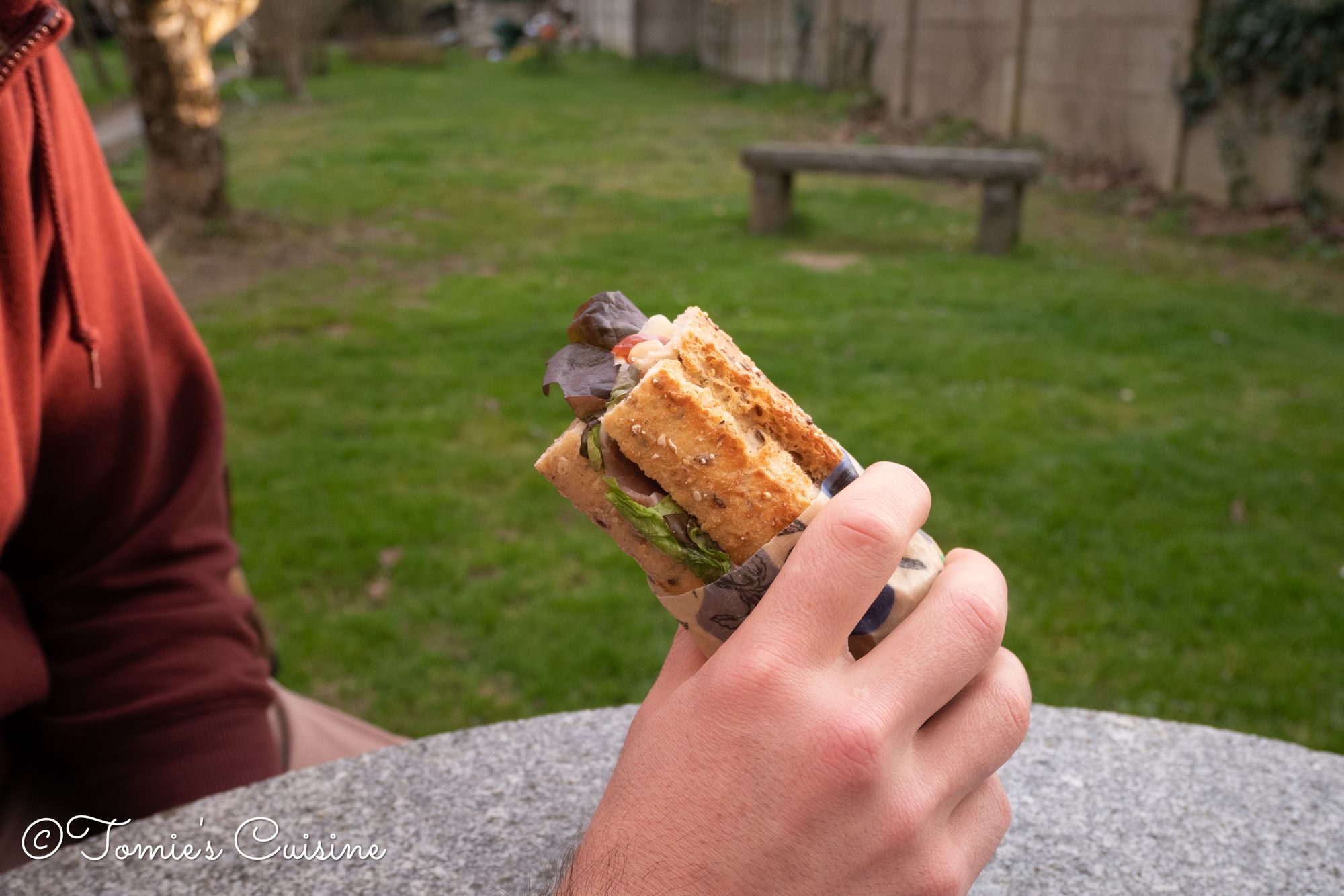 Share your French-style sandwich with us on Instagram or Pinterest with the hashtag #tomiescuisine! We're going to make some more recipes to take with you on the go, so let us know what you would like to see next. A Japanese Bento or some other French-style dish?
Join our newsletter so that you don't miss out on the following articles!