Where is Otsu?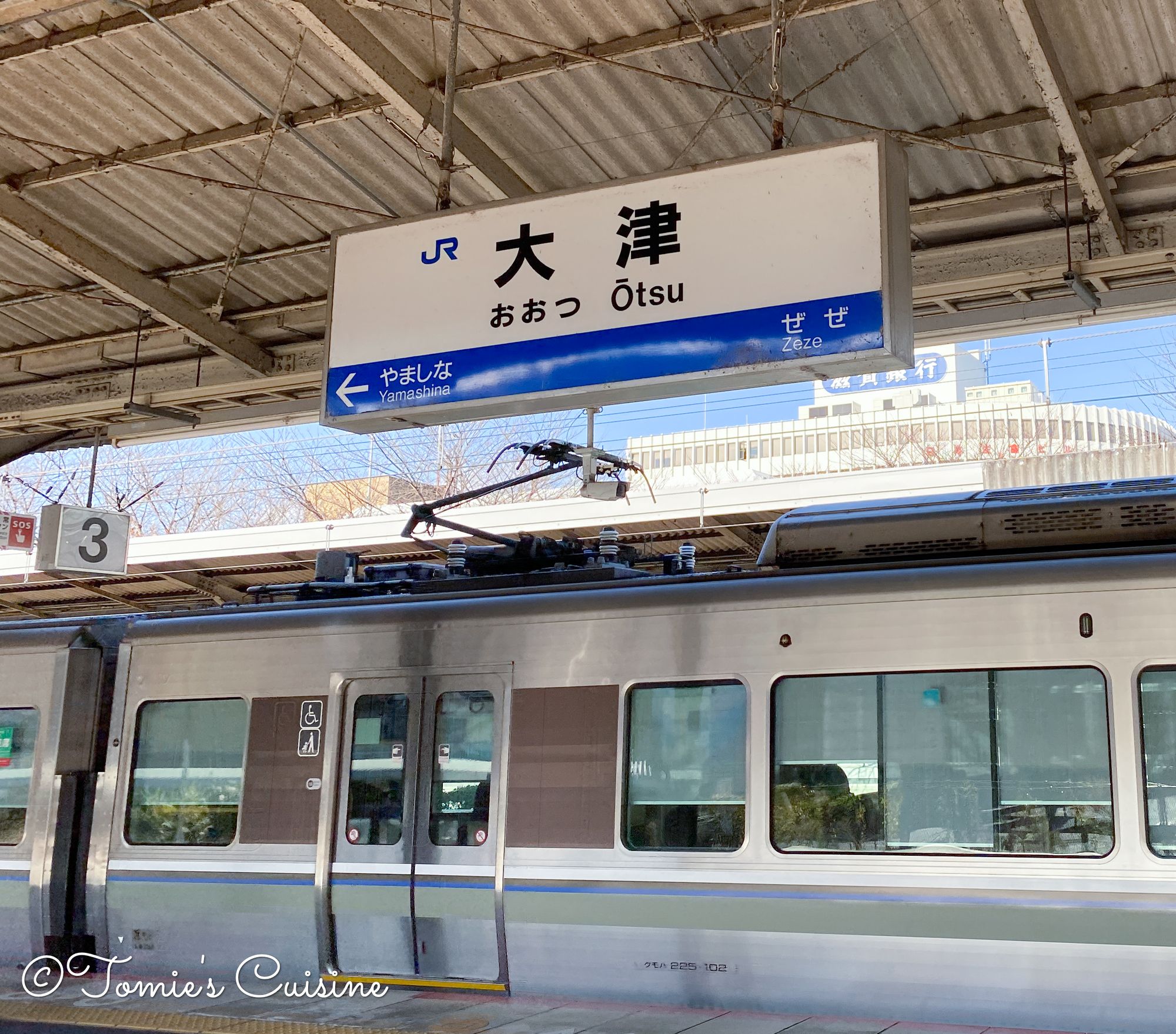 Otsu is the capital of the Shiga prefecture and Lake Biwa's main port. It only takes only 20 minutes to get to Otsu from Kyoto by train or by car.
What are they famous for?
Food
Miidera chikaramochi
Miidera chikaramochi is one of the famous desserts from Otsu. It's a mochi (glutenous rice cake) dessert with its original sugar syrup and kinako (toasted soy powder). The dessert is named after a historical event.
A strong man, "Benkei" from Enryakuji, led an attack on the Miidera (Mii temple) and won against the warrior monks defending the temple. As a reward, he dragged back the temple's giant bell by himself and rang it at Enryakuji. What makes this story is interesting is that these two temples are situated on opposite sides of Mt. Hiei; Miidera is at the foot, while Enryakuji is at the top.
Hence the word "chikara" in chikaramochi, meaning power, as you need great strength to drag a bell up a mountain!

Miidera and Enryakuji, both Tendai sect temples, were once bitter rivals and sohei (warrior monks) from both temples engaged in violent conflict with each other.
Interestingly enough, while the bell was ringing at the top of the Enryakuji temple, it sounded like it was singing, "I want to go back". So after a few years, Benkei did just that and brought it back to MIidera.
If you want to read more about this story, you can follow this link (In Japanese)

Funazushi
Funazushi is a fermented 'Nigorobuna" (round crucian carp), and its habitat is limited to Lake Biwa. It is the most known delicacy from Shiga prefecture and very popular because of its unique taste.
It's a unique type of sushi, quite different from the one we know. According to the Funazushi.org website, the (long) steps to make one are as follow:
Catch the Nigorobuna between March and May
On the same day, remove the scales, guts and gills.
Wash it with fresh water to clean them.
Dry it head down to remove the excess water and until it gets dry.
Cover the fish with salt (included in the stomach).
Put a plastic bag in the barrel, put the fish, and then salt.
Wait for 2 or 3 months 😮.
On the hottest day between July and August, remove the salt with some water and brush the surface.
Remove the water
Dry again (one night to a few hours), while it dries, make sure there are no flies; otherwise, they may lay eggs
Stuff the fish with rice, and put it in a barrel (rice, fish, rice).
Lay a thick rope with three straw nets and cover the barrel with an inner lid. Put a 20kg stone on it and an additional 10kg stone after a week.
Some people put water on it after a day to remove the air.
A few days after pickling, the pickled juice with seep out; if it overflows, throw it away.
Leave in a hot place.
After a year, it's ready to consume

I had never tried them before because of what I heard from people around me or TV shows. It seems to have a strong smell of fermented rice and fish. But on the other hand, some people who like to drink Japanese sake like it. When I searched about funazushi, some people suggested having them with Japanese sake from around Lake Biwa. Funazushi is also a great source of calcium, vitamin B1, mineral and lactic acid bacteria. When they have a cold or are not feeling well, the locals eat funazushi to cure themselves. It's also great to keep your skin healthy. I will try them next time!
Locations
Biwako
Japan's largest and oldest lake and the primary source of their local produces. People enjoy water sports, fishing, swimming and sailing there. Did you know they have a stunning beach too?

Ishiyama temple
Ishiyama temple was built around 747. As the name shows (Ishiyama: stone mountain), their temple was built on a stone.

Ishiyamadera is one of the 33 temples in the Kansai region, making up a pilgrimage dedicated to Kannon, the Buddhist deity of mercy and compassion. Given its spiritual significance, it also houses numerous National Treasures and important works of religious art.
(Japan National Tourism Organisation)

Enryakuji
Enryakuji is a famous Unesco World Heritage monument of ancient Kyoto, but the Enryakkuji itself is located in Otsu. The temple has 1200 years of history, and it was one of the most powerful temples in Japan.

The spots we visited in Otsu
We spent only two days in Shiga prefecture. It wasn't enough time to correctly see Omihachiman and Otsu. Initially, we were planning to spend the first day in Omihachiman and the second day in Otsu. Since we only had a few places we wanted to see in Otsu (given the time we had), we decided to stay in Omihachiman a bit longer. In the end, we spent the morning on the second day in Omihachiman.
On the way to Biwako (Lake Biwa)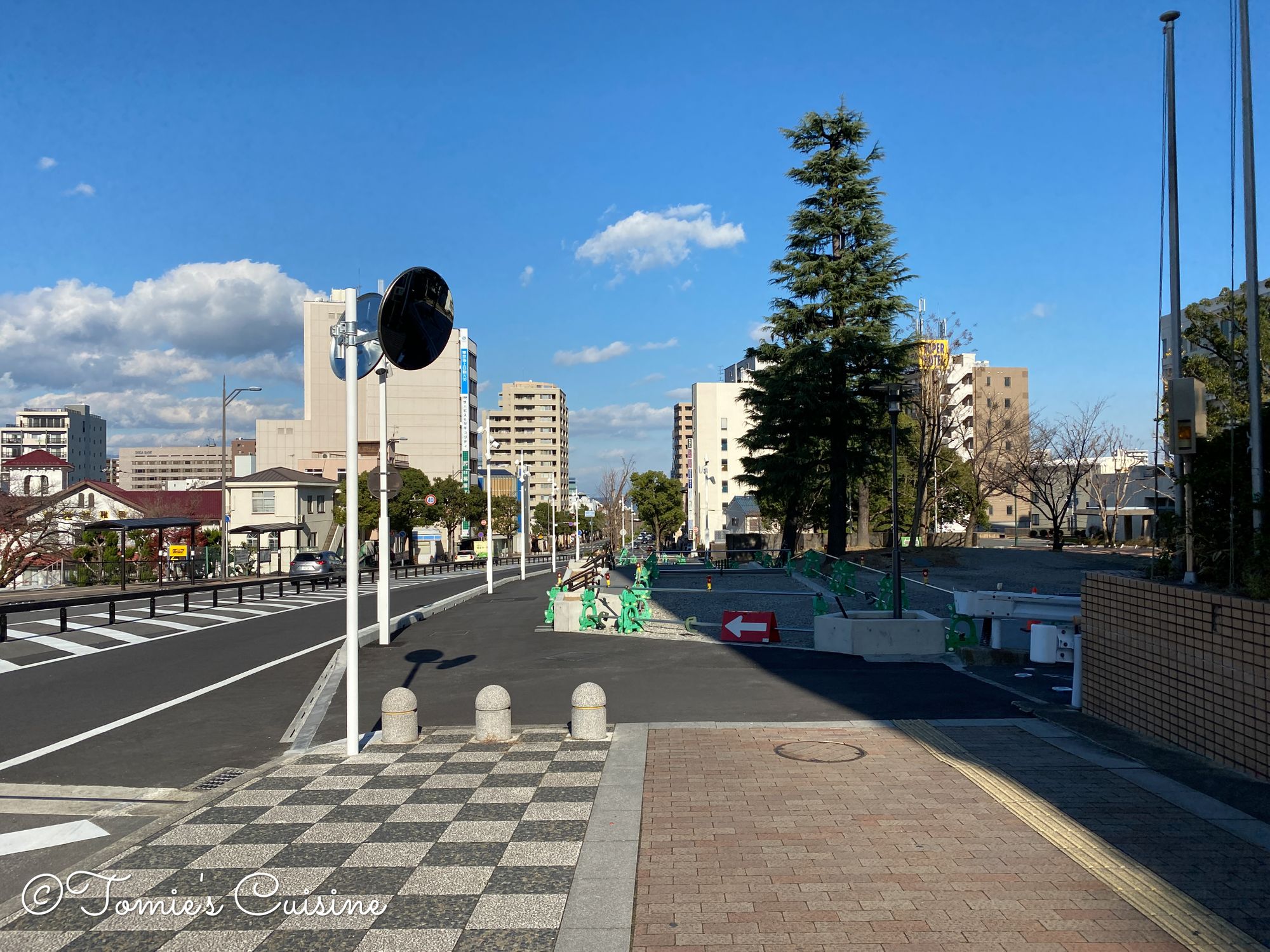 We arrived in Otsu around lunchtime, left our luggage in the very convenient station's locker, and went straight to Lake Biwa. It was relatively easy to get there. Just walk straight down from the station. You can't go wrong!
On the way to Lake Biwa, Otsu's ambience was in stark contrast with Omihachiman's. Otsu was all about long and large straight roads lined up with tall modern buildings—a far cry from the water-worn cobblestones paving the narrow streets of the Hachimanbori canals in Omihachiman. (to read about Omihachiman, click here)
Lunch at Mado cafe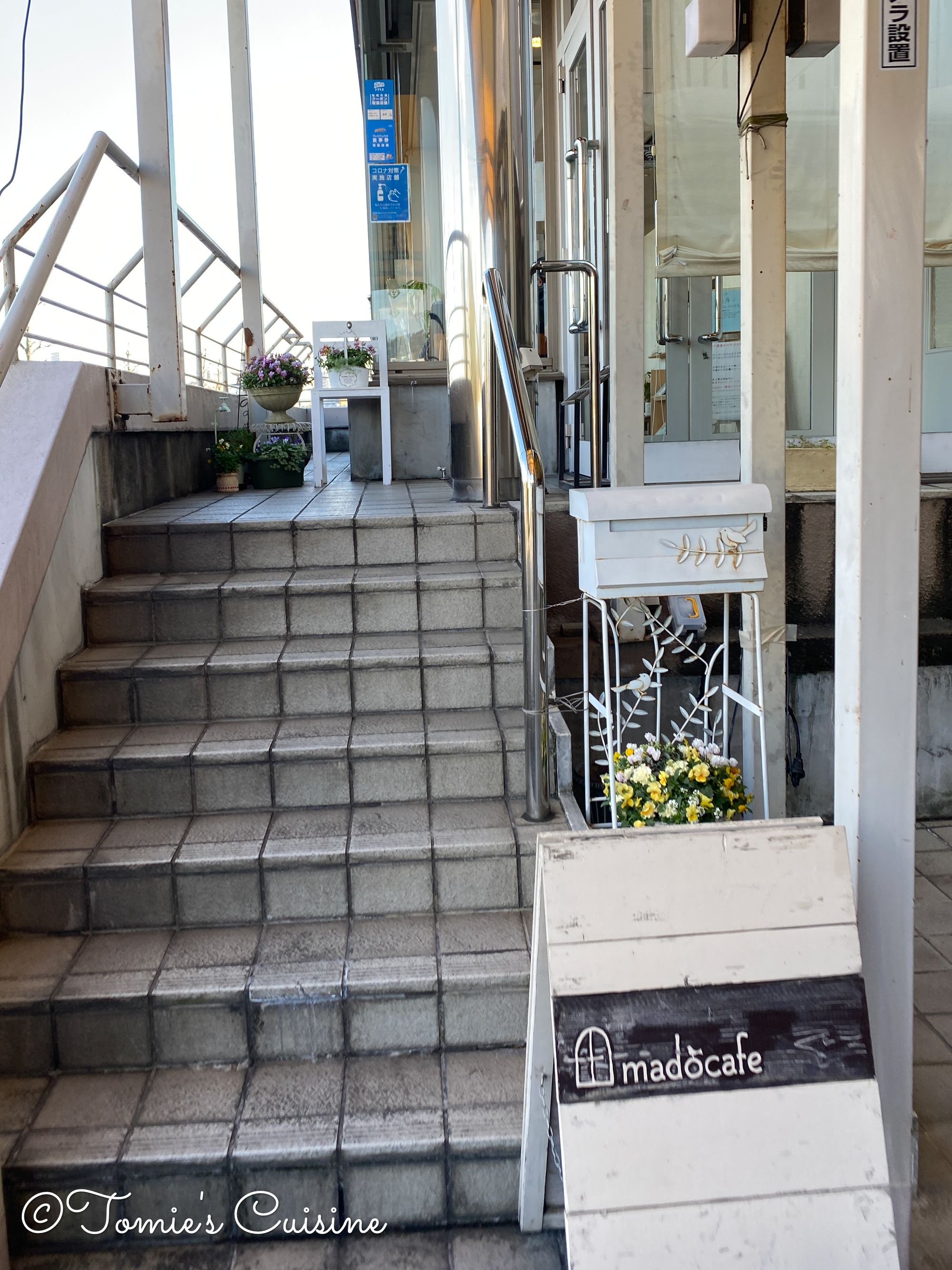 We arrived at the lake, but we were hungry, so we decided to have some lunch. We quickly looked for a place to have lunch on google map around the lake and found "Mado cafe", which means "Window cafe". Their Instagram is madocafe1111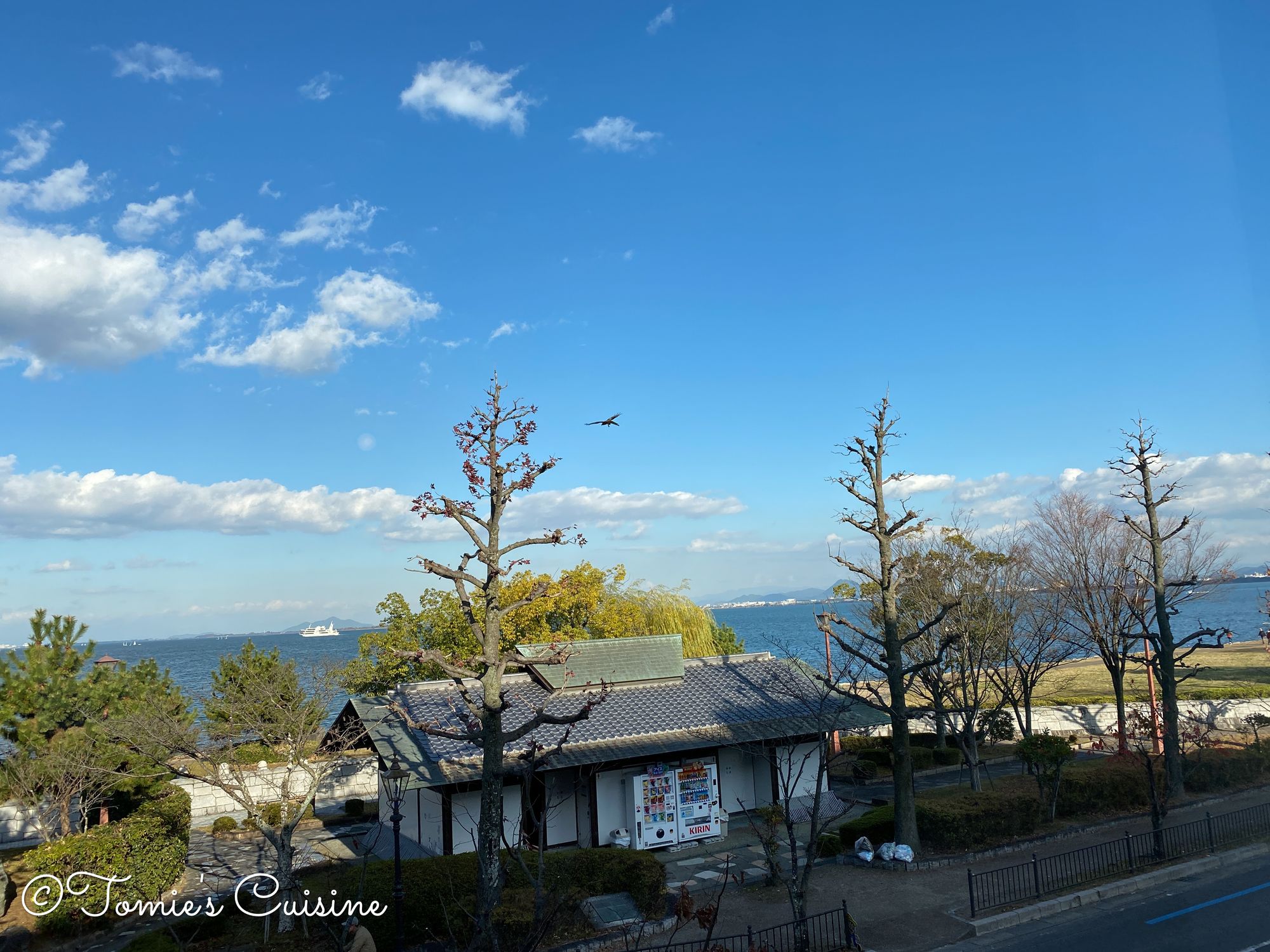 Mado Cafe is located on the second floor (first floor, if I say it in the Queen's English) of Otsu Civic Hall, and you can see Lake Biwa from their window.
Unique about this cafe is its reliance on local fresh produce from the farmers in Shiga prefecture. So their set meal changes every week. Their famous homemade waffle is made from flour produced in Shiga.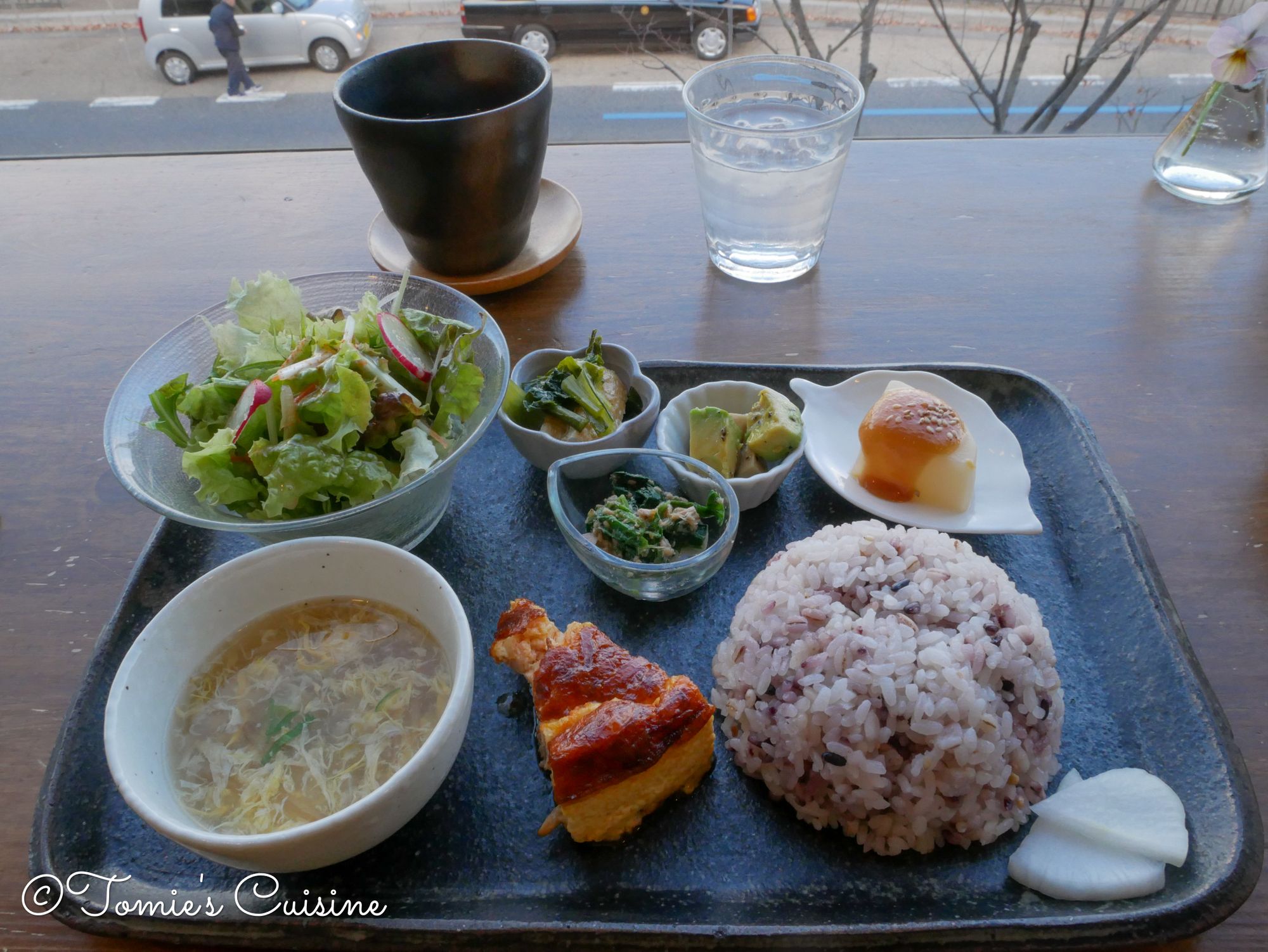 I had the lunch meal set of the week (cheese Dak-Galbi served in a hot iron pot), multigrain rice, salad, soup, quiche, and a few small dishes on a large plate. My husband had the curry lunch set meal with a starter plate and a waffle with a latte as a dessert.
All the foods we ate had an excellent home cooking quality and made us relaxed with its atmosphere. We could taste different things bit by bit, and they seemed very healthy. A balanced diet was also a great point of this cafe.
We had to wait for about 20 minutes outside due to Covid regulation to get the window side seat to view Lake Biwa, but it was worth it. Oh, and they only accept cash-only payment.

Walking along Lake Biwa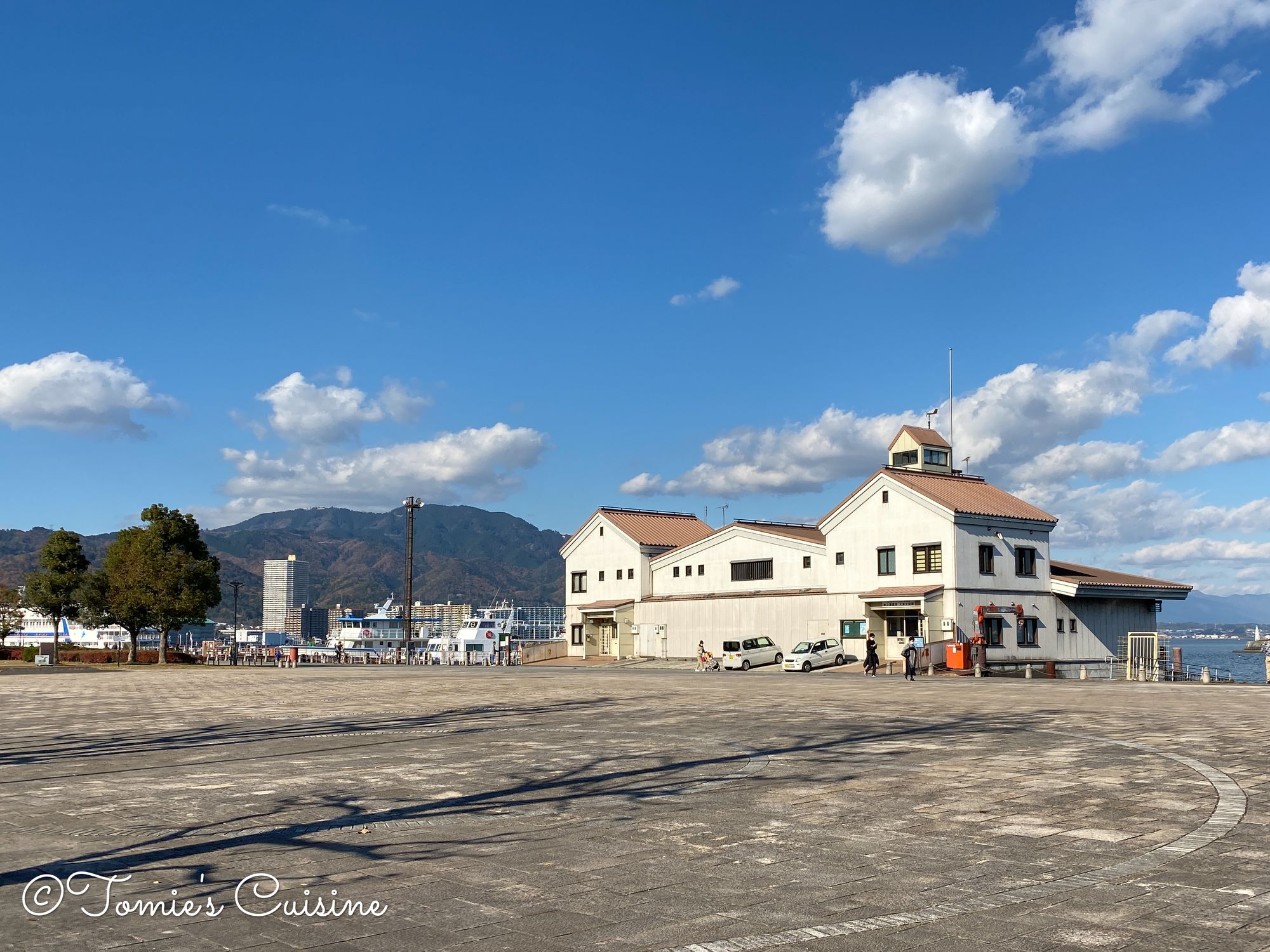 After lunch, we went in front of the lake. It's looks and feels exactly like the sea but without the smell of the sea. It's somewhat disturbing when you think about it.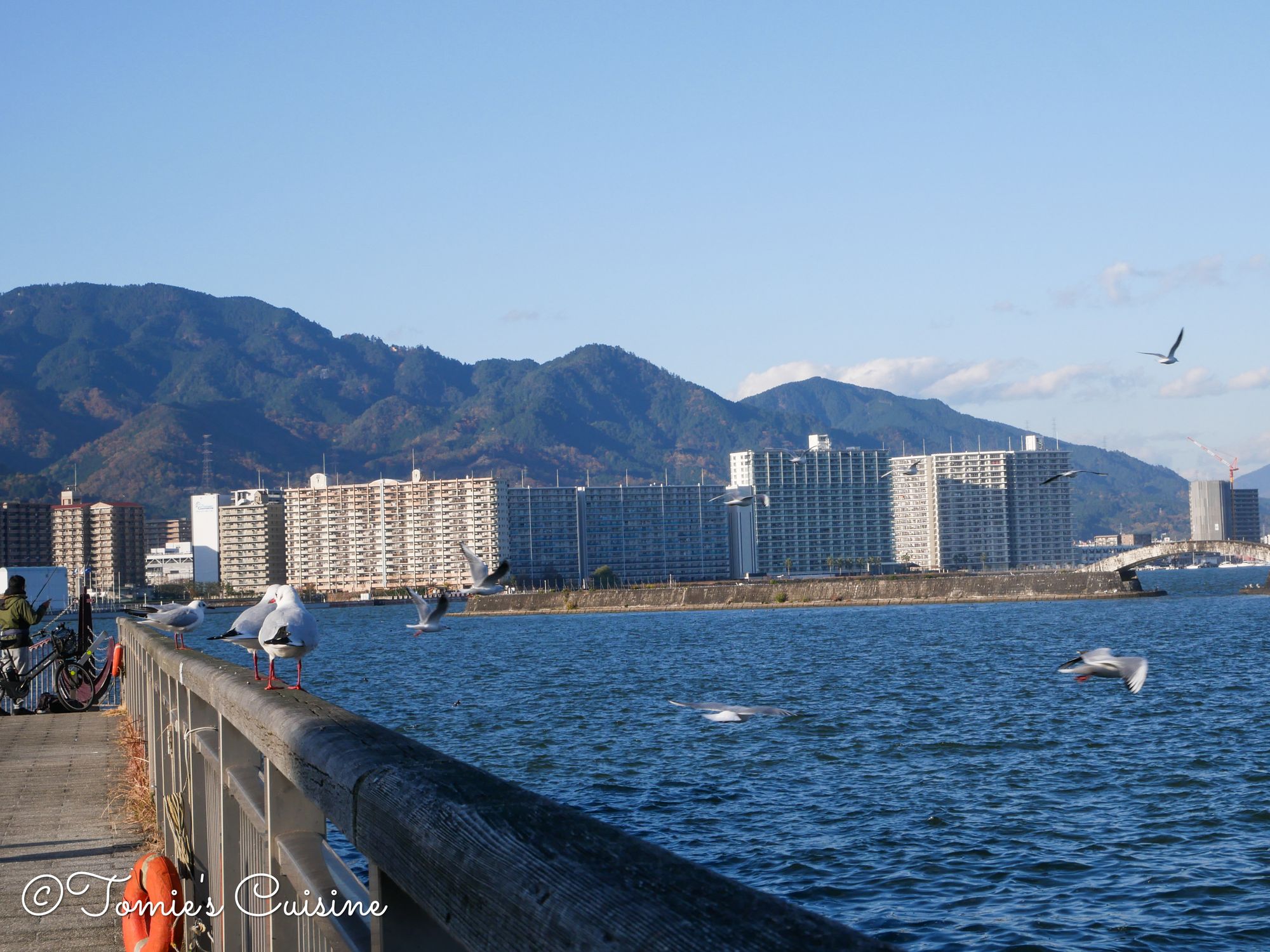 It was a beautiful day, so we decided to walk along the lake for about 1 hour. We saw some people fishing, walking, running and let their kids play in the park nearby.  And a lot of seagulls and a few ducks and goose (yes, it's a lake).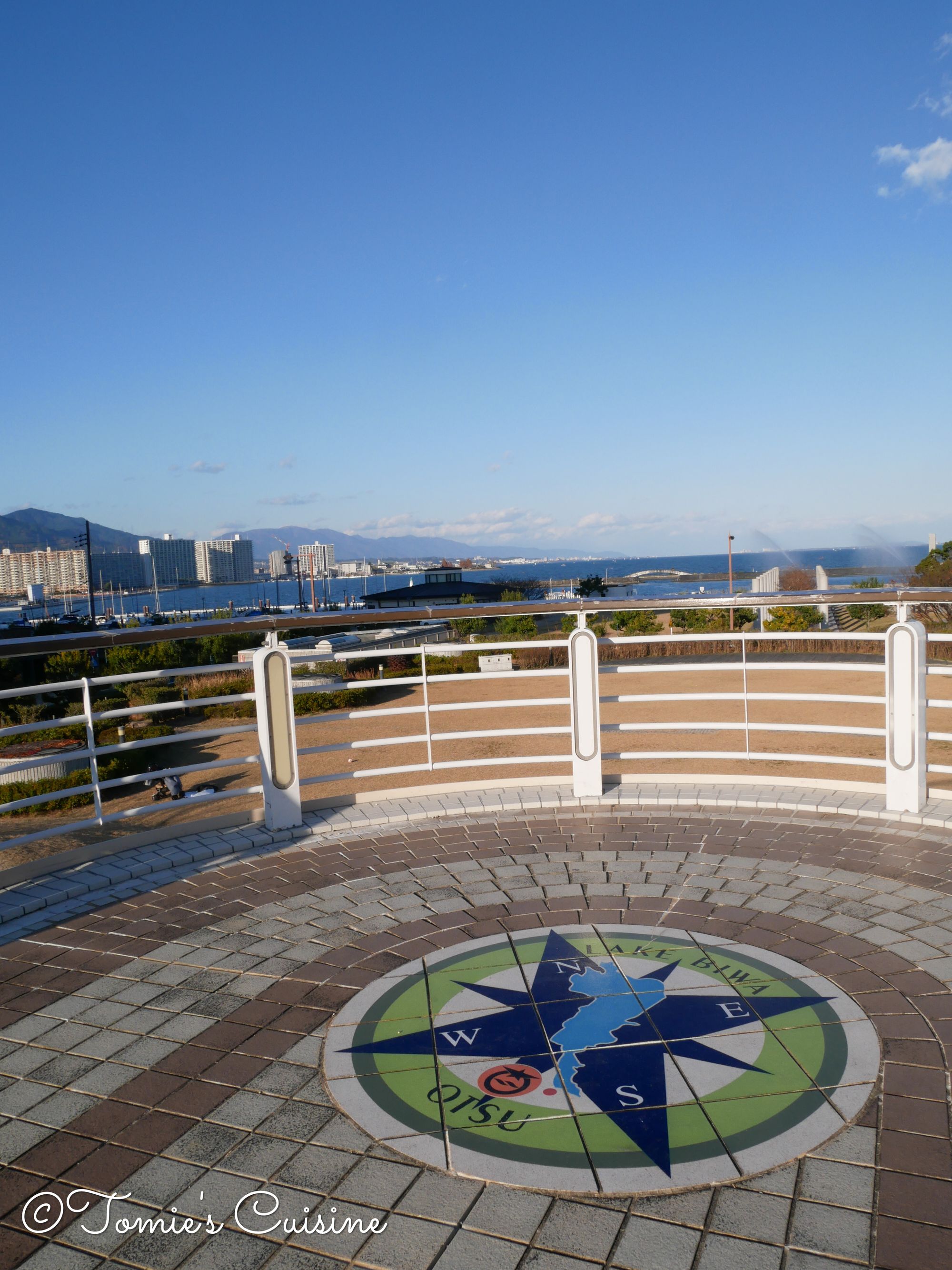 Otsu is also known as the main port of Lake Biwa, and you can get to any port along the lake. We couldn't go on the ferry but would love to try next time!

Time's up!
It's time to move to the third stop on this trip. We had to leave because we wanted to get to Kyoto before sunset, around 5 pm.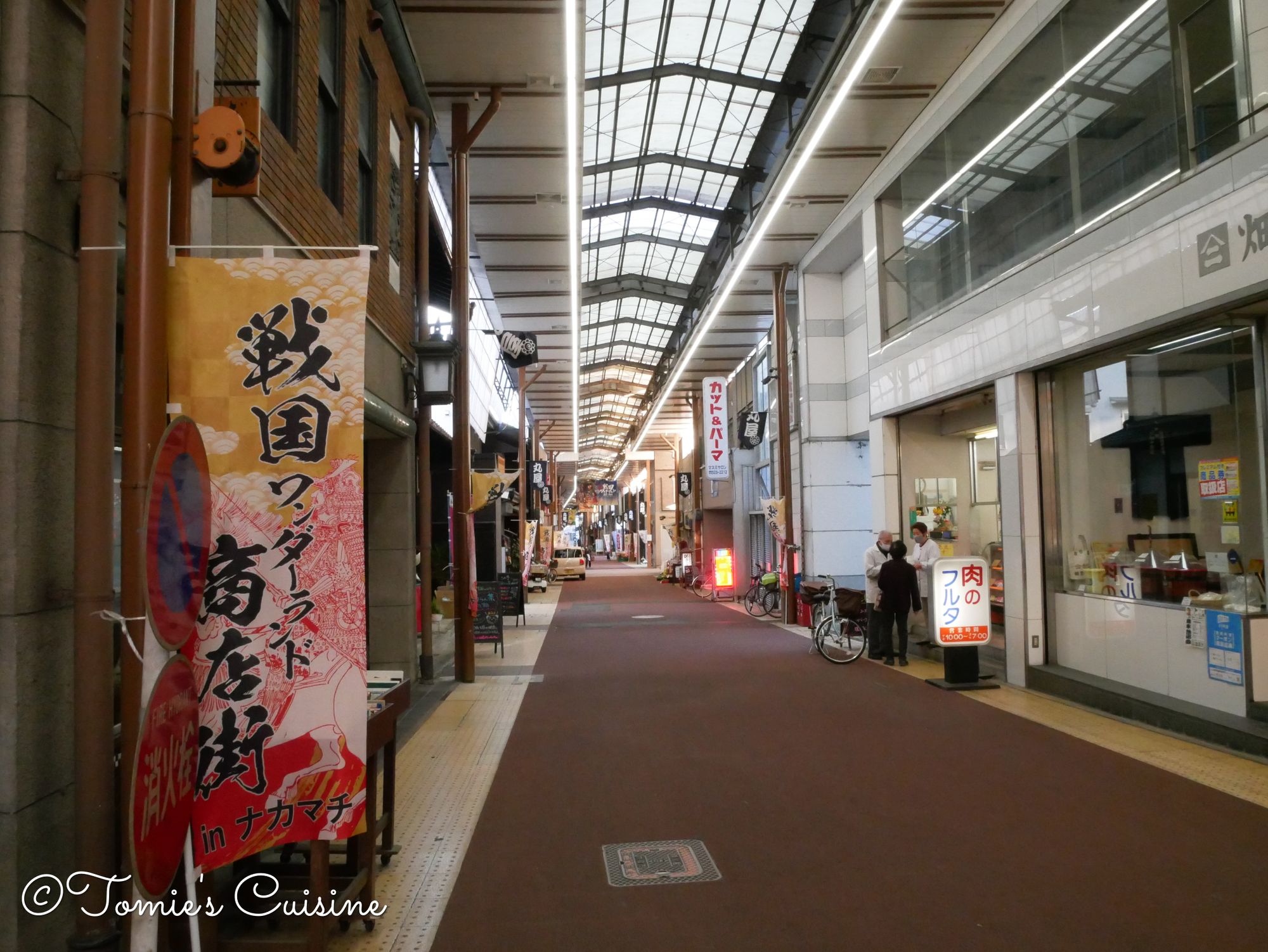 On the way to Otsu station, we went through an arcade called "Nakamachi shoutengai". This arcade had a Showa era ambience, so we decided to browse around.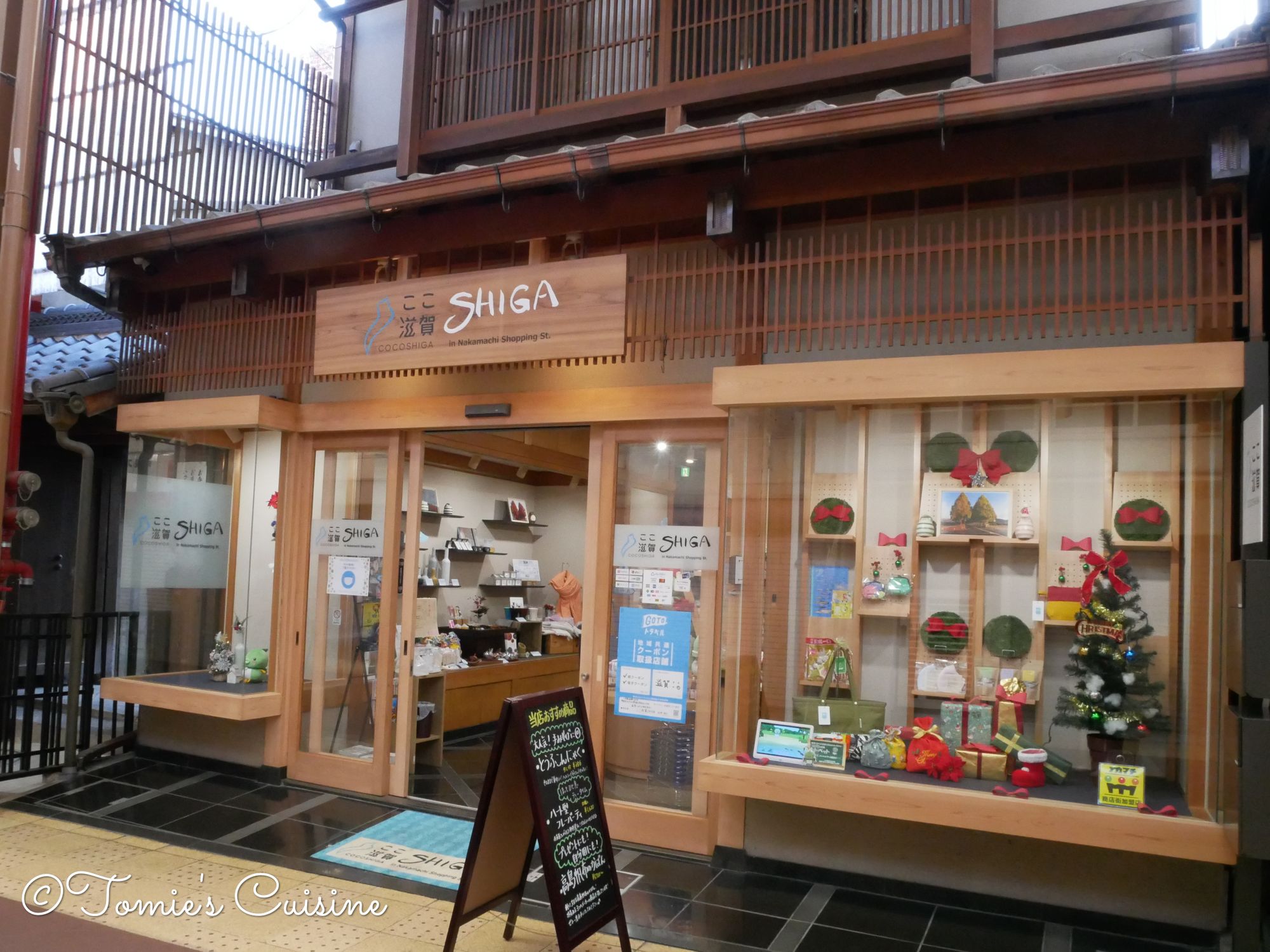 There were small supermarkets, clothes shop, butchers, barbers, etc. We stopped at a souvenir shop called "Koko Shiga". They were selling local products from Shiga Prefecture, such as some food made with Omi beef, some sweets, handcrafted bags and clothes, etc.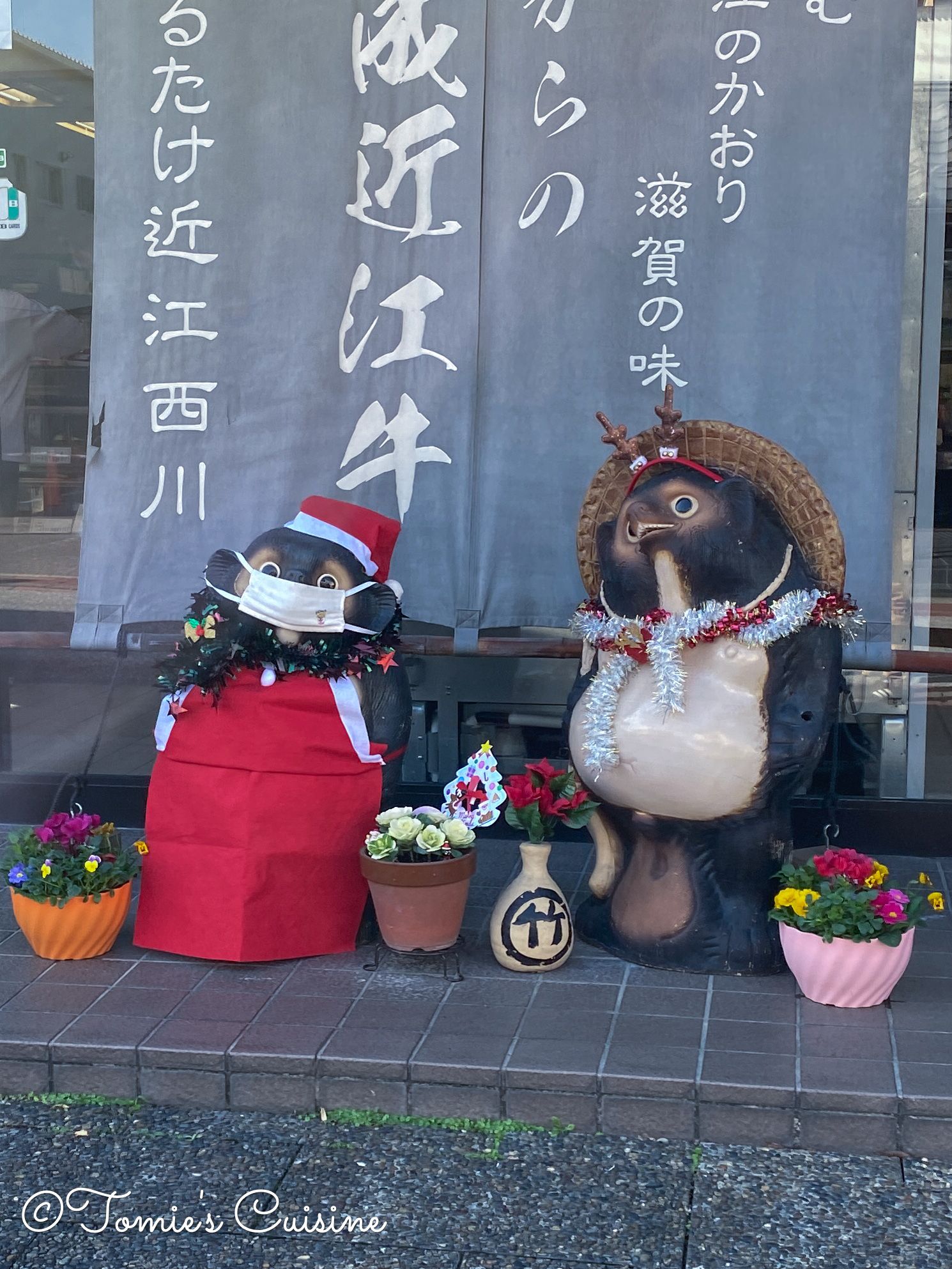 Shiga is also famous for "Shigaraki-yaki" (Shigaraki ware), a type of stoneware pottery made in the Shigaraki area in Shiga. The Tanuki (Japanese racoon dog) made with Shigaraki-yaki is particularly famous. We saw a lot in Omihachiman too.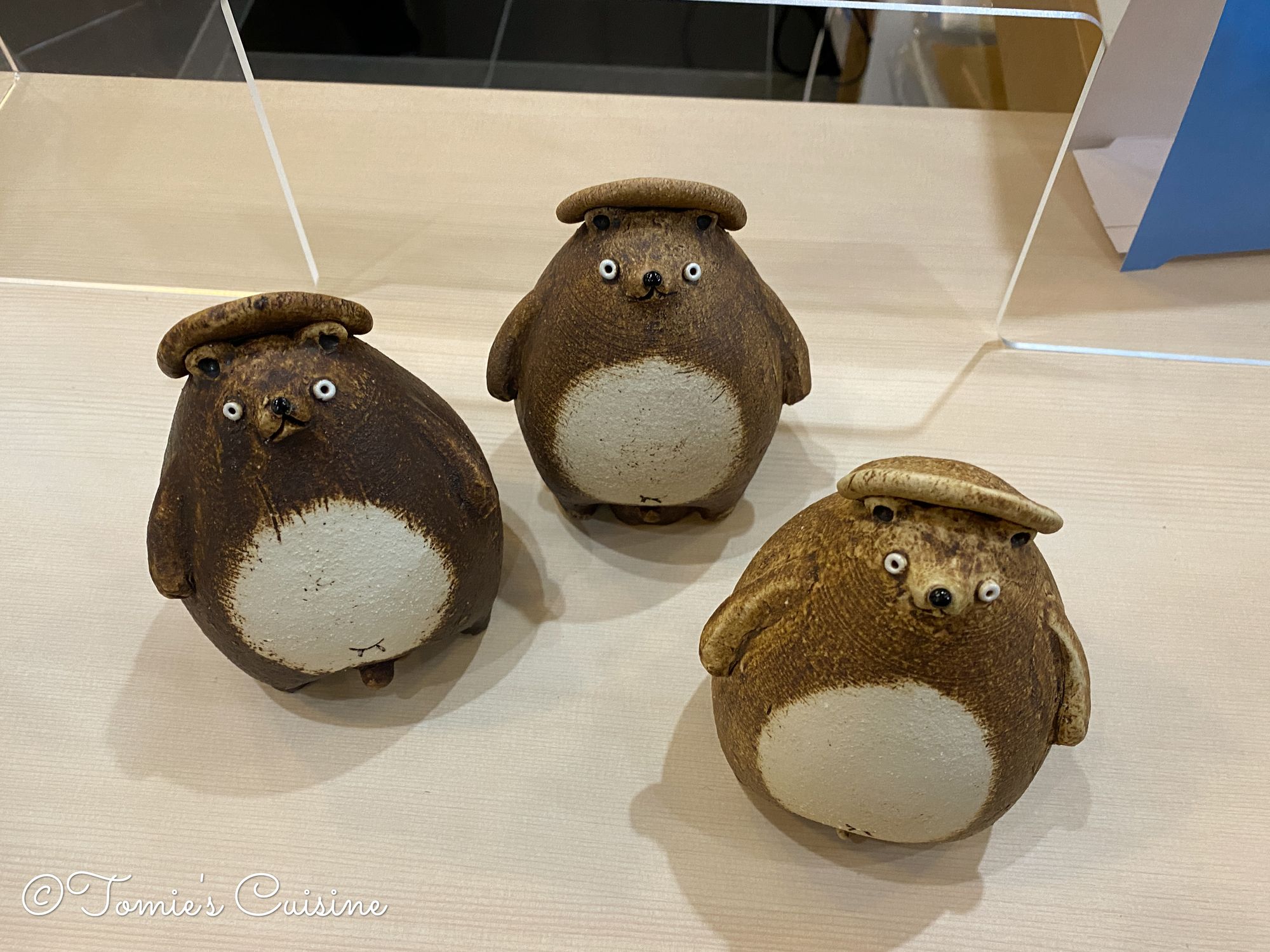 We found an adorable handmade Shigaraki-yaki Tanuki, so my husband bought three for his brother, friend, and himself.
The ladies there were very kind and brought some more from behind the shop to let us choose. We bought these three cuties, they all arrived safely in France! What an incredible last-minute encounter that was!
And we are back in Otsu station. Farewell, Otsu, until next time...
If you want to read our overview of the Shiga prefecture, it's this way!
And for the one on Omihachiman, it's here!
If you have any advice or tips on what to visit while there, please do let us know, we would love to know! You can reach us on Instagram and Pinterest!
We have much more to say on this topic, so don't forget to subscribe to our email list to stay updated!