Introduction
Since I wrote the bento recommendation the other day I figured I would list a few of our go-to bento lunch recipes (it is one of my husband's favourite) as you can easily bring it to to work and eat cold.
Bento box
We don't have a bento box in France, so we checked a few on Amazon and bought an eco-friendly bento box that is made from bamboo and bamboo fibre!
This one is bigger than the one I used to see in Japan and heavier too (390g). There are also duo sets but a single is more than enough for me.
Size: 19,2 x 12,3 x 7,2 cm
Weight: 390g
Capacity: 1 litre
Today's menu: Salmon teriyaki and tamagoyaki bento
As a filler, I've also prepared some Japanese rice, steamed broccoli and fresh cherry tomatoes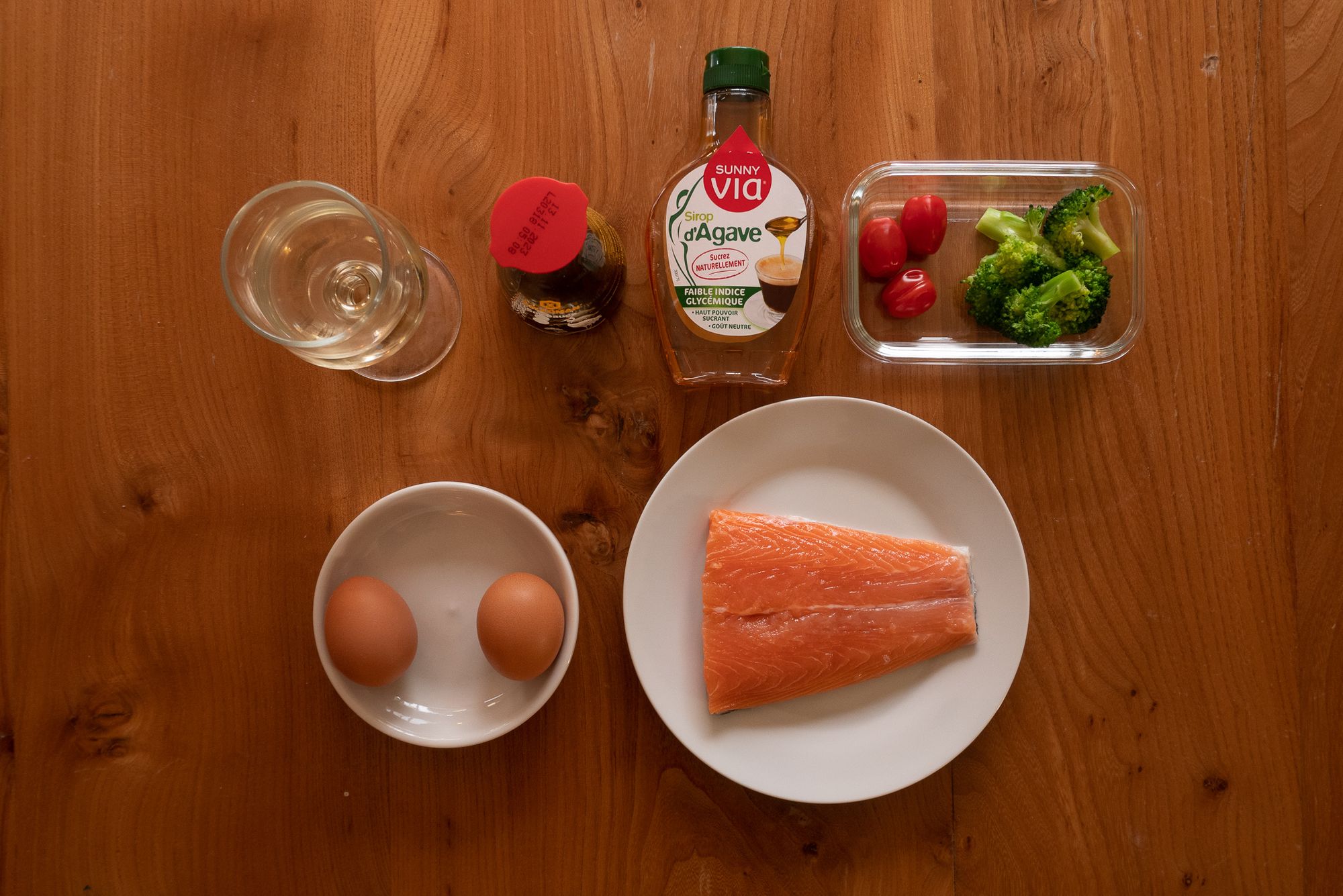 Ingredients
Salmon teriyaki
Roughly 200g of fresh salmon, remove excess water with kitchen roll and cut into 4 pieces
Teriyaki sauce base (mix the ingredients below)
2 tbsp of Japanese sake (I used dry white wine)
2 tbsp of soy sauce
1+½ tbsp of sugar (I used agave syrup instead)

Tamagoyaki (Japanese egg omelette)
2 free-range eggs
2 tbsp of sugar (I used 1 tsp of agave syrup instead)
a pinch of salt
Vegetable oil
Instructions
Prepare "Tamagoyaki"
Ideally, we would use a square pan to prepare it, however, we don't have one here in France at the moment. I recommend this pan as its handle is in wood and the pan in aluminium, because a regular pan like the one I am using currently is really not ideal.
Japanese Tamagoyaki Square Pan in Aluminium
However if you having difficulties using chopsticks, have a look at this turner from Oxo, it makes the job a breeze!
OXO Good Grips Nylon Flexible Turner
Crack 2 eggs into a bowl then add sugar and salt and mix until well combined
Heat your pan with lower medium heat, add a tablespoon of vegetable oil and spread it with a small folded kitchen paper. Keep the paper with oil on a small plate like a cup saucer to use later.
Before you start cooking the eggs, put a tiny amount of the egg with chopsticks to see if the pan is heated enough. If you can see the egg sizzle then the pan is hot enough.
Pour a thin layer of the egg mixture into the pan (roughly 18×12 tamagoyaki pan or 20cm round pan) and spread them quickly before the egg is cooked.
Roll them from one side to the other.
Spread the oil thinly with the oiled kitchen paper. Repeat 4-6 until you finish the egg mixture.
Turn off the heat, put your tamagoyaki on a clean chopping board and leave it until you pack your bento.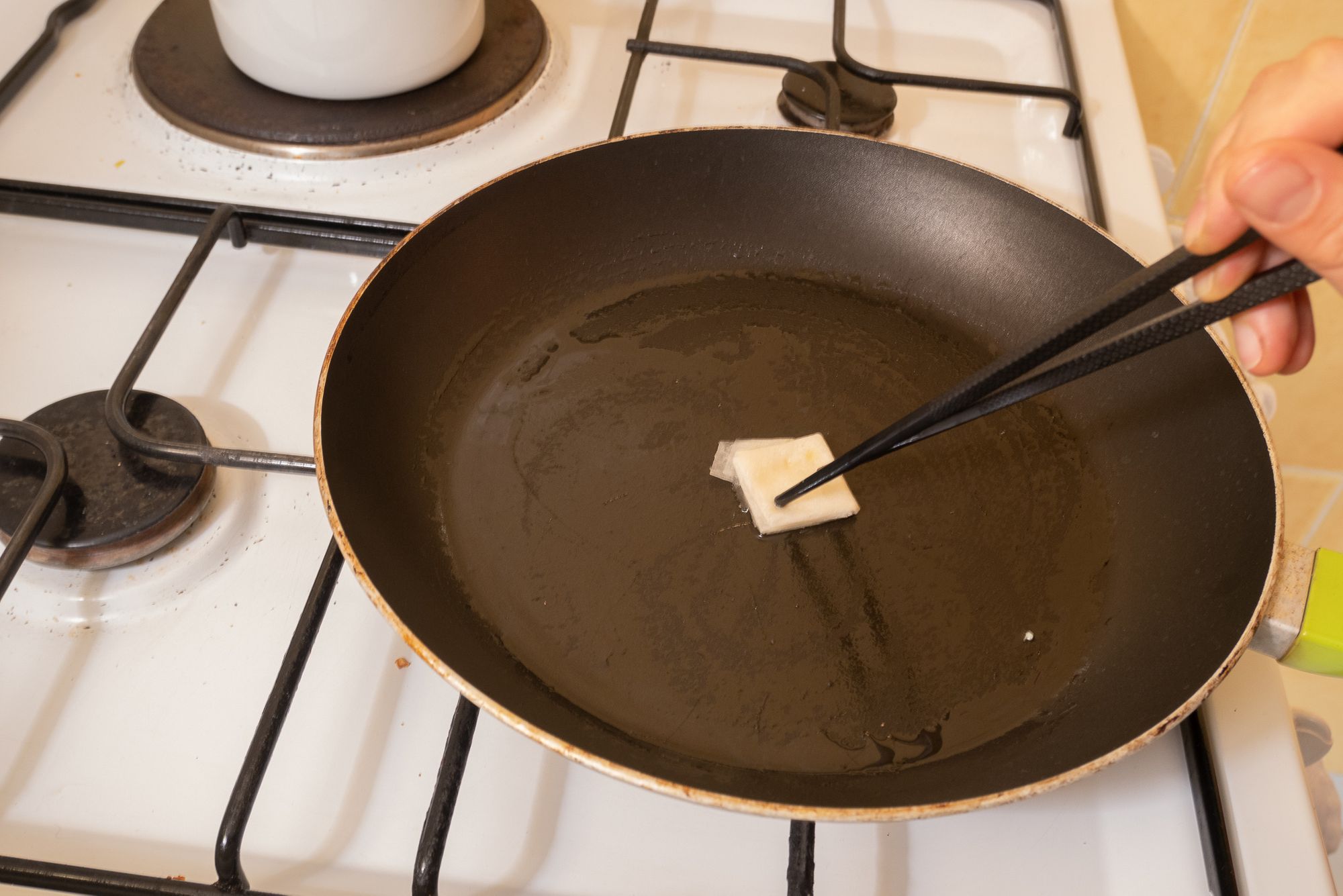 If the pan is clean, use the same pan for salmon teriyaki
Prepare "Salmon teriyaki"
Heat the pan with medium-high heat, add a tablespoon of vegetable oil and spread on the pan.
Put the salmon on the skin side down and cook until it gets crispy. (photo)
Turn the salmon and lower the heat to medium-low heat and cook for a minute. The sauce should not be boiling but simmering.
Remove the excess oil on the pan with kitchen rolls, then pour the teriyaki sauce base. Flip the salmon a few times so that the sauce covers the salmon evenly.
While the sauce is evaporating, keep an eye on it because the sauce can burn quite easily. The sauce should get thicker as you cook it, that's when you know you've done a delicious sauce! Well done!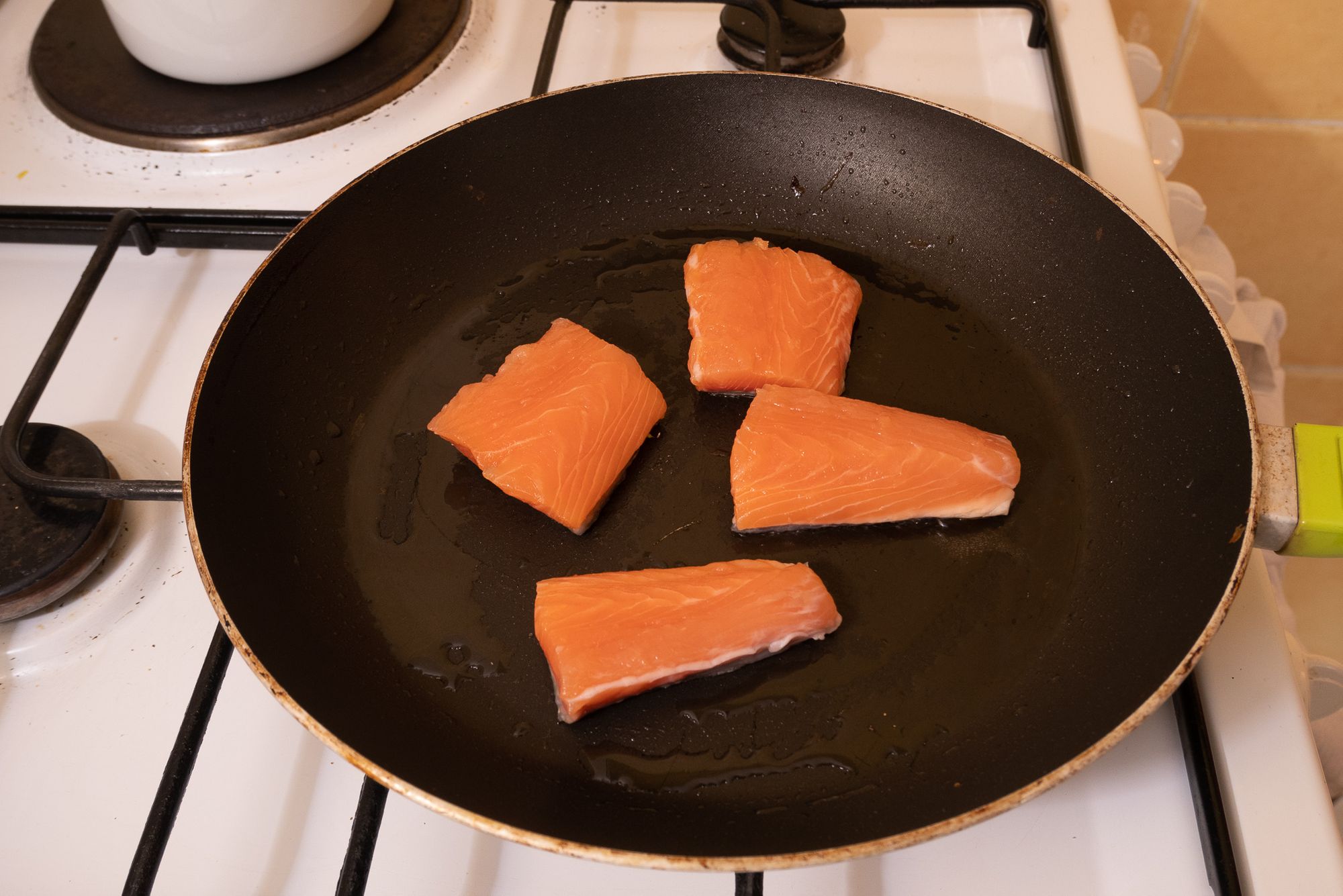 Putting it all together
Once both of the dishes are ready, put the Japanese rice first, then the Tamagoyaki and finally the salmon Teriyaki. In this photo, I've put some freshly cooked broccoli and cherry tomatoes to fill the space and also because you need some veggies in your meals for a balanced diet!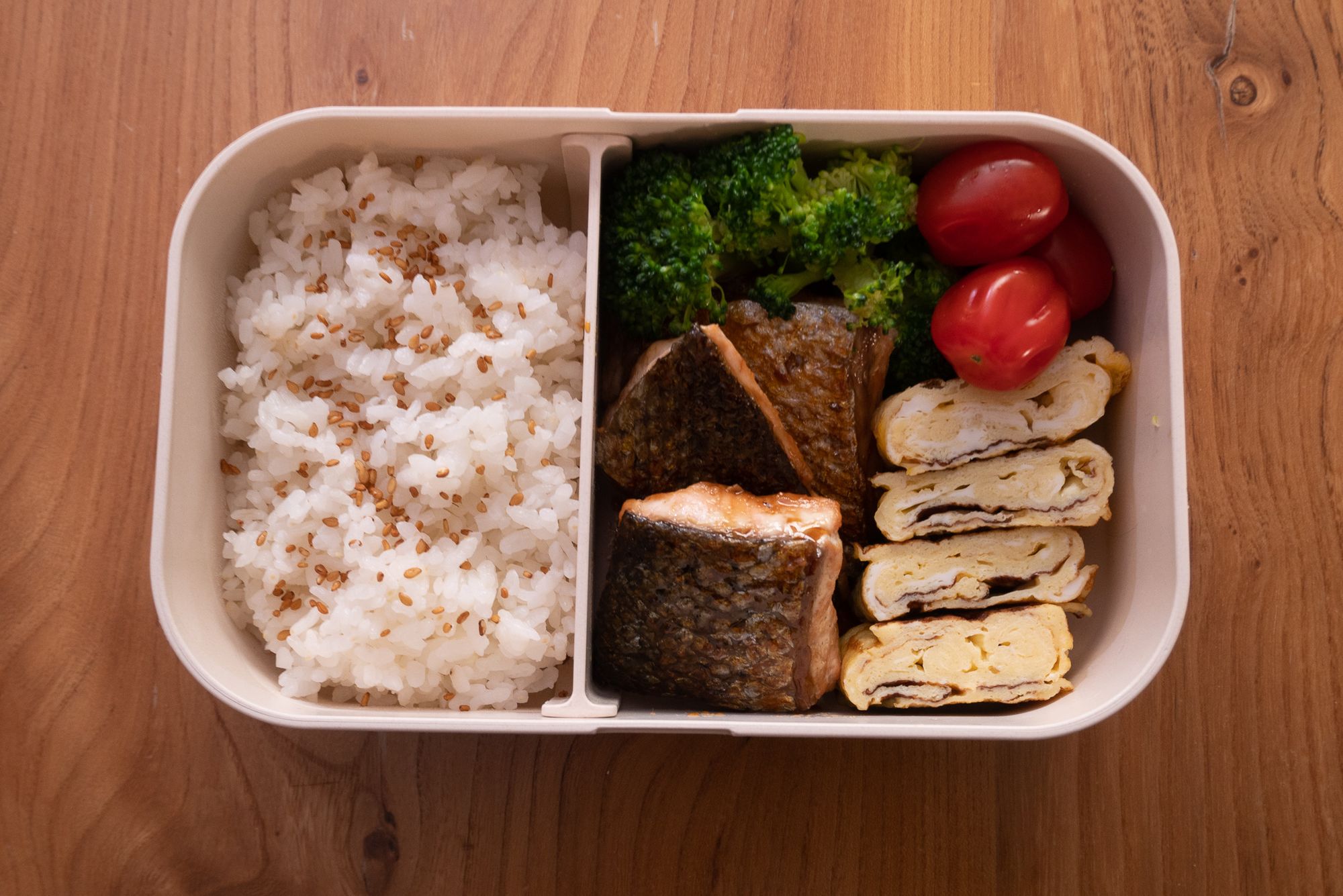 I'll talk more about the vegetables and how to cook rice in a separate post in the future. Subscribe to our email list or follow us on Instagram and Pinterest so that you don't miss it!