If you have read my salmon teriyaki bento recipe, you may remember that I mentioned a bento box that we bought on Amazon. Today we will do a review of this eco-friendly lunch box by looking at it in more detail to see if it's worth it.
See the Umami lunchbox on Amazon
We bought this "Umami EcoloChic Beige Lunchbox" to have a new bento box to bring with us while hiking or picnic whilst in France. Which, incidentally, also allows us to document our recipes and introduce them on the blog. Win-win!
However, this time we looked for a more eco-friendly lunch box than the usual light plastic ones. So, did Umami do a good job or not?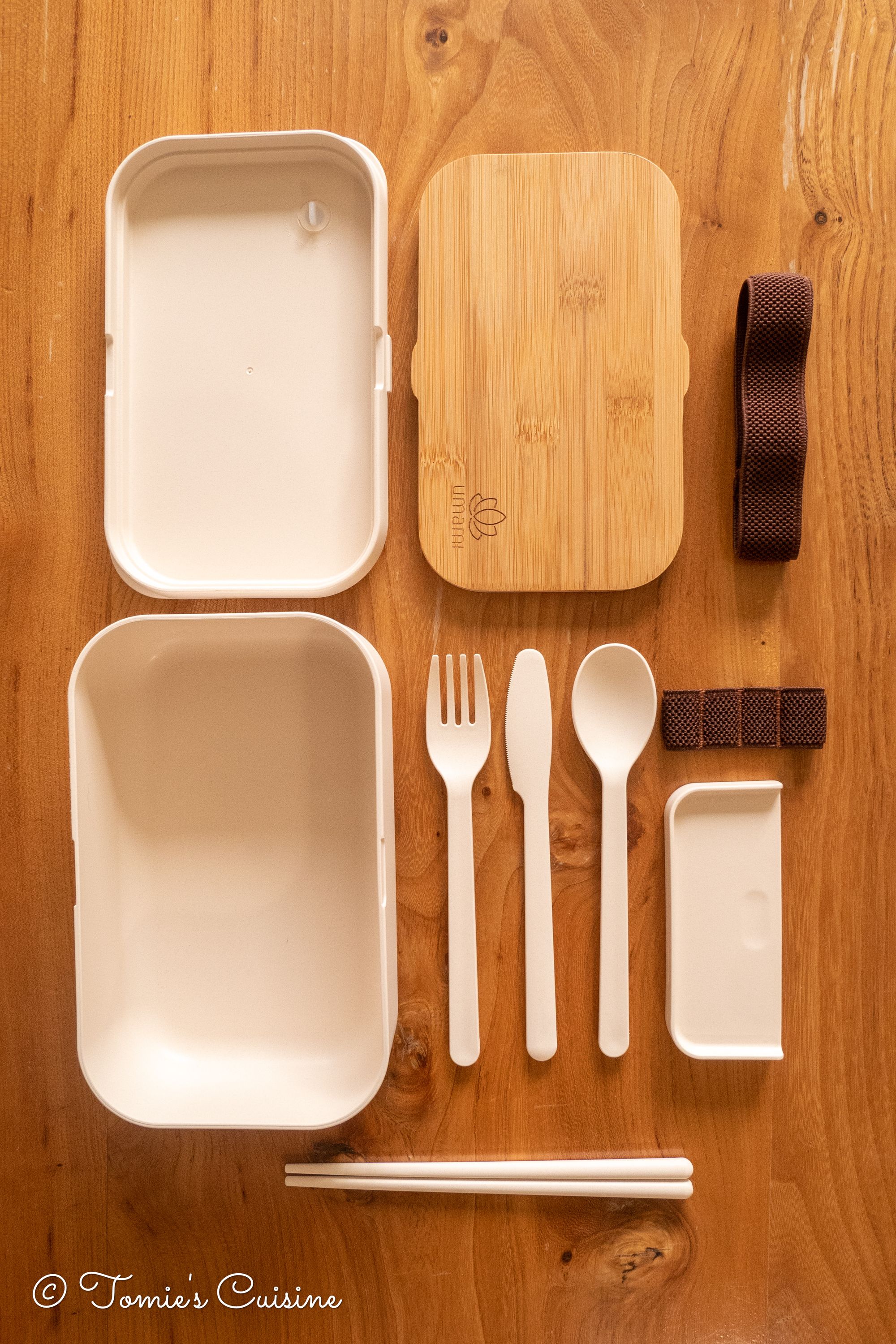 Box
The texture of the overall container is very smooth and has a mat surface. Only the tray is built in a soft natural bamboo material.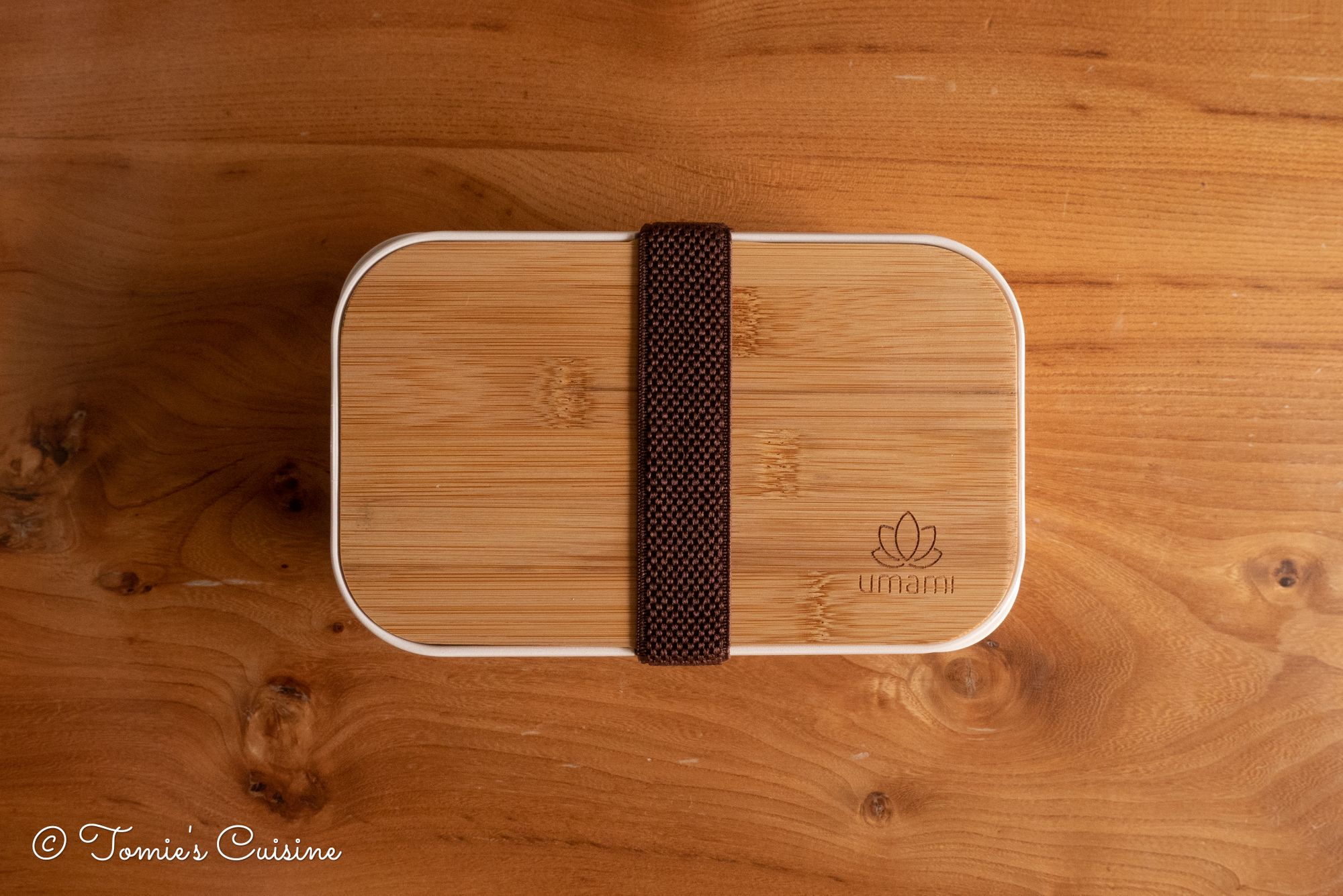 Cutlery
When you lift the bamboo tray, you will see the four cutleries (spoon, knife, fork and chopsticks) with an elastic holder.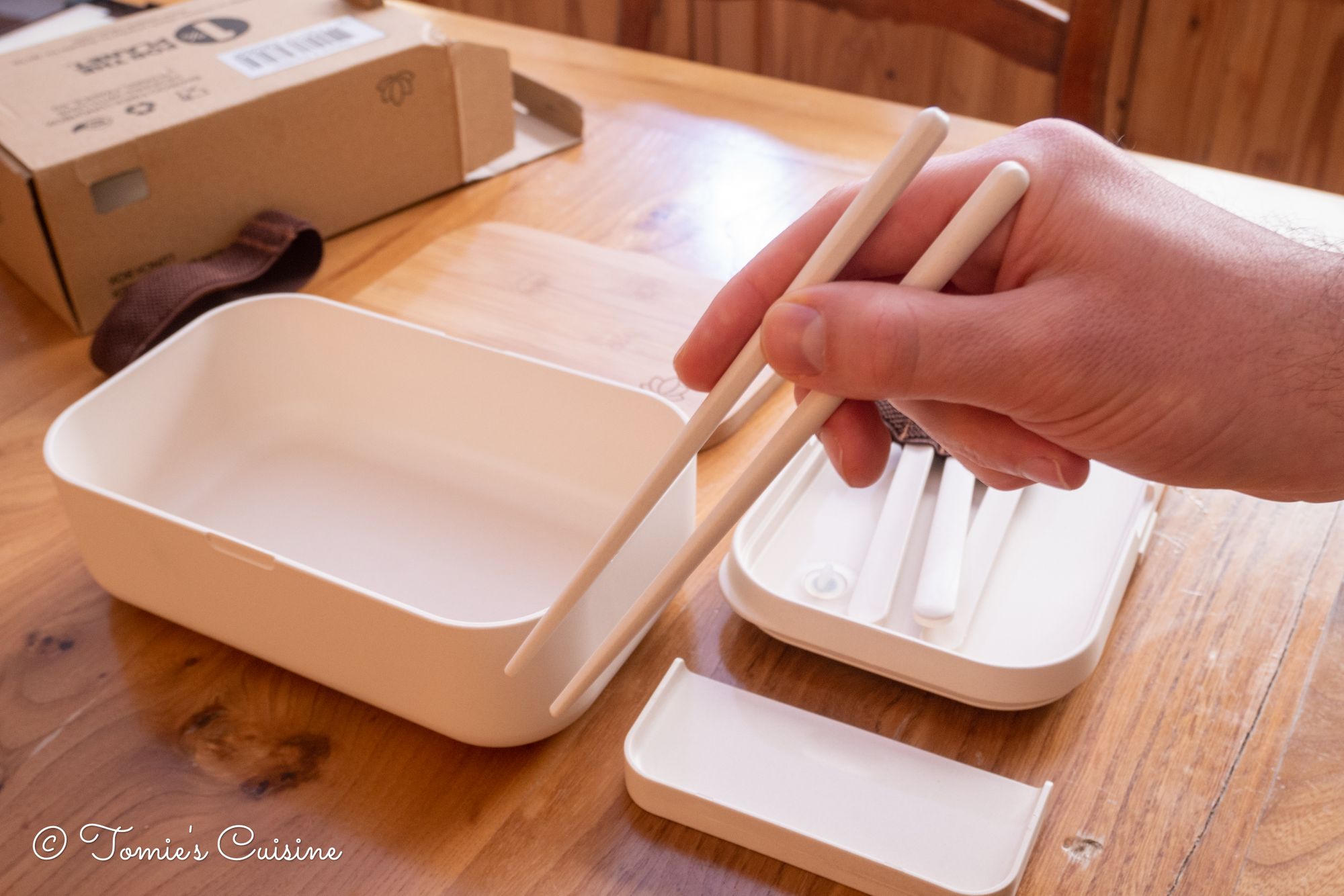 These bamboo fibre utensils are relatively easy to hold except for the chopsticks; they are way too short for us, especially for my husband. It can't be helped if you want to put all cutlery in the box, but I would instead bring them separately. Especially since I won't need the whole set for lunch (who needs a complete set for a quick lunch?)
I also had to put all those cutleries in a certain way; otherwise, I couldn't close the bamboo tray on the top properly, which I found a bit cumbersome.

Capacity
The main part of this box's capacity is 1000ml, and the dimensions are 19,2 x 12,3 x 7,2 cm. Overall, this is bigger than I thought since the one I used to see in Japan was smaller.
That is why I am glad we didn't get the dual layers version. I suppose that it depends on what you put inside, but a single one is big enough for a lunch meal as far as I'm concerned. I found some reviews with picture and videos on amazon, but the double one seems very big. You can still use the one at the top and leave the bottom one at home, so it might be practical to have a double one when eating with someone else from the bento box.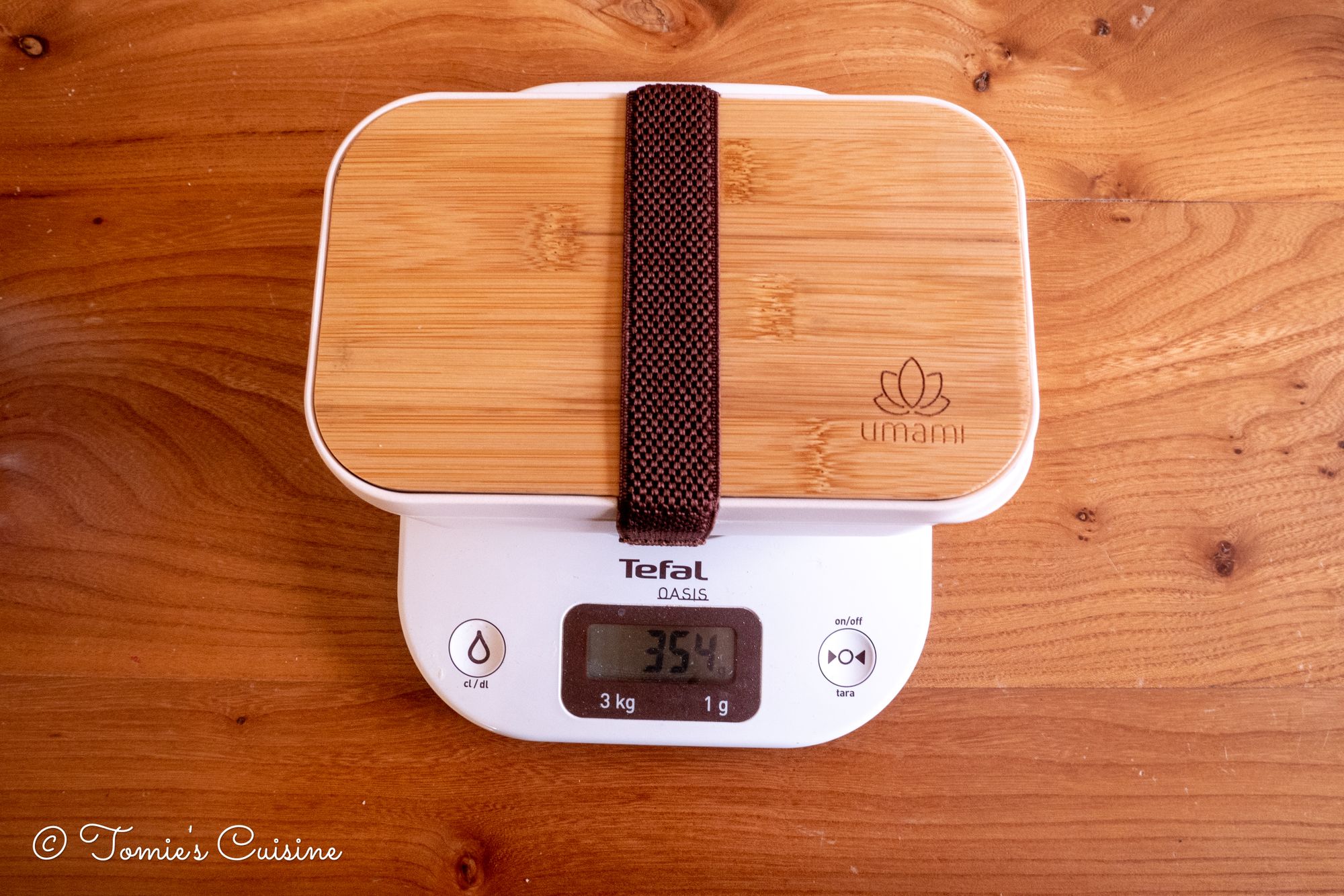 Weight
The weight was heavier than I expected. Well, since the one I used to bring to school was made from plastic, it was very light. According to Amazon's Umami brand page, the bento box's weight is 390g, but the actual weight from the one I got was 354g. Maybe it differs because the bamboo on the top is a natural product? I am not sure, but mine was lighter than what they mentioned.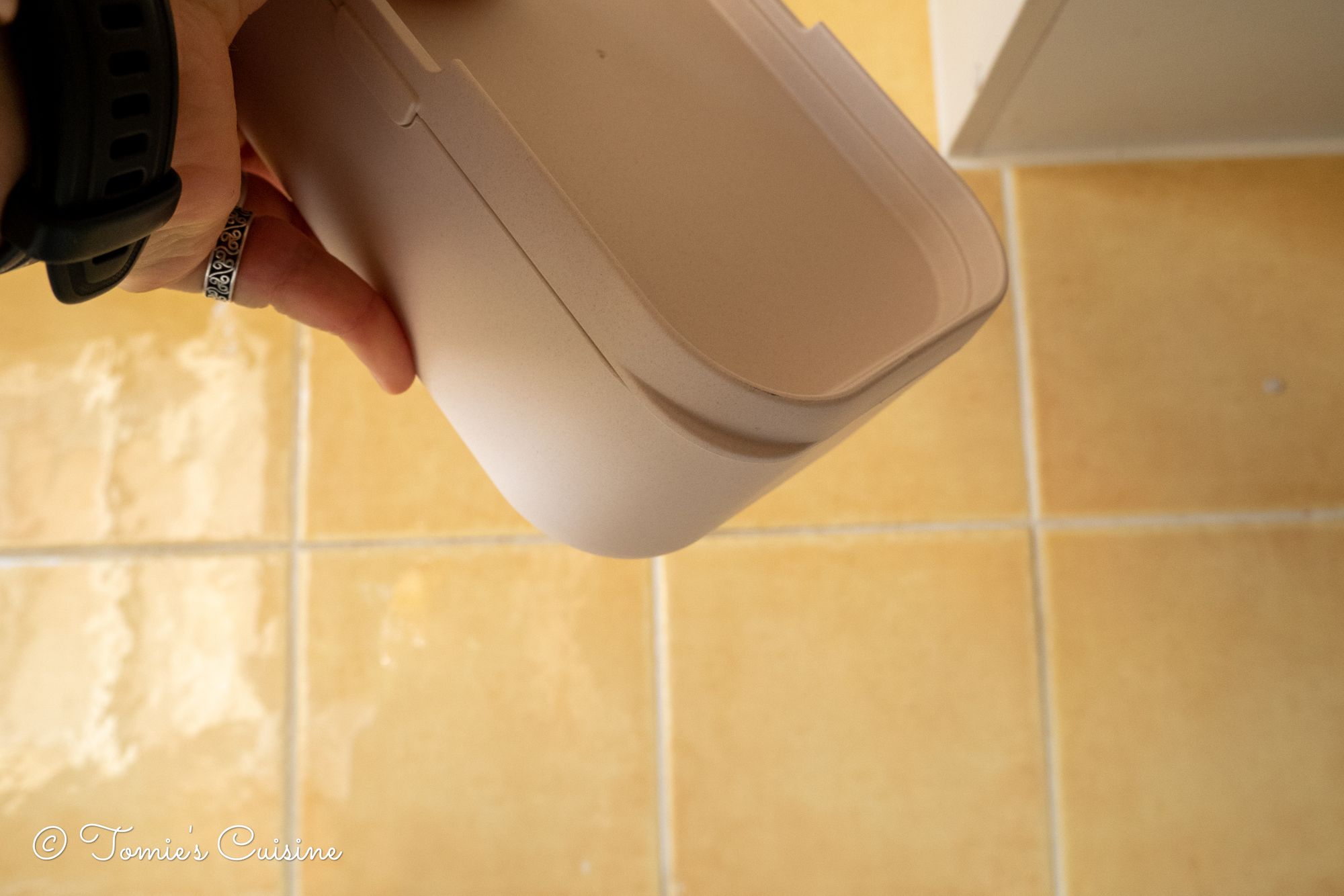 Is this lunch box leakproof?
I was impressed! This bento box is leakproof, as they mentioned on their Amazon page. One thing to note, though, you need to make sure the silicone valve is appropriately closed. I'm mentioning this because some people on the reviews said it wasn't leakproof, but they left the valve open.

Is it microwave/dishwasher/freezer safe?
Sort of.
Umami says that this bento lunch box is suitable for microwave, dishwasher and freezer too. However, they mentioned that we could only reheat with the bento box for up to 3 minutes on their Amazon page. But no word about whether it's 600 900 or 1200watts.
We cannot put the bamboo tray in the dishwasher, and I probably would not put it in the freezer.
So the bottom line is microwave*, dishwasher* and freezer* safe.
To be clear, we have not tried reheating the container in the microwave because our recipes do not require it. It's tasty, either hot or cold :-). No need to use a microwave!

How does it hold up?
We only used the lunch box a few times so far, and it held up well. It also ticks the box of being plastic free and including the cutlery if you want to use the ones coming with it. Regardless we will keep you guys updated as we use it. You will also see it featured on the different recipes that we will post on this blog.
Buy this Umami lunchbox on Amazon
We are also planning to try different eco-friendly products, so don't forget to subscribe to our email list or follow us on Pinterest and Instagram, so you know when we post.