How eco-friendly are you?
This is one of the questions I have been thinking about lately. So that is why I have started my challenge to avoid my over-reliance on plastic.
Once you care about reducing plastic waste, you can see how much plastics are used in our daily life.
When we go to a supermarket for grocery shopping, most of the food is wrapped in plastic. Fruits, salad, meat, the daily essentials are all wrapped in single-use non-recyclable plastics. To be fair to the supermarkets in the UK, they have been trying to reduce plastic waste but it's still very much a work in progress. That means that there is still much we can do at our level to push them in the right direction.
Is biodegradable eco friendly?
This morning, I found a post on Instagram from Riverford, the company that delivers organic groceries to your home. They were explaining the differences between "degradable plastic", "biodegradable plastic" and "compostable plastic". This is very helpful and easy to understand the differences. It's also available to read on their website! Know before you throw: A guide to green packaging
Degradable plastic
WILL contaminate and harm the environment by leaving some microplastics that will never fully decompose
Biodegradable plastic
This type of plastic CAN leave some harmful residues of microplastics.
Compostable packaging and home compostable packaging
This type WILL NOT leave any trace of microplastics as it breaks down into water and CO2.
Needless to say that I will try and use the latter as much as possible. Especially if it is a home compostable plastic because then I can just throw it in the home compost bin/heap.
Why eco-friendly products are important
Here are some of the items that I am either already using or thinking about switching to in order to minimise my impact on the environment.
Organic cotton mesh bags
➜ Reusable produce bags for fruit and vegetable ♻️ Eco Friendly Food Bag ♻️Veg Cotton mesh Grocery, Toys, Storage, Washable - SET OF 8 BAGS
Some supermarkets are using home compostable bags (like where we are now in France) but not everywhere. That being said, it is always better if you bring your own bag with you, so here is one such option.
These bags are also multi-purpose, after the grocery shopping, you can use them as a laundry net to protect your clothes.
Airtight glass jar
Kilner 1.8L Facetted Clip Top Jar, 1.8 Litre
I have shown this item already on my homemade granola recipe. This airtight container is very useful to store your food like your homemade granola! When you purchase some dry ingredients, you might get those in paper bags, or only use half of it. So you can store them in this glass jar. One bonus point, it will look beautiful on your kitchen shelf.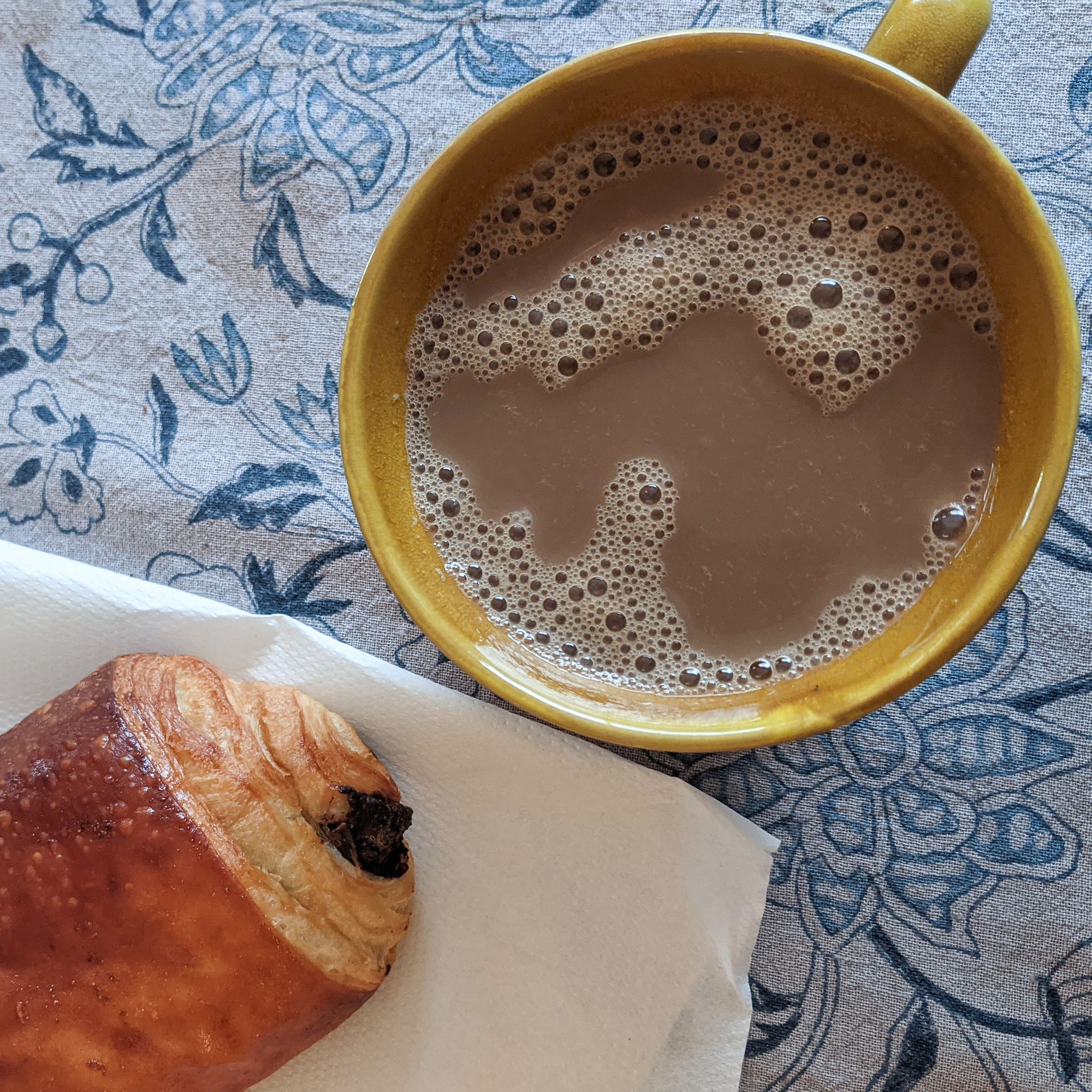 Home compostable Nespresso pods
We have been using a Nespresso machine for over 5 years now. I love having hand dripped coffee but Nespresso is very useful for a busy morning. If you want to have a look, here is the specific model we're using:
Nespresso Nespresso coffee maker bundled set white Nespresso Inissia (Inisshia) C40WH-A3B
Nespresso Capsules
Nespresso Original Coffee Capsules (Mixed) 50
Nespresso capsules are made from aluminium and do not contain plastic. They are infinitely recyclable but you can't put them in your general recycling bins due to their small size.
We have Nespresso stores and over 7000 "collect +" locations to drop off to recycle them in the UK. But to be honest, if you need to go out just to bring them to be recycled, it's more of a hassle than anything else. It is very important not to be lazy to recycle things for our planet, but it's a big ask when you're working long hours.
If we can put it into your compost or food waste bin, it would be better for everybody. Therefore I have been looking for some alternatives that can be recycled at home.
Halo Coffee pods
Only available on their website, they seem to be compostable and plastic-free. However, I have not tried them yet given the price of the capsules. We might order later to give it a shot when we buy our next batch if we're not happy with the taste of the two options below. I will be sure to post back here my thoughts if we do.
Eden project coffee pods
60 Plastic Free Mixed Eden Project Home compostable Nespresso Compatible Capsules (2 x 10 Costa Rica, 2 x 10 Colombian, 2 x 10 Guatemalan)
Sendero pods
Sendero | 100% Compostable Specialty Coffee Capsules | Original Nespresso Compatible | Ethical & Fair Trade | 50 Coffee Pods Starter Box
Sendero | KRAFT EDITION | 100% Compostable Specialty Coffee Capsules | Original Nespresso Compatible | Ethical & Fair Trade | 90 Coffee Pods Strong Coffee Box
Both Eden Project and Sendero  provide an home compostable option for the coffee pods, which is exactly what I was looking for. I do not know yet how quickly they bio-degrade, only time will tell.
Reusable silicone bag
I wanted to have something like this to avoid using plastic bags or cling films to store food in the freezer. When lockdown started in France and the UK, we were in France. We had to stay at home as much as possible and only went out to go grocery shopping. We had to buy more than usual, had to store some food longer, especially fresh fish and meat.
At that time I was using those plastic zipper bag and cling film to wrap portioned fish and meat tightly to avoid getting any air inside to keep them fresh as possible. I was using a lot of single-use plastic.
But now I know there is this reusable and recyclable food-grade silicone bag, I don't need to use single-use plastics! The silicone bag from Stasher is heat-resistant up to 204C (400F), dishwasher safe and microwavable. A few of the options that I want to try with this Stasher bag is sous vide cooking as it is completely airtight. Or even, after cooking and freezing some Bolognese or Curry, I would just be able to put it in boiling water to re-heat and it would be ready to serve.
Stasher bag is somewhat expensive for what it is, but if you approach it from an investment perspective which you can reuse for a long time, it is not that bad as it will last you for a while.
You can now read my unboxing of the Silicone bags here!
Wrapping things up
So, these are the first eco-friendly products that I would like to try or make more use of. It is not always easy to change one's habits, but we've already reduced our reliance on plastics in a few areas.
We will let you know our progress as we go, subscribe to our email list or follow us on Instagram and Pinterest in order to not miss any of our future updates or recommendations!