What is Tebasaki?
Tebasaki is the translation of chicken wings. This style of this chicken wings recipe comes from Nagoya city in Aichi prefecture, Japan. They are very popular amongst Japanese people thanks to their sweet and salty soy sauce base sauce on the chicken wings' surface.
History of Tebasaki
Tebasaki was first served in a restaurant called "Furaibou (風来坊)" in 1963 by a Chef named Otsubo Kenko. He and his wife were initially running their restaurant in Fukuoka prefecture, and then they moved to Nagoya and opened Furaibou.
Tebasaki started as an accident. One day Kenko went to pick up his order from a butcher and was told that he never ordered a whole chicken. The order's mishap was an issue because he served Karaage (fried chicken) in half chicken portions (huge!) dipped in his secret sauce created back in Fukuoka. But he saw a pile of chicken wings there. Chefs mainly used chicken wings to make stock at that time, but he thought he could use them.
He made Karaage using the chicken wings and the sauce and put it on his menu. He knew he could sell them well, but it sold more than he expected. People were hesitating to order the half chicken Karaage because of its portion size. But the Tebasaki, on the other hand, thanks to its small size, price not to mention its taste, got very popular.
A Film night
I decided to put this recipe on my blog because they are very popular among my family (both Japan and France) and my international friends in London.
One day we decided to watch a film at dinner, so I thought of cooking something we could pick and eat like popcorn or nachos that we can get from the shop in the cinema. Or I guess, more like tapas. So I thought I could try to make it here in France and see how people react. It was a small challenge for me to cook them with limited Japanese ingredients.
Recipe
Ingredients
Chicken wings karaage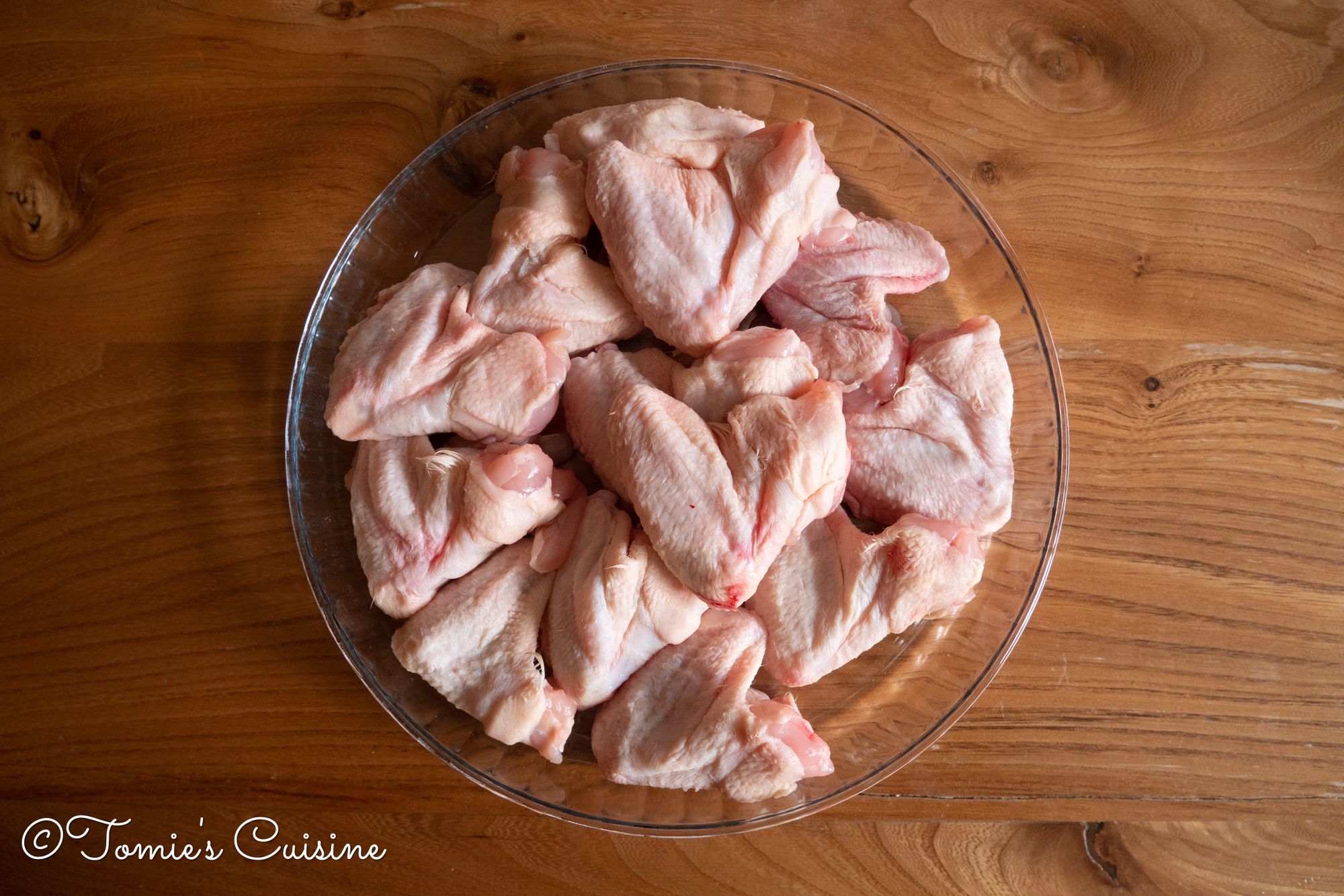 12 Chicken wings
Salt
Plain flour
Vegetable oil
Sauce
Half clove of garlic
3 tablespoon of soy sauce
2 tablespoon of white wine
1 tablespoon of sugar
To finish
Ground black pepper
Instruction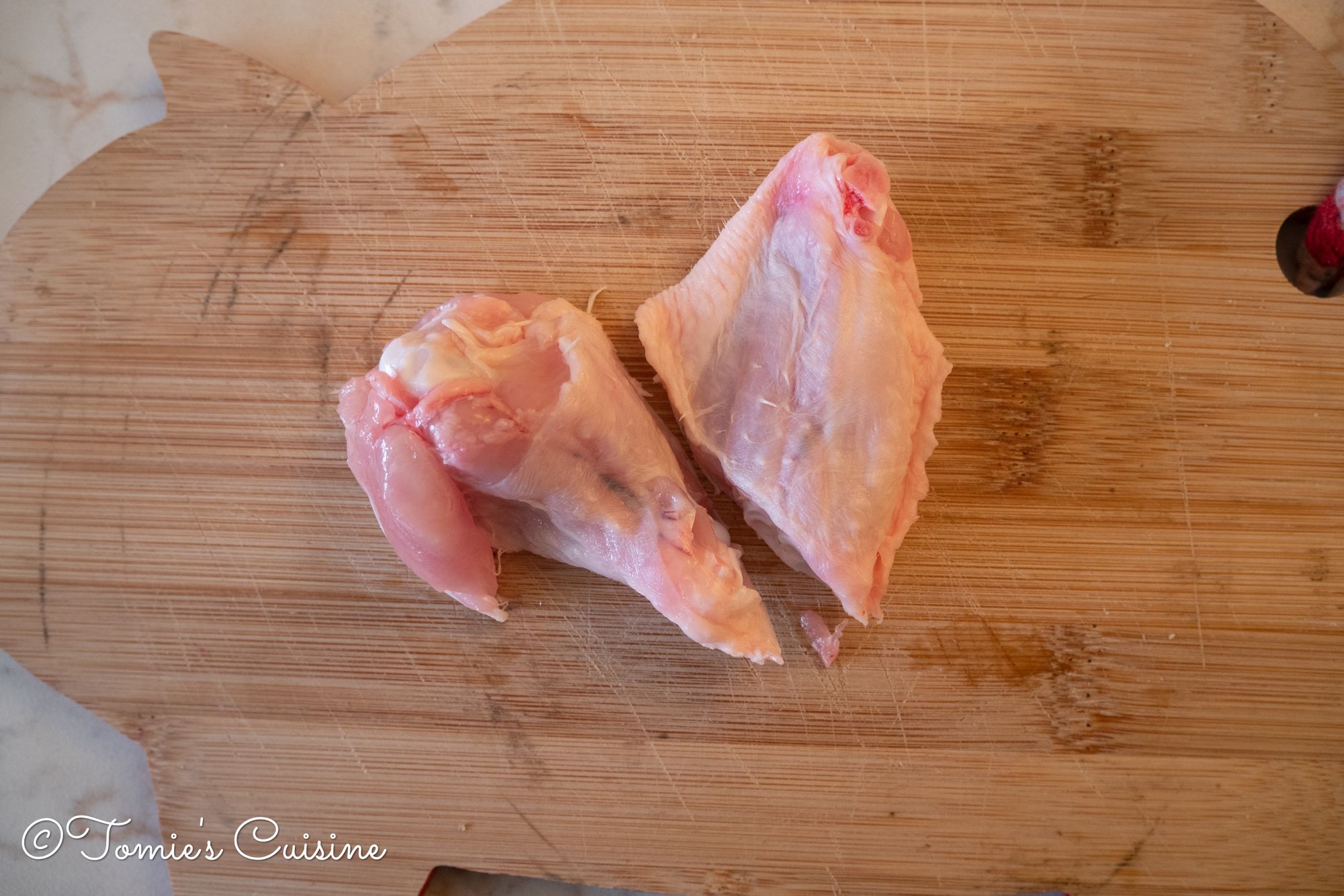 If the chicken wings you bought are like mine, cut the chicken wings into two parts. Drumette and wingette. If they are wingette and tip, leave them like that.  Cutting through the cartilage will be very easy for you to cut. (make sure you put a wet cloth under the chopping board to avoid slip)
Sprinkle a few pinches of salt and rub it into the chicken wings. Then leave it at room temperature for about 15 minutes. (make sure you cover the container if you have any cats!)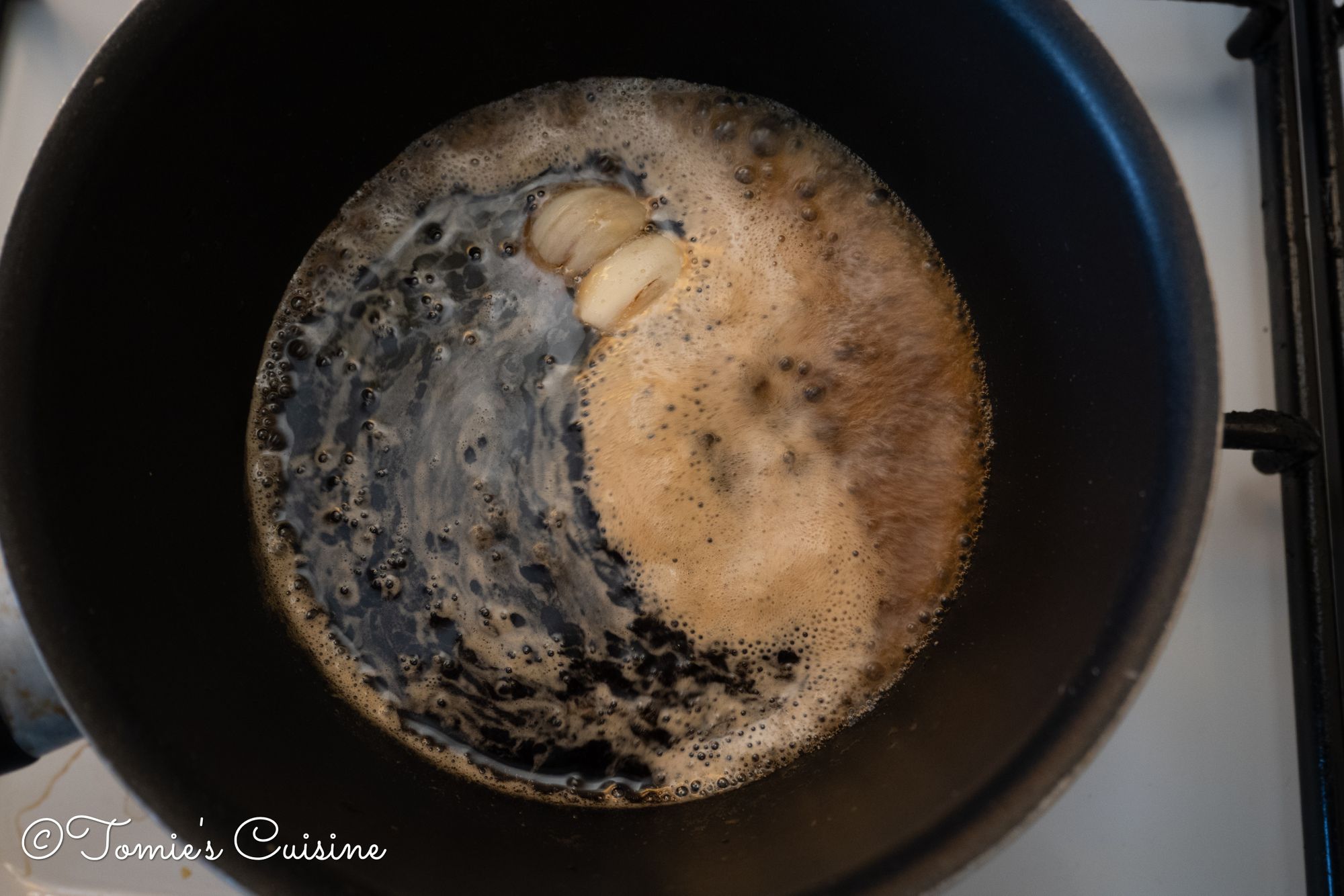 While you are waiting for the next step for the chicken, you can make the sauce. Crush the garlic with your knife's blade flat and add to a small saucepan with all the sauce ingredients.
Put it on medium heat and once it starts boiling, lower the heat and reduce the sauce to half. Then the sauce is ready!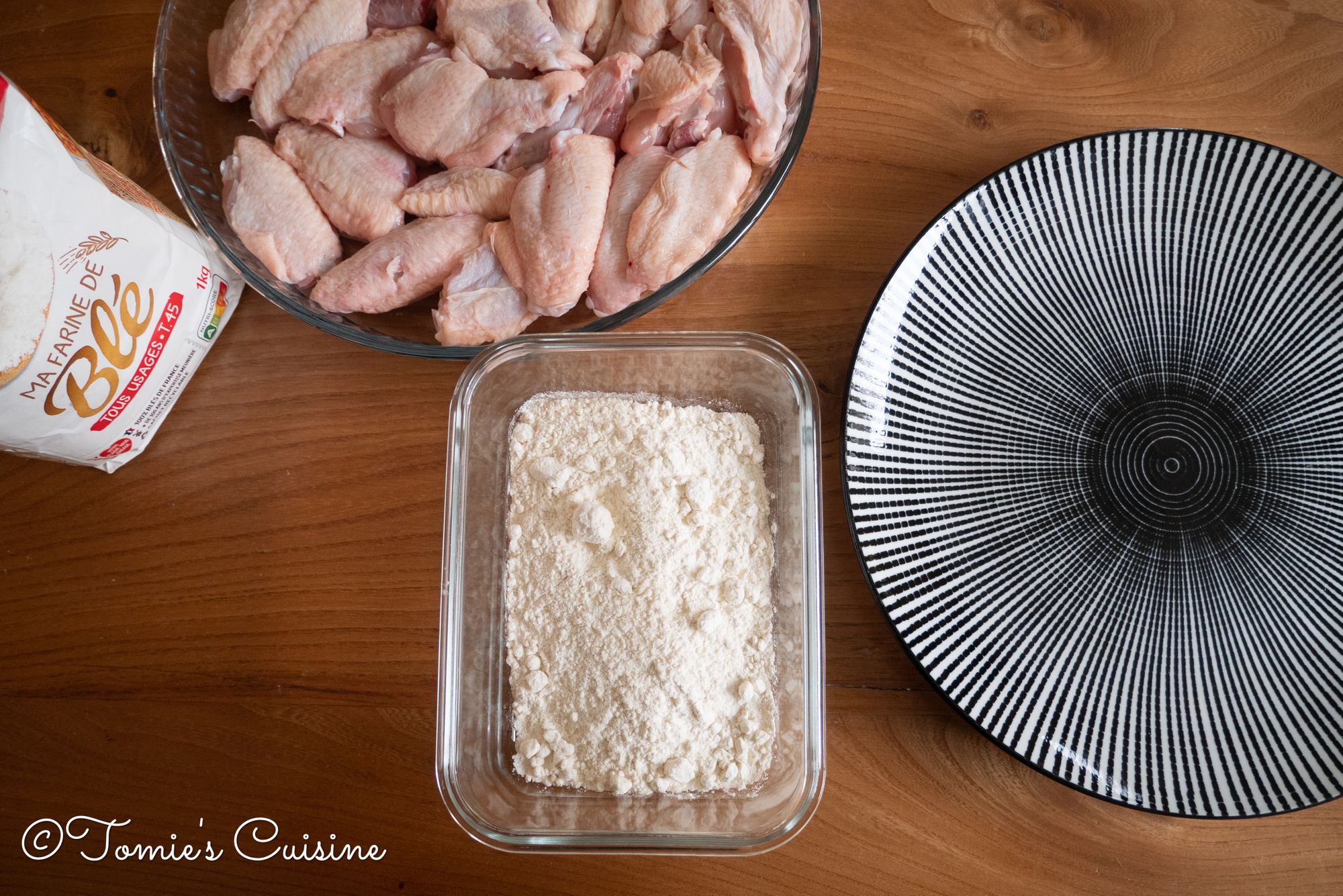 Back to the chicken wings! Remove the excess water from the chicken wings and sprinkle some plain flour.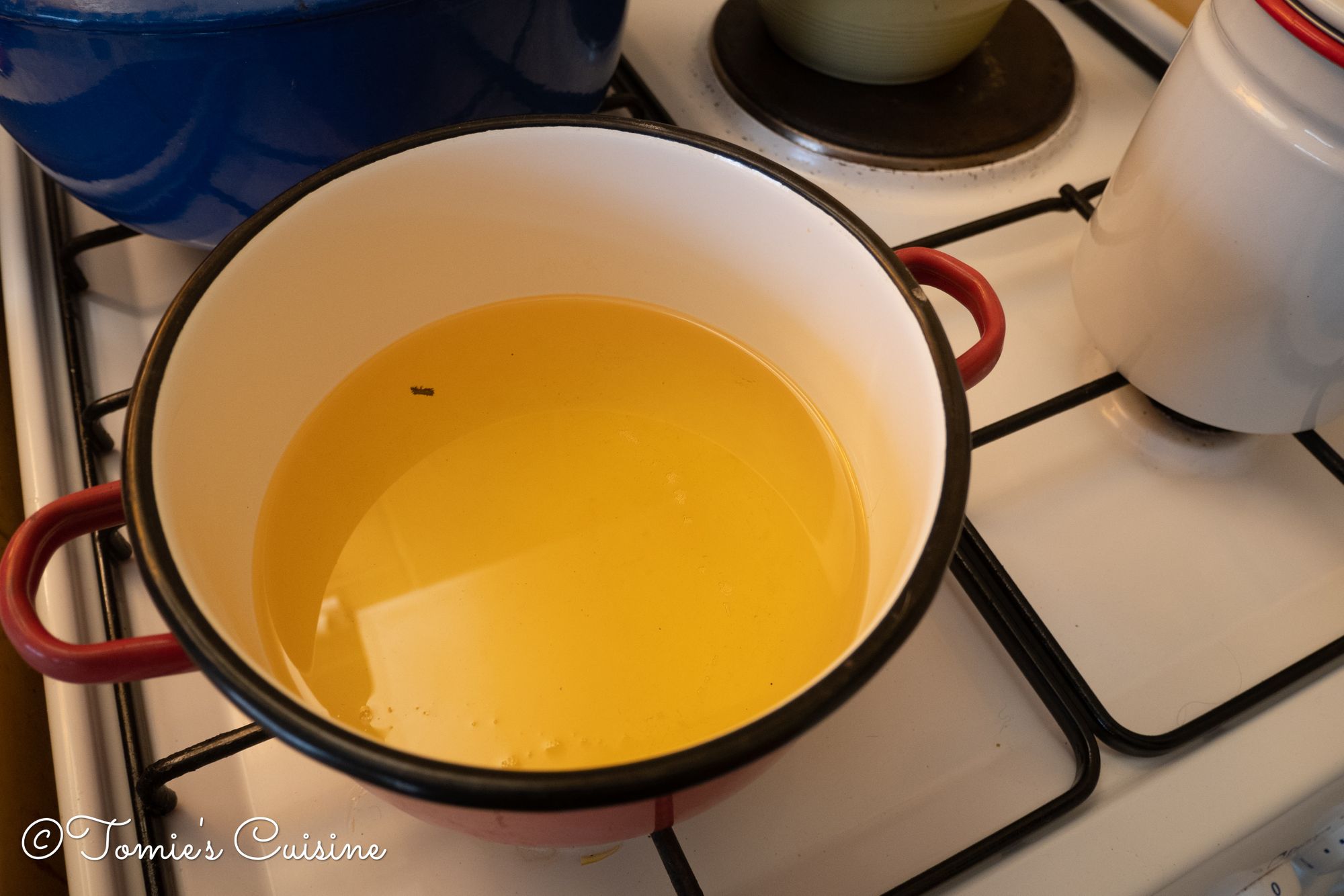 Prepare the place to put cooked chicken; if you have a shallow tray and a matching cooling rack, perfect! I used an oven rack and an oven tray this time.
Heat the vegetable oil to 150°C, and put the wings in it.
Cook the wings for two minutes on one side, then flip them and cook for two more minutes.
Put the wings on the tray you prepared in step 6 for at least 5 minutes to rest.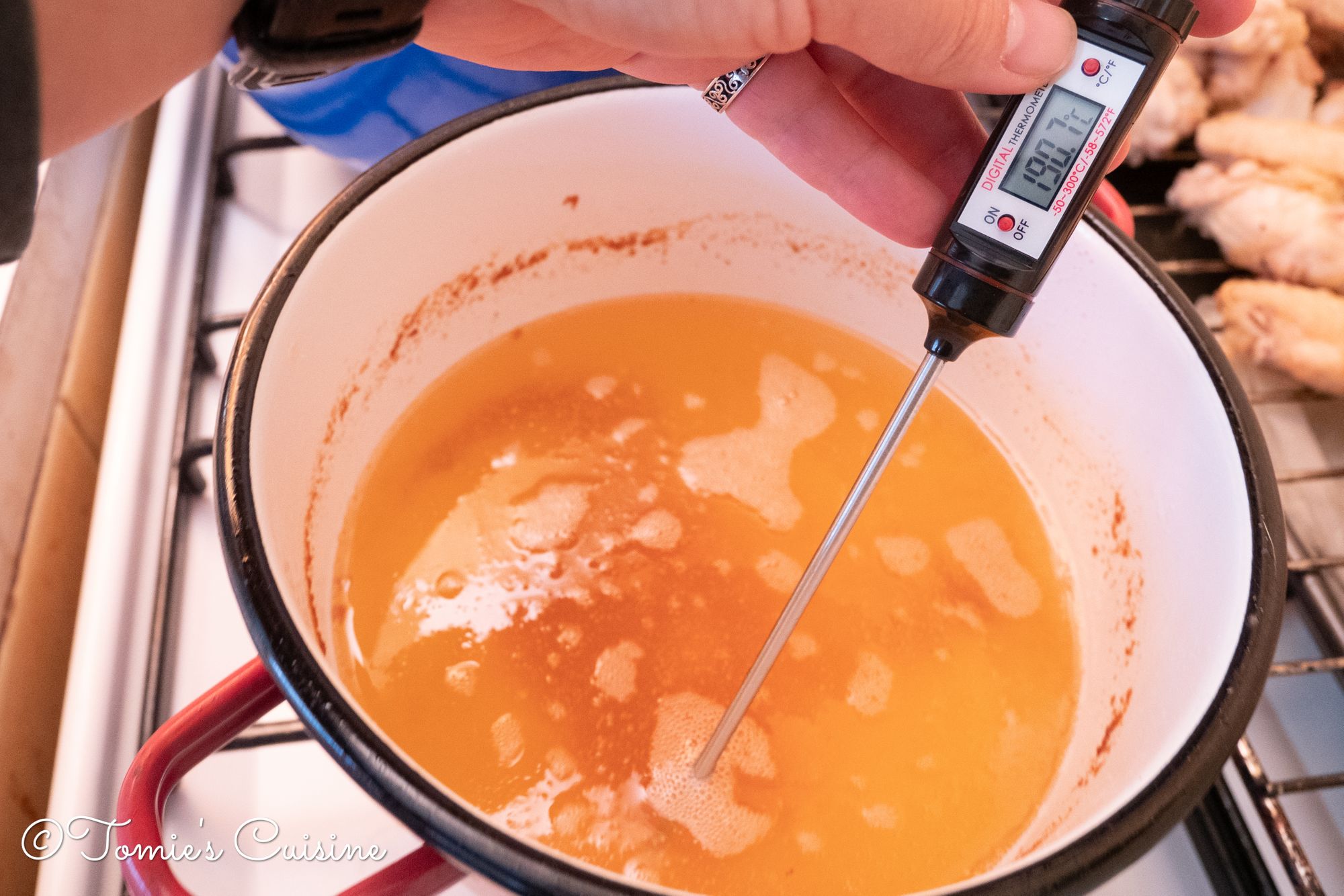 Once you cooked all the wings, heat the oil to 190°C and put the chicken back and cook for 1 to 2 minutes. (⚠️ BE CAREFUL! ⚠️ Oil splashes. Wear an apron if you have one.)
Once you finished cooking the wings, make sure switch off the heat under the oil.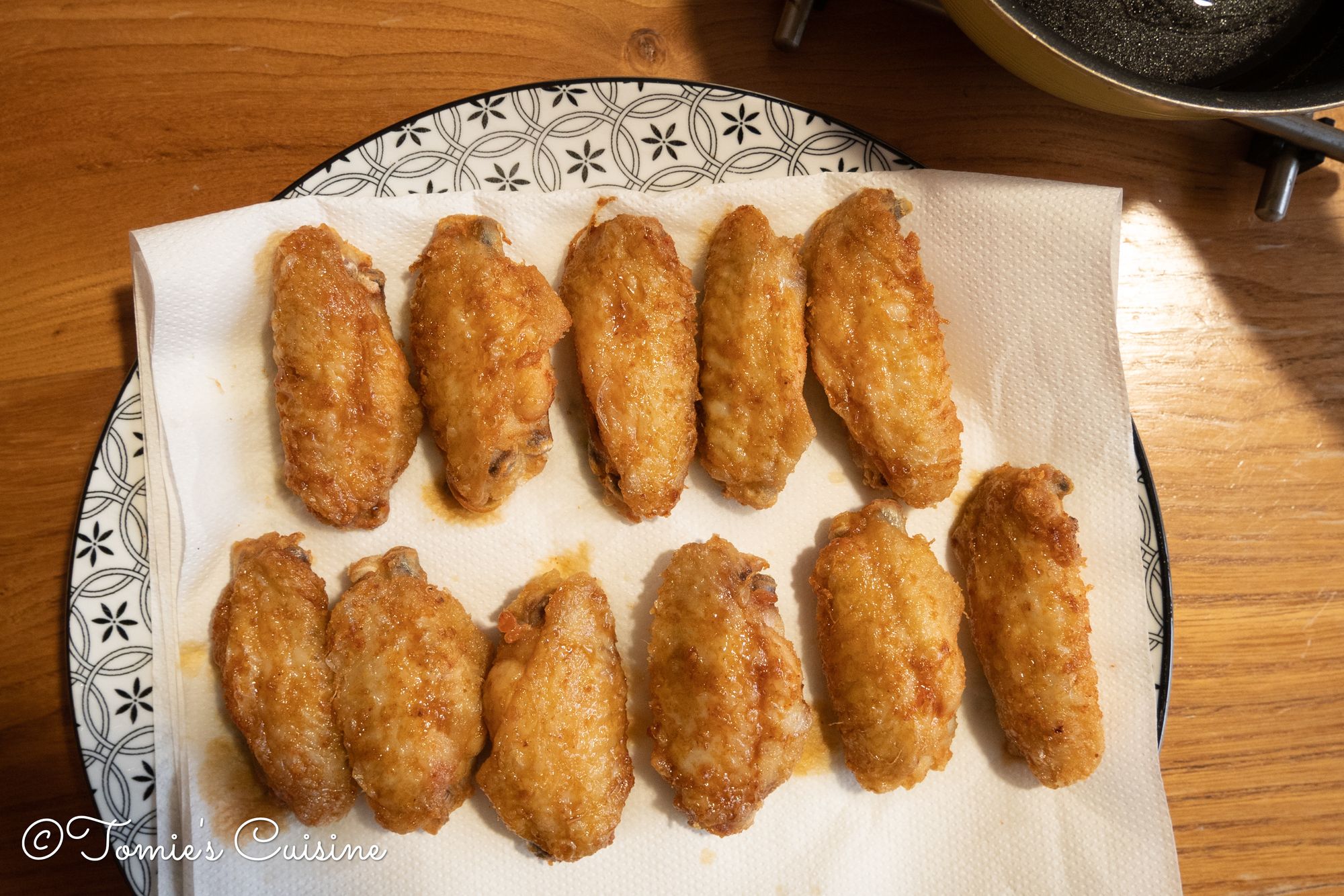 Dip the wings in the sauce or use a cooking brush to put the sauce on the surface. (Optional: I used the wingette part for tebasaki and the drumette part to make Yangnyeom chicken (Korean style spicy chicken)
Sprinkle the ground black pepper as much as you want on the wings, and then it's ready to serve!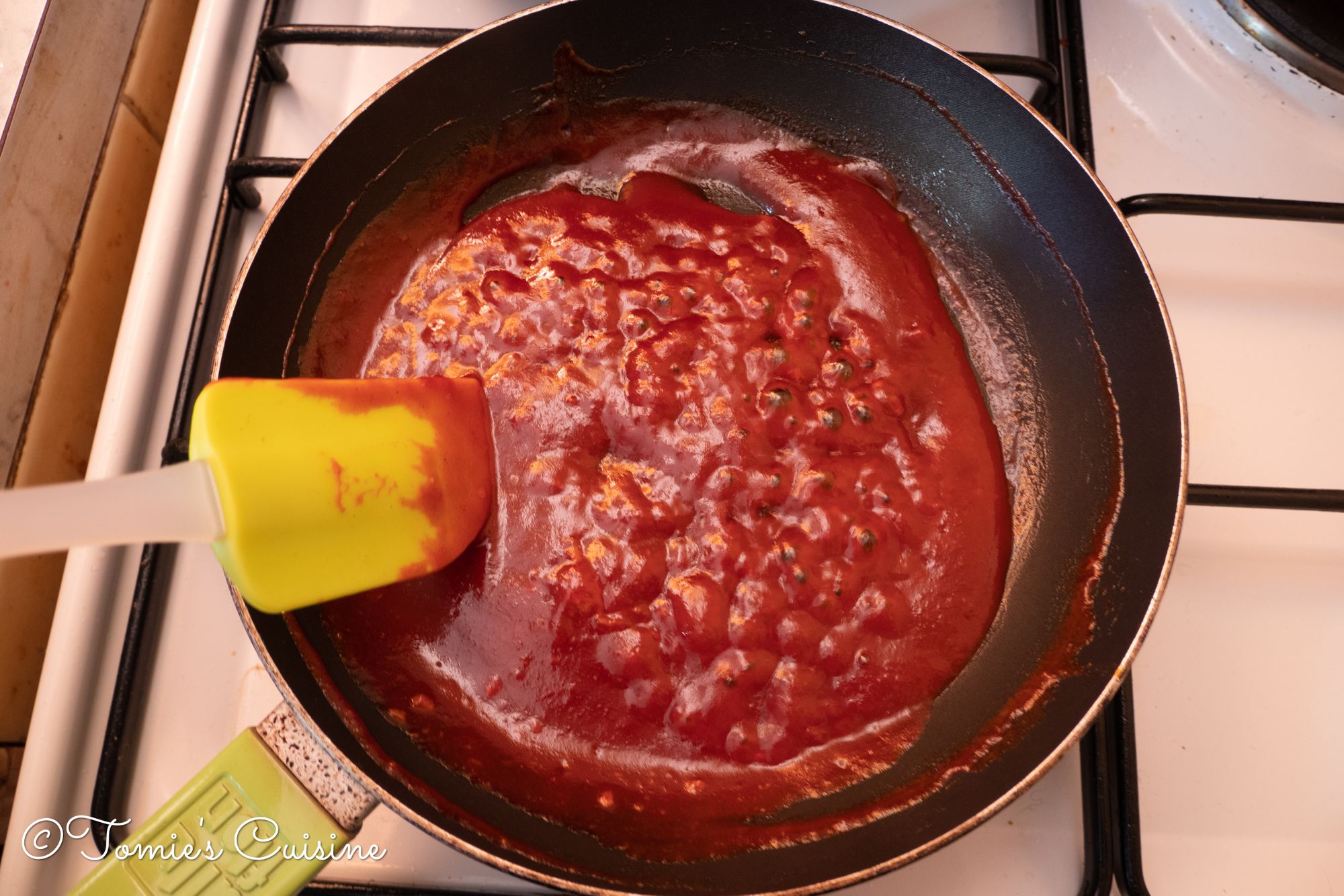 Tebasaki chicken wings meal idea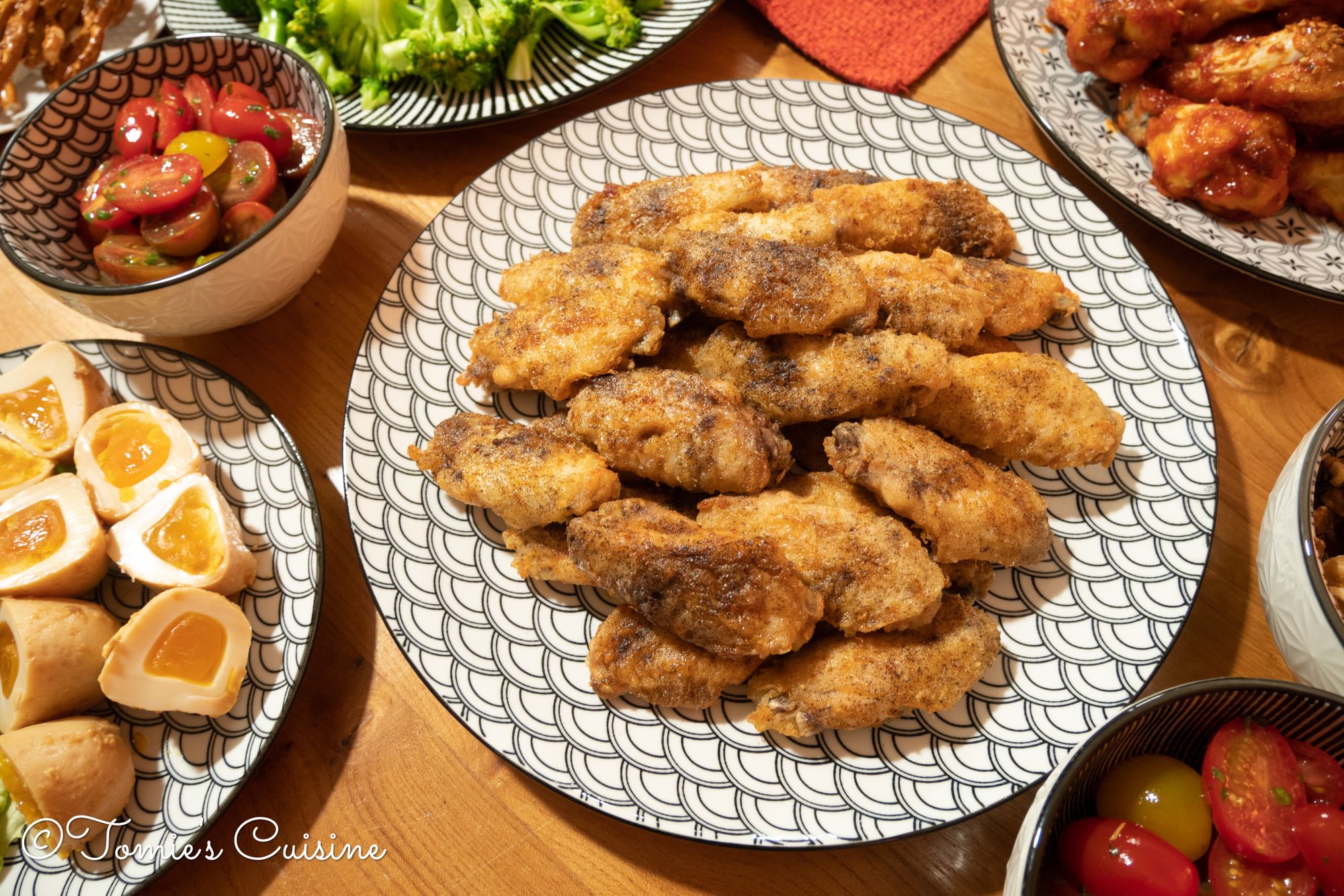 Simple tomato salad
Steamed broccoli with paprika mayo
Miso honey egg
Roasted walnuts
Pretzels with garlic and chive cream cheese

Why not try these for your next dinner? They're easy to serve and pair with many other dishes! If you do try these, be sure to post them on Instagram, Pinterest or Facebook with the hashtag #tomiescuisine; we'd love to see what you come up with!
To not miss any of our blog posts, don't forget to subscribe to our newsletter!