Recap from the preview

Read the preview of the silicone food storage bag.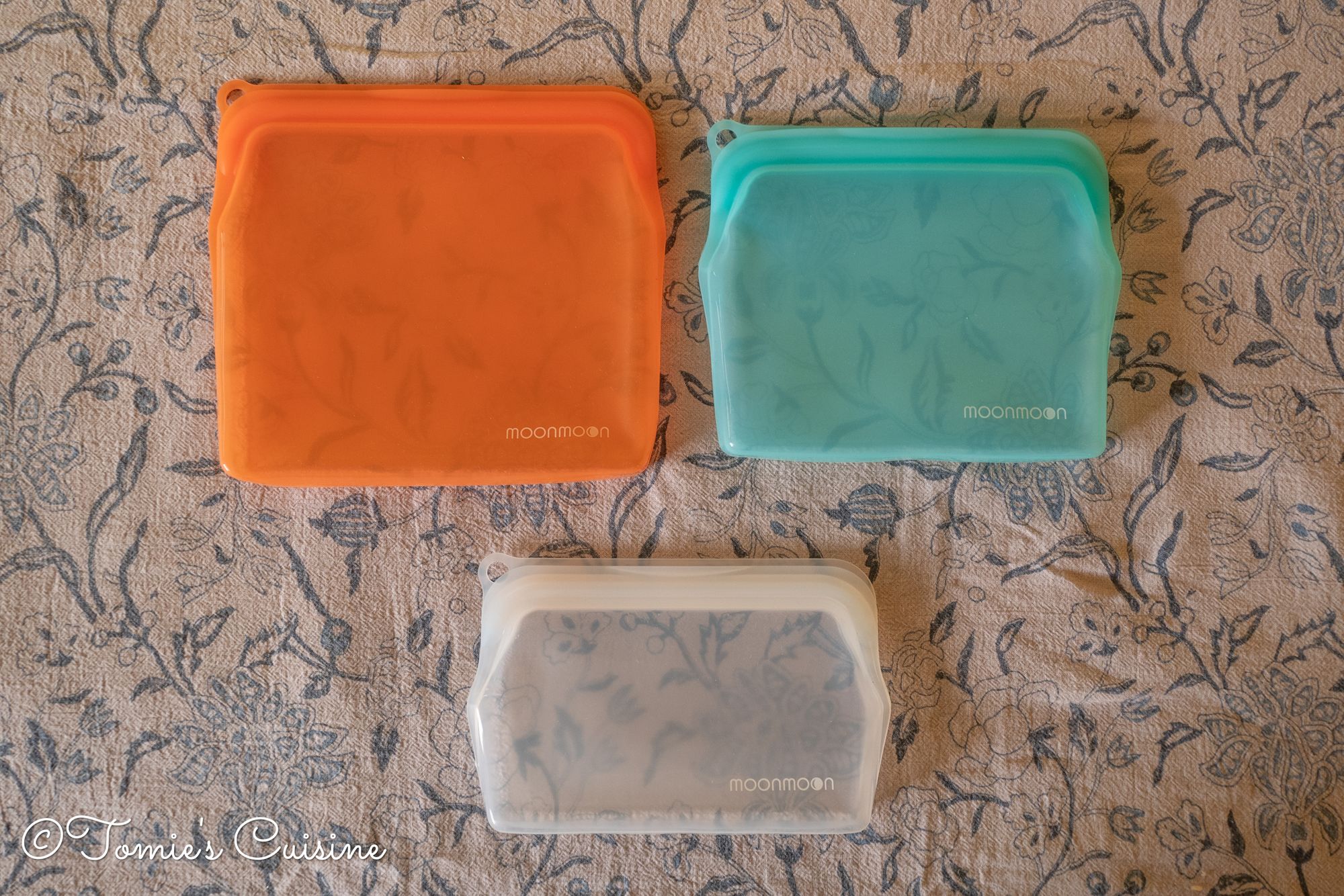 Size of the bags
Moonmoon: 900ml (orange), 470ml (blue) and 330ml (white)
Peblo: 1960ml, 470ml and 330ml.
Price (as of 25th of March 2021)
Moonmoon: £15.99
Peblo: £14.99
Material
Both are made from 100% food-grade silicone.
They are safe in the dishwasher, microwave, freezer and oven.
Buy silicone food bags on Amazon
How I use silicon food bags
Storing salad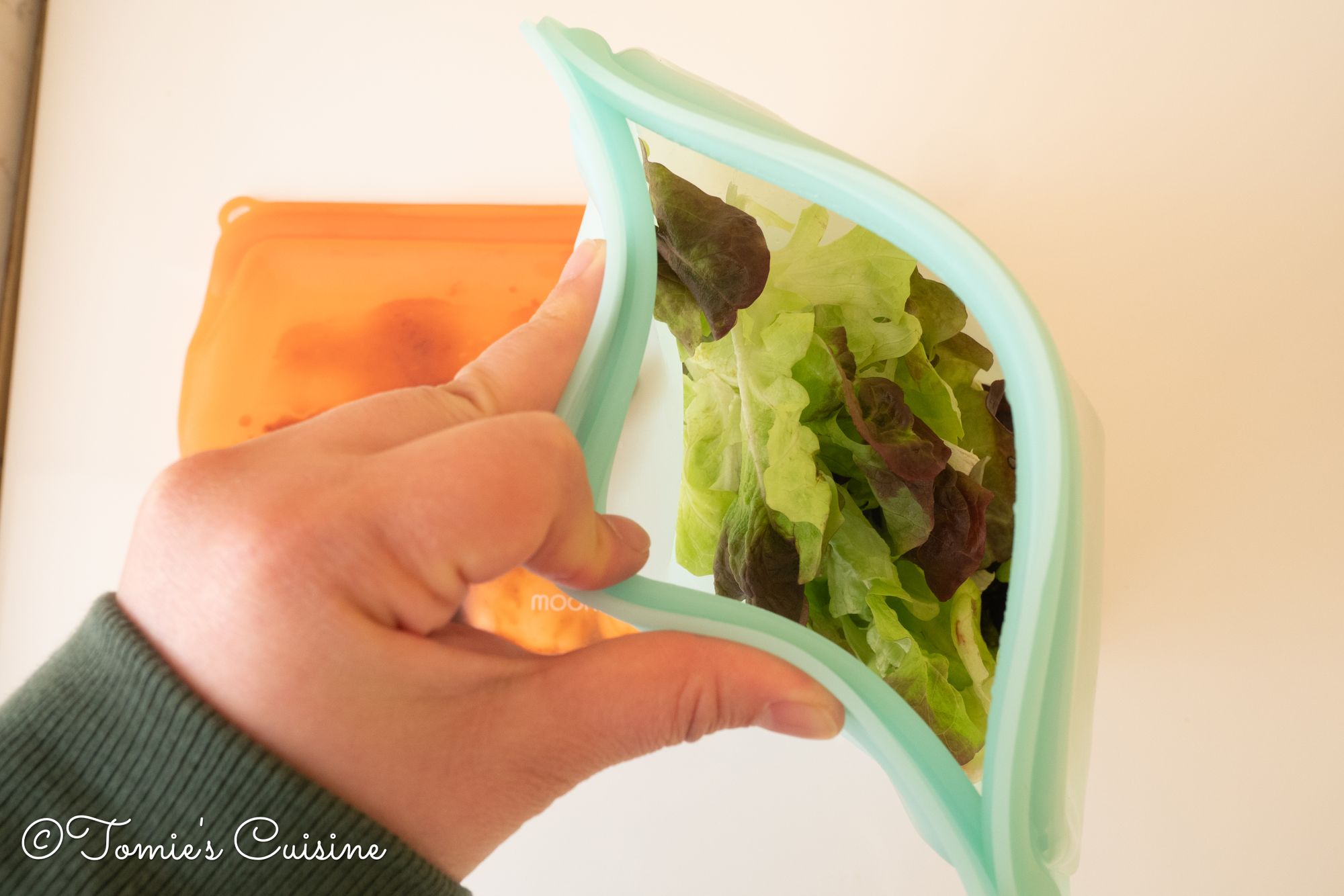 I love buying whole fresh salad leaves from the market or local farm shop. When I want to serve them for a meal, I usually wash and prepare two meals in advance. Then I can store for a meal in the largest bag, the one I bought from peblo. This way, we don't waste single-use plastic from the ready to eat salad from the supermarket. We are also using the freshly harvested salad (without the plastic wrap around) so the salad stays fresh in the bag longer. I wrap the rest of the salad with the core in a beeswax wrap.
Homemade bolognese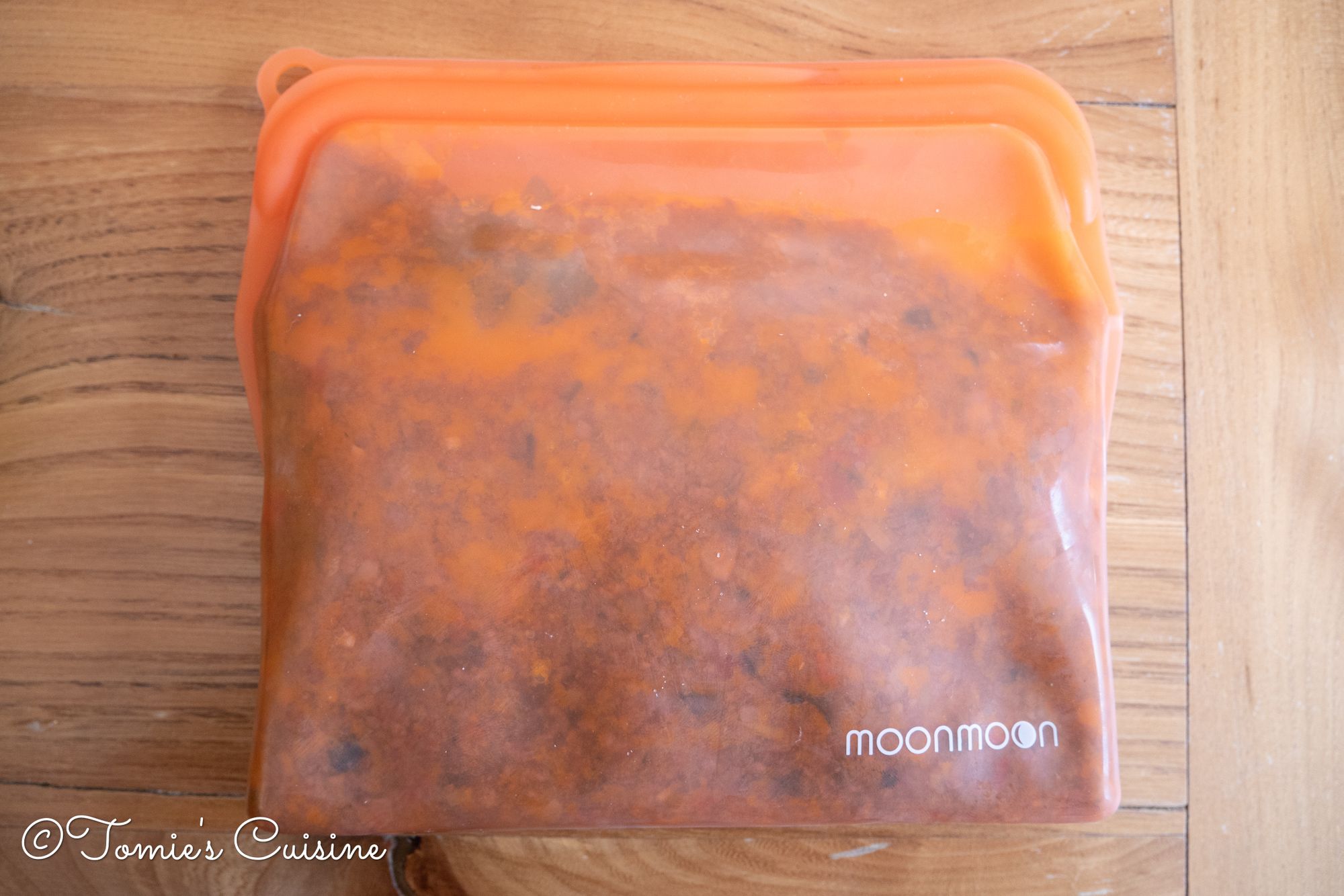 One day we forgot a delicious bolognese sauce I made with the minced beef in the freezer for at least two months. I cooked it with chopped mushrooms, chopped leeks and a generous amount of red wine. So the final result was, how should I put it? Let's just say I ended up with a lot of bolognese sauce in front of me! I used half to eat with linguine pasta for dinner on that day and stored half in the orange silicone food bag from moonmoon. For this kind of saucy things, we can make it airtight easily like this: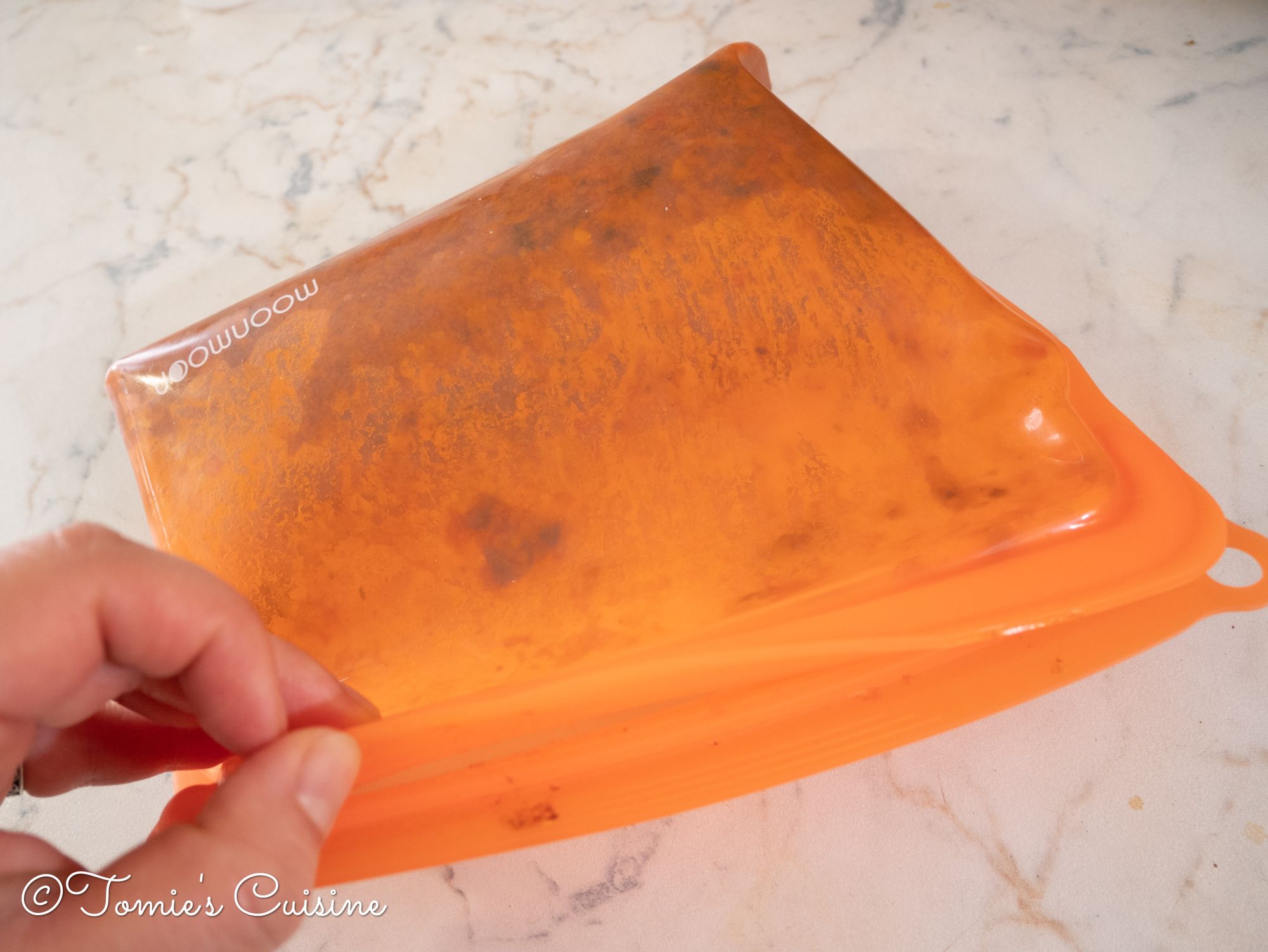 Pour the sauce
Make it flat
Close the ⅔ of the zip
Fold the bag to remove the air as much as possible
Close the rest of the zip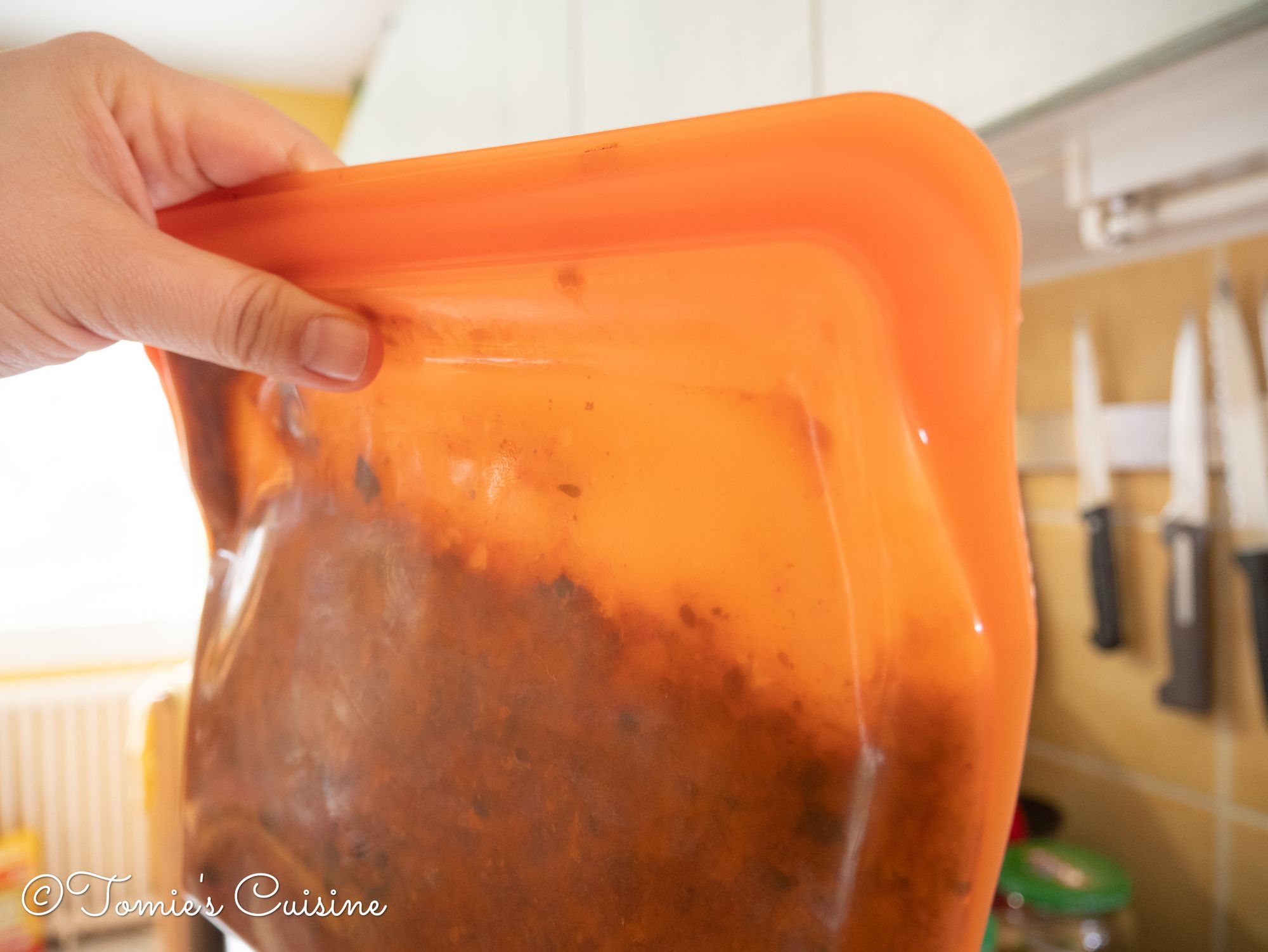 They are not completely airtight, but I think it's not bad at all!

Freezing raw meat and fish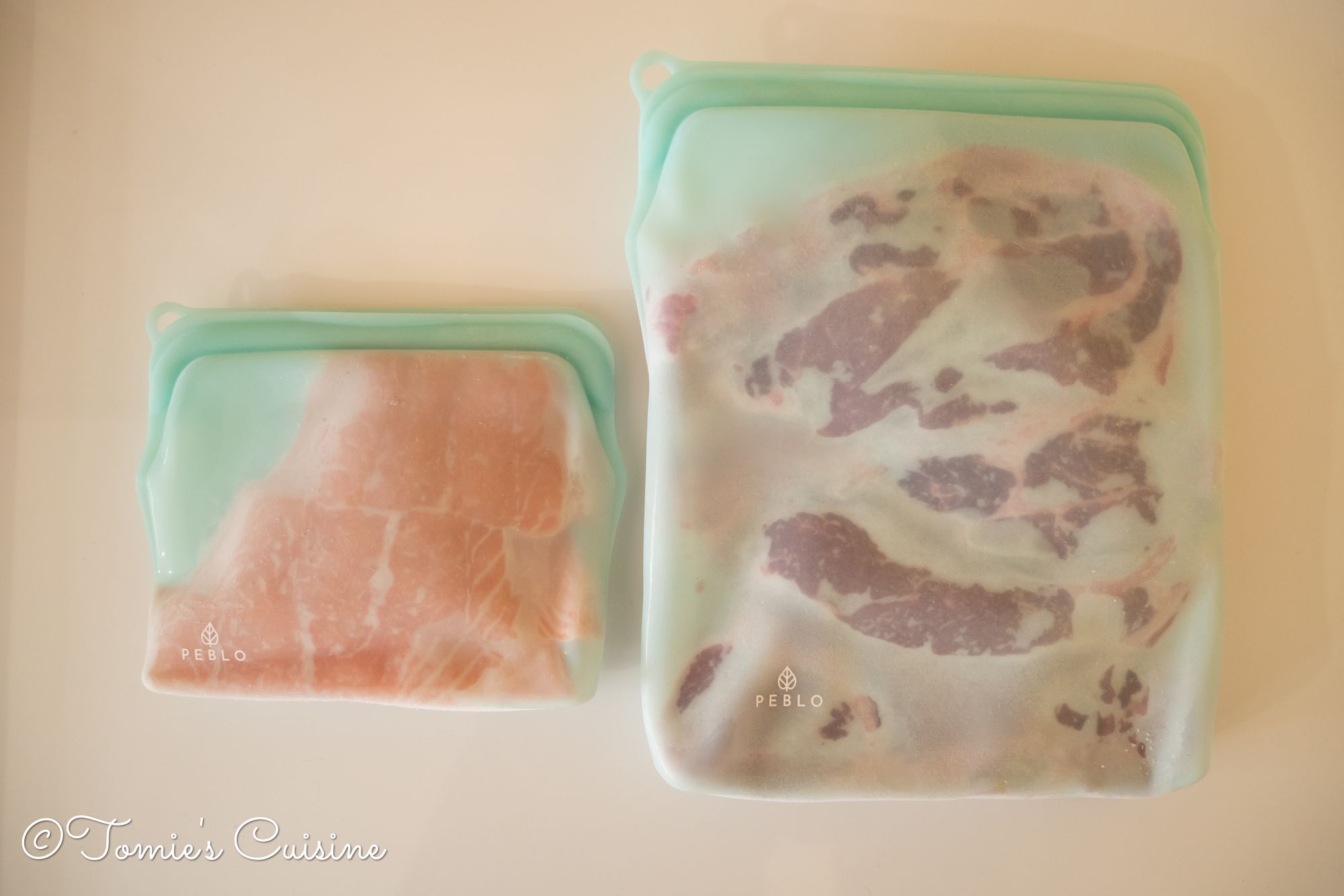 The bag is handy to freeze fresh meats and fish too. It won't be as airtight as a vacuum bag, as I said earlier, but just to keep them for two weeks, I think it's tight enough.
For example, where we are right now in Brittany, we don't have a fishmonger. But every Thursday, a fishmonger comes in a van in front of the church in the town centre. He has many different kinds of fresh fish and seafood, so my mother in law loves to go there to get white fish and cooked prawns.
Since the fishmonger comes only once a week, she buys quite a lot at once. If we didn't have the bag to freeze them, we would have to eat a lot of fish in a row. So the bag was perfect for keeping them fresh longer.

The other day, we went to a bigger supermarket in a city nearby, and we found a substantial amount of pork in a package (I think it was around 5kg). Of course, we can't eat all of it just like that, so I had to freeze them.
My mother in law handed me the plastic freezer bag, but hey, do you remember what we have now? We have reusable silicone food bags! I have to get her used to using them until we are going back to London. But actually, we didn't have enough bags to pack all the pork since we were using them for something else. I need to think about which sizes we need most.
Marinating boiled egg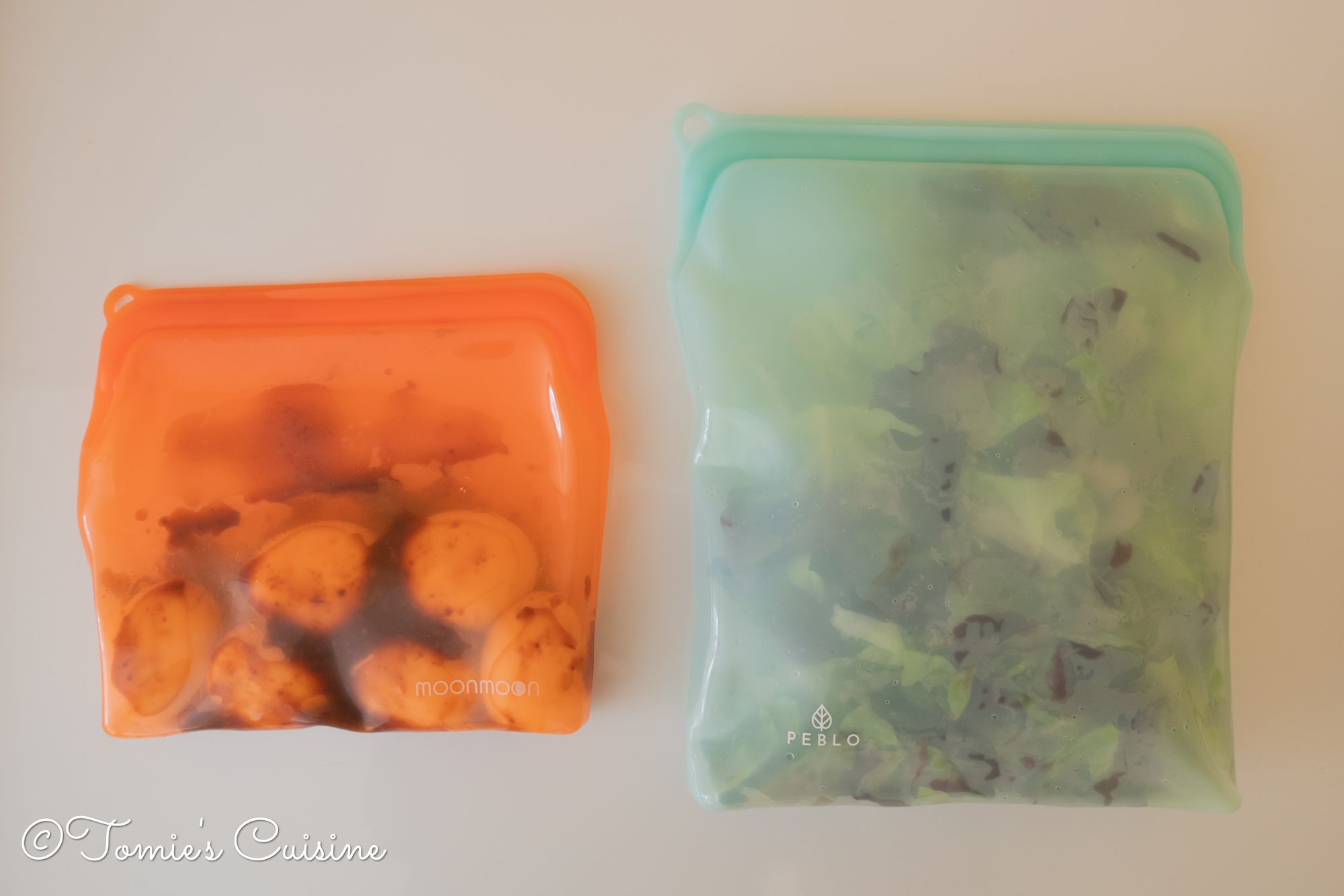 One of my husband's favourite nibbles is seasoned boiled eggs. In Japanese, we call it "Aji Tamago". It is often served on ramen or just like that in Izakaya (It's an informal Japanese bar that serves alcoholic drinks and snacks, much like a British pub).
The bag was perfect for marinating the eggs. The one I made this time was with honey and my mother's homemade miso from Japan. I left them in the fridge for two days and served them on the film night as a small dish. It was a complete success as the egg yolk got the flavour of the sauce! That's the best part! Eggs were cooked for 7 minutes in boiling water and chilled afterwards to make the egg yolk cooked but still runny.
I didn't do well this time because I removed a bit too much of the air for the soft boiled eggs. So when I cut the eggs in half, the shape of the cut surface was like a triangle. Let me know if you'd like to get the full recipe as a blog post!
Pros and cons of silicone food bags
Pros
Reduce single-use plastic (zipper bag, vacuum pack bag or cling film)
Sturdy
Multi-purpose


Cons
The mouth doesn't open wide (so it's difficult to put food in)
They gather dust when you bring them on a picnic
Closing words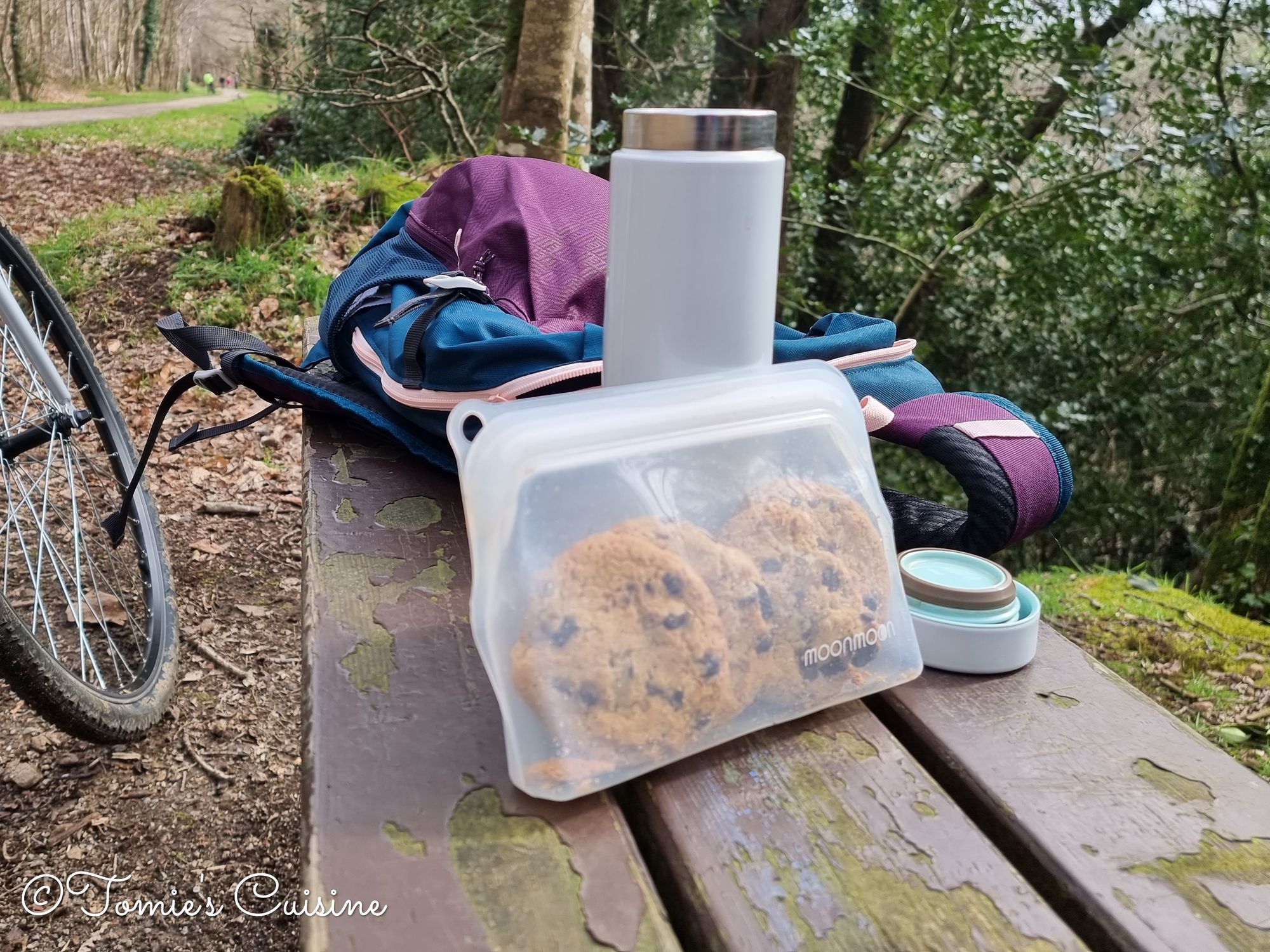 Would I buy some more?
The answer to this question is a resounding yes. What I need now is more large and medium-sized bags to freeze with minimum air inside. We used a small one too but mostly to put some snacks when we are going out by bicycle. We will use it as a cool bag during summer too.
What I also need is a stand to dry the bags properly. It might be because of the dishwasher, but there is always some water left in the bag. As a result, after cleaning them, we have to leave them outside to dry.
Buy silicone food bags on Amazon
If you have any questions or would like us to test some other specific veggies/fruits in the bags, please let us know on our Instagram, Pinterest, Facebook or email here! We'll make sure to do a follow-up post! Don't forget to subscribe to our email list so that you don't miss any of our future updates!