We received a review request from the Overherd team! They sent us a reviewer pack with no strings attached, and a discount code, so they will read the review at the same time as you.
We hadn't heard of oat milk powder from any company before, so it's great to have an opportunity to try it. Thank you, Overherd!
💡
Use code TOMIES15 for 15% off
Oat milk and us
First, let us explain what we like in oat milk and how we use it. We have been drinking oat milk as a cow milk alternative for over five years. Until then, we were drinking cow or soy milk with coffee, tea, and chocolate or using it to make creamy soup or dishes. Nowadays, we only buy cow milk when making pastry desserts like canelé de Bordeaux or crème brulée.
When we purchased the oat milk, I didn't expect that we would completely switch from cow milk because my husband loves dairy products. (proper Breton!) I think it is because oat milk doesn't have a strong flavour compared to soy, coconut, or almond milk, and the barista version pairs well with coffee, so we could switch to it quite smoothly.
So we still love dairy products such as cheese, yoghurt and butter but use oat milk to reduce the amount of dairy products we consume.
Who is "Overherd"?
Overherd is a company based in North Yorkshire's countryside that launched its oat milk powder in January (2023). The oats they use are grown in Europe (from their FAQ) but processed in the UK. However, they're working on bringing oats production to the UK (no date given).
Not only do they care about what ingredients they use in their products, but they also care about food waste and carbon footprint. (we'll expand more on this claim in the "eco-friendly" section)
What's in the box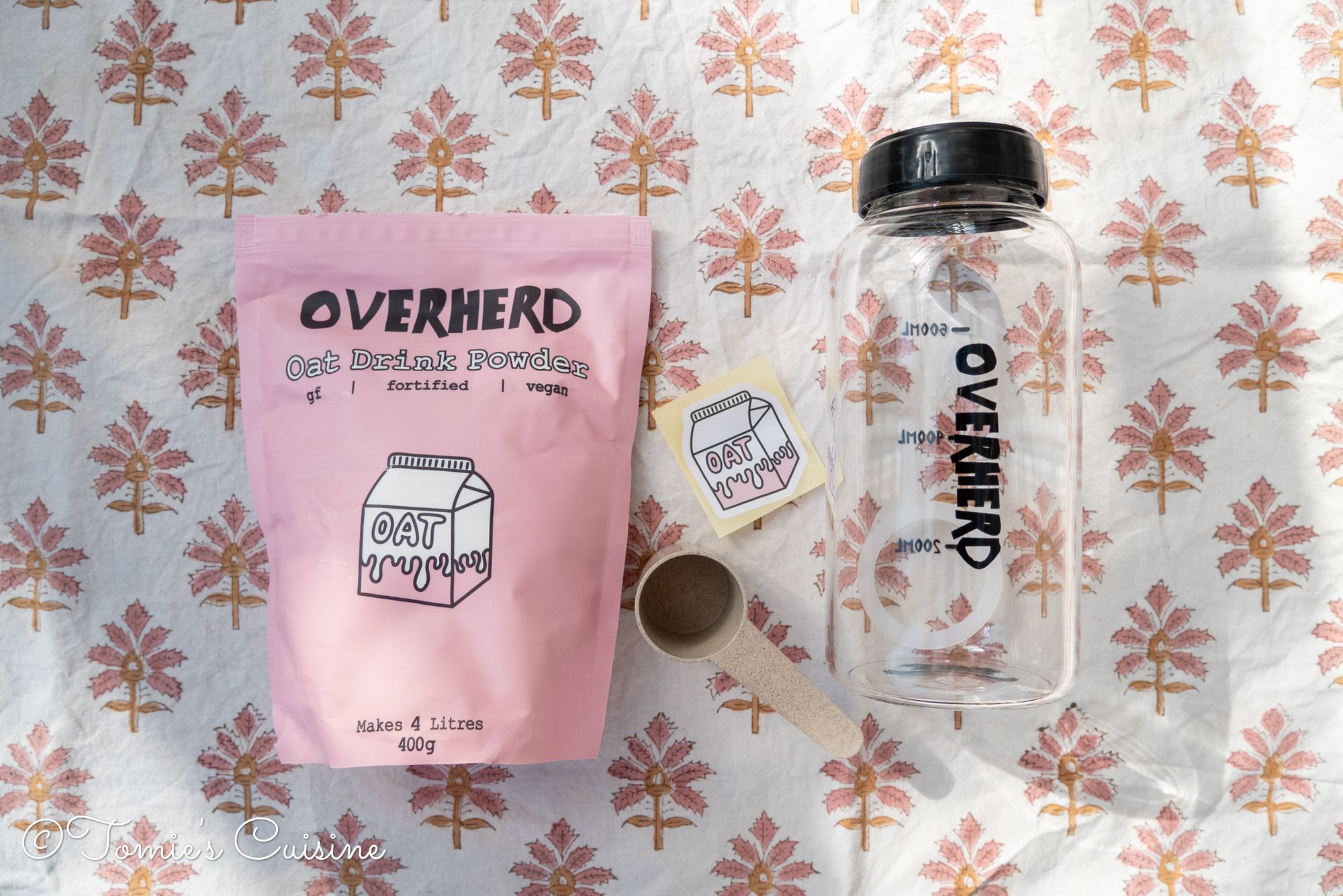 Oat milk powder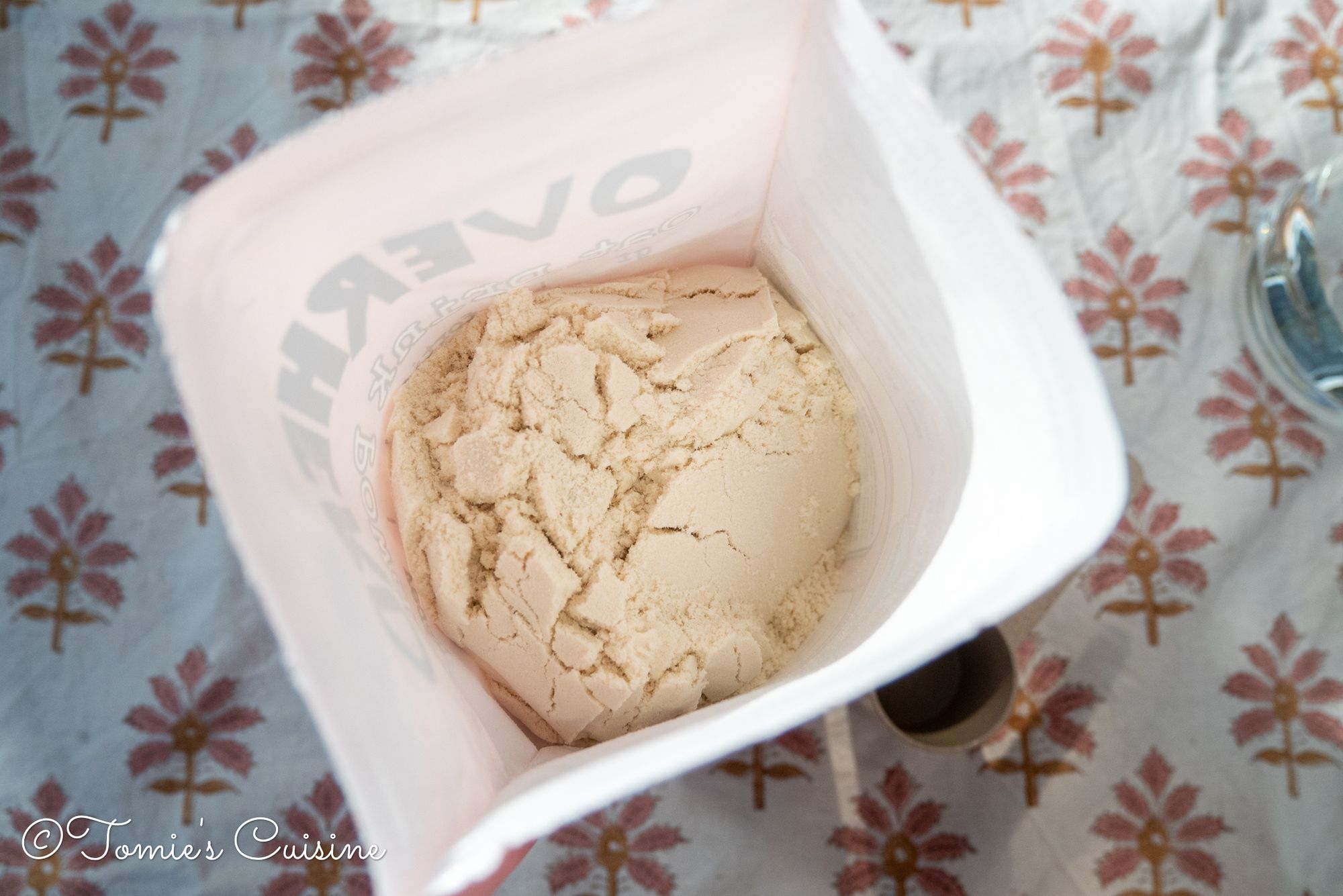 You can choose between 400g and 800g.
Is the package plastic-free?
Yes. the package came with a cardboard box with paper-based duct tape. The glass bottle also was in a thinner cardboard box without any plastic wrapping.
The packet of the oat milk powder itself is made from a recyclable plastic.
Glass bottle shaker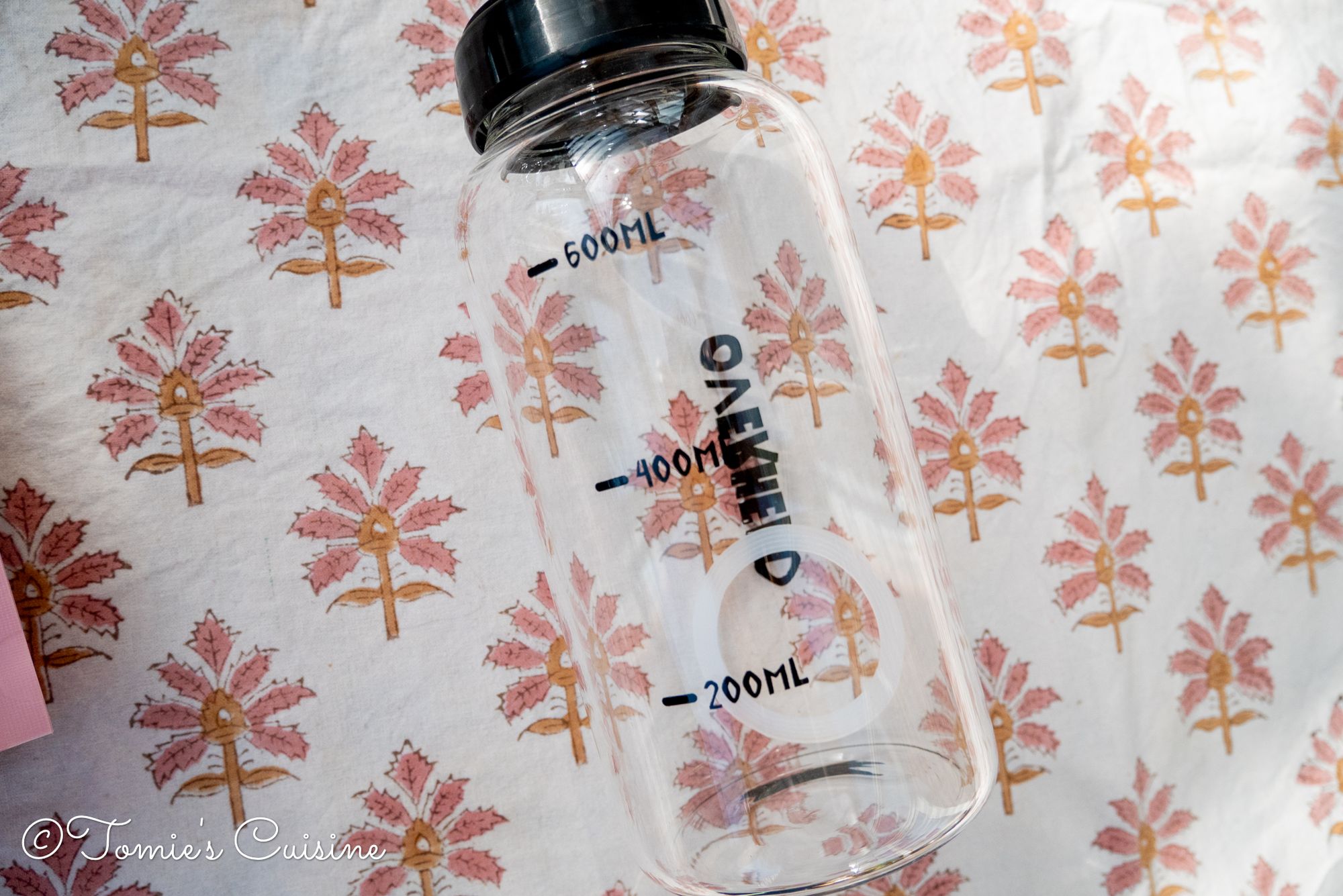 Look at this pretty glass bottle with the handy scale on it. You can get this bottle when you subscribe and get the starter bundle or buy it individually.
There aren't any details in the box or the bottle, but according to Overherd's website, it is dishwasher safe! Yes, that's perfect!
The dishwasher instructions don't mention whether you can put it in the top or bottom tray, so I put it on top, which was fine.
Recycled bamboo fibre scoop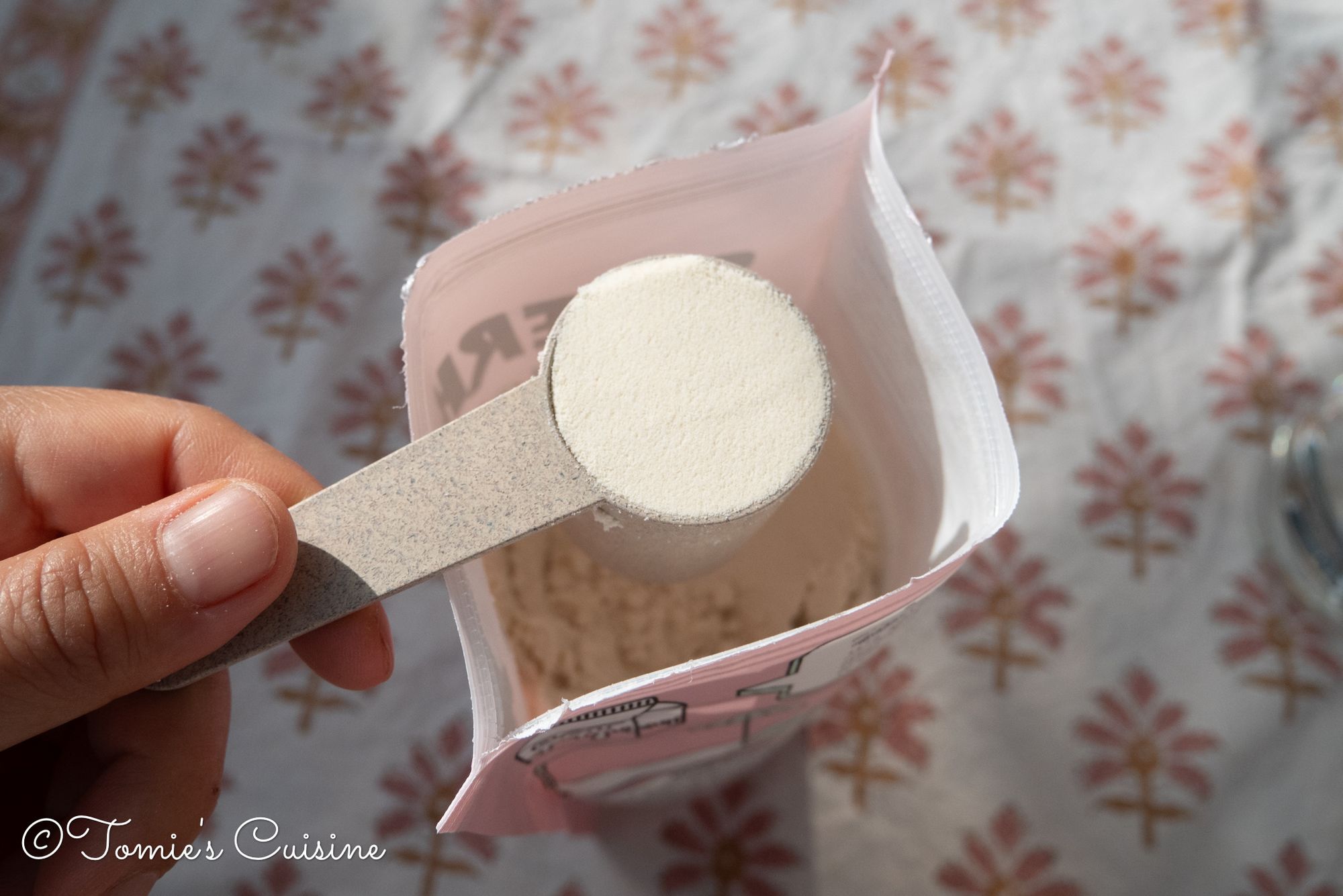 This simple bamboo fiver scoop is a great size for adding powder to the bottle or any container.
How to prepare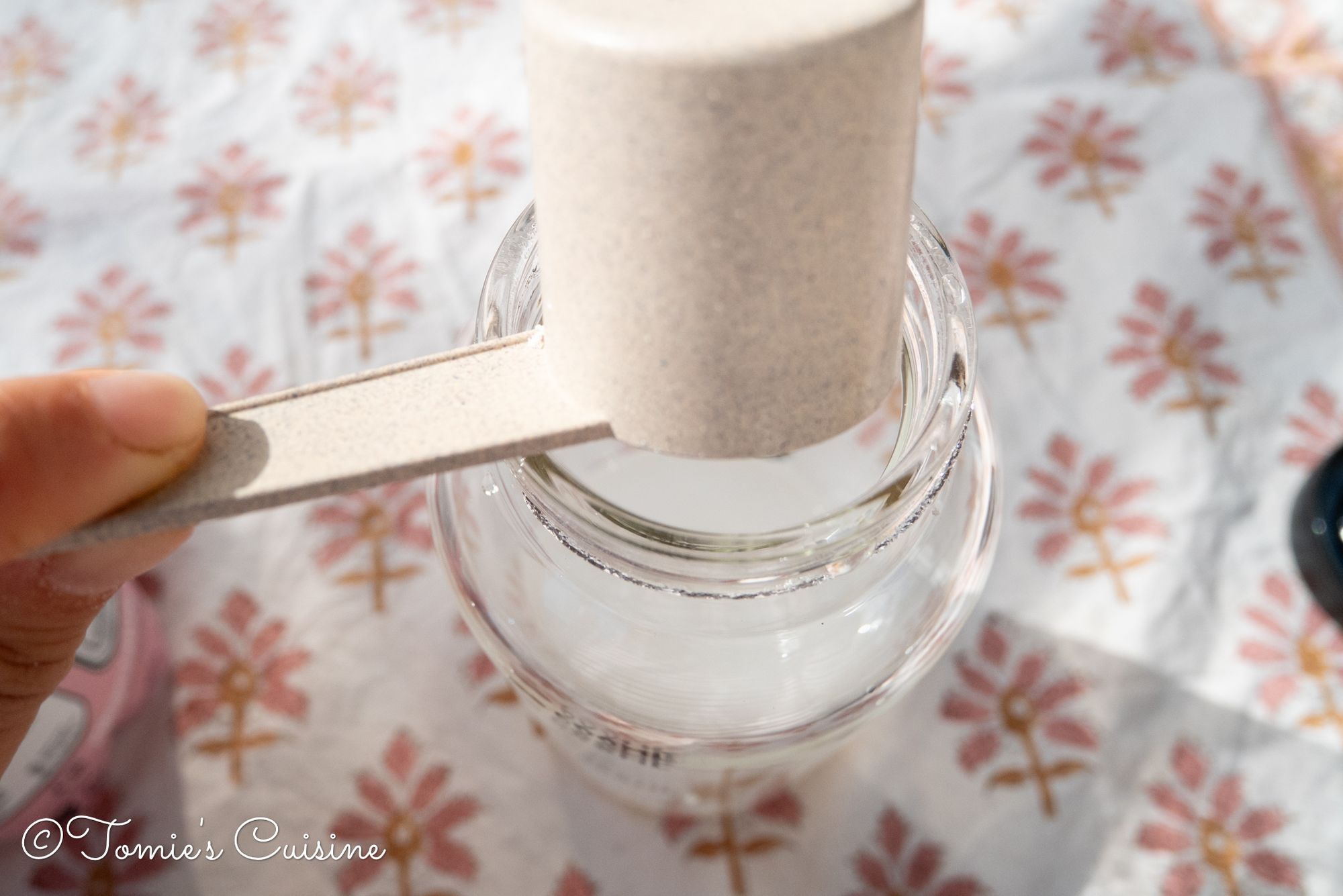 On the back of the package, the instructions suggest putting one scoop and then water until the 200ml mark. However, we found it too light for us, so we added double the amount of powder to 200ml.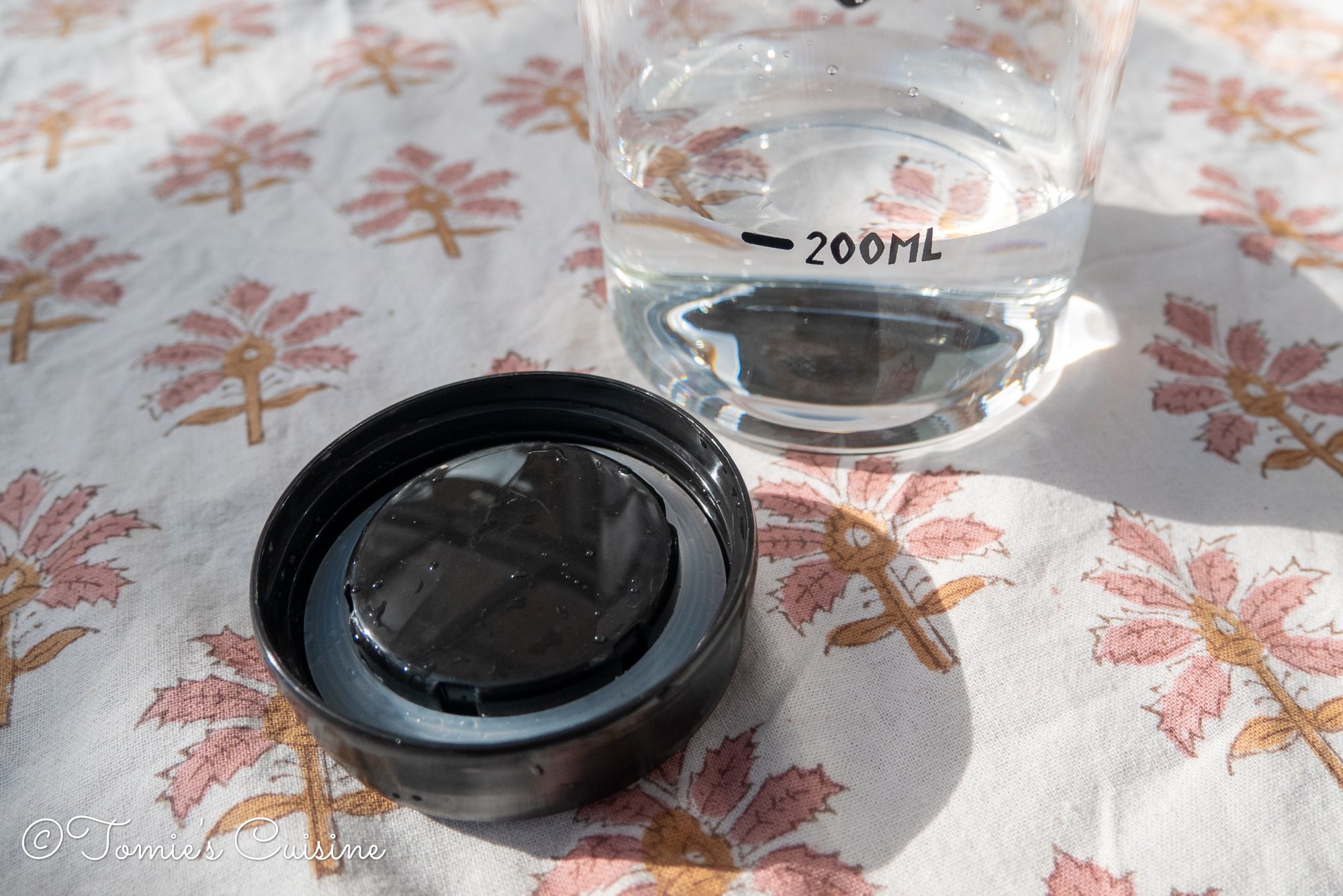 Simply shake it until the powder dissolves. It doesn't take long! Ensure you place the silicone ring correctly on the lid. I didn't notice that oat milk was leaking when shaking the bottle. Then, pour it into your drinks.
Ingredients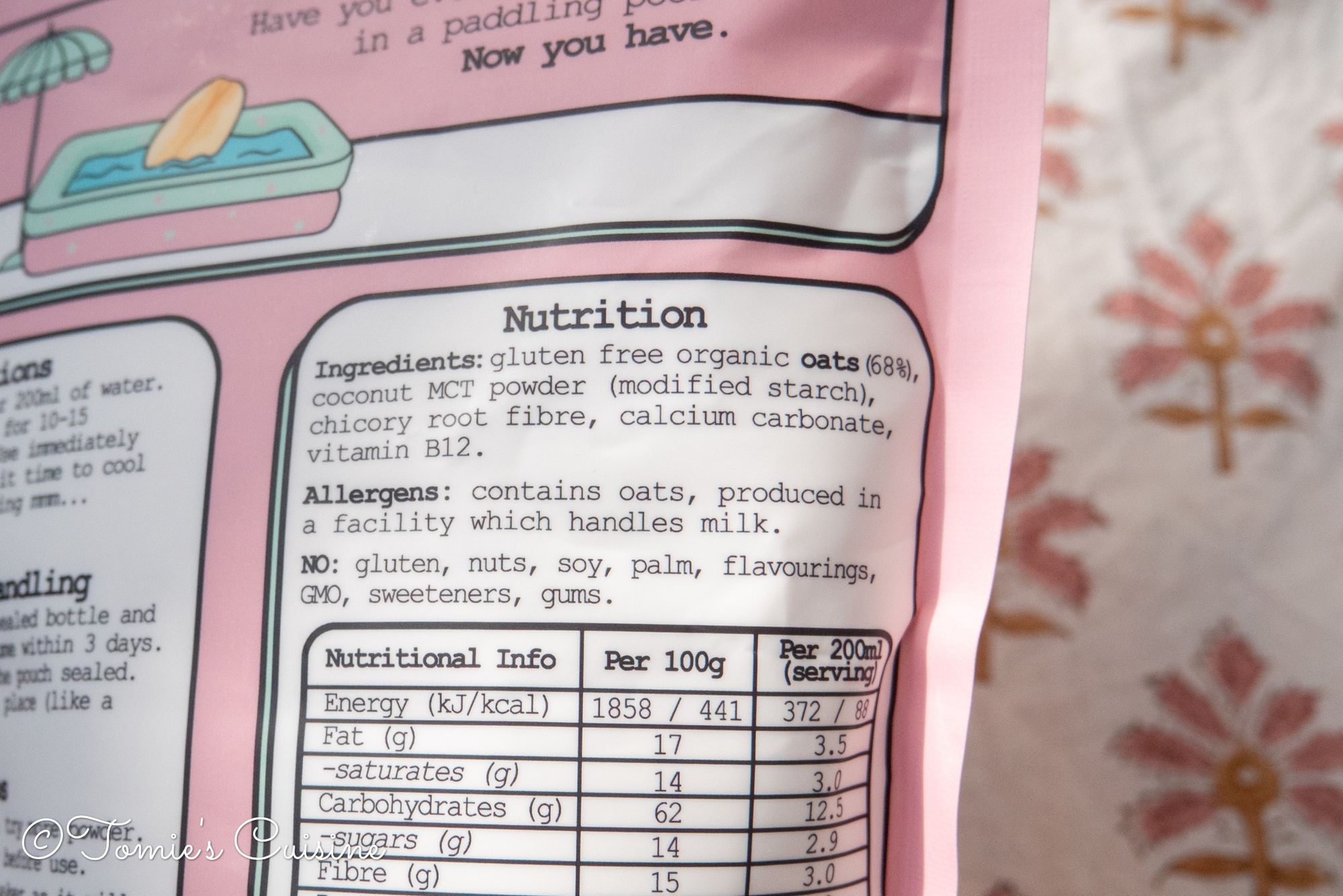 According to the package, the ingredients are:
Gluten-free organic oats (68%)
coconut MCT powder (modified starch)
chicory root fibre
calcium carbonate
vitamin B12
There isn't any gluten, nuts, soy, palm, flavourings, GMO, sweeteners or gums.
Allergens
It contains oats produced in a facility which handles milk.
Nutrition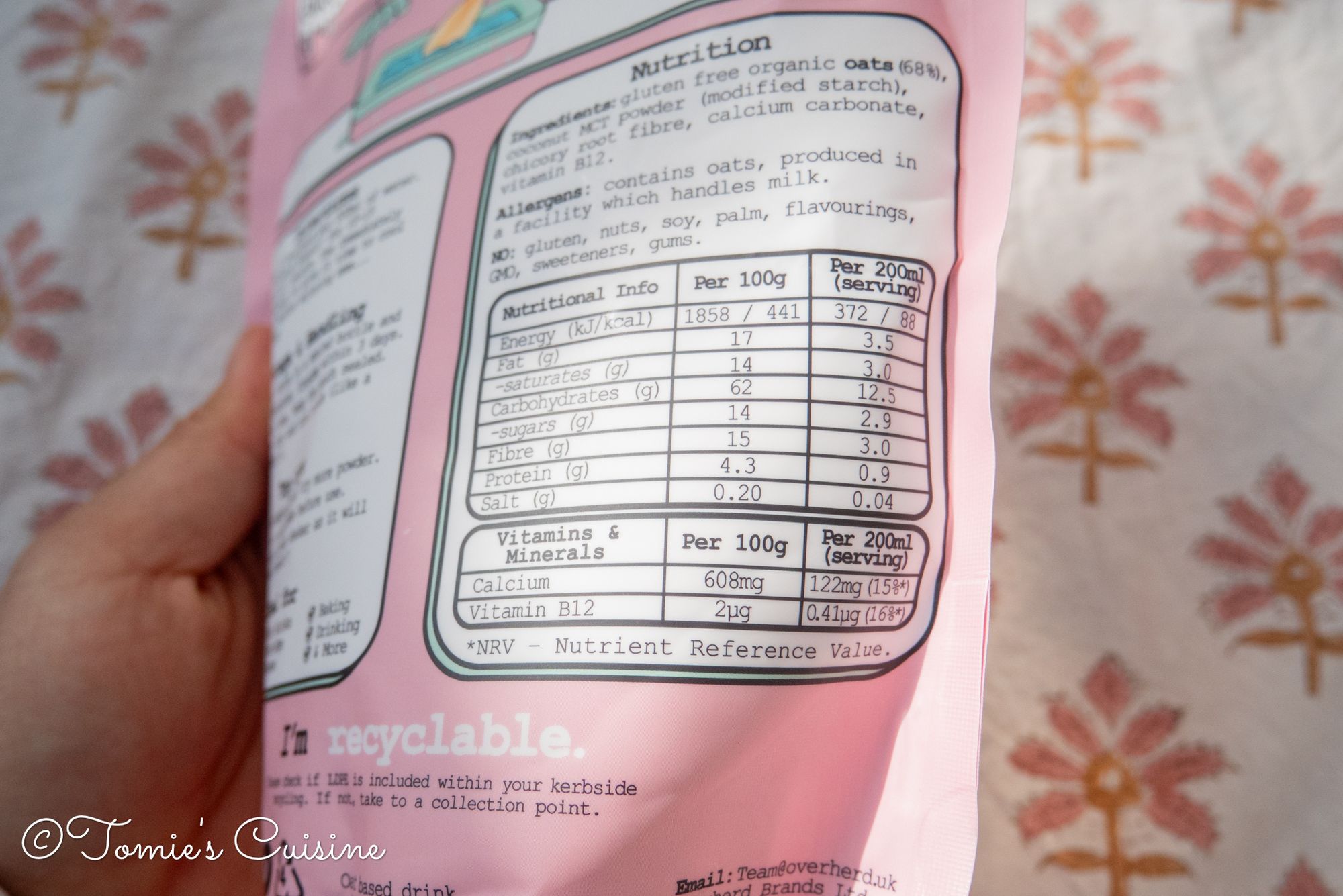 | Nutritional Info | Per 100g | Per 200ml (serving) |
| --- | --- | --- |
| Energy (kJ/kcal) | 1858/441 | 372/88 |
| Fat (g) | 17 | 3.5 |
| ~saturates (g) | 14 | 3.0 |
| Carbohydrates (g) | 62 | 12.5 |
| ~sugars (g) | 14 | 2.9 |
| Fibre (g) | 15 | 3.0 |
| Protein (g) | 4.3 | 0.9 |
| Salt (g) | 0.20 | 0.04 |
| Vitamins & Minerals | Per 100g | Per 200ml (serving) |
| --- | --- | --- |
| Calcium | 608mg | 122mg (15%) |
| Vitamin B12 | 2µg | 0.41µg (16%) |
A 200ml serving of oat milk is 372kJ and 88kcal.
However, we add almost double the amount of oat milk powder to make it creamier, which doubles the calories. The Minor Figures Barista Oat Organic that we buy in a carton is also 88kcal for a 200ml serving and is milky enough for us.
Taste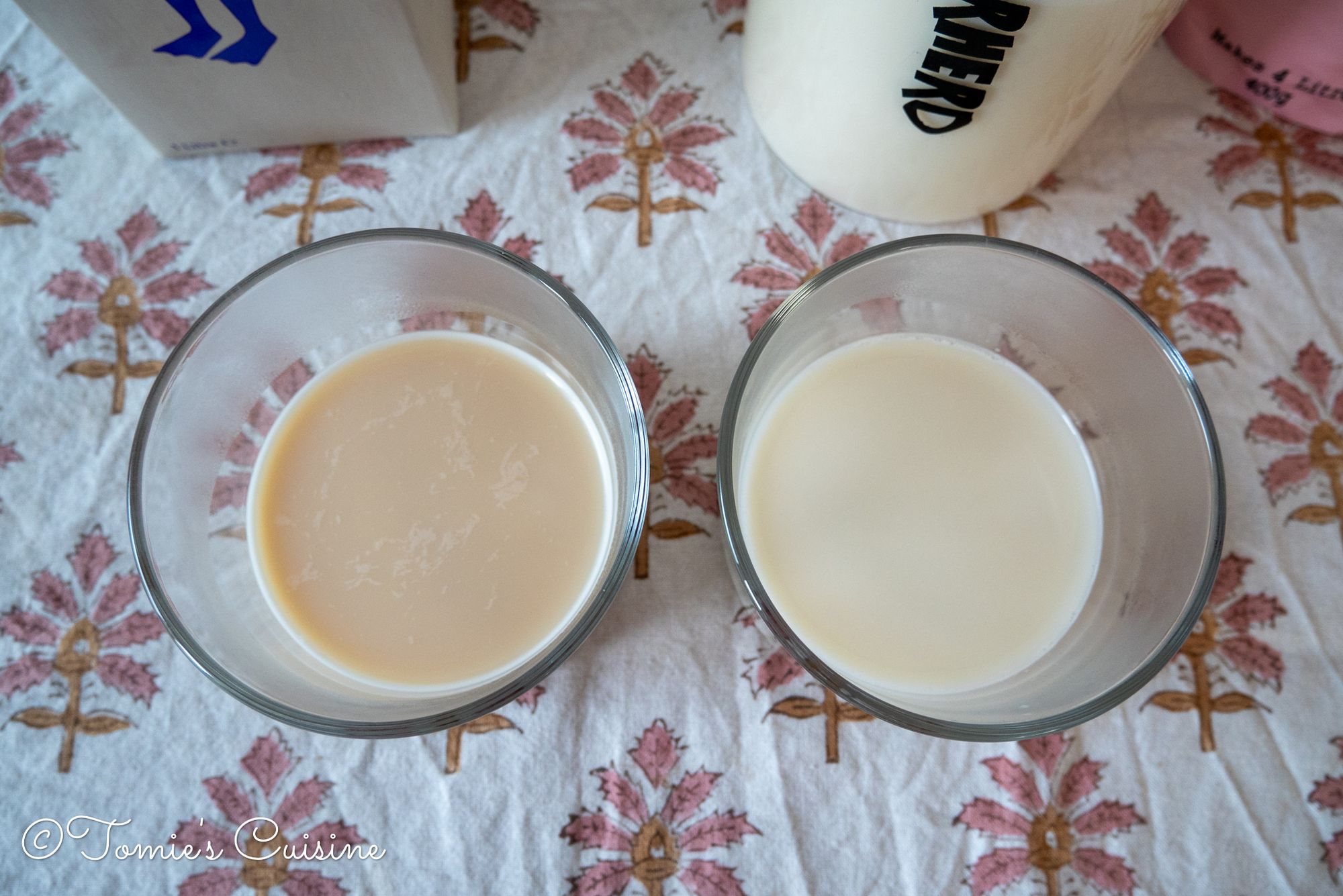 When we tasted this product, I prepared the one we usually buy (Minor Figures Barista Oat Organic) right next to it to compare.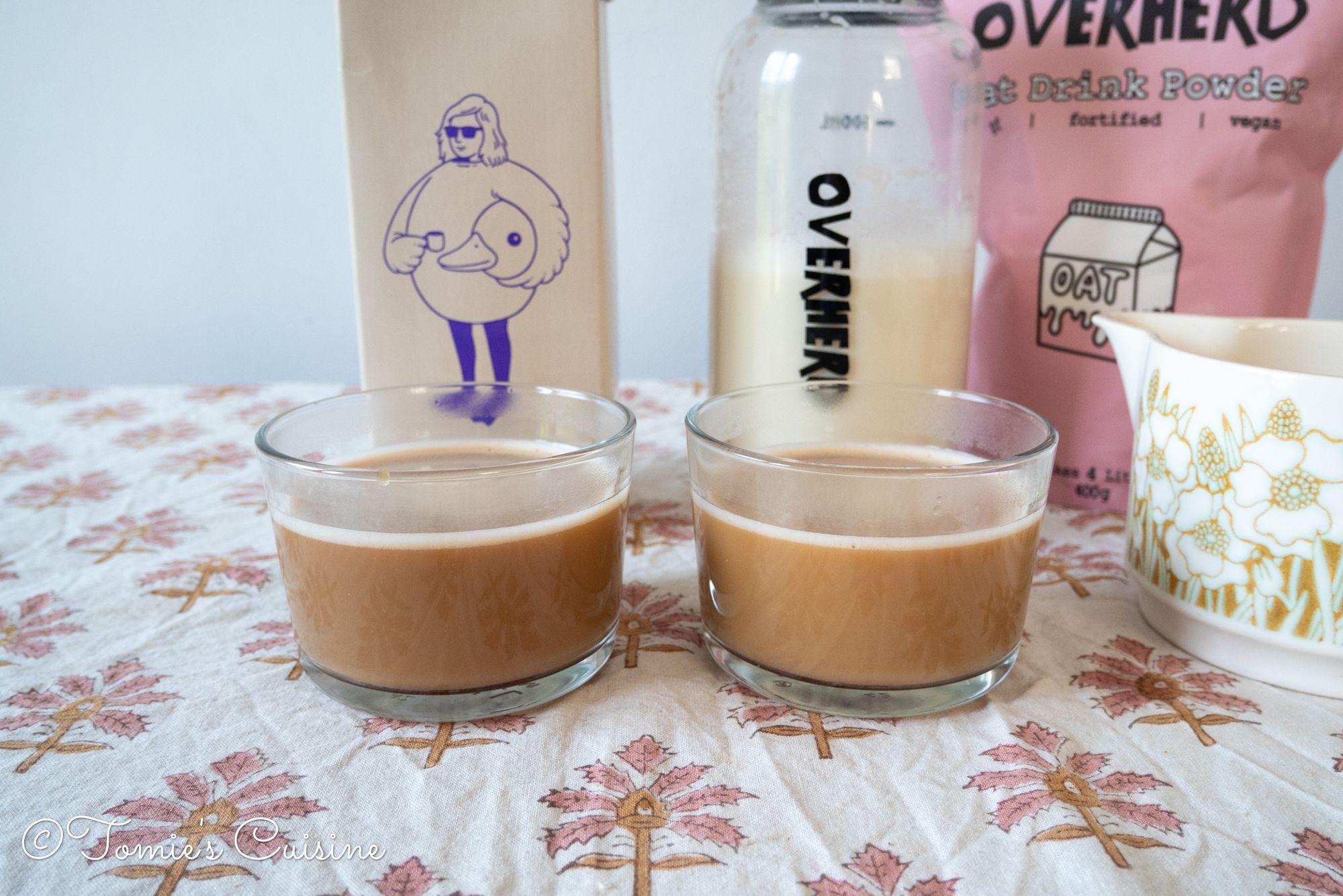 I poured the same amount of coffee and the heated oat milk into the cups; however, I found the oat milk powder tasted lighter, even when I added more powder.
Combination with different drinks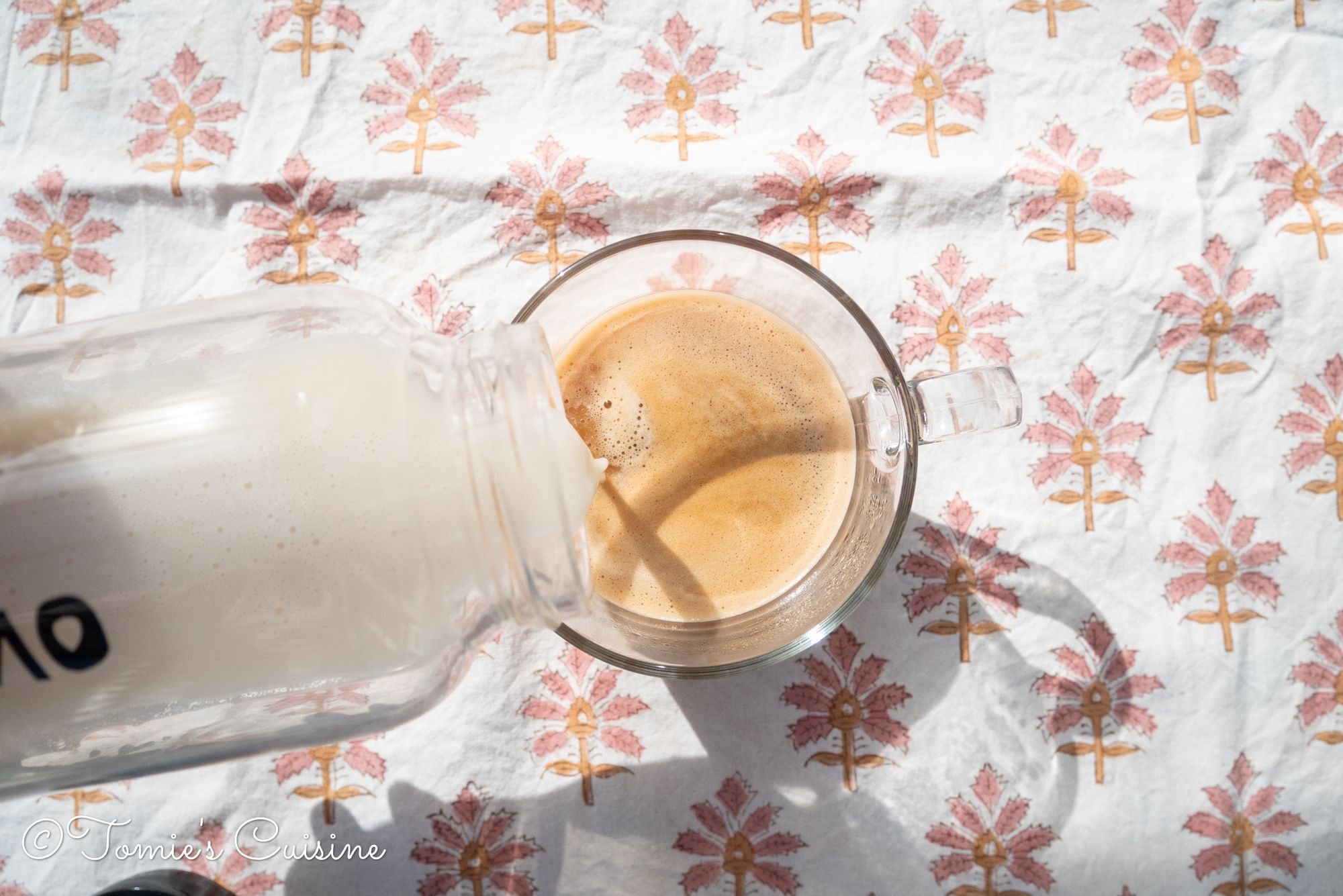 Coffee & tea
My only worry was the oat milk sprits when mixed with coffee or tea. But it didn't happen! Yes!
Overherd says on their website that it won't froth as much as a barista oat milk, which is the case, but it's good enough for me!
Chai latte & hot chocolate
When making a chai latte or hot chocolate, I usually warm milk with a saucepan and add cocoa powder, tea, spices, and sweeteners like honey or sugar.
Instead of using the oat milk in a carton, we used the premade overherd oat milk this time. We can add 200ml of water and a heaping scoop of oat milk powder into a saucepan since the powder dissolves quite well. One less item to wash!
Soup & bechamel sauce
I added the powder to prepare a soup and made a bechamel sauce to make a gratin. Both recipes went pretty well, and the oat milk powder from Overherd didn't disturb the taste either.
How eco-friendly is Overherd?
Packaging waste
Compared to the one in cartons, you can make 8 litres of oat milk from the 800g package of oat milk powder. All you end up with is a recyclable plastic packaging.
Overherd mentions on its website that the packaging is 100% LDPE. Whether you can recycle it depends on the council's recycling policy. Some areas will not recycle it because it is a flexible product, which is more challenging to recycle, especially as it tends to be contaminated by the items they are packaging.
Carbon footprint
800g oat milk powder vs eight cartons of 1 liter oat milk (roughly 8kg). The result is obvious.
Food waste
Some people might be using oat milk occasionally. The great thing about this oat milk powder is that you can make as little as you need, so you don't need to worry about wasting it.
Cost Comparison
Let's compare the costs for 8L since they're selling the 800g package.
Overherd: 800g for £10.99 with a subscription.
1L generally sells for £1.70 to £2 → 8L will costs £13.60 to £16.
And, thanks to Overherd, now you can try them even cheaper with the discount code TOMIES15.
💡
Use code TOMIES15 for 15% off
Perfect to bring with you for outdoor activities!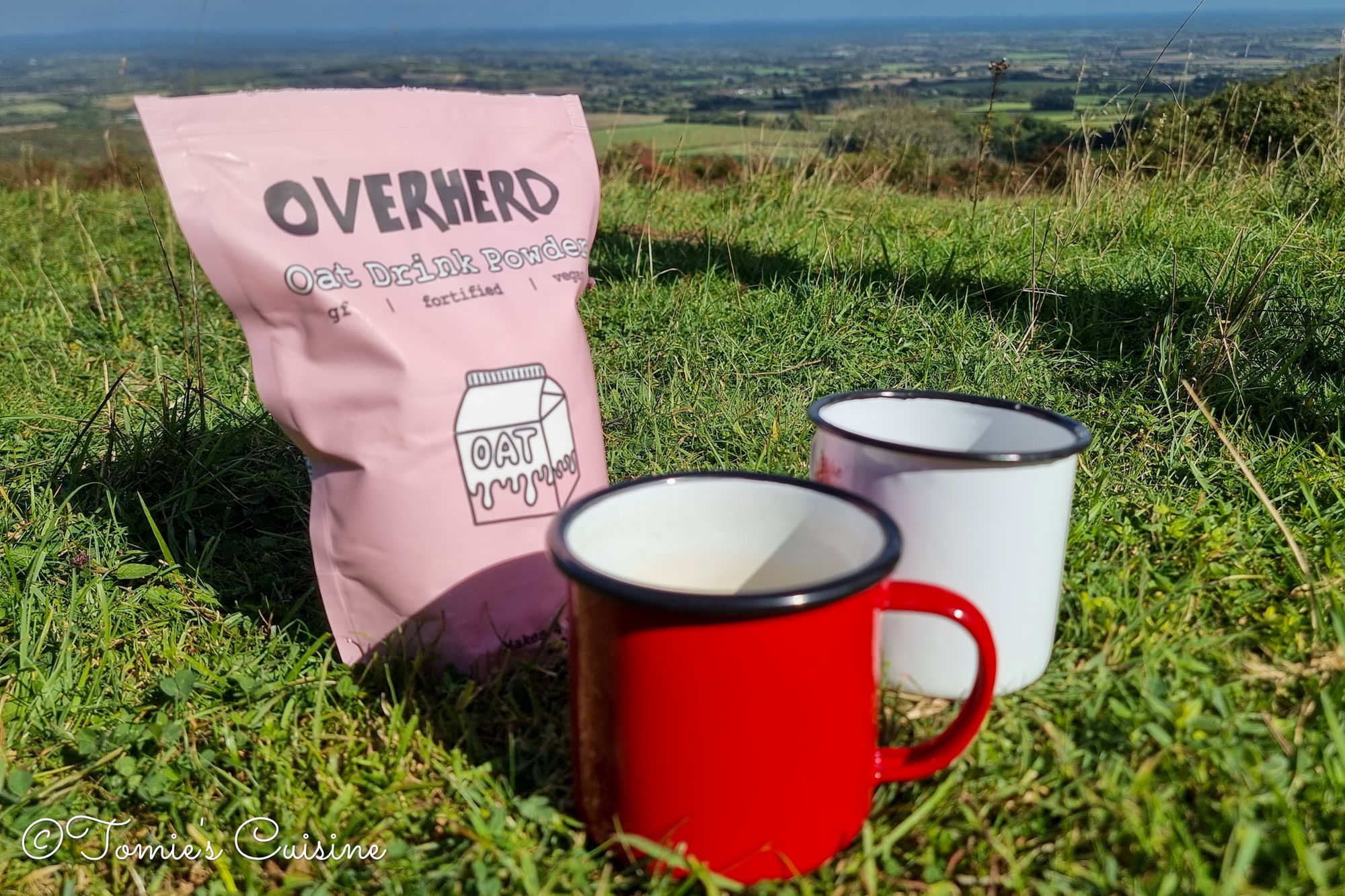 We brought the packet with some coffee in a thermos for our break during a long hike.
Doing this reminded me of when we went for a month-long hike through the Pyrénées in southern France. And now we have this oat milk option that barely weighs anything, what luxury!
Recipe ideas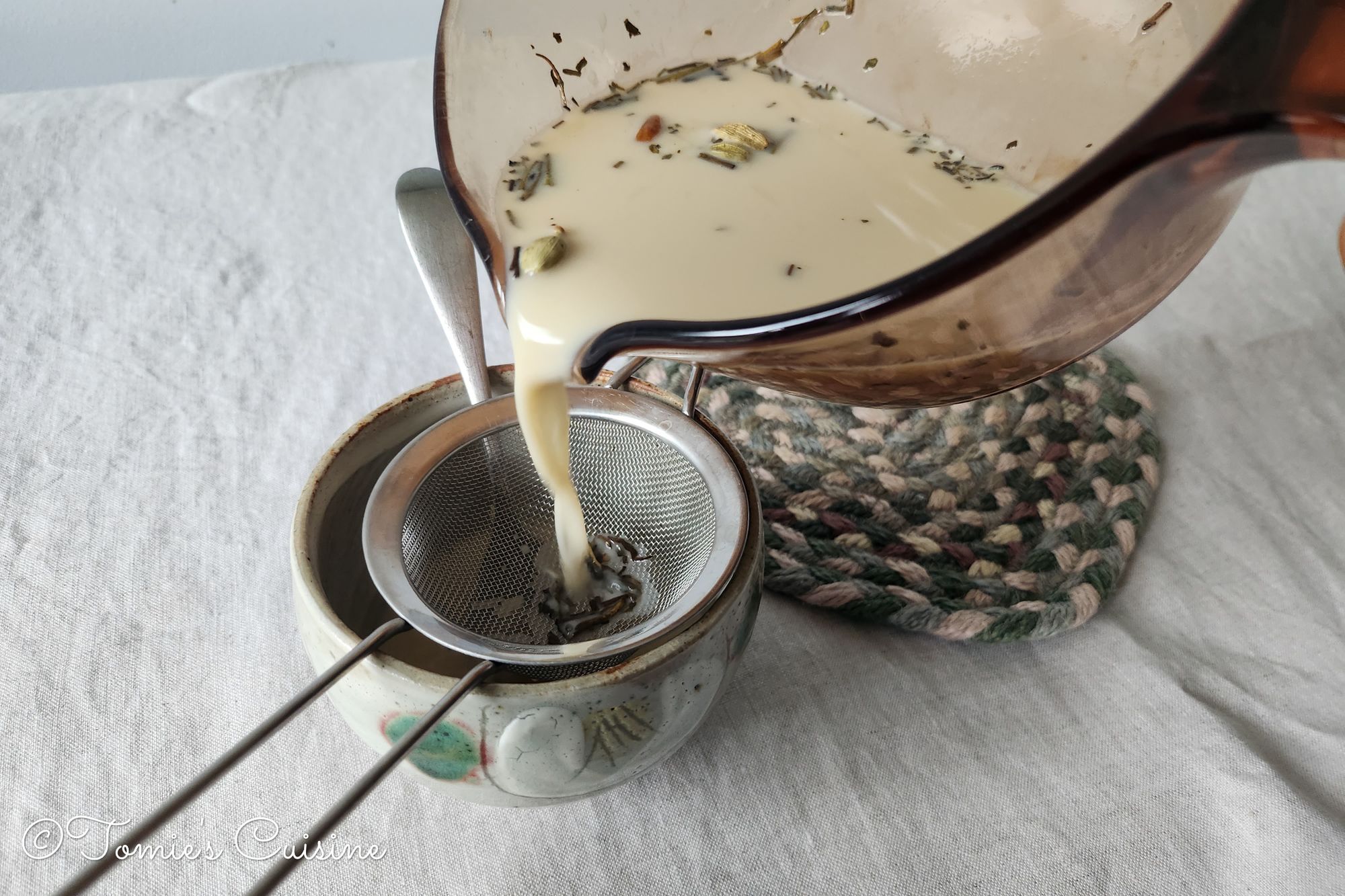 So far, I have made:
matcha latte
chai latte
hot chocolate with different spices
soup
Bechamel
All of which went well! We're preparing the cosy winter recipe blog post and will release it later! So don't forget to subscribe so that you don't miss it.
Closing words
It was an excellent opportunity to try this oat milk powder and think about which options are out there to minimise our environmental impact by reducing packaging and food waste while still providing this great oat milk taste.
Overherd is a thoughtful company striving to be more eco-friendly and sustainable. We're looking forward to seeing how far they go!
We are on Instagram, Pinterest, and Facebook pages. Don't forget to subscribe to our newsletter so you don't miss our future blog posts about other recipes (including the next one using Overherd).
💡
Use code TOMIES15 for 15% off