General information
What are "Vegan wax reusable food wraps"?
Vegan wax reusable food wrap is an alternative to single-use plastic food wrap and beeswax food wrap to reduce the usage of single-use plastic.
What are they made out of?
They are made from vegan and plant-based ingredients, such as jojoba oil, pine resin, plant wax and organic cotton. Many different waxes can be used in the process, such as sumac wax, sunflower wax or even rice bran wax in The Vegan Food Wrap Co. It depends on the seller, but usually, they are 100% home compostable.
What is the difference with beeswax wrap?
Vegan food wraps were created for (vegan) people who don't want to use food wraps that contain beeswax. I explained how beeswax wraps are produced in another blog post.
The lack of beeswax is the main difference between the two.
How I use them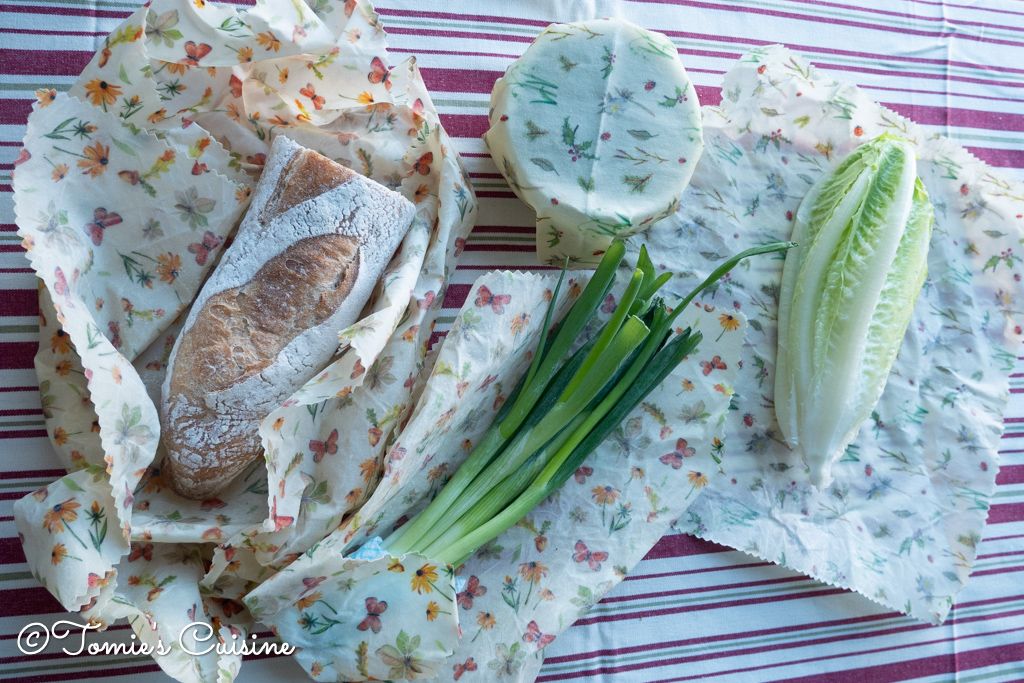 I use them in roughly the same way as beeswax wraps. Wrap vegetables, fruits, plates or bowls with food. I never use them to wrap raw meat or fish.
How to treat them
When washing the wraps, always use cold water and scrub gently with a sponge and washing liquid. I'm using a loofa sponge as a dishwashing sponge, which I highly recommend!
Using hot or warm water can damage the wrap since it's a plant-based wax. This is also why you shouldn't wrap raw meat or fish because you won't clean it properly with cold water.
After using the wrap for a long time, the wax will wear out on the surface; The Vegan Wrap Co. claims they're reusable for up to a year. So they also sell a wax bar to re-wax the wrap to keep them for longer. I have not used it yet, so I can't talk about it. However, I'll be sure to let you know when I do.

Vegan wax wrap from The Vegan Food Wrap Co.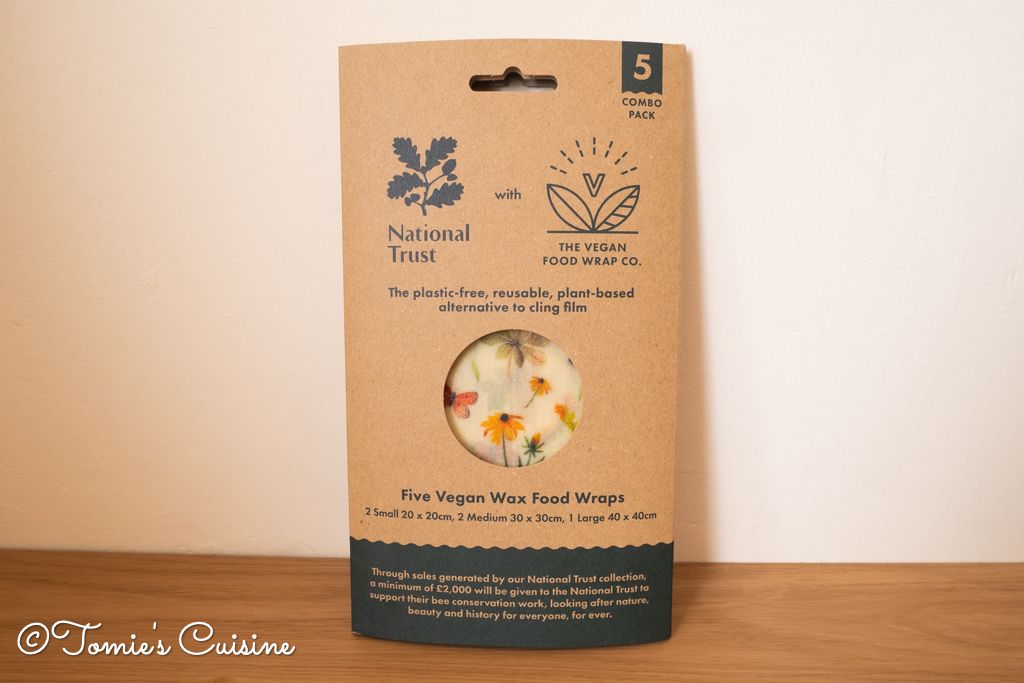 Where to buy them
The Vegan Food Wraps Co. Vegan Wax Bread Wrap
The Beeswax Wrap Co. Large Kitchen Pack
The first impression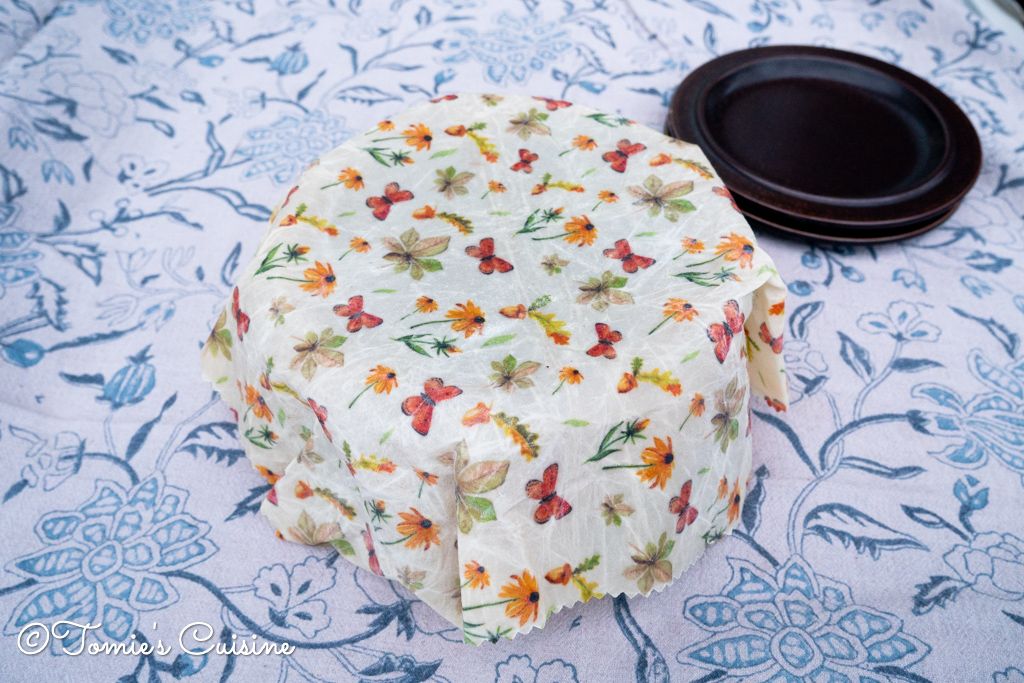 They have a very similar texture to beeswax wraps. I wouldn't have noticed if I didn't know they are vegan wraps. One key difference is the lack of conspicuous smell like beeswax wraps have when they're brand new.
After a couple of months
I tried to use wax wraps to wrap bread, vegetables, and bowls. The only difference I can see is that these vegan wax wraps don't stick as much as my beeswax wraps.

Compared with beeswax wraps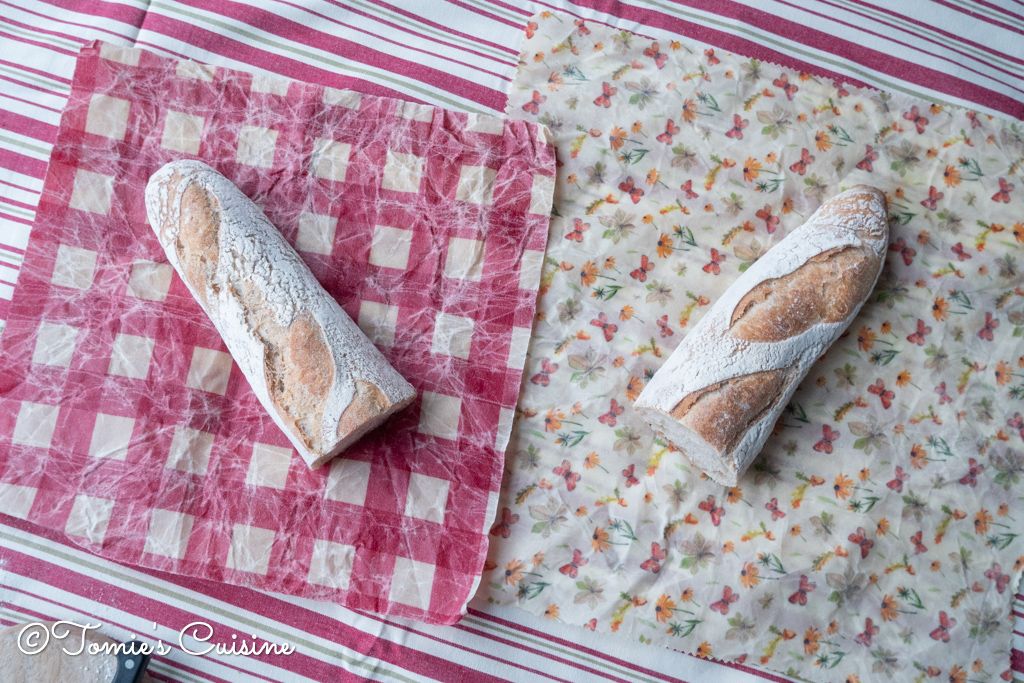 I wondered if there were any differences between those two wax wraps, so I tested with the vegan wax wrap and the beeswax wrap I bought from France three years ago. Which still works very well! I could have compared it with a brand new beeswax wrap from Beeswax Wrap Co., but I didn't want to buy more than I needed, as it would have been a waste.
When I used beeswax wrap for the first time, as I wrote in the blog post, I was surprised that they kept the fresh bread soft and moist for much longer than when we kept it in a paper bag or a bread box. That, and the bread didn't get mouldy either. Even the one that started to dry out got softer after wrapping it with beeswax wrap.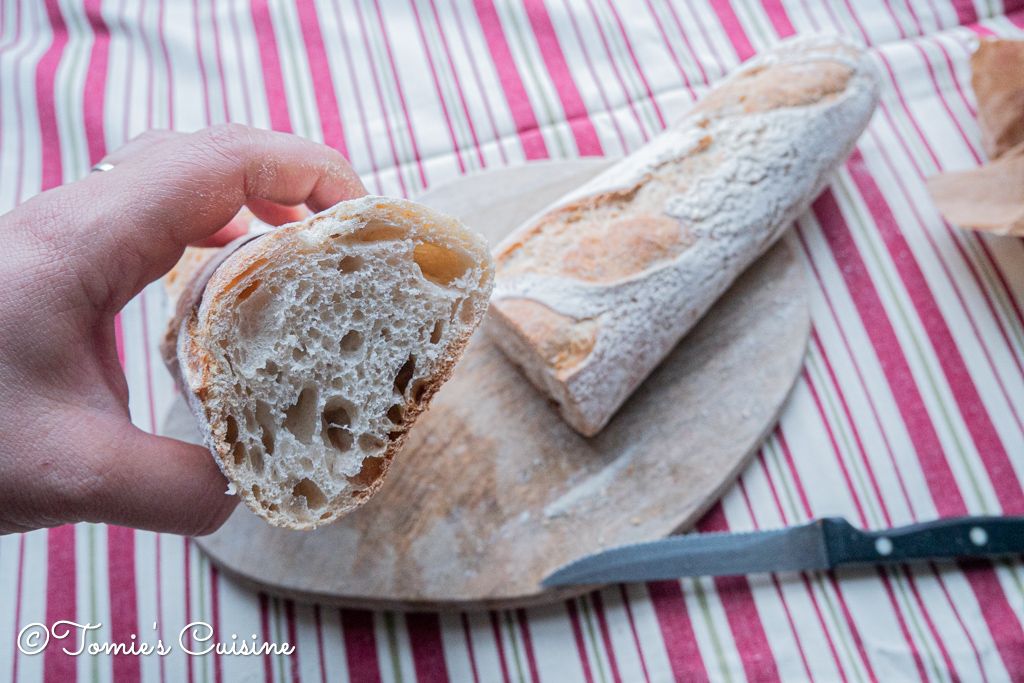 This time, I bought a baguette from a local bakery, cut it into two, wrapped it in each wax wrap and checked the differences after 17 hours.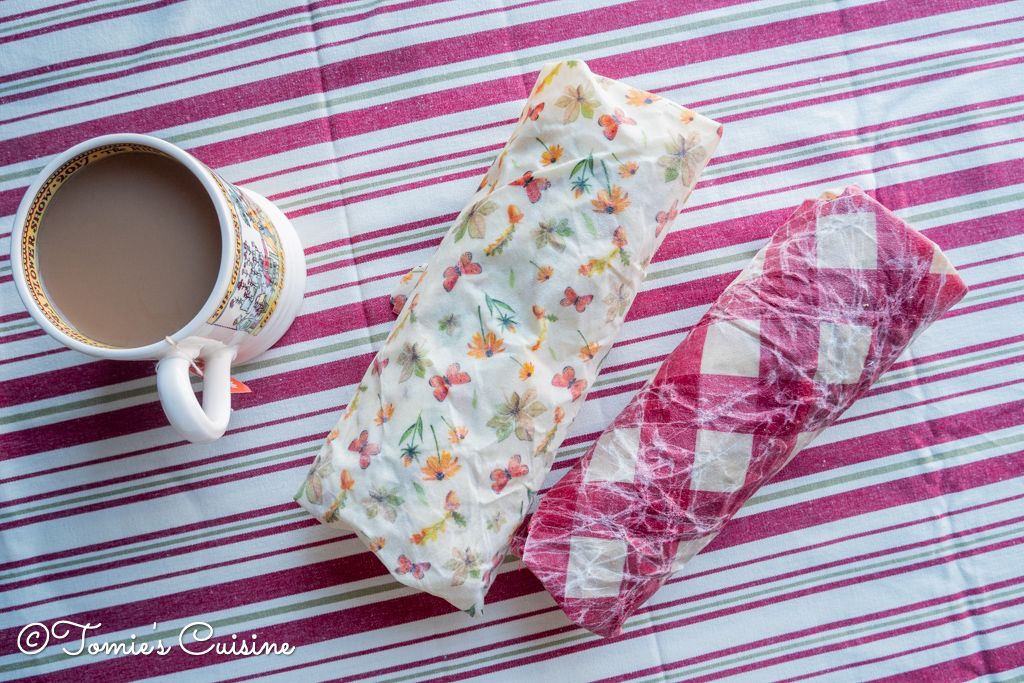 I know the beeswax wrap is great to wrap fresh bread to keep them fresh longer, and in this small experiment, I could feel that the one covered in the vegan wax wrap was more moisturised (keep in mind the beeswax one is older than the vegan wrap).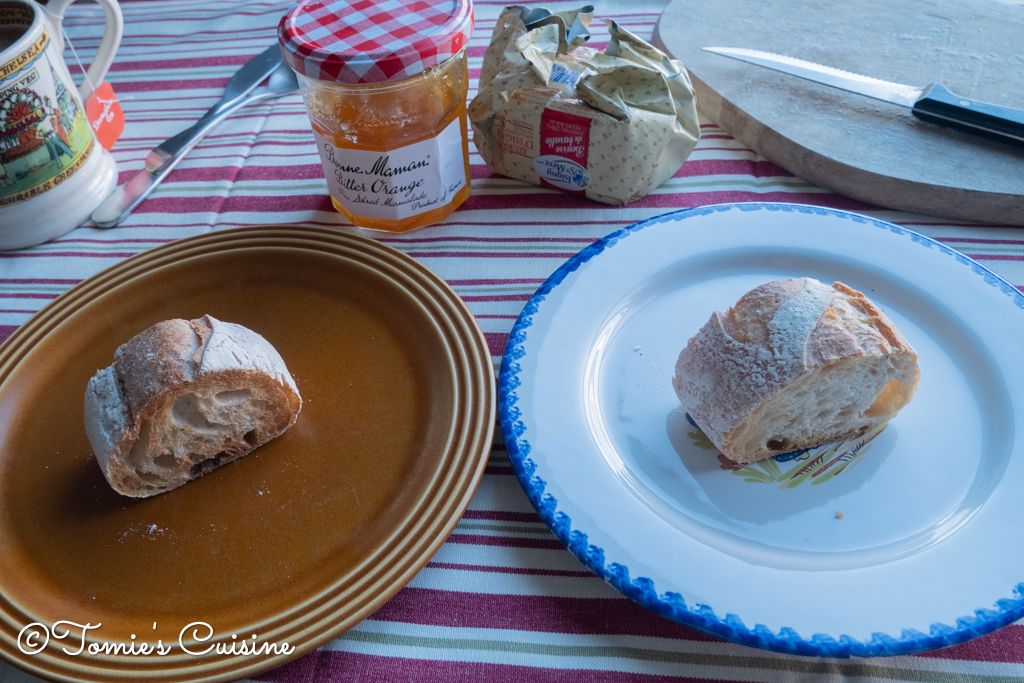 I sliced some from each of them, toasted, buttered and had some with marmalade. (breakfast!) Even after I toasted them, I could still feel the slight differences in texture because they were moist. The one wrapped in the vegan wax wrap was softer and easier to chew.
I also wrapped "reduced" spring onions from Tesco and lettuce. Since it was a reduced item, I wet a small kitchen roll, wrapped it around the root, covered it with the vegan wax wrap, and left it in the fridge.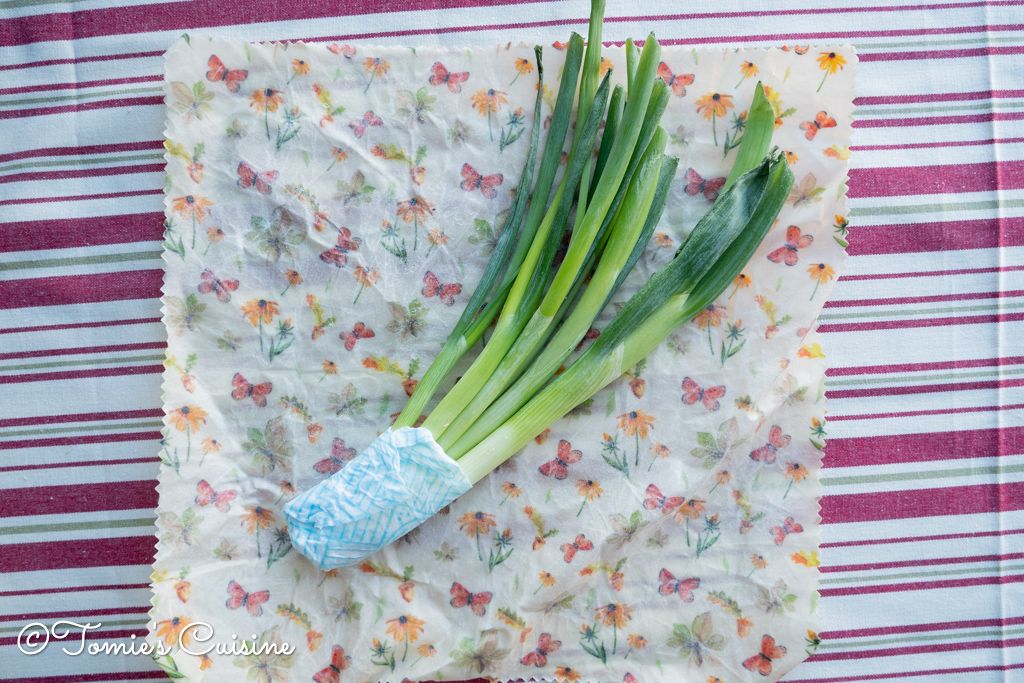 They are moisturised and look fresher than when I bought them.
Since we started using vegan and beeswax wraps, we don't have any cling film at home. It is because I think they are better than cling films. And when I want to wrap some fresh meat or fish to freeze, I use reusable silicone food bags.

Closing words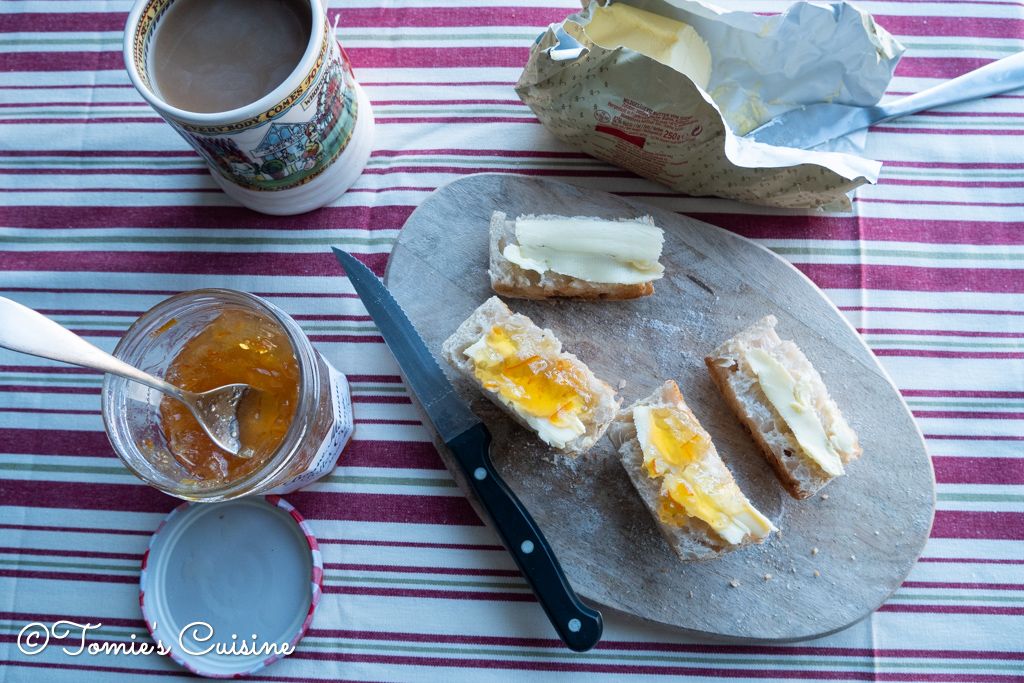 That's all for today! I hope this quick overview and comparison can help you reduce your plastic use on a day to day basis. If you have other uses for vegan and beeswax wraps, please let us know on our Instagram, Pinterest, Facebook or email here! Don't forget to subscribe to our email list so that you don't miss any of our future updates; we've got more recipes and eco-friendly tips coming up!