It's been more than a month since I started to use the reusable cotton bags set from Vérébio. We posted our preview about a month ago; you can read it here. So today, we are going to do the full review based on our experience using them!
Recap from the preview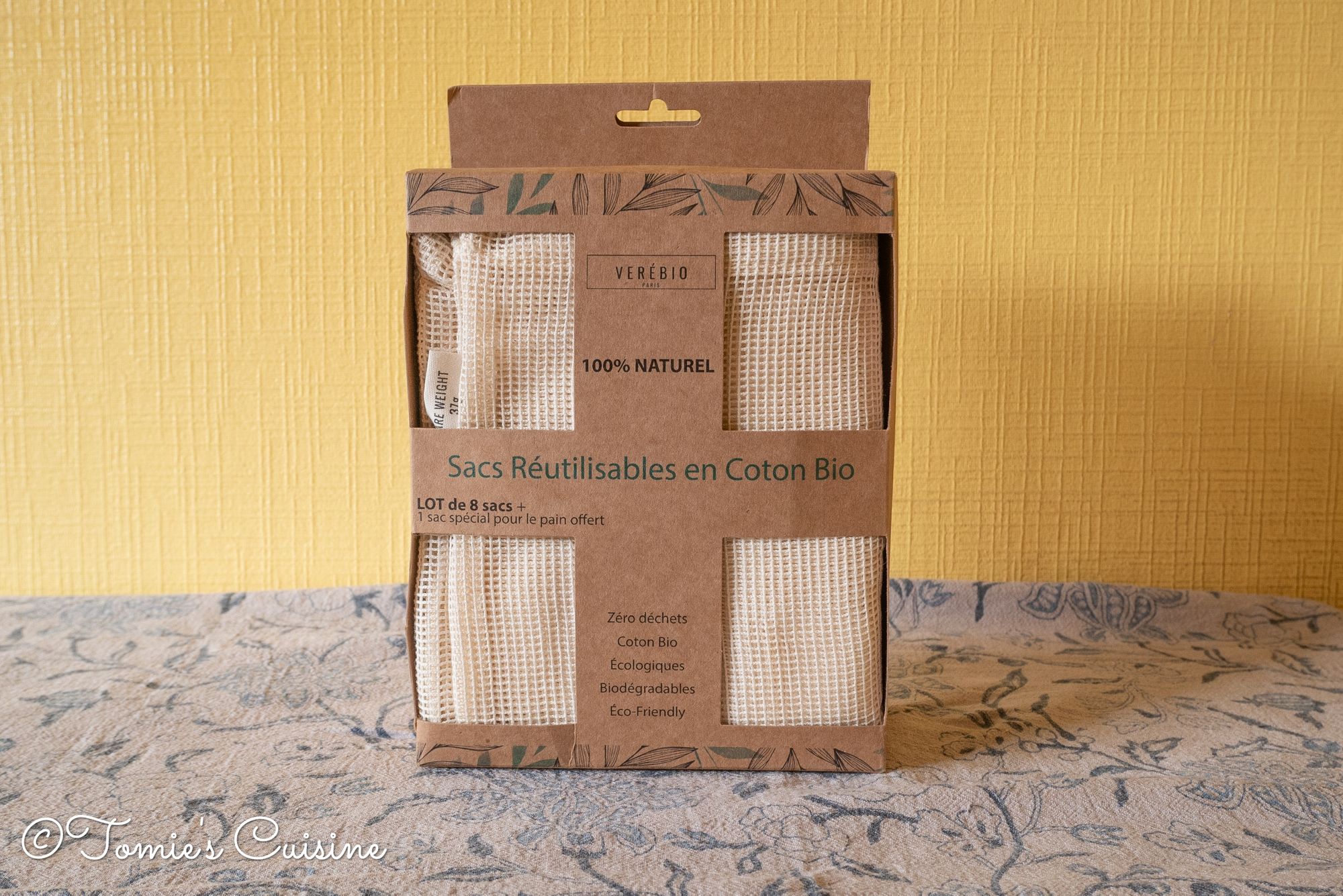 The brand
We bought this set from Vérébio on Amazon.fr. But you can get a similar one on Amazon.co.uk.
Material
100% organic cotton
Dimension of the bags from Vérébio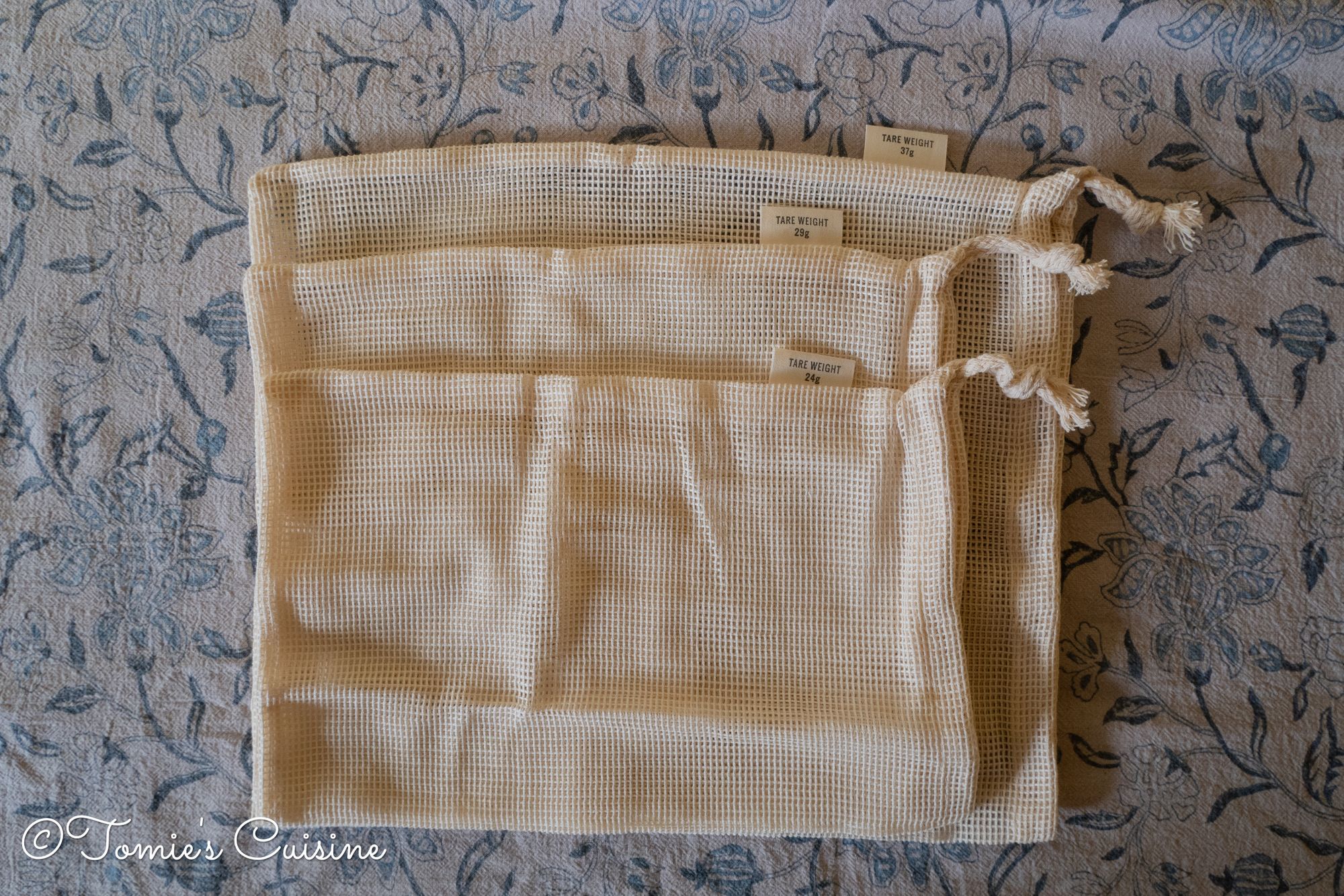 2 Large mesh bags: 35x28cm
2 Medium mesh bag: 30x25cm
2 Small mesh bag: 30x20cm
2 Net bag: 55x35cm
1 Baguette bag: 65x15cm
How I use the mesh bags
Shopping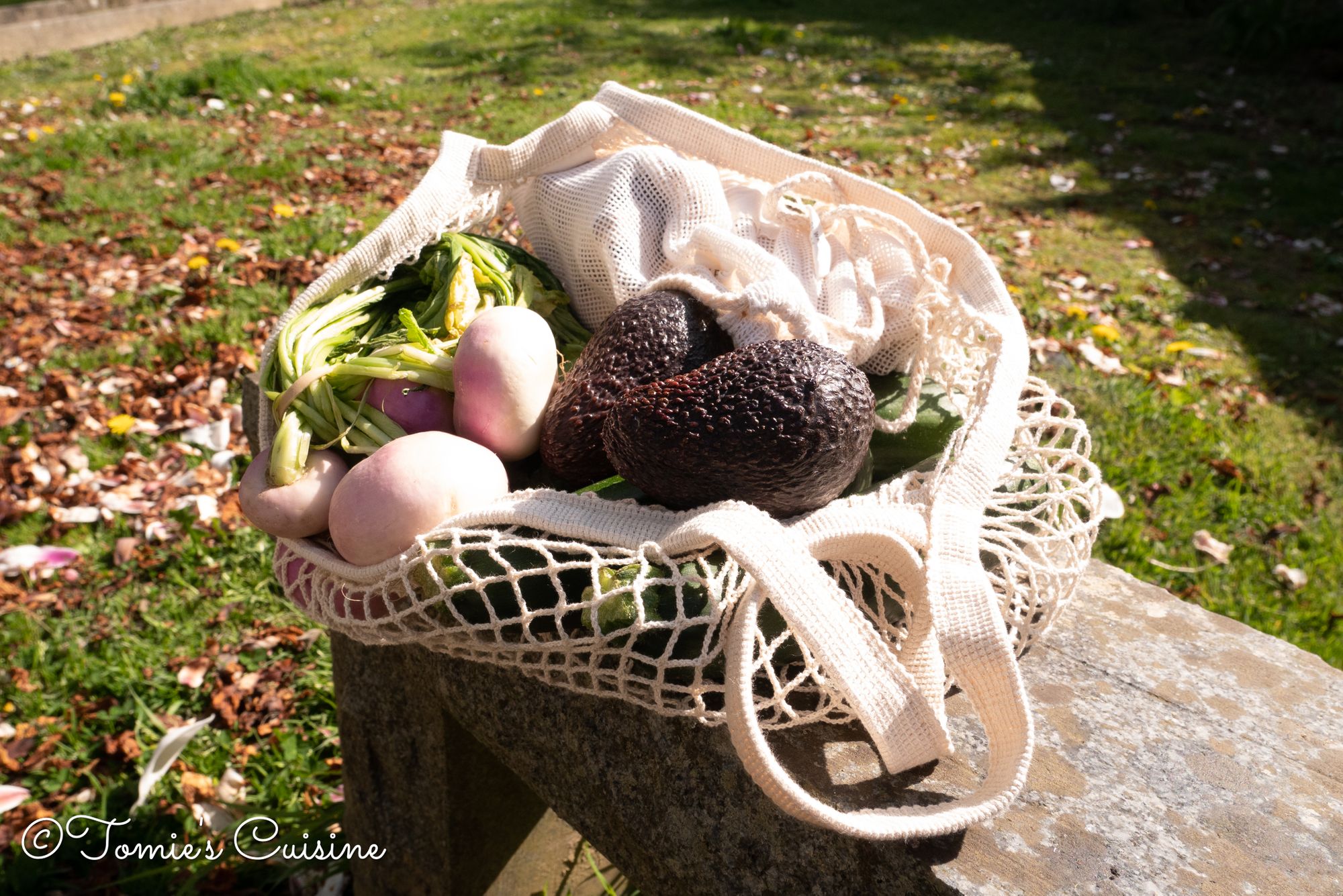 I bring the mesh bags with me whenever I go grocery shopping. Most of the time, I go to the supermarket, or local farmers shop nearby or Saturday market in Morlaix. These bags are handy to put loose vegetables and fruits. Since I have them, I always try to get fruits and veg non-packaged, which naturally reduces my single-use plastic usage!
It's the strawberry season in France, but unfortunately, I cannot put them in the bags - they'd get crushed and stain the bag. Most of the time, they are either in plastic containers or wrapped in plastic. It's a shame. Even at the Saturday market, I couldn't find the one without plastic containers. Perhaps I could have brought mine and leave the plastic container with the seller. But I digress.
One thing I struggle with about the bag is putting the whole lettuce in the bag. If it is shaped like iceberg lettuce or heart gem lettuce, it's okay. But the lettuce I see here is flat and open. So whenever I put them in the bag, I was a bit worried to damage them. So I simply put them in the top of my shopping bag or the net bag (more on that later).

How people reacted at the shop
Most of the people who saw me using the mesh bags were impressed. Some shop owners already knew about the product, which means they are using them in this area. That's a pretty positive sign!
I used them at a medium-sized supermarket instead of the home-compostable plastic bags to put the loose veggies. I closed the bag, put the tag on it, and when we got to the cashier, there were no issues whatsoever; the person just scanned it as usual.
Washing machine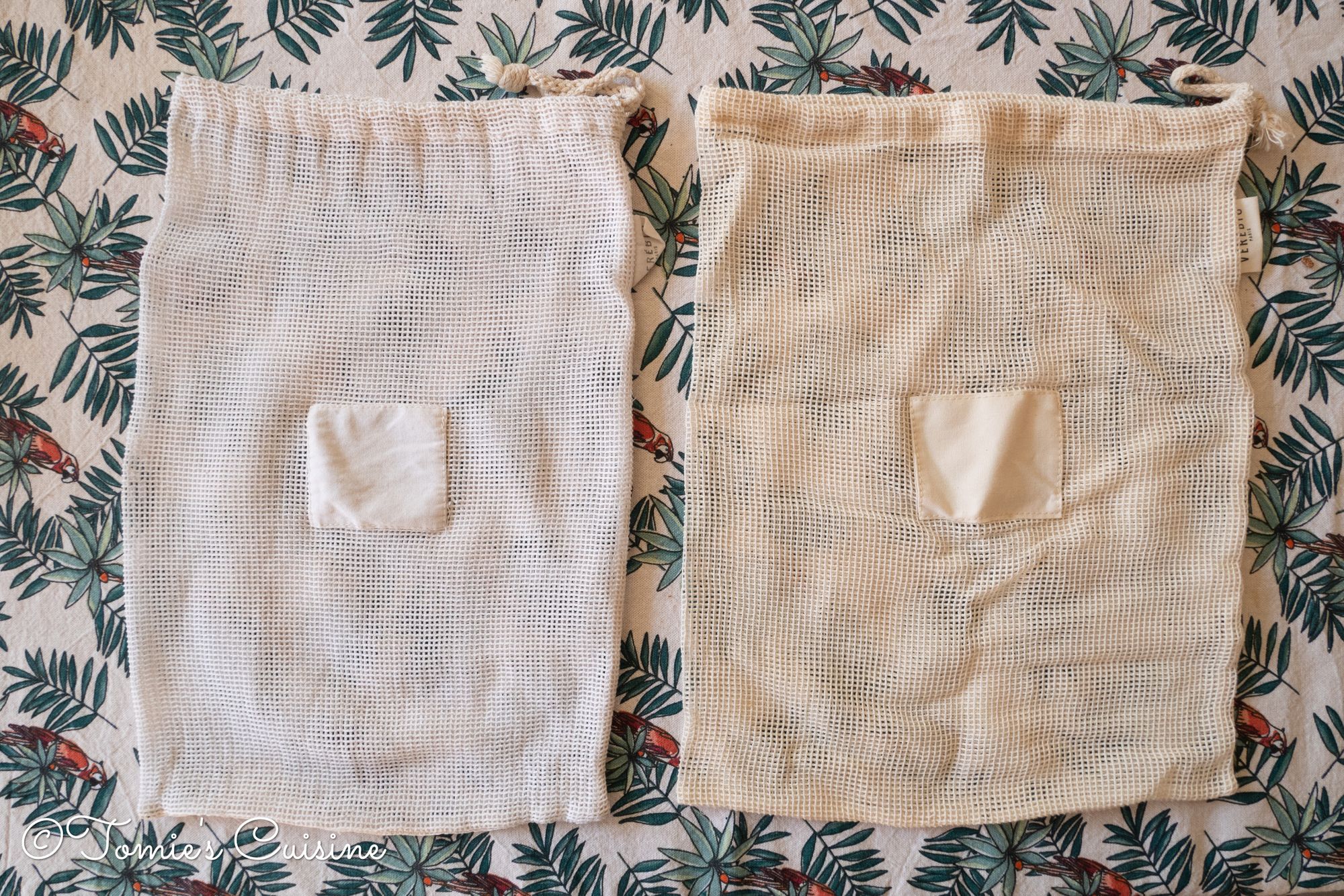 I used the cotton bag to put on my delicate clothes like knitwear and bra or handmade masks. The bags were quite useful in the washing machine and worked without much trouble. However, they shrunk a little, and the colour shifted to a brighter one after washing at 30°C.
After seeing that change, I was worried if the mesh bags weight would change (since the weight is written on the tag). So I put them on the scale after a few washes, and it didn't change (either that or my kitchen scale doesn't work)!
When the bag's mouth is wet after finishing a washing cycle, it doesn't open smoothly. But if you pull a little by little, it opens fine in the end.
All in all, it's only positive, so I'm going to continue using them to do my laundry.
Easter egg hunt
This Easter, we used the bag for the Easter egg hunt! We used it to put the collected chocolate eggs, and it was convenient and perfect to use for this occasion. No more plastic containers!
Cotton net bag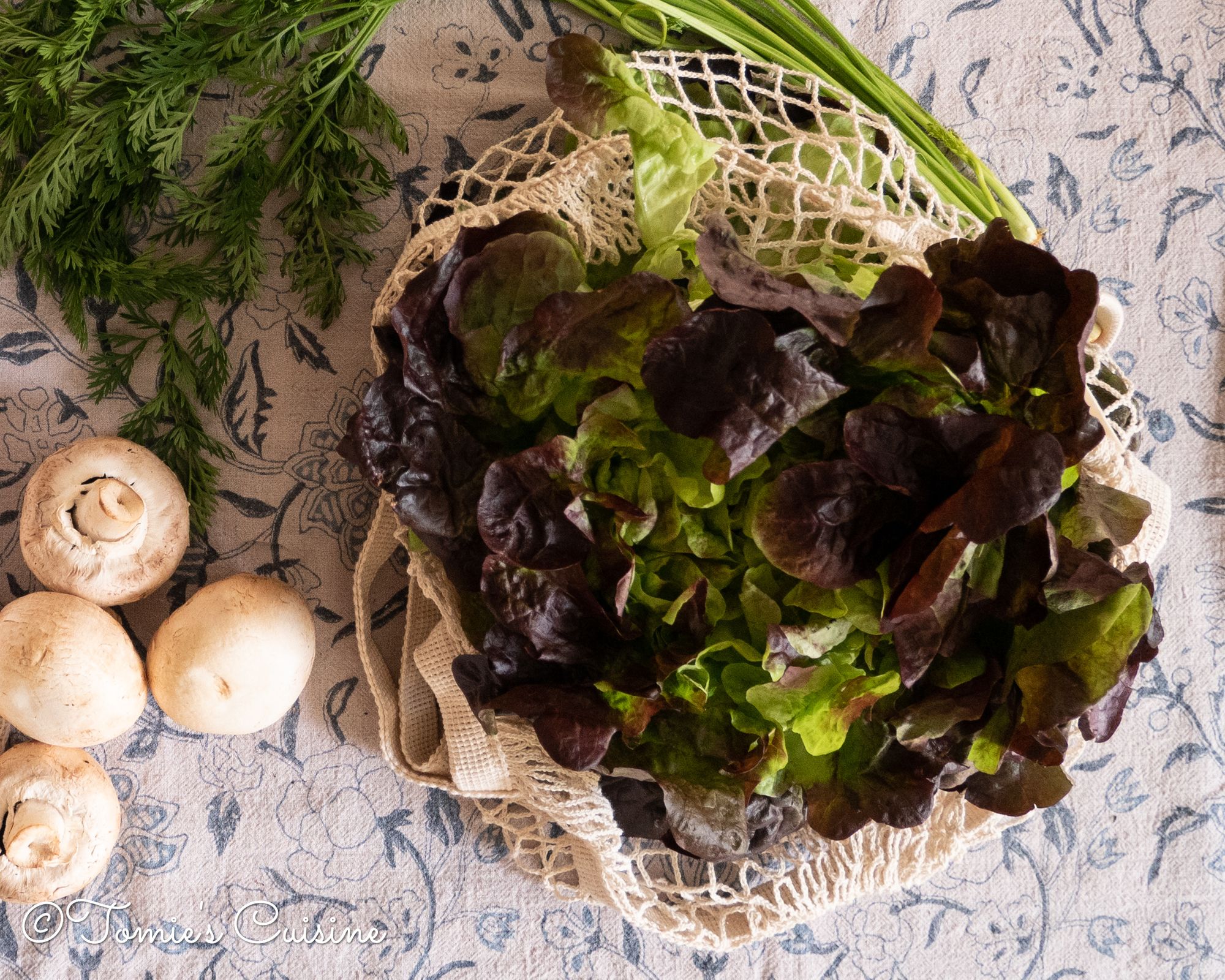 As I mentioned in the shopping part, the net bag is handy to put whole salad leaves and other vegetables without crushing them.
However, you can't fill the bag because it is not sturdy enough and doesn't keep the shape (instead of, say, a tote bag or a regular shopping bag). I brought it as a secondary bag to put some extra items or something fragile.
For example, when I bought some heavy items such as milk, orange juice, a packet of sugar and soy sauce. I also bought strawberries, avocado and tomatoes. So when I'm at the cashier, I start putting the heavy first at the bottom, but sometimes the cashier passes delicate stuff first. So I put them into the net bag or keep them out until the end if there isn't a lot.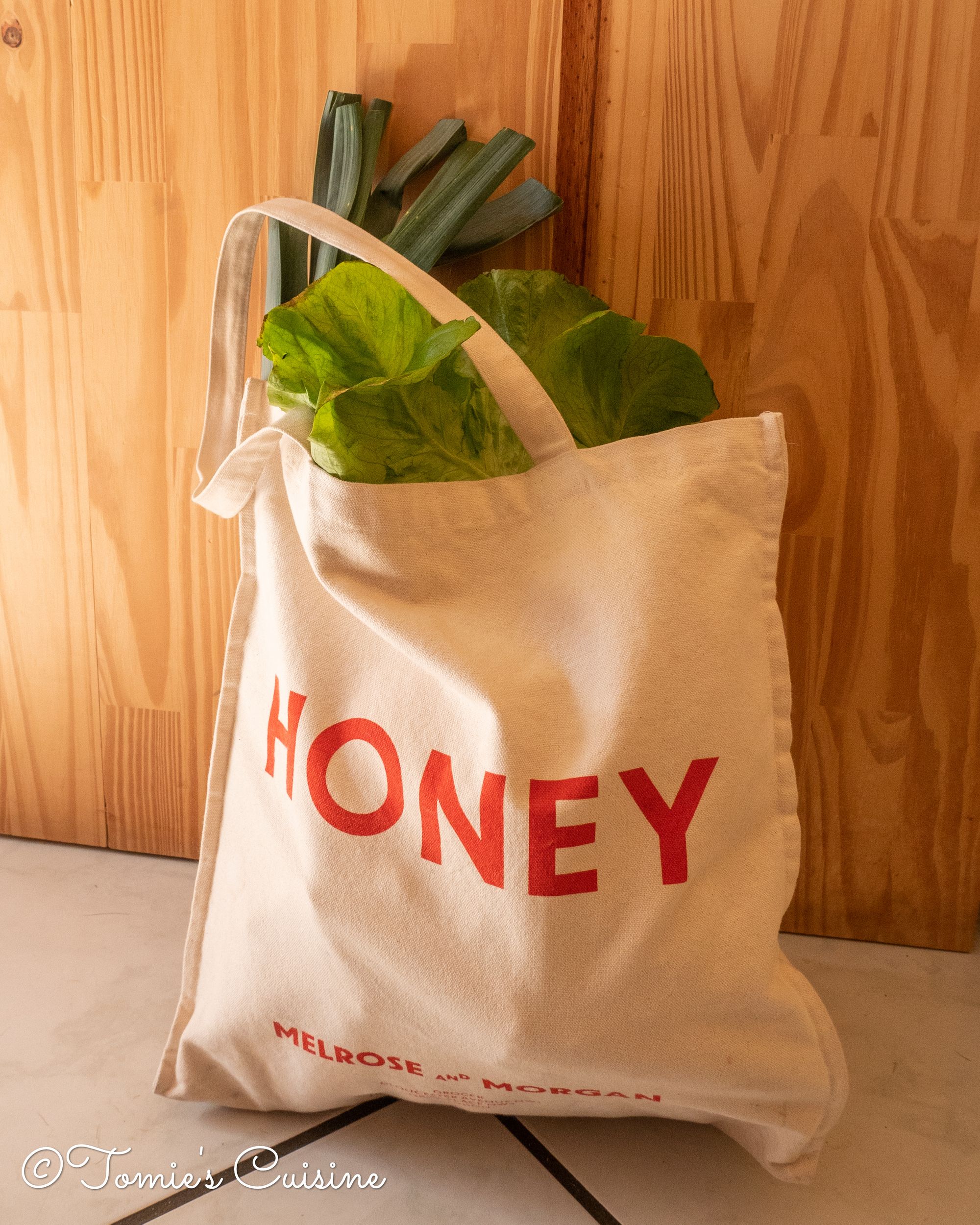 So it's going to stay as my secondary grocery bag, but never the primary one because it's not sturdy enough to keep the grocery organised and protected.
How sturdy are cotton bags overall?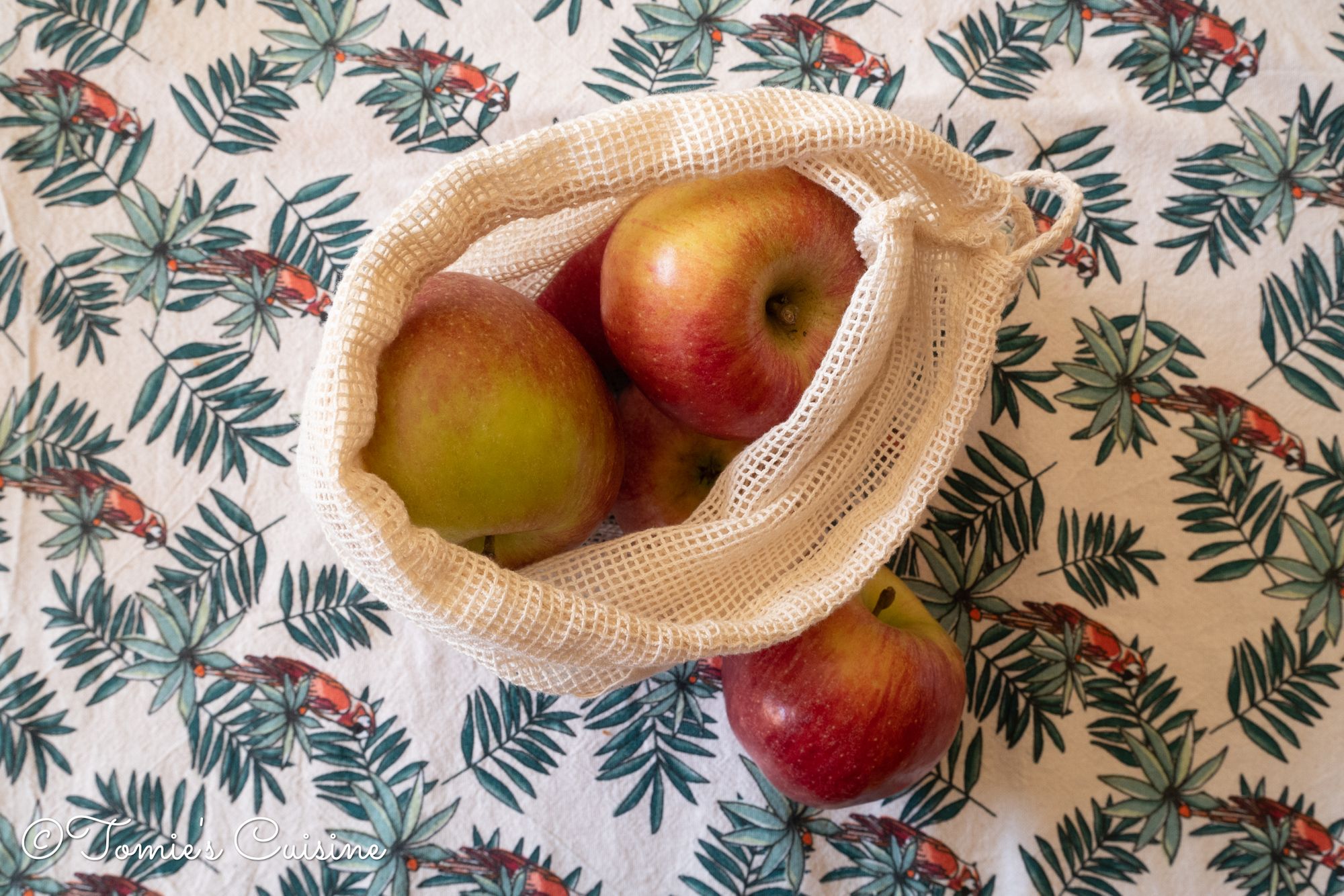 The mesh bags are very sturdy. I've been using them while shopping, washing them but not tumble dry them just in case they shrink even more.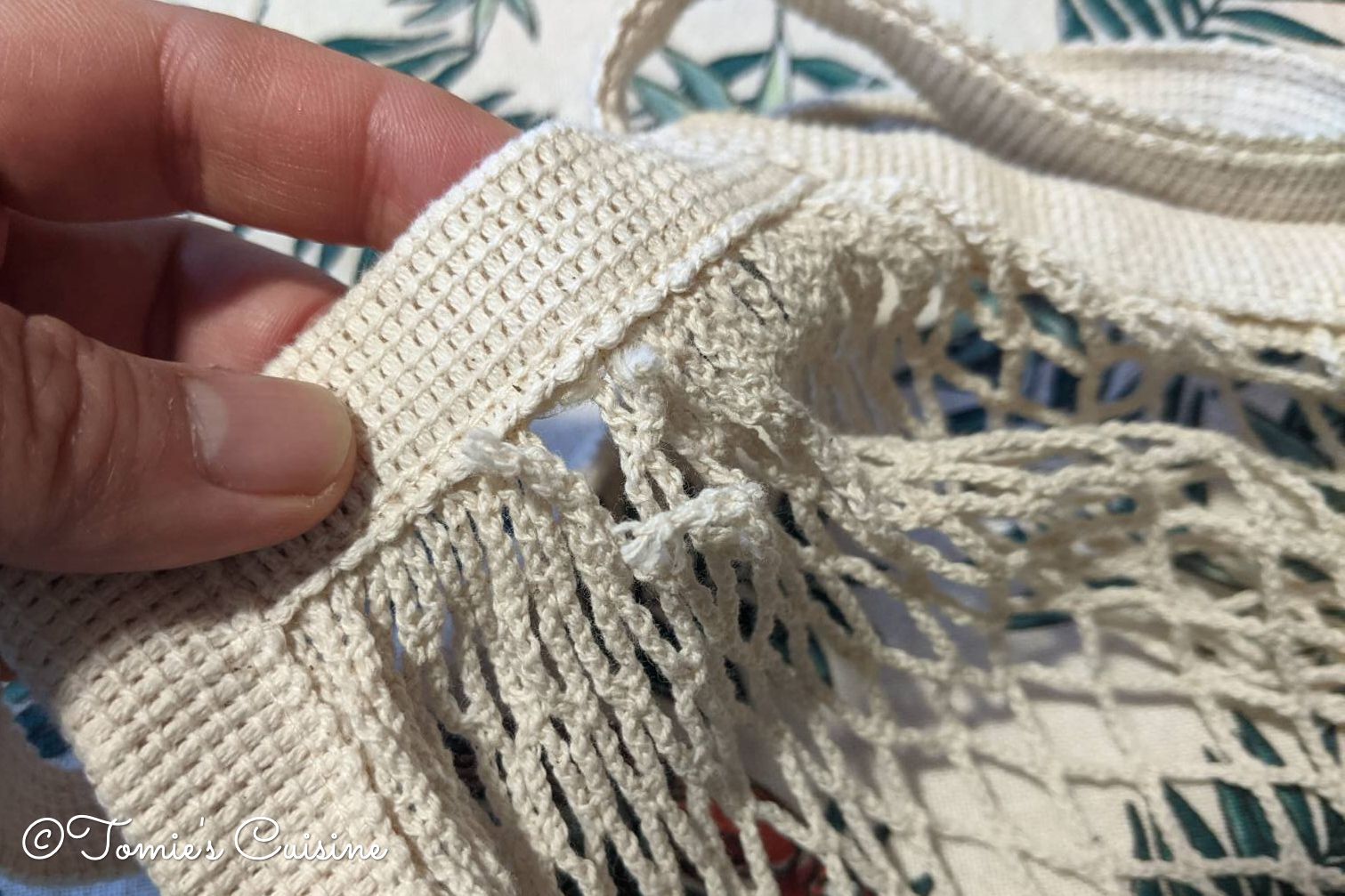 However, one part of the net bag broke after one month of usage. It's not my main shopper bag, so I don't think it bodes well for long term usage.
How do you wash reusable mesh bags?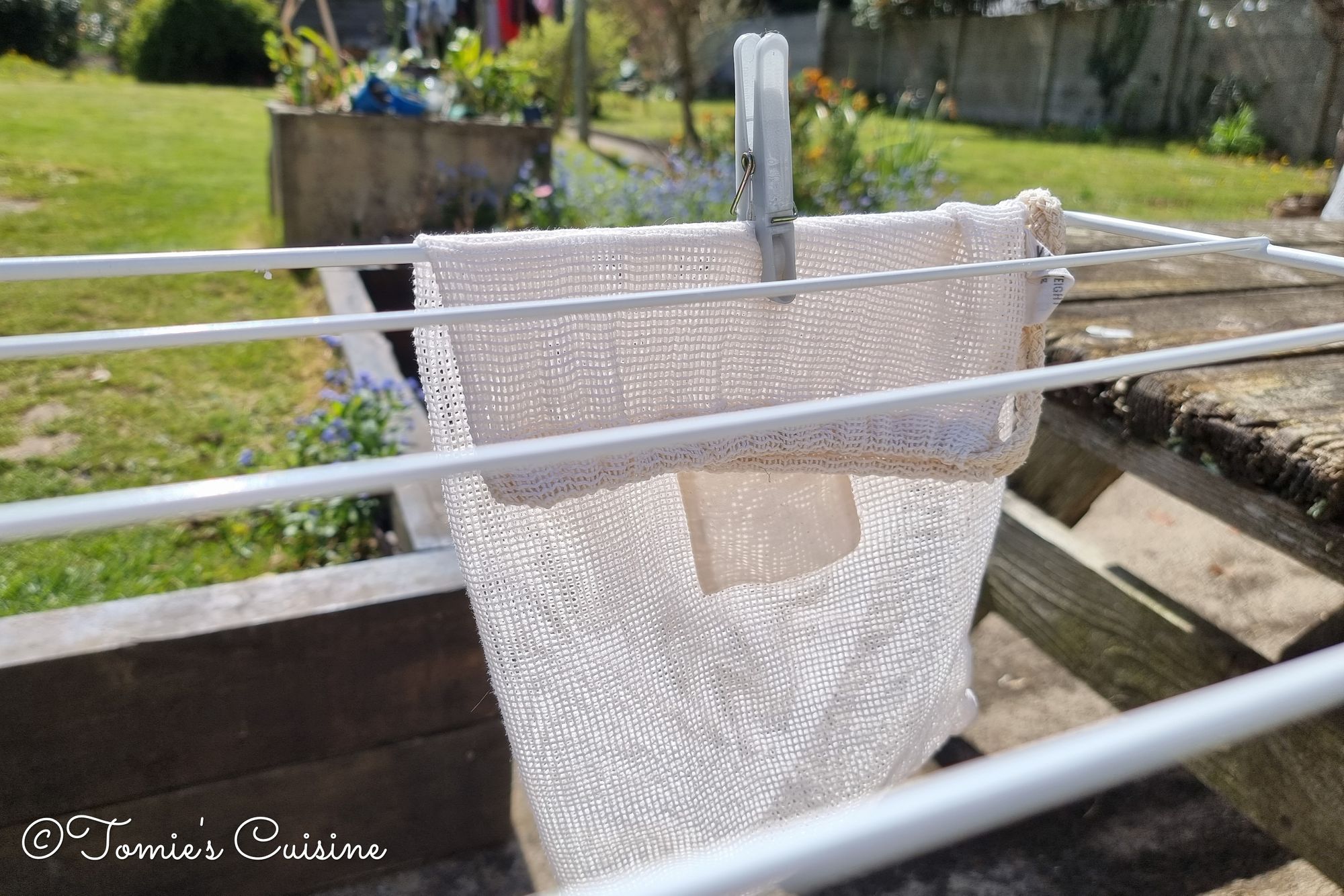 It's machine washable! And I simply hang them outside on a sunny day. However, you should not tumble dry them if you're worried they'll shrink.
Where to buy cotton mesh bags in the UK?
You can get them at the nearest eco-friendly shop, but if there are not, you can easily find them on amazon.co.uk.
Here are some handy links:

Closing words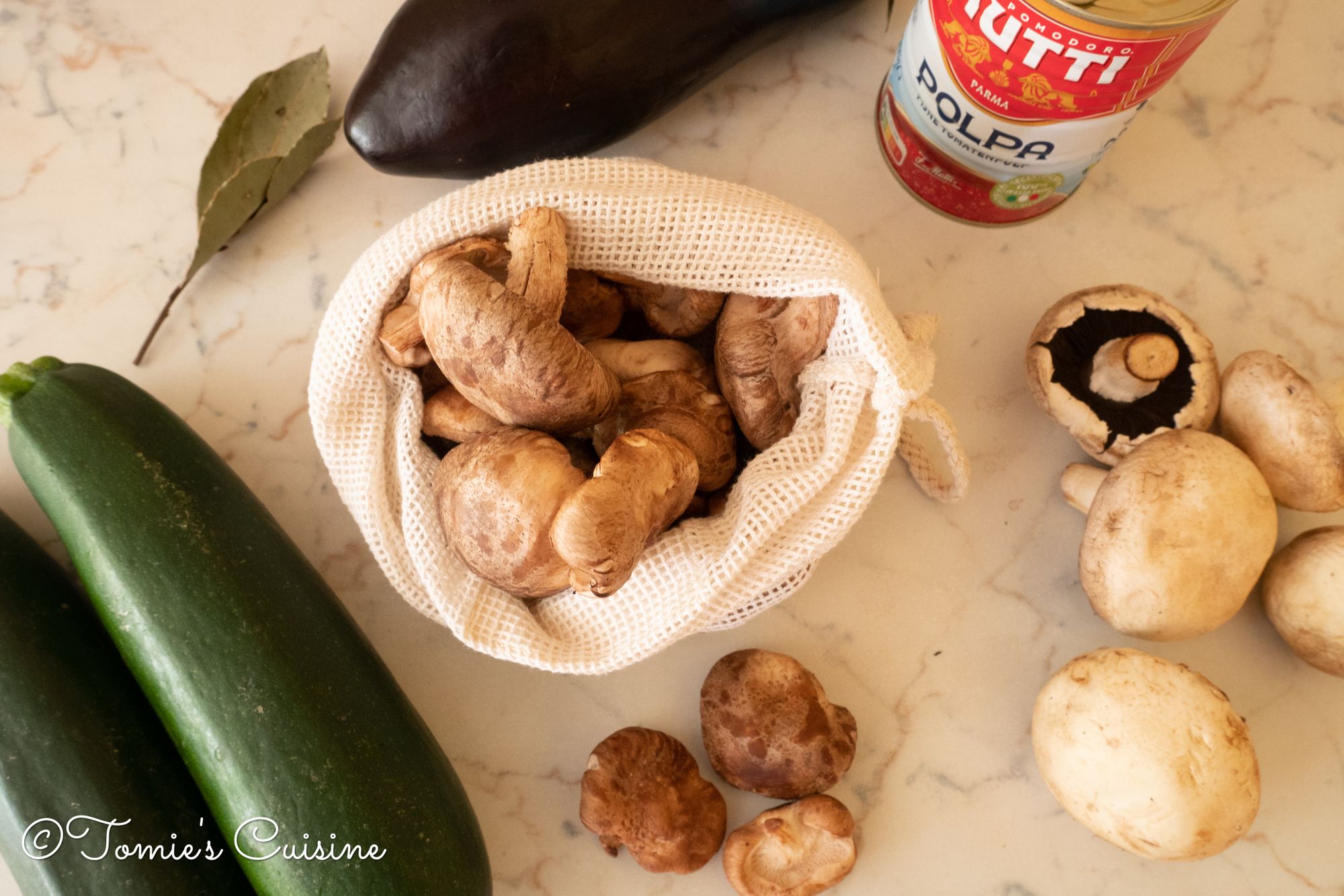 I like the idea of reusable bags to reduce single-use waste. These cotton mesh bags are very tough, but even if they break one day, I will buy a new set like this made from organic cotton. I'm not sure about the net bag or the baguette bag, though.
If you have any advice or tips on using reusable cotton bags, please do let us know; we would love to hear them :-). You can reach us on Facebook, Instagram and Pinterest!
Don't forget to subscribe to our email list to stay updated!